There are lots of ways to get into an autumnal state of mind: You can cozy up by a lit fireplace, crack open a PA cider and break out your favorite sweater or flannel. But the surest way to get to "peak-fall" feels is to load up the car with friends or family and head out on an apple-picking excursion. Did you know that apples are grown in all 67 counties in Pennsylvania? There are so many u-pick orchards in the state, and lots of them celebrate the harvest season in a big way, with festivals, hayrides and all the cider and apple-infused baked goods you could ever want. So, whether you're looking for a quiet afternoon picking heirloom apples, or an exciting, festive atmosphere with lots of people and activities, you're all set!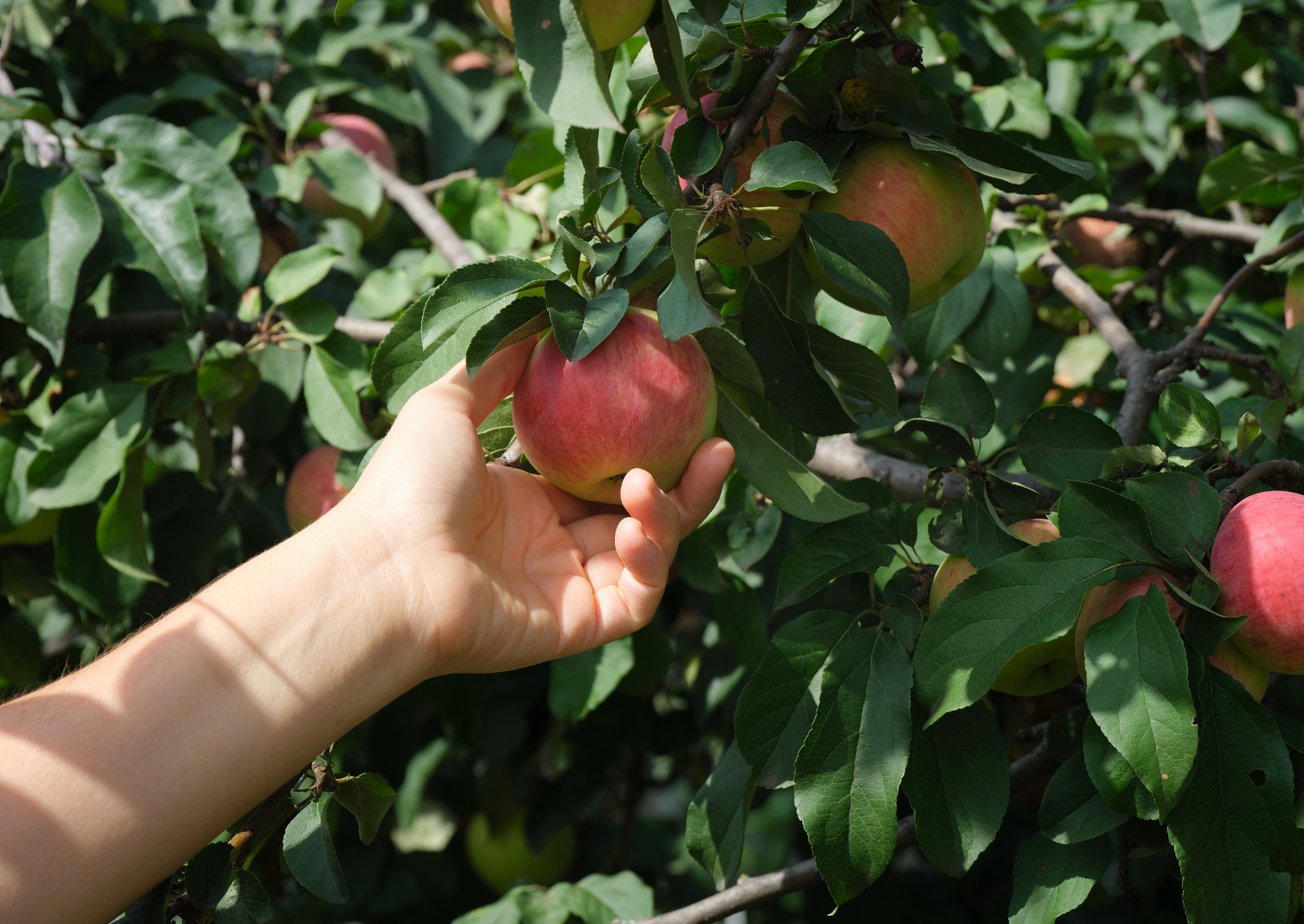 If you do plan on a picturesque jaunt through a local orchard, we've got a few tips to make the most of it:
If possible, go on "off" hours. U-pick orchards are busiest on the weekends, but many of them are open throughout the week. If you can find a window of time on a weekday, you'll find less crowds, more parking and more apples.
The ripest apples will come easily off the tree. If you have to pull super hard, chances are that the apple is not fully ripe! Different varieties ripen at different rates, so ask the farmer or employees at the orchard which are the apples to focus on while you're there.
Apples that have fallen to the ground on their own are the ripest! As long as these look okay and haven't sustained damage, they are perfectly fine to take home and eat.
Avoid apples with heavy bruising or evidence of bugs/pests.
When storing your picked apples, keep the stems on, as this helps to preserve them. To avoid bruising them, be gentle as you put your picked apples into a bin, and as you transport them home.
If it's a warmer fall day, bring a cooler along to transport your apples home in, as well as pies, cider and any other treats you might pick up along the way.
Prepare for any weather. Don't forget the sunscreen, bug spray, and sunglasses! An umbrella and rain jacket stashed in the trunk of the car aren't a bad idea, either.
Branch out! There are over 100 types of apples that grow in Pennsylvania, and though Red Delicious is the most-grown variety, there are so many others to explore. Try an Early Mutsu, a sweet dessert apple, a Jonagold, a hybrid between Jonathan and Golden Delicious, or a Paula Red, a slightly tart apple great for making applesauce!
Apple picking season really only covers six to eight weeks, so don't delay! The deeper we get into the fall, the less varieties will still be on the trees.
Ready for an apple-picking adventure? Here are some of the beautiful places to go apple-picking in PA!
NEPA
Brace's Orchard: This century farm, which has been in business since 1828, grows over 100 acres of fruit, including lots of apples. Apple-picking is open during the fall every day from 10 a.m. to 5 p.m. The farm also makes its own cider from a blend of 10 different apples! Other apple treats include donuts, pies and chocolate- and candy-coated apples. Pumpkin picking is also available. 444 Brace Rd., Dallas; (570) 333-4236
County Line Orchard: Every Friday, Saturday and Sunday from 10 a.m. to 6 p.m., check out the apple-picking at County Line Orchard! The season dictates what's ripe, with Gala and Honeycrisp kicking the season off, and later varieties, like Rome, Keepsake and Gold Rush coming toward the end of October. Keep an eye on its Facebook page for an up-to-date list of what's best for picking each weekend. 9200 Kings Highway; Kempton; (610) 756-6411
Grim's Orchard & Family Farm: There are no reservations or appointments needed to pick apples at this family-owned farm! Hours of operation are 10 a.m. to 6 p.m.; be sure to check out the farm's website or call the u-pick hotline ((610) 841-1417) to make sure the orchards are open on days with inclement weather. Pricing for apples starts at $8.95 for a quarter-peck bag, and varieties include Autumn Crisp, Pixie Crunch, Ruby Macintosh and more! You can also pick your own spuds at the farm's "Great Potato Dig" and bring them over to a fryer to have them made into fresh french fries! Pumpkin picking, hay rides and more fall attractions are also offered (tickets required). 9875 Schantz Rd., Breinigsville; (610-395-5655)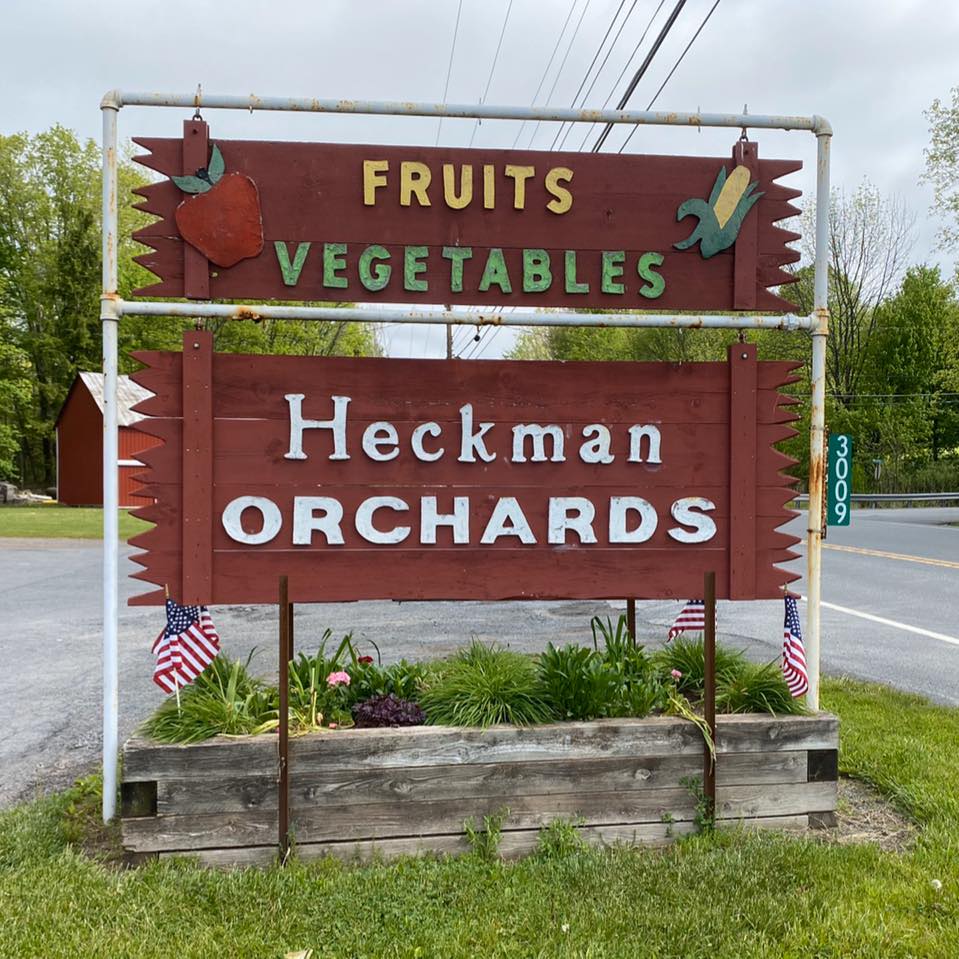 Heckman Orchards: Weekends throughout October, Heckman's opens its apple orchards to the public for picking. From 9 a.m. to 4 p.m., walk the fields and pick local apples to your heart's content. Hours are 9 a.m. to 4 p.m. and apples cost $1.40 per pound. While you're there, check out the selection of seasonal produce, as well as fresh-pressed sweet cider! 3009 Rt. 115, Effort; (570) 629-1191
Lakeland Orchard: Over 20,000 trees, growing 30 varieties of apples, await at this epic u-pick farm in Lackawanna County! The orchard's high density trellised system makes the apples easy to pick, because the trees are planted close together and the fruit is closer to the ground. Tickets are required to pick, ranging from a season pass ($69.95) to one-day general admission ($15.95). Passes include ¼ peck bag of apples, a seasonal flower, entrance to the cider garden and over 15 attractions, including a carousel and yard games. Don't miss the Halloween Light Show! The orchard is open Thursday through Sunday, 10 a.m. to 6 p.. through October 31. 1649 Lakeland Dr., Scott Township; (570) 254-6038
Russell Farm: Way up at the Northern border of the state, find Russell Farm, a working farm offering CSAs, retail, wholesale and u-pick! Twelve kinds of apples, including Northern Spy, Ginger Gold and McIntosh, are available. Pumpkin-picking, fresh-pressed cider, snacks, jams and more are also on offer at the farm's retail shop. The farm is open seven days a week, Mondays through Friday from 10 a.m. to 6 p.m., and Saturday and Sunday from 9 a.m. to 6 p.m.. 1488 Hawleyton Rd., Brackney; (607) 972-3839

Spring Mountain Farms: Though it does primarily specialize in grass-fed beef, pastured pork and free-range poultry, Spring Mountain Farms also offers pick-your-own experiences throughout the year. August through November, a variety of apples are available at $2 per pound. Other fun fall fruits to pick include kiwiberries, pears, grapes and raspberries! The farm is open every day but Monday, from 8 a.m. to 5 p.m. 4595 Interchange Rd., Lehighton; (610) 871-2310
Southeast PA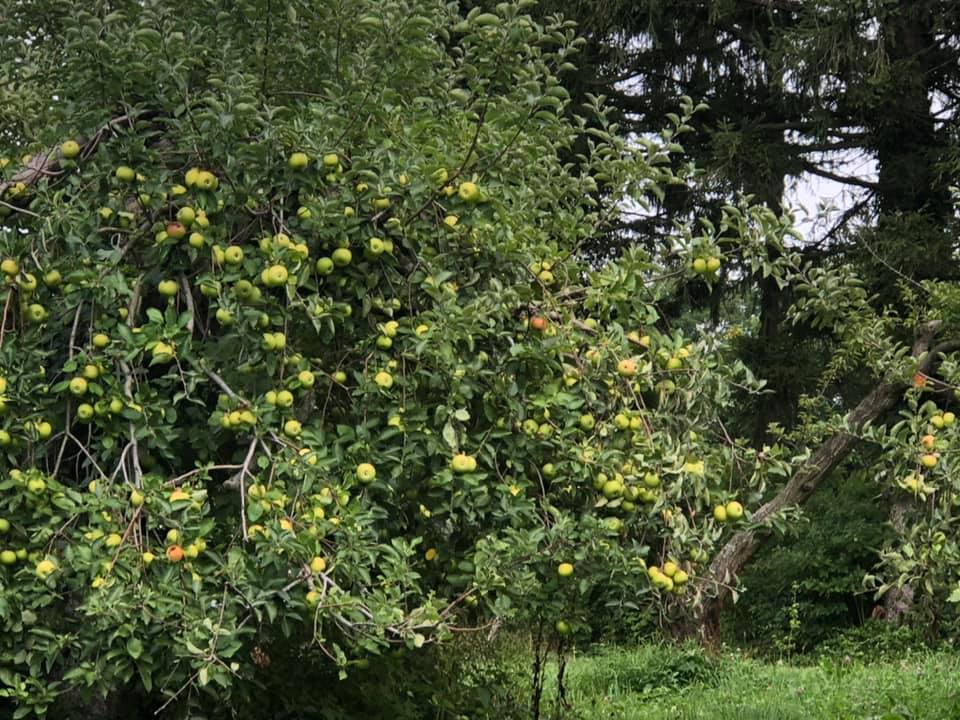 Barnard's Orchard: This fourth-generation family farm is home to a number of orchards, with many varieties of apples to pick, such as Jonathan, Empire and MacIntosh. During the fall, picking hours are usually only on Sundays, though its farm market stand is open seven days a week! Pumpkin picking is also available on weekends throughout October. 1079 Wawaset Rd., Kennett Square; (610) 347-2151
Frecon Farms: Conveniently located close to Southeastern, Northeastern and South Central PA, Frecon Farms is known for growing amazing fruit. During peak harvest season, it opens its orchards to the public, Friday through Sunday. Hours are from 9 a.m. to 6 p.m. on Friday and Saturday, and 9 a.m. to 5 p.m. on Sunday. Picking bags run from $7 (a small bag, on weekdays) to $45 (a large bag, on weekends). Tons of delicious food and beverage, including Frecon's own hard cider, are available to take home or enjoy on site. Poplar Road & Edgehill Rds., Boyertown; (833) 539-3235
Highland Orchards: Every day of the week except Monday, Highland Orchards is open for PYO (pick-your-own) apples, including tasty varieties, like Crimson Crisp, Topaz and Liberty. Reservations are required ($2 per person) on Saturdays and Sundays, when other fall activities, like hay rides are also offered. Check out the Farm Market for local produce, cider donuts and other sweet treats! 1000 Marshallton-Thorndale Rd., West Chester; (610) 269-3494
Indian Orchards: This quaint operation has been family-run for over a century! Its 100-year old heirloom apple trees (which receive no chemical sprays) are open for public picking throughout the fall; try familiar varieties, like Honey Crisp, or something unexpected, like Smokehouse. Don't forget to stop into the small market to peruse a selection of local produce, preserves, maple syrup, local raw honey and more. 29 Copes Lane, Media; (610) 564-0794
Linvilla Orchards: There is so much to do at this family-friendly farm, you can truly make a whole day of it. Explore its ample Pick Your Own orchards with lots of apples to choose from; play on its wooden playground; check out Pumpkinland (now in its 50th year!); eat apple cider donuts; grab a beer at the Ship Bottom Brewery beer garden; or treat the kids to a pony ride! Apple picking hours are Monday through Friday from 8 a.m. to 4 p.m., and weekends from 8 a.m. to 5 p.m. Pre-purchasing tickets ($7 per person online) is strongly suggested. 135 W. Knowlton Rd., Media; (610)876-7116
Styer Orchard: Fall is in full swing at this farm in Langhorne! Apple-picking is open every weekend from 9 a.m. to 6 p.m., with the trees bursting with Mutsu, Jonathan, Golden Delicious, Empire and Early Delicious apples, just $1.29 per pound. Park the car and grab a free hay ride out to the orchards — the hay rides are free, and there is no entrance fee! Dial up the autumn atmosphere by walking the pumpkin patch, or checking out decorative items, like mums, corn stalks and hay bales, which are all currently for sale. 97 Styer Lane, Langhorne; (215) 702-9633
Solebury Orchards: Located in beautiful Bucks County, Solebury is gearing up for a great apple season! Honey Crisp, Pixie Crunch, Crimson Crisp, Jonathan and Empire varieties are ready for picking; days that the orchard is open during the fall are Thursday through Sunday from 9 a.m. to 5 p.m. Reservations are required for Saturday and Sunday. Every day but Thursday, hitch a ride on the tractor and wagon to get out to the picking trees we are picking that day. Reservations are $2.50 per person (children 4 and under are free), and picked apples will run you $1.50 per pound. 3325 Creamery Rd., New Hope; (215) 297-8079
Sunhigh Orchard: This family-owned farm offers PYO in its well-tended orchards. Seasonal hours this year are Thursday from noon to 5 p.m., Friday from 11 a.m. to 5 p.m., and Saturday from 10 a.m. to 5 p.m. Check out its Facebook page for a weekly update of which apples are ripe and ready for the picking! 3617 Limestone Rd., Parkesburg;
(484) 909-3323
Central PA
Borecky Fruit Farm: Want to pair your apple-picking adventure with a cup of hot coffee? Check out this sweet coffee shop/farm stand in the Erie area. PYO starts later in the fall, but once it's rolling, be sure to stop by for apples, and a treat from the farm's scratch bakery. 7295 McCray Rd., Fairview; (814) 474-5628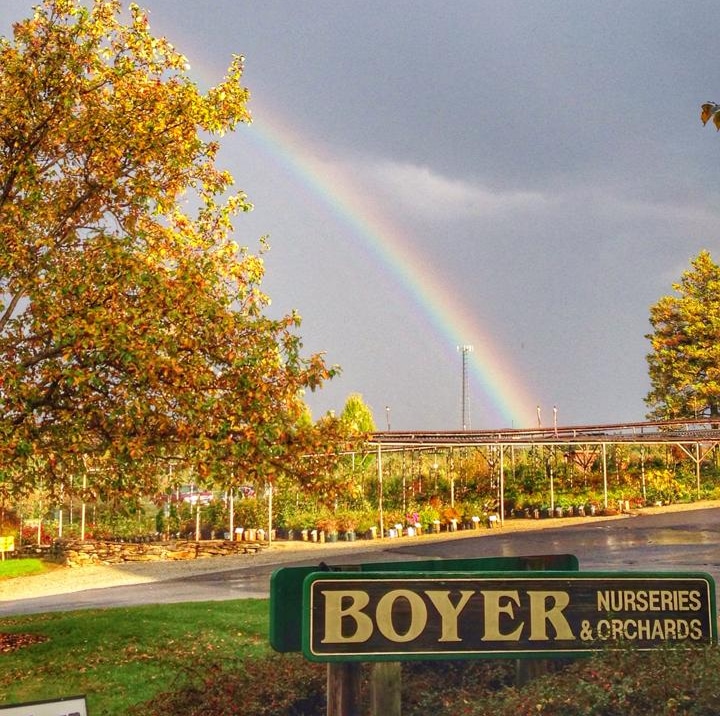 Boyer Nurseries & Orchards: Nestled in PA's apple country, this nursery offers u-pick apples all throughout the fall. No appointment or reservations are necessary, though it is encouraged to fill out the PYO waiver ahead of time; picking hours are Monday through Saturday from 7 a.m. to 5 p.m., and Sunday from noon to 5 p.m. The early fall apples are Melrose, Red Delicious, Early Fuji, RubyMac and Shizuka, while Fuji, Autumn Gala, Golden Delicious, Winesap and York Imperial ripen later in the season. All apples are $1.25 per pound, and fresh cider is also available. 405 Boyer Nursery Rd., Biglerville; (717) 677-8558
Cherry Hill Orchards: The agricultural abundance of Lancaster County is on full display at Cherry Hill Orchards! Throughout the autumn, guests are welcome to pick apples (and sunflowers!), Monday through Friday from 9 a.m. to 5 p.m., and Saturday from 9 a.m. to 4 p.m. (closed Sunday). There are three sizes of apple-picking boxes available for purchase, which can be found at the check-in station. Check out the ripening dates chart to see when your favorite varietal is in season, and call ahead if you are uncertain if the orchards are closed due to weather. 400 Long Ln., Lancaster; (717) 872-9311
Harner Farm: PYO apples are available Sundays throughout the fall, from noon to 4 p.m. Pick up some fun heirloom varieties, like the tart Zestar, as well as the last of the late-season peaches. Bring your own bag or container, or use a bag that Harner Farm provides. 2919 W. Whitehall Rd., State College; (814) 237-7919
Hollabaugh Bros.: Apple-picking season is on at Hollabaugh! Plan your trip to pick McIntosh, Jonagold, Red Delicious, Fuji, Granny Smith and GoldRush; there is no admission fee, and all apples are $1.69 per pound. Picking hours are Monday through Saturday from 10 a.m. to 4 p.m., and Sunday from noon to 4 p.m. Stop into the bakery for cider donuts and apple dumplings, and keep the kids busy with an orchard scavenger hunt and the PYO pumpkin patch! 545 Carlisle Rd., Biglerville; (717) 677-8412
Landon Orchards: There are no frills at this lovely hillside farm, just good, old-fashioned apple-picking! The season began in early September, with McIntosh, Cortland, Red and Golden Delicious, Crispin and Northern Spy ripening throughout the fall. A PYO bushel will run you $20; picking is open every day from 9 a.m. to 5 p.m. Fresh-pressed cider for $7 per gallon or $4 per half gallon is also on offer. #15360, Rt 414W, Canton; (570) 673-8721
Paulus Orchards: Every day this fall is an apple-picking day at Paulus Orchards, as there are hours Monday through Sunday (Monday through Saturday from 9 a.m. to 6 p.m., and Sunday from noon to 5 p.m.). This year, the orchard is doing timed ticketing each Friday through Sunday, with the ticket price added to your picking costs. Pick as few or as many apples as you like for $1.49 a pound; check the website's "It's Fresh" page to find out what's ripe on the days you want to visit. 522 East Mount Airy Rd., Dillsburg; (717) 432-2544
Way Fruit Farm: This charming, family-friendly establishment offers apple-picking throughout the fall on Saturdays from 9 a.m. to 4 p.m. Pickers must purchase a picking bag from the farm store before heading into the orchards. Apple cider, mulled cider, cider donuts and pumpkin donuts and other seasonal delights are available on site at the Way Cafe, where you can also refuel with prepared sandwiches, salads and more. 2355 Halfmoon Valley Rd., Port Matilda; (814) 692-5211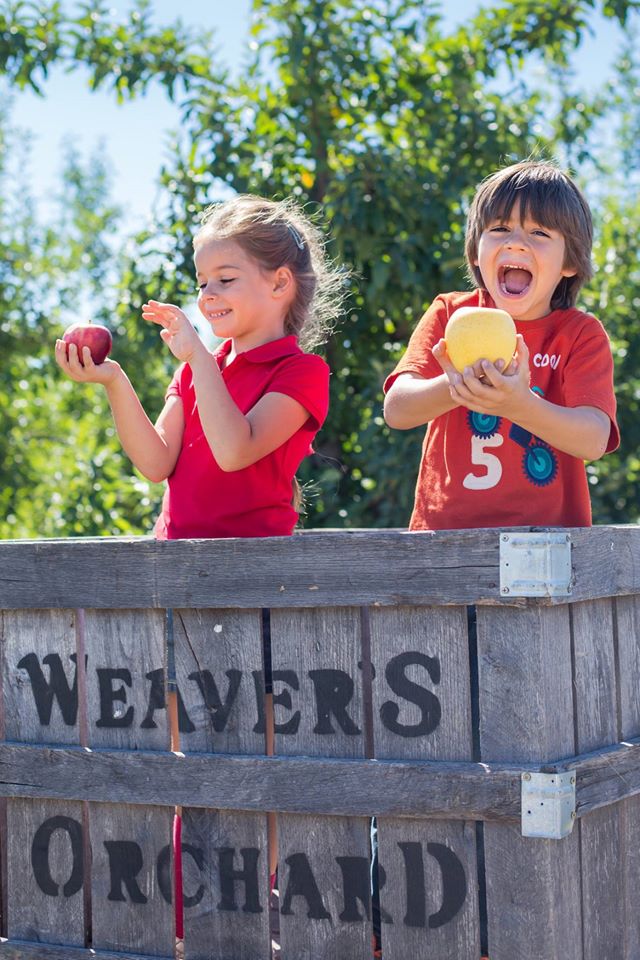 Weaver's Orchard: Pick-your-own crops are a big deal at Weaver's, with a dozen different types of fruit available to pick throughout the year. During autumn, apples are in the spotlight, with 30 types to choose from. There is no general admission fee this year, but guests may only use a pre-paid Weaver's Orchard container, and $10 PYO Club Cards provides 10% off all pick-your-own purchases throughout the season. Family Fun Days, which include all kinds of fun activities, take place every Saturday from mid-September through late October. Weather permitting, picking hours are Monday through Thursday from 9 a.m. to 4:30 pm, Friday from 9 a.m. to 5:30 p.m. and Saturday from 8 a.m. to 3:30 p.m; closed on Sunday. 40 Fruit Ln., Morgantown; (610) 856-7300
Western PA
Apple Castle: With a name like Apple Castle, you'd better believe you can PYO fruit at this cute farm! Stop by any Saturday in September and October between 10 a.m. and 4 p.m. Prices start at $10 for a half-peck, and there are lots of fun varieties to try, like Pixie Crunch, Melrose and Autumn Crisp. Pumpkins are also available. The Farm Market offers local goodies, including cider donuts. 277 State Rte. 18 , New Wilmington; (724) 652-3221
Half Crown Hill Orchard: (Please note, Half Crown Hill is closed for the 2021 season.) Thanks to its high-density growing system, the dwarf apple trees at Half Crown Hill make apple-picking easy, even for the little ones! There are no tickets or entry fees at this orchard, you just pay for what you pick (bags are provided). There is a helpful map on the orchard's website, showing where different varieties are planted throughout the property!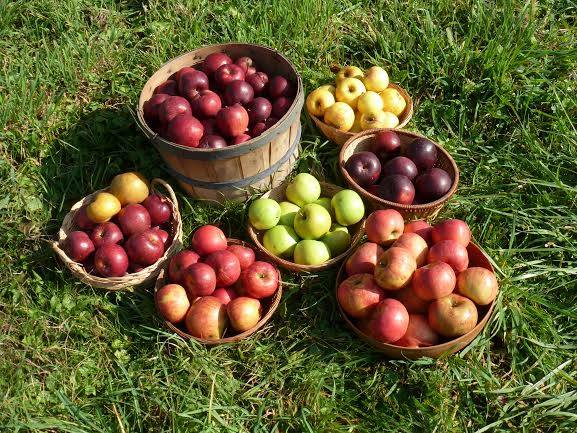 Norman's Orchard: Apple season at Norman's offers pick-your-own during all open hours, which are Wednesday through Saturday from 10 a.m. to 6 p.m., and Sunday from noon to 5 p.m. (closed Monday and Tuesday). There are an impressive number of heirloom and antique apples planted, including Spitzenburg, Albemarle Pippin, Cox's Orange Pippin  and Arkansas Black. Don't leave without a jar of house-made apple butter! Cash only. 2318 Butler Logan Rd., Tarentum; (724) 224-9491
Simmons Farm: Fall fun is in full effect at Simmons Farm! Corn mazes, hayrides, a petting zoo, apple labyrinths and of course, apple-picking, are all happening seven days a week, Monday through Thursday from 9 a.m. to 6 p.m., and Friday, Saturday and Sunday from 9 a.m. to 5 p.m. There is a required minimum of a half-peck ($8 per person) for anyone over the age of 16. Varieties change throughout the season; call ahead if you want to know what to expect! 170 Simmons Rd., McMurry; (724) 941-1490
Soergel's Orchard: There are apples aplenty at Soergel's; this year's picking schedule for both apples and pumpkins is weekdays from 3:30 to 5:30 p.m. and weekends from 10 a.m. to 5 p.m. The farm's handy apple chart shows which varieties are ready to be picked and how they are best used! Cider pressed on site, fresh and unfiltered, is also for sale. Make a day of it with a stop at the bakery, deli, garden center, Gift Barn, wine and cider shop and ice cream stand! 2573 Brandt School Rd., Wexford; (724) 935-1743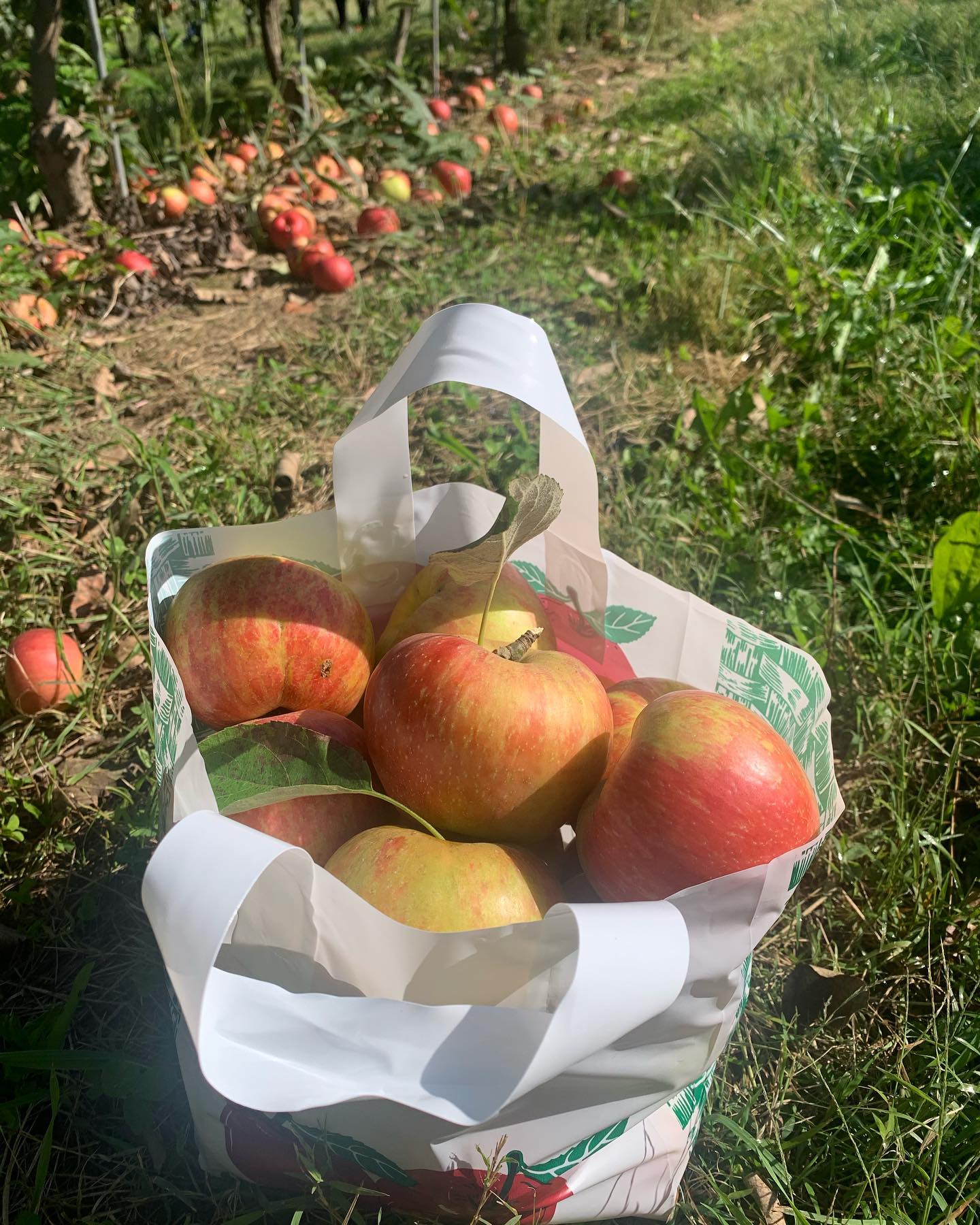 Triple B Farms Each year, Triple B offers a dozen varieties of apples for the picking! If you want to get a piece of that action, stop by to pick your own Friday, Saturday or Sunday from 10 a.m. to 4 p.m. Apples are $16 per peck, and $28 for a half-bushel. To make a whole day out of the visit, buy a Family Fun ticket for just $10 per person, which includes games, a scavenger hunt, educational areas and more. 823 Berry Ln., Monongahela; (724) 258-3557 
Where is your family's go-to spot for apple-picking in PA? Let us know in the comments, or join the conversation at the PA Eats Facebook page!
Feature photo:

Bigstock

All other photos:

Courtesy of their respective businesses