If you've ever experienced the pleasures of going out to the garden to snip some flowers to make a little bouquet, imagine having an entire flower farm at your disposal. This is the daily reality for Sarah Anderson, the owner, grower and floral designer of Bee Well Blooms, a small cut flower farm just outside of Emmaus, PA, and just a few miles from Allentown.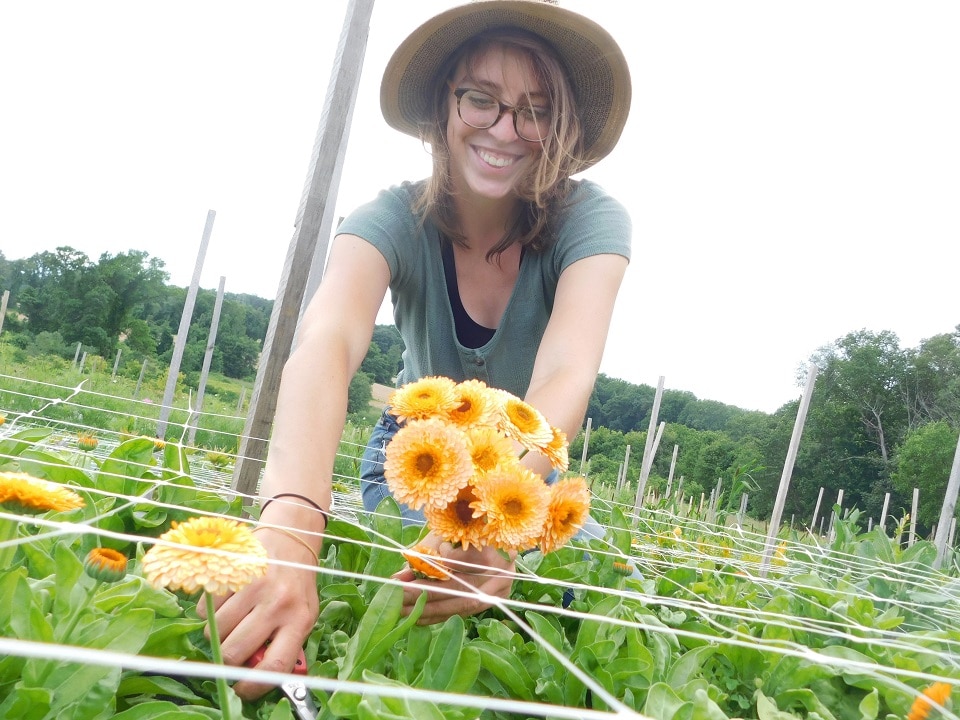 Anderson, who is originally from Lancaster County, moved to the Lehigh Valley about a year ago to pursue her career as a flower farmer. While she didn't grow up on a farm, three of her four grandparents were farmers, and she has plenty of "green thumb" ancestors in her family tree.
What is it really like, working among blossoms and plants all day? And how does one decide to be a flower farmer in the first place? We caught up with this entrepreneurial Pennsylvanian to learn more.
PA Eats: So, Sarah, how did you decide that being a flower farmer was the career path you wanted to follow?
Sarah Anderson: As a teenager I took an interest in organic agriculture and decided to gear my college experience around learning as much as possible about plants and farming. During my time studying horticulture at Penn State, I ended up taking a flower-identification course, only because it filled a credit requirement. While a lot of my classmates grumbled at the coursework (basically learning several hundred flowering herbaceous plants), I was quickly falling in love. To this day, I could tell you hundreds of flower Latin binomials. This led to me taking every flower class PSU offered, and eventually interning at the school's Flower Trials. Here I learned a ton and met so many wonderful "flower people," which opened my eyes that a lifelong career in flowers was absolutely possible.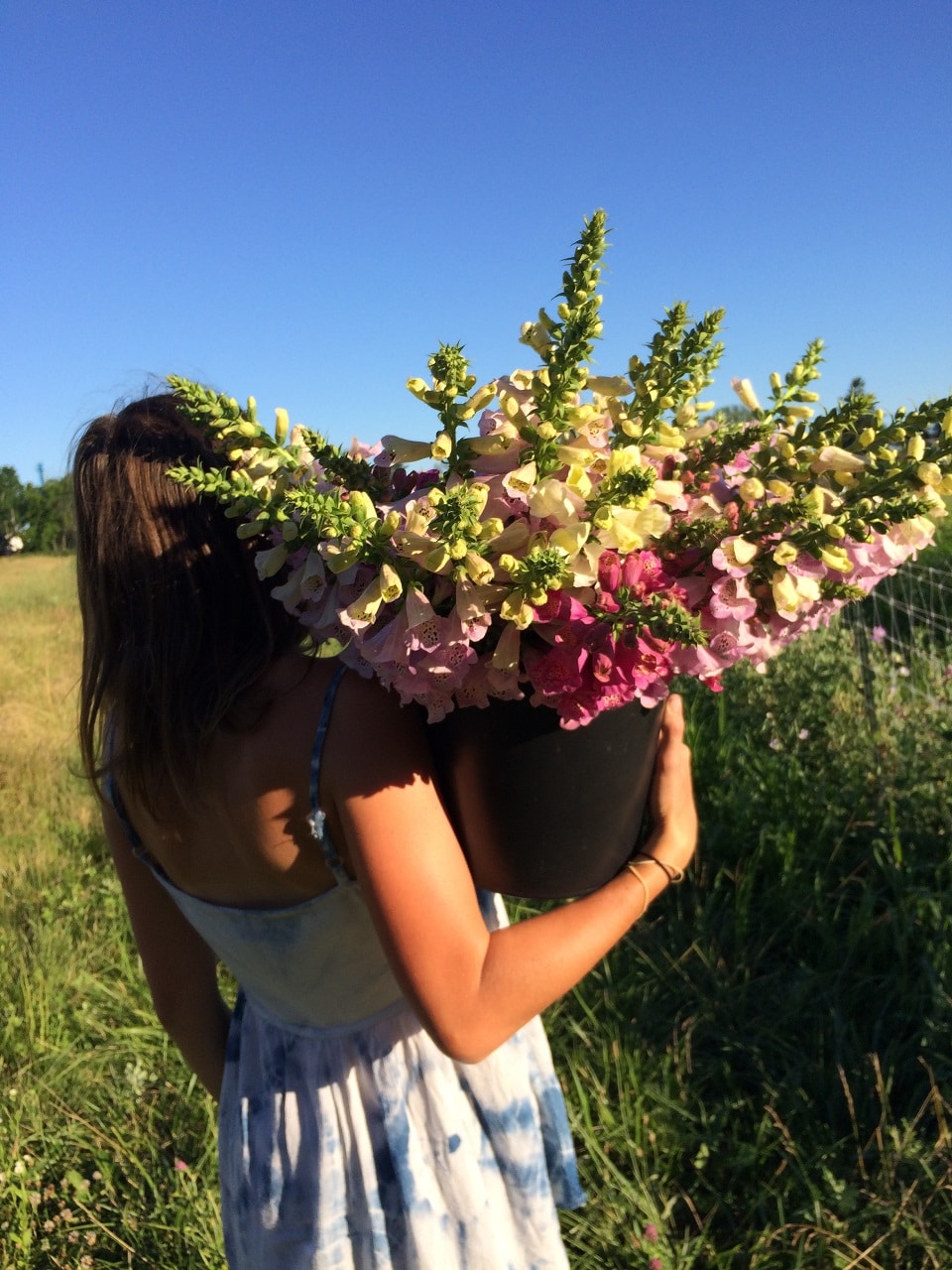 How do the risks and challenges (and rewards?) differ from starting a flower farm versus a produce farm?
One of the benefits of flower farming is you don't need a huge amount of acreage. In fact, most working flower farmers are growing on two acres or less. Plants are spaced tightly to promote long stems and this allows for an enormous amount of product grown in a small area. When I tell people my garden is a half acre, most are surprised to learn it's so small. So, one benefit is that it requires less capital to start because there's no need to buy a big farm. The challenges might come from educating consumers about the product and why a bouquet of flowers grown by a local farmer is better than a grocery store bunch. Also, flower farming is so popular right now that there's a risk of too many growers and not enough demand.

How did you choose the land for your farm? Was there something about the particular plot of land that made it feel right?
My plan was to move from Lancaster County and after doing research I discovered The Seed Farm in Emmaus which rents land, equipment and greenhouse space to growers like me, people who did not grow up on a farm, but have hopes of starting their own business. My garden is on a special piece of land and I feel blessed to be able to grow on and sustain this soil. I basically quit my post-college job, moved to the Lehigh Valley and started this business. It's only been two years, but so far, I definitely enjoy this area.
Spending the days out in fields full of flowers sounds really dreamy. Is it like that, or are there some less romantic moments, too? Also, what do you do during the winter?
A lot of people tell me how lucky I am or how they envy what I do, but the truth is, it is hard work! Owning a farm business for me means no days off ever for nine months of the year. There will always be plants in the greenhouse that need to be watered, flowers that need to be picked, or an unforeseen dilemma that needs taken care of ASAP. That doesn't include all the un-glamorous jobs, like chasing weed barrier across the farm after a big wind storm or pounding stakes in the pouring rain. For the most part though, it really is dreamy.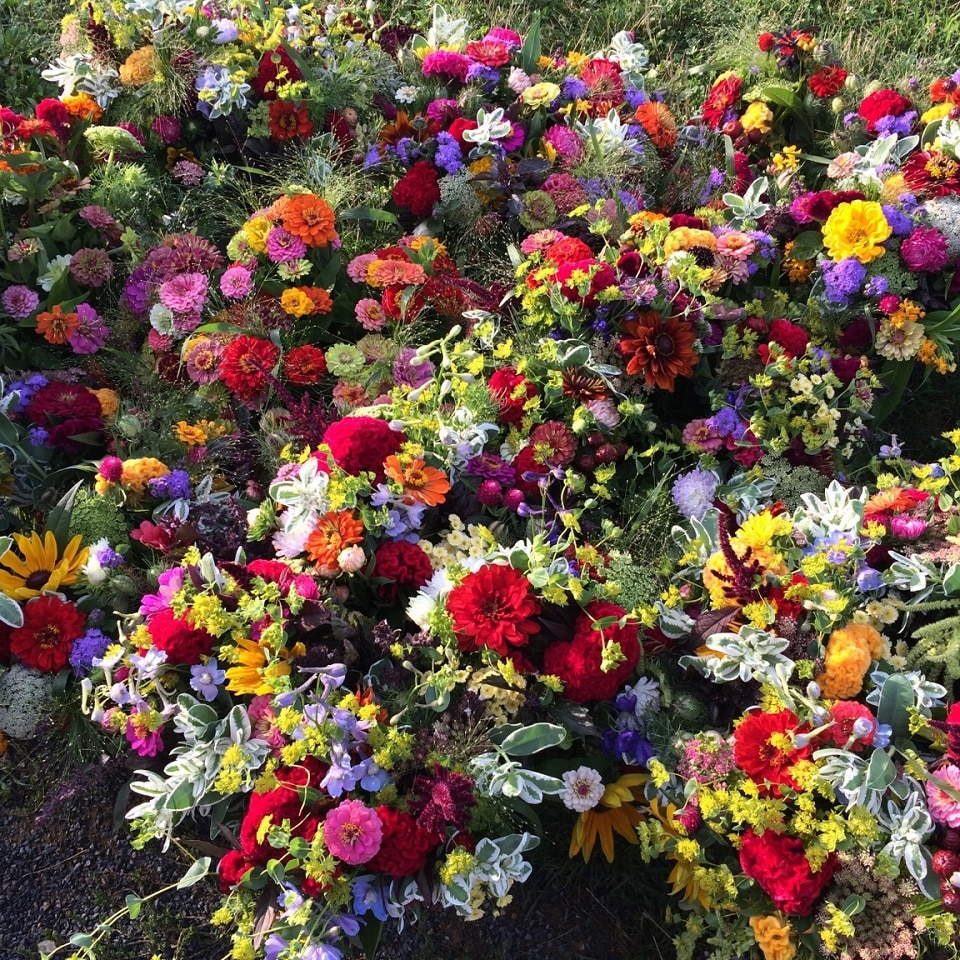 My favorite days are harvest days, when my mind wanders from the long to-do list and focuses in on all the beauty I'm gathering from the field. That's when all the rough days, when I question my sanity, become worth it.

This past winter I worked part-time while planning out the next year's garden. I think it's important to be open about the realities of this business … and for me that meant picking up a winter job!
Do you have a favorite flower, or is that like trying to pick your favorite kid? Either way, what are some blooms that you always love to have around?
Well, my favorite flower that I grow is probably Celosia, or cockscomb, which really is an old-school cut flower. But it comes in the most amazing colors, has the best texture, and sparks conversation every week at the farmers market.

Dahlias are another favorite, but are fussy and require constant attention throughout the season. I also try to plant flowers not for cutting, but for the critters around my garden to enjoy, and sunflowers are good for this.
Can you talk a little bit about why buying local flowers is important?
Locally grown flowers have become popular in recent years, and for good reason. Traditionally, flowers are grown overseas, often times in a monocropping with poor land management and excessive pesticide use. Then they're shipped in cold storage on a plane and eventually trucked off to various locations within the US. So, not only are the growing practices not ideal, but a huge carbon footprint is created just to get the week-old flowers here. We have amazing farmland in PA which can produce some gorgeous, fragrant and long-lasting cut flowers. These same flowers are then sold only miles from where they were grown — better for the land and for the local economy.

Your business is still so new! What are a few of the lessons you've learned since you officially launched?
I'm not necessarily an expert on flowers, but I'm definitely not an expert on starting and operating a sustainable business. It's been a huge learning curve, and much of it has been "learn as you go." There are so many hours beyond the actual growing, arranging, and selling of the flowers. Things like computer work, keeping neat financial records, finding and applying to farmers markets, dealing with equipment when it's not working properly. All of these tasks are part of the job of growing and selling flowers.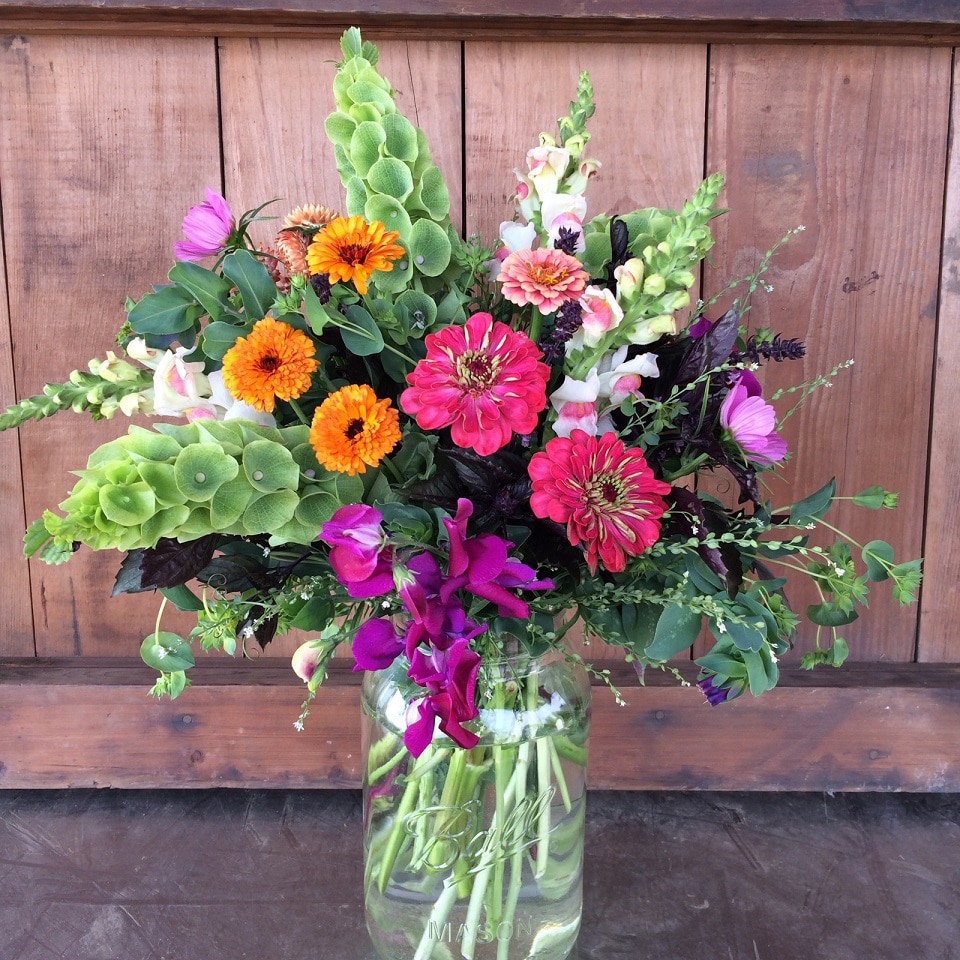 Any plans for the future?
Hopefully buying my own small farm someday soon! I can only imagine how good it will feel to have a sense of permanency after years of renting. I'm already starting my perennial collection for when that day comes. I'm dreaming of lots of peonies, roses, hydrangea and more.
Where can people in the Lehigh Valley find your flowers?
My flower CSA has just started for the year! We also sell at the Fresh Fridays farmers market in downtown Allentown, on Fridays from noon to 4 p.m., and the Lansdale Farmers Market at Penndale Middle School, on Saturdays from 9 a.m. to 1 p.m. We also sell at other spots throughout the Lehigh Valley, including Crooked Row Farmstand along Rt. 309. Additionally, we fulfill orders placed for flower delivery within the Valley or for pickup at the farm.
Thanks so much to Sarah for sharing her story with us. If you live in or around the Lehigh Valley, check out her amazing blooms this year, and treat yourself to a stunning, PA-grown bouquet!