What's the best thing you ate this summer? Grilled corn, charred and sweet and slick with butter? Juicy tomatoes, chopped into a simple, herb-flecked salad? Or maybe an ice cream cone, half-melting in the afternoon sunshine?
While, for many of us, the summer is a time of great culinary pleasure, with incredible produce at every turn, coolers full of icy drinks and plenty of reasons to gather and celebrate, for some of our neighbors, the summer is a time of heightened food insecurity.
In Chester County, many families struggle in the summertime without the free school lunch programs that many children rely on during the academic year. Chester County Food Bank (CCFB) long ago recognized this annual gap for many of its neighbors and has worked to address the issue with its Summer Food Box program. Powered by volunteers, this program provides boxes to school-age children and their families, packed with all sorts of nonperishable foods, like cereal, granola bars, canned tuna and chicken, milk, fruit, rice and beans. Recipients can breathe a little easier knowing that there is nutritious, easy-to-prepare, nonperishable food during the summer vacation months that can be obtained during two pick-up times in the summer at participating member agencies or youth centers.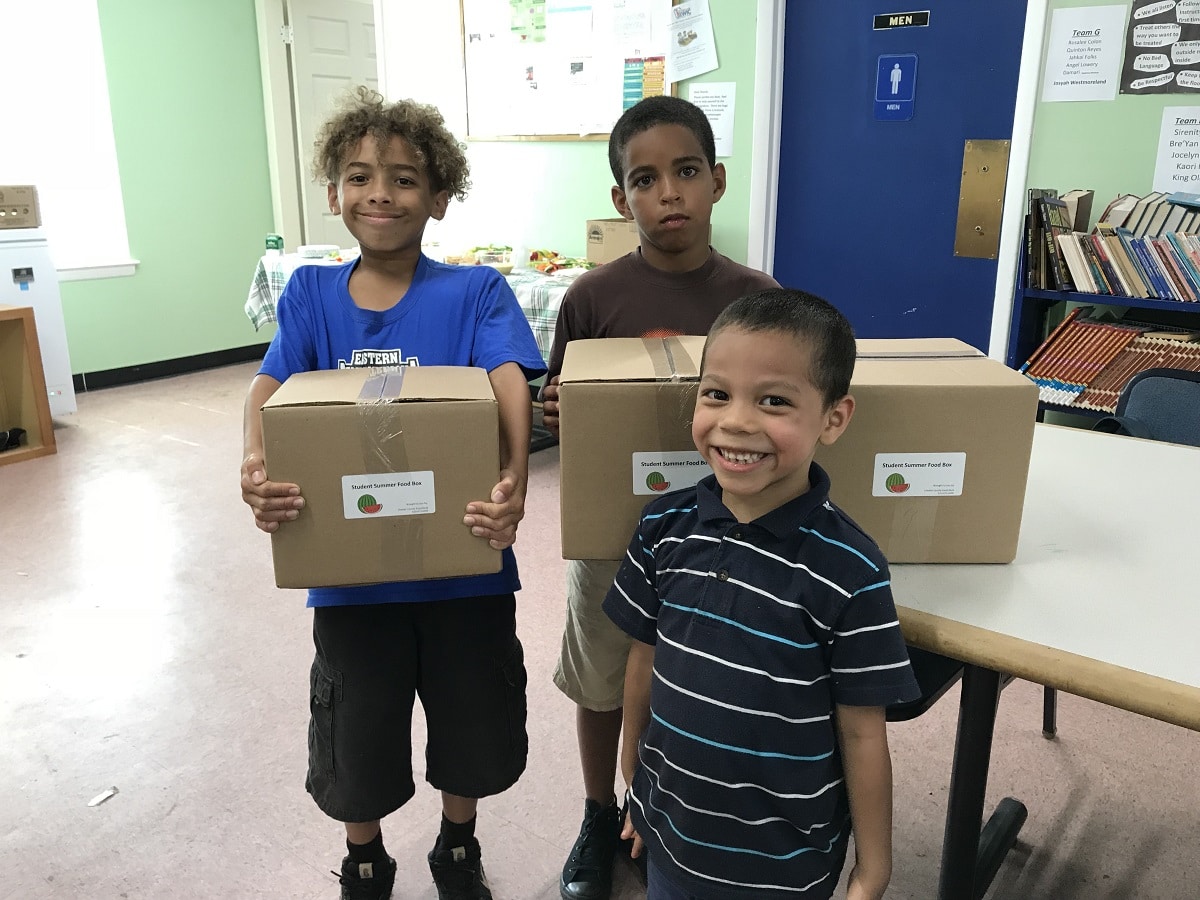 This summer, CCFB teamed up with the alumni of the Coatesville Youth Initiative's (CYI) ServiceCorps program, an eight-week summer service/leadership development program for Coatesville-area youth. With generous support from Enterprise, CCFB brought in a group of teenagers to work with the Food Bank all summer long and this group of dedicated, energetic young people helped to make the Summer Food Box program even more effective! The participants were able to serve and connect with their communities and build life/leadership skills, all while earning summer income.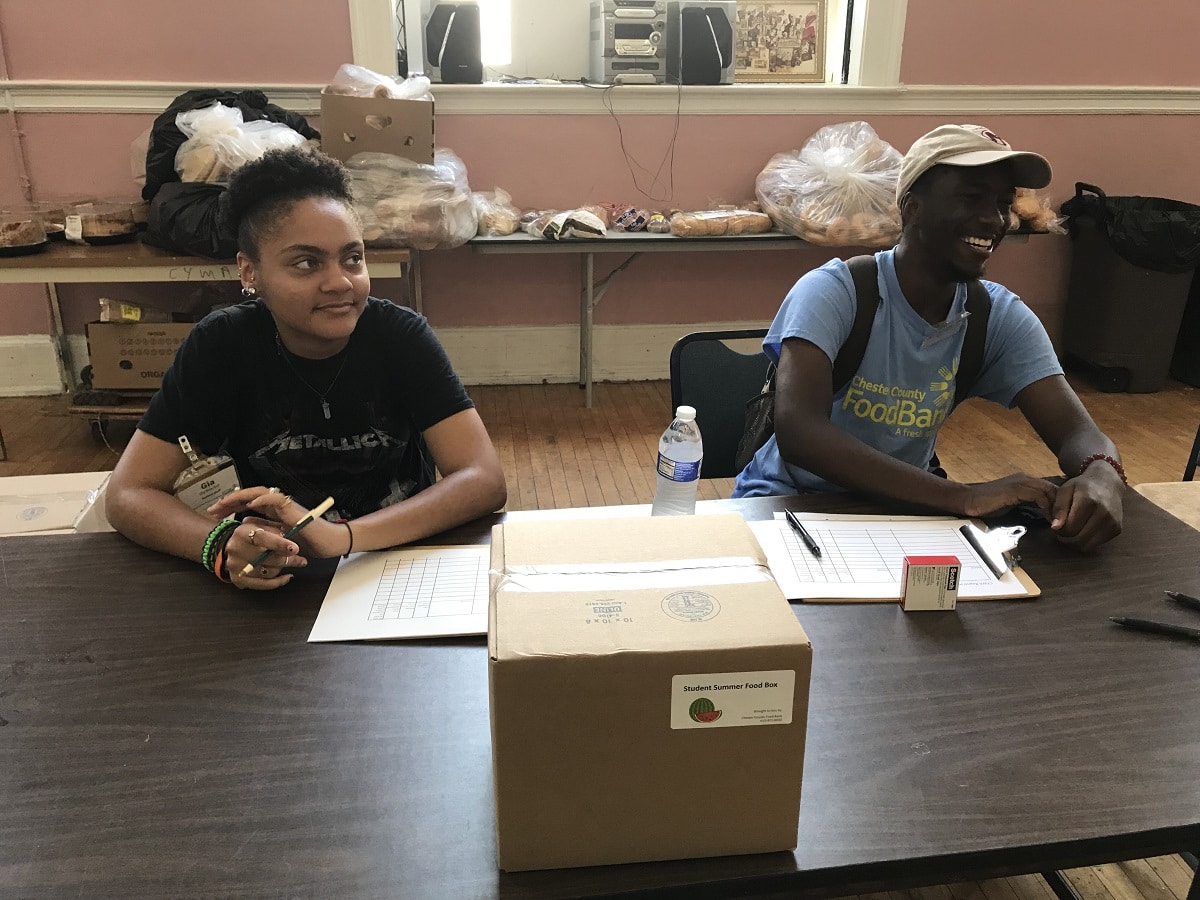 Four teenage staffers at CCFB this summer gained valuable work and life skills while helping CCFB to message more effectively to local youth communities. This win-win situation strengthened the Summer Food Box program while providing a powerful experience for those involved.  
Two of the teens involved this summer were Sarah Kargbo and Navalyna McMillian, both age 18.
Kargbo said that she and McMillian both worked with ServiceCorps for three years — all of their high school summers — and, earlier this year, when their supervisor Chaya Scott offered them the opportunity to work with the Food Bank, they both jumped at the chance.
"We both live in Coatesville, so we see people on the streets often, and it's nice that we can come and serve our own community and the children," said Kargbo.
McMillian said that she also wanted the job to be able to give back. "Being in ServiceCorps really teaches you that you need to care for your community, so this program is allowing me to do that," she said. "The satisfaction of seeing peoples' faces, recognizing you as being with the Food Bank and saying thank you, it's just so good."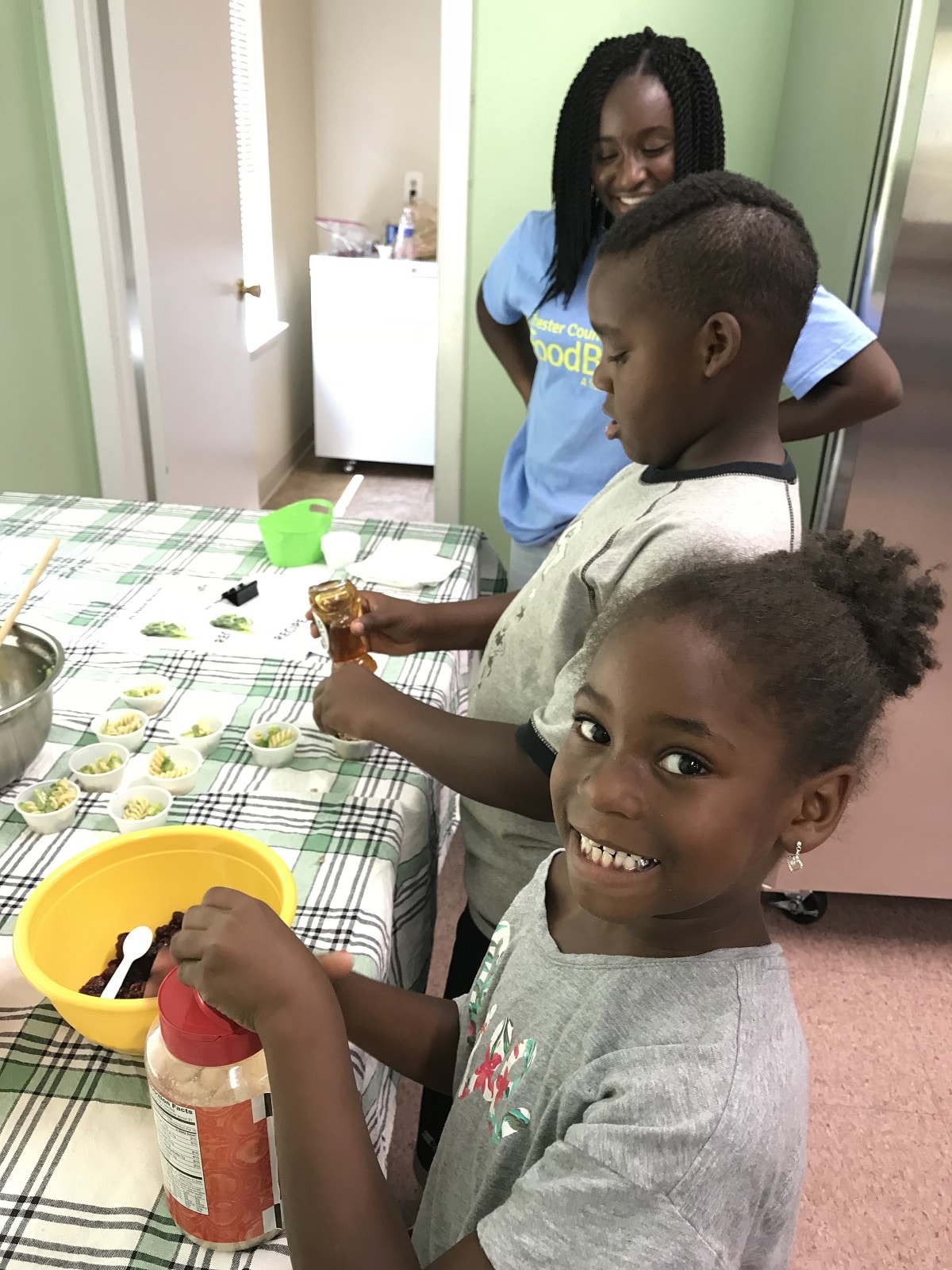 Both of these college-bound teens said that, in addition to the tangible skills they learned, like cooking, they'll also take away some life lessons with them once the summer is over.
"I've learned just to be grateful, I am so thankful that I have food on the table every day, where other families don't have that opportunity," said Kargbo. "I have more respect for everyday things in life."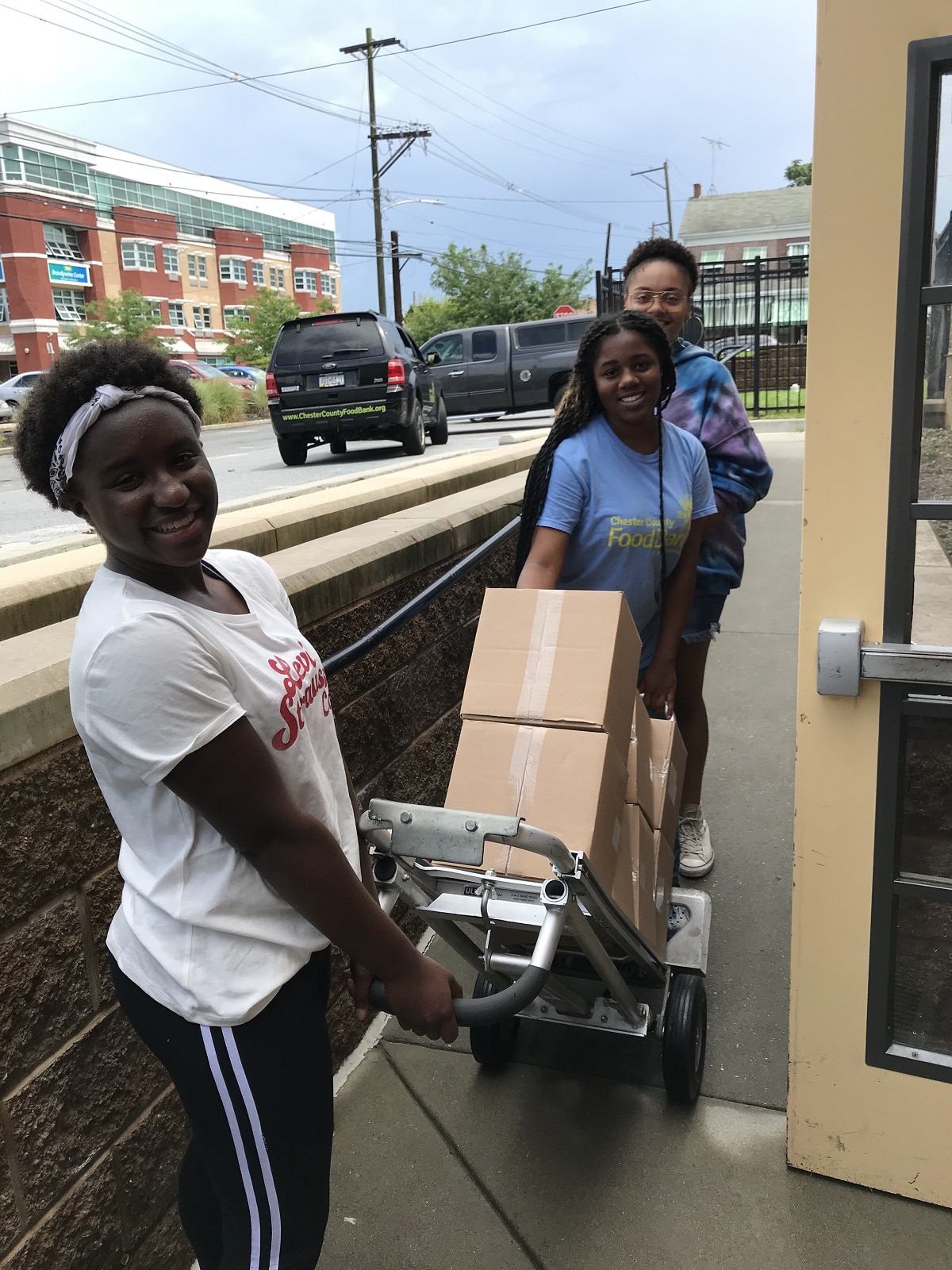 "One skill that I feel like I took from this summer job was patience and self-control," said McMillian. "When you're feeding a bunch of people at once, they can get a little bit antsy, a little aggressive, and you got to learn to be patient and positive through it."
Both said they would definitely recommend the ServiceCorps program, and working with Chester County Food Bank, to other kids that they know. And both have a strong commitment to service as they move into the next phase of their young lives.
"I want to continue using those skills," said Kargbo. "It doesn't matter where you live, you should always think about serving others."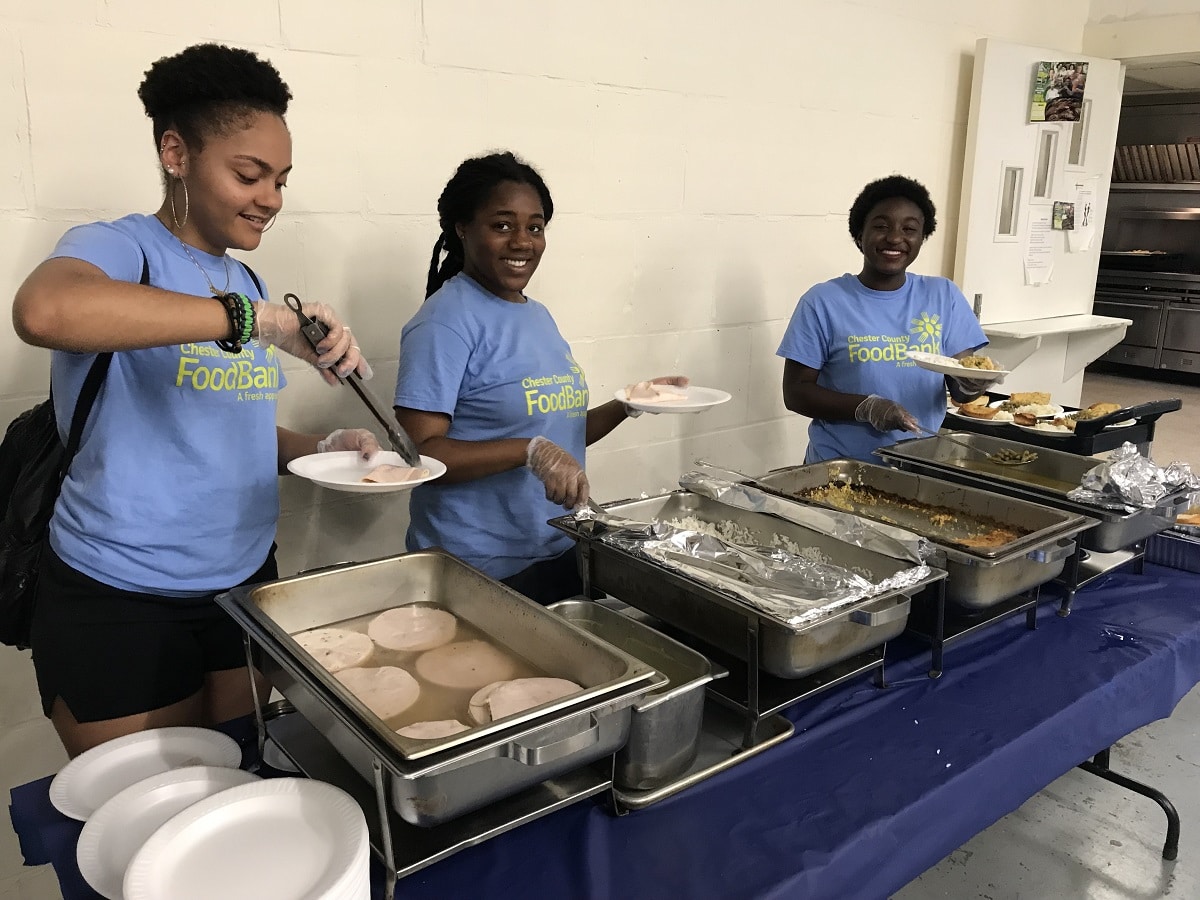 To learn more about the Coatesville Youth Initiative, visit its website. Chester County Food Bank works year-round to combat food insecurity all across Chester County, with programs for seniors, school-aged kids and everyone in between. With a focus on fresh food and nutritional education, CCFB works tirelessly to support its neighbors in need and to end hunger in its communities. Visit its website and Facebook page for more info, and consider donating food, funds or time to help continue its mission.   
Find Chester County Food Bank at 650 Pennsylvania Dr. in Exton; phone: (610) 873-6000.
Photos:

Chester County Food Bank