If you're interested in food justice or food insecurity, you've likely heard the term "food desert," referring to an area or neighborhood where there's limited or no access to fresh, nutritious food. It's a serious problem that disproportionately affects low-income neighborhoods often populated by people of color. But food deserts are far from the only inequity that has a huge impact on the health and well-being of under-resourced areas.
One inequity that is an emerging concern is that of the tree canopy — how much green space and tree coverage exists in various neighborhoods. The presence or absence of trees, shrubs and other plants can influence so many factors, from urban ecology, like wildlife, temperature regulation and air quality, to social factors, like mental health and crime rates. And the tree canopy across major cities like Philadelphia is not evenly distributed (at all); a map of the Philadelphia tree canopy separated by zip code in the Philadelphia Tree Canopy Assessment Report, conducted by TreePhilly between 2008 and 2018, shows that some of the lowest coverage is in the lowest-income zip codes.
One farmer who is taking direct aim at this issue is Jasmine Thompson, the founder of Philly Forests. This eight-acre farm, located on the grounds of Awbury Arboretum in Germantown, raises and sells organic vegetables and uses the revenue from that to fund its Urban Ecology Program, which provides free trees, shrubs and perennial plants to Philadelphia residents in the 13 zip codes with the lowest tree canopy.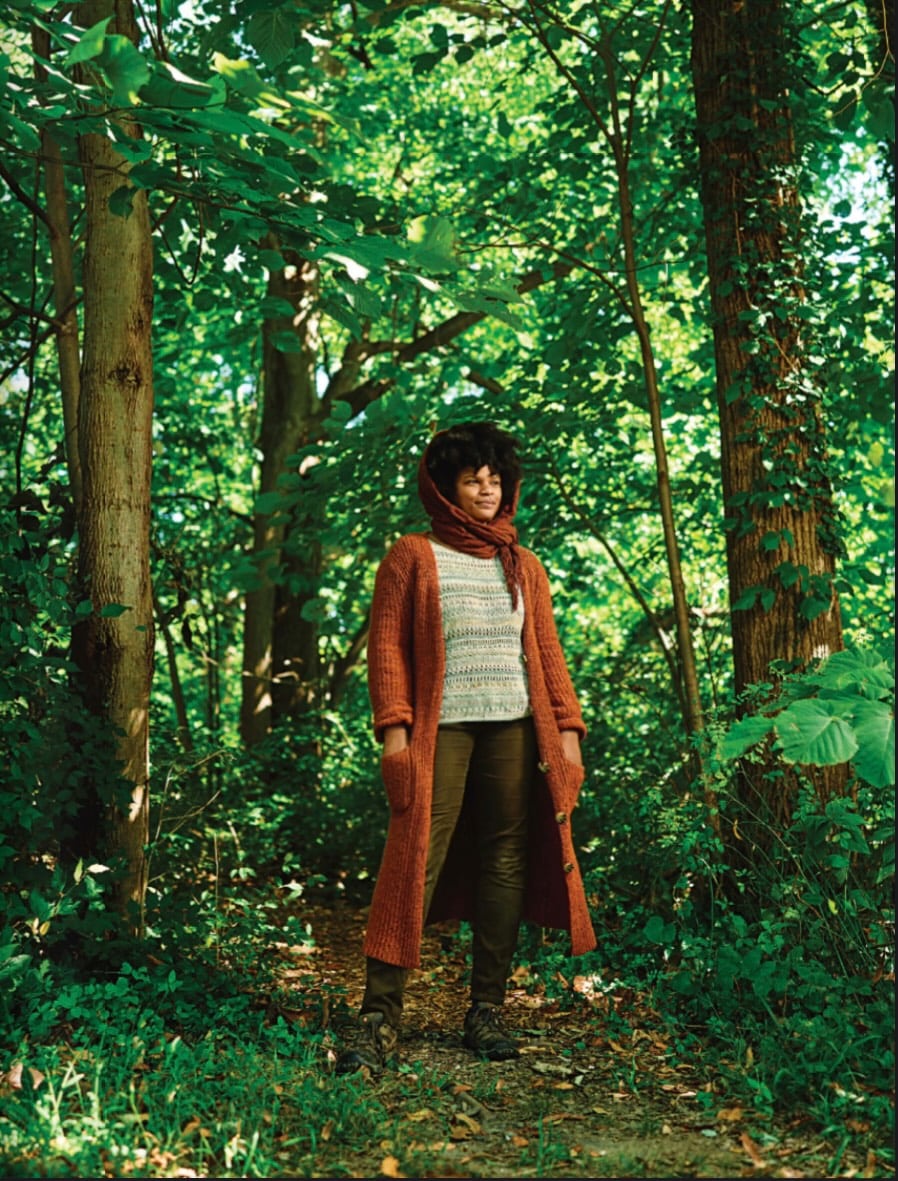 We spoke with Thompson to learn more about her background and mission to help green Philadelphia one block at a time.
PA Eats: What is your own relationship to food and agriculture? How did farming come into your life, and why did it resonate with you?
Jasmine Thompson: Farming came into my life by surprise! I began in the food industry via adult nutrition and diet-related illness prevention and management in Philadelphia. This love of nutrition was coupled with a romanticization of the West Coast, so I marketed my nutrition curriculum to different nonprofit organizations in coastal California, and landed a job in Northern California in Del Norte County. I was invited to develop nutrition and school gardening programs under a USDA grant whose main focus was establishing five food forests on adjacent tribal lands. I fell in love with farming and sustainable food production, and after moving back to Philly in 2017, I stayed the course until founding Philly Forests in 2020!

Farming resonated with my goals as a nutritionist because I had agency to provide higher-quality food to reach the same goals and benefits of healthy eating. Changing my role in the healthy food system allowed a personal and social rounding out of how to invite folks to participate in the local food system, and make decisions that nourish them and the environment.
Take us back to the beginning of Philly Forests. How did this project and business come to life?
Owning a farm business has always been a goal of mine. After spending years learning technique, I began searching for land to realize this dream. Upon the dawn of the pandemic in 2020, I was able to rent a 20 x 25-foot plot of land at Awbury Arboretum, and grew vegetables for 15 families in the Germantown area, and distributed via a free CSA!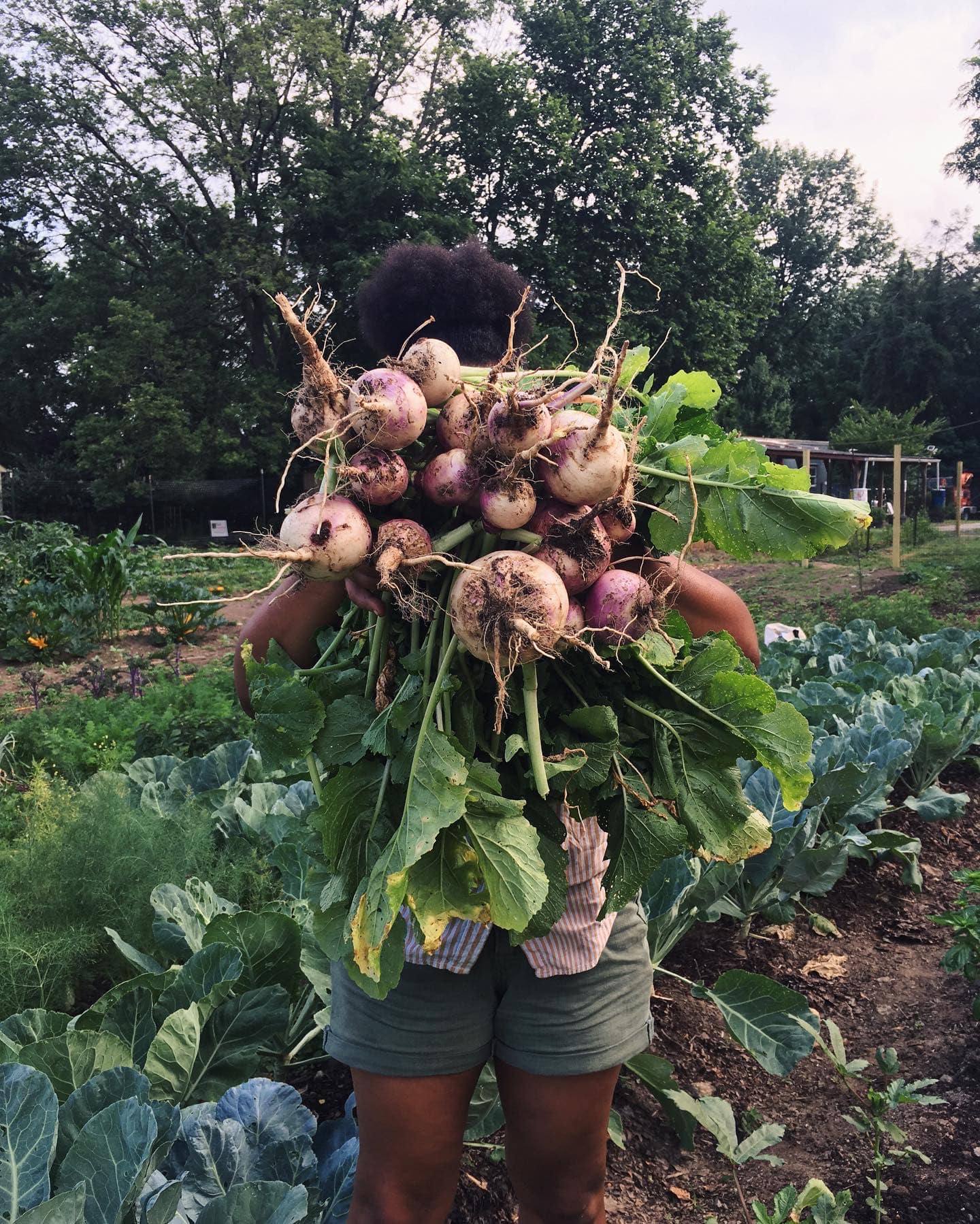 We had a cohort of around 6 volunteers that rotated roles weekly, and it was a great introduction to market farming for profit instead of what I was used to (crop planning primarily for child education at a nonprofit). The learning curve for market farming was strong, and we're still learning so much as our growth has been exponential since 2020. We incorporated the business in 2021.

In 2021, we graduated to 1 acre, a 20-member paid CSA, and operated a farmers market. In 2022, we graduated to 3 acres and shifted our Urban Forestry program to an Urban Ecology Program. In 2023, we have 8 acres and are expanding our engagement programming! Exciting stuff!
Trying to get any new thing off the ground can be a struggle. What are some of the setbacks you faced? What about victories or successes?
The setbacks are many! I am naturally entrepreneurial, creative and motivated by passion. However, to be a successful entrepreneur, you have to possess (and hone) certain skills. One of the largest skills that I had to hone was team leadership. I work very well in groups, but delegating tasks and generally managing groups of people has been (and still is) very hard for me. I'm still learning how to comfortably blend my personality in an authoritative, compassionate, firm but friendly, and fun way!

Also, becoming profitable as a farm is different than a common CPG business – tracking cost of goods sold, for example, is very unique. Across the many crops in our plan, the cost of seed, land rent, irrigation materials and the water bill, infrastructure for the particular crop, fertilizer, staff time for weeding/harvesting/selling, etc costs way more than the crops bring in in revenue. The crops take up prime real estate for 30-75 days where only they are growing. So finding ways to diversify income has been crucial to the sustainability of our team and the business in general. We've begun classes, value-added products, hosting farm-to-table dinners and more!

There are countless other struggles related to adequate inventory for CSA and farmers market, staff capacity for our various programs, and navigating creating healthy community partnerships.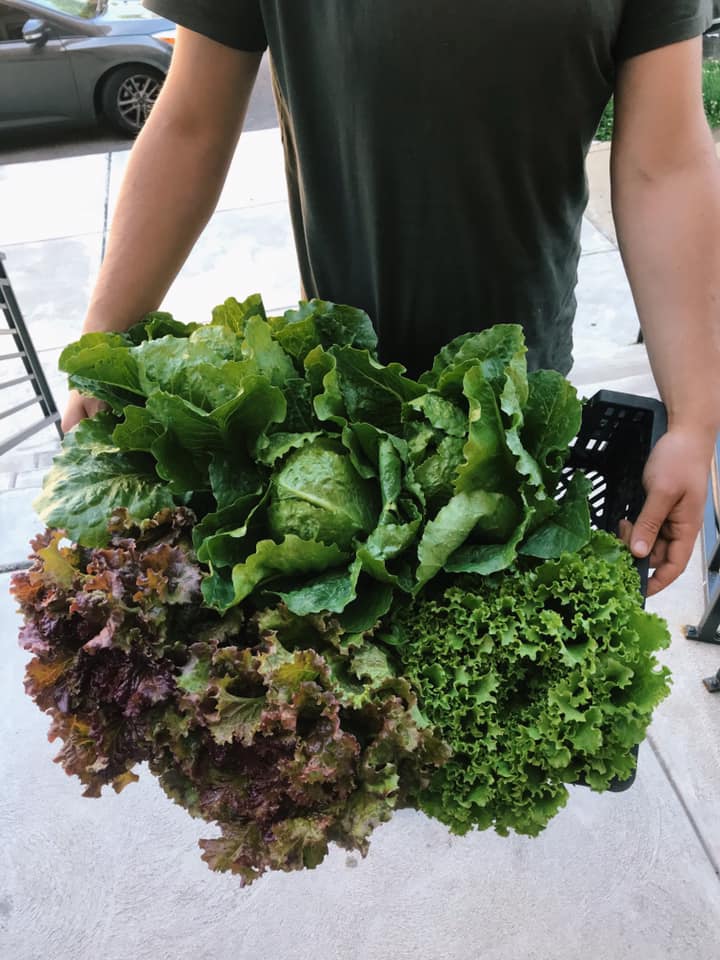 Similarly, the successes have been plentiful!

Since we're a social enterprise with the mission to reforest Philadelphia with trees, shrubs, and perennials, we have been hitting our quarterly goals with the number of trees planted, number of beneficiaries engaged, number of zip codes for distribution and more! It has been so gratifying boosting Philadelphia's tree canopy to benefit humans and wildlife.

Other successes include job creation for young Philadelphians in the field of agriculture and ecology, strengthening of social capital through partnerships and the farmers market, countless speaking engagements on topics from environmental justice to local food systems, and also connecting our target populations to the beautiful nature available in Philadelphia!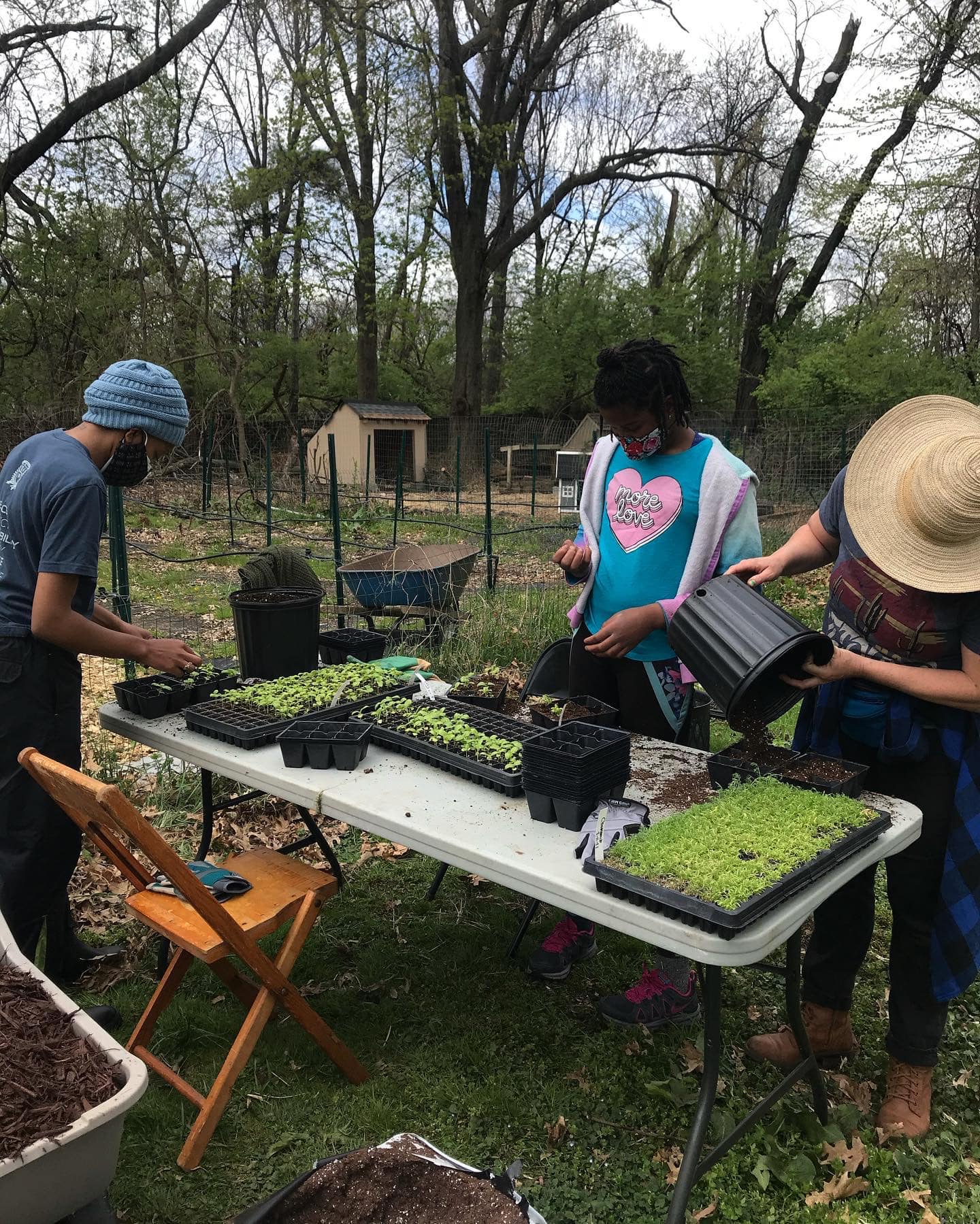 How did you make the connection at Awbury Arboretum, and what has it been like working there?
Yes, 3 of our 8 acres are Awbury Arboretum. I grew up around the corner from Awbury and was familiar with the parks operated by Parks and Rec, and the arboretum operated by Awbury Arboretum Association. I wasn't familiar with The Farm at Awbury, the 16 acres that are rented out to different organizations involved in food, floristry and agriculture. When I found out about this part of Awbury in 2017, I sent proposals for tenancy for a few years and ultimately was accepted in 2020!

Working with Awbury has honestly been difficult. Being the only Black organization of 14 businesses, this comes with the challenges that would be found in all predominantly white-run spaces. Navigating through this has thickened my skin and made me use my voice more readily and firmly.

Being at Awbury has also connected me to folks in the Germantown community in a setting that simply can't be found anywhere else in the city! It's been lovely finding this ecological gem and using it as good bedding to connect with fauna, flora and neighbors.
Can you tell us more about your CSA? How has it grown since its inception? What has the community response been like?
Our CSA began informally in 2020 when we were growing free food for 5 families in Germantown. Upon incorporation of Philly Forests in 2021, our CSA has grown exponentially in number. Members have options to pay annually, bi-annually, monthly or weekly. Thankfully, the USDA has just begun allowing weekly CSAs to be EBT-eligible, so we're stoked to offer that.

The response has been great! We have a value proposition to customers that with every purchase made at Philly Forests, you are directly contributing to reforesting Philadelphia for humans and wildlife. The CSA is not only very reliable income for the farm, but it serves as a vehicle for individual customers to address systematic change.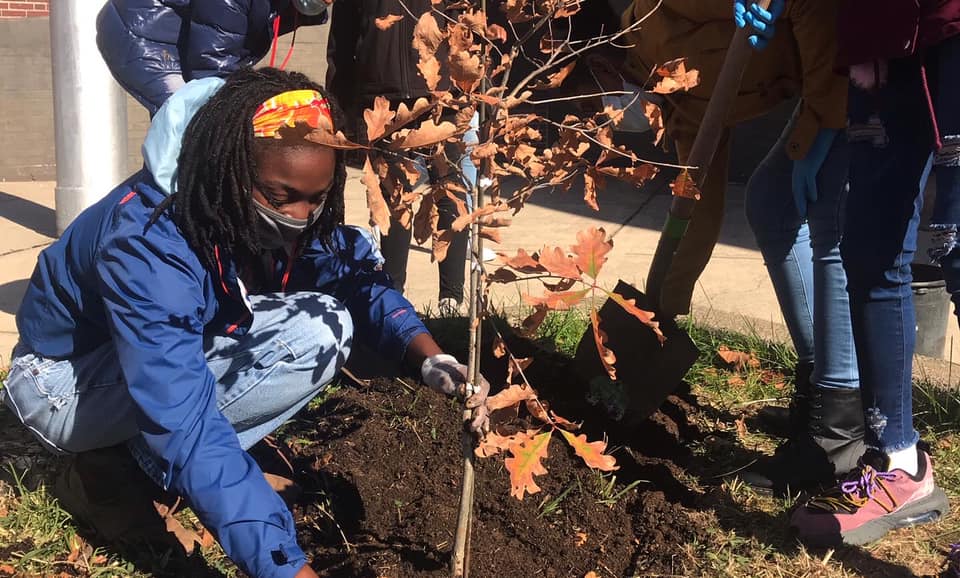 How do you talk about the concept of environmental justice to people for whom this is a new or unheard of issue?
I usually give countless statistics related to tree canopy, life expectancy, rates of pollution-related illness, comparing predominantly Black neighborhoods to their white counterparts. I also give a history of redlining in Philadelphia and other major cities that showed institutions and city governments intentionally not investing in Black communities' built environments, housing, businesses, schools, etc. and how that affects present-day environmental challenges (and countless others).

In Philadelphia alone, our lowest canopied area is in North Philly, a Black neighborhood, at 4%. Our highest is Chestnut Hill, a predominantly white neighborhood at 86% canopy coverage. According to US Census data, the life expectancy between these zip codes is 20 years (68 for NP and 88 for CH), and food access, air quality, heat islands, also follow suit with white privilege.
What do you dream of when you think about the future of Philly Forests?
I envision Philly Forests encompassing 100 acres. Around 20 would be dedicated to farming and 10 for an orchard. I envision a community garden for neighbors with higher environmental health risks, and an education center surrounded by woods to hold classes, field trips and house interns between the ages of 18-24 from at-risk neighborhoods in Philadelphia who are interested pursuing fields in food, agriculture and forestry. And space for a tree nursery to cut the wholesale cost of annual trees planted in Philadelphia.

I envision Philly Forests serving Philadelphia in perpetuity. After such establishment, I hope to engage folks from various cities in the US, and support organizations doing similar work through grants, in-kind support and more.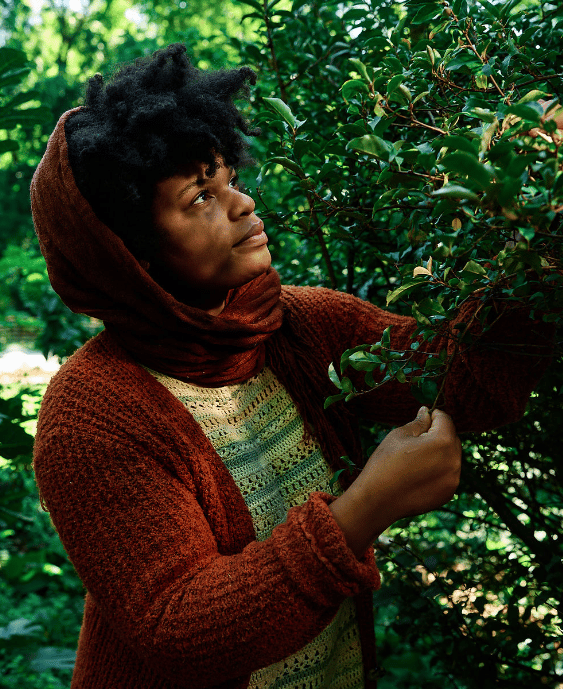 For more on Philly Forests' work, including an environmental program at Rhodes Elementary School, to join its CSA, and for updates on events, like its spring Farm-to-Table Dinner, visit its website and follow along on Instagram and Facebook.
Philly Forests is located at 6336 Ardleigh St. in Philadelphia.
Photos:

Courtesy of Philly Forests