The fight against food insecurity in Pennsylvania is nothing new, and for as long as neighbors have been struggling to get by, there have been organizations doing their best to assist and advocate. One of the longest-standing organizations in the region is Lancaster County Food Hub, which has been in operation since 1947. It began with a group of churches that banded together to help meet the basic human needs, like food, clothing and shelter, of the most vulnerable members of the community. Over the decades, it's changed its name a number of times, with the most recent being in 2019 to the current name, Lancaster County Food Hub.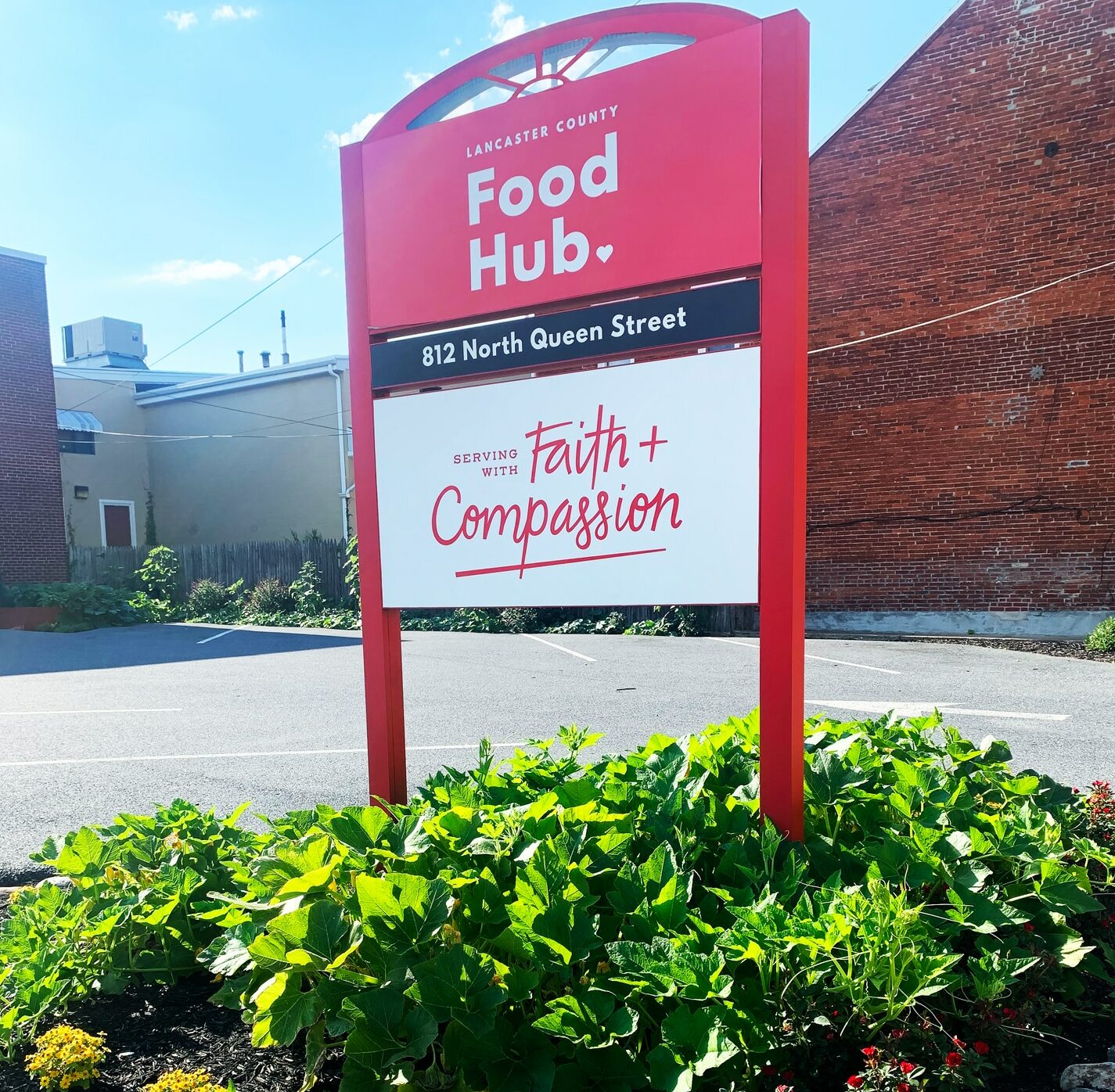 "Our mission has always been inclusive — if you're hungry or need clothes or a place to lay your head, we are here," says Lancaster County Food Hub's Executive Director Paige McFarling. "Our name change has everything to do with wanting to serve more people."
Located on North Queen Street in Lancaster City, this facility is home to a number of different resources that aim to treat everyone with dignity, no matter what position they're in. Originally, the space was no bigger than a three-car garage, but in 2015, the Food Hub underwent a large expansion, with a new building that was completed in 2017. Once those doors were open, McFarling says that the number of clients began to rapidly grow.
Over the past few years, she estimates that Lancaster County Food Hub has touched approximately 90,000 people through food alone.
"Food has always been our biggest program and most immediate need," she says. "We serve about 35,000 people each year with direct service distribution, meaning they come here or people pick up food for a client, we do a few deliveries to apartment high-rises. We also provide food to the Lancaster Community Meal Program, which serves free prepared meals three times a day."
The Food Hub receives its food in a number of ways. The largest source is a USDA grant in partnership through the Central Penn Food Bank, where it orders nearly 35% of its food each year. About 15% of its food comes from food drives and donations from the community, and another 50% comes from a food recovery program partnership with local food corporations, like Wegmans, Target, Giant, Whole Foods and Costco.
"Every day of the week, we go out to one or some of those stores and pick up food that hasn't expired but needs to be moved quickly, and they donate that to us," McFarling explains. "We do some purchasing, traditionally not a lot, but we're committed to fresh and healthy food distribution, so we always have milk, eggs and produce, and at times, we'll purchase that."
Purchasing has ramped up in the past six months, she notes, with food prices rising due to inflation and some product scarcity because of supply chain issues.
With all of that food, Lancaster County Food Hub is committed to a large direct distribution effort. Four days each week from 9:30 a.m to noon, clients come pick up a food order or food and clothing. McFarling says that their goal is to support those in poverty and the working poor who make little money but too much to receive government benefits.
"All people need to show is a photo ID, proof of Lancaster County residence and a signed self-declaration form of low income," she says. "If someone feels they are in need and they live in Lancaster County, we try to help them, with as few barriers as possible."
The food boxes, which most people are eligible to pick up once per month, contain 70 pounds of food (sometimes more for larger families), which is meant to help stretch the clients' groceries. This includes shelf-stable items, like soup, beans and rice, a large bag of bakery items, dairy and eggs, frozen proteins, like chicken and pork, and fresh produce. There are also special selections for people with dietary restrictions, like diabetic, gluten-free or faith-based. This is all sorted, organized and packed by the small warehouse staff and volunteers.
"We have a volunteer army, and we would not be able to serve as many as we do without them," McFarling notes. "They provide the equivalent of about five full-time positions each year."
Food is also distributed through delivery to senior citizens who live in high-rise communities nearby, and sometimes by local agency caseworkers who will hand-deliver boxes to clients they know are home-bound or who might not be able to lift the heavy box up steps.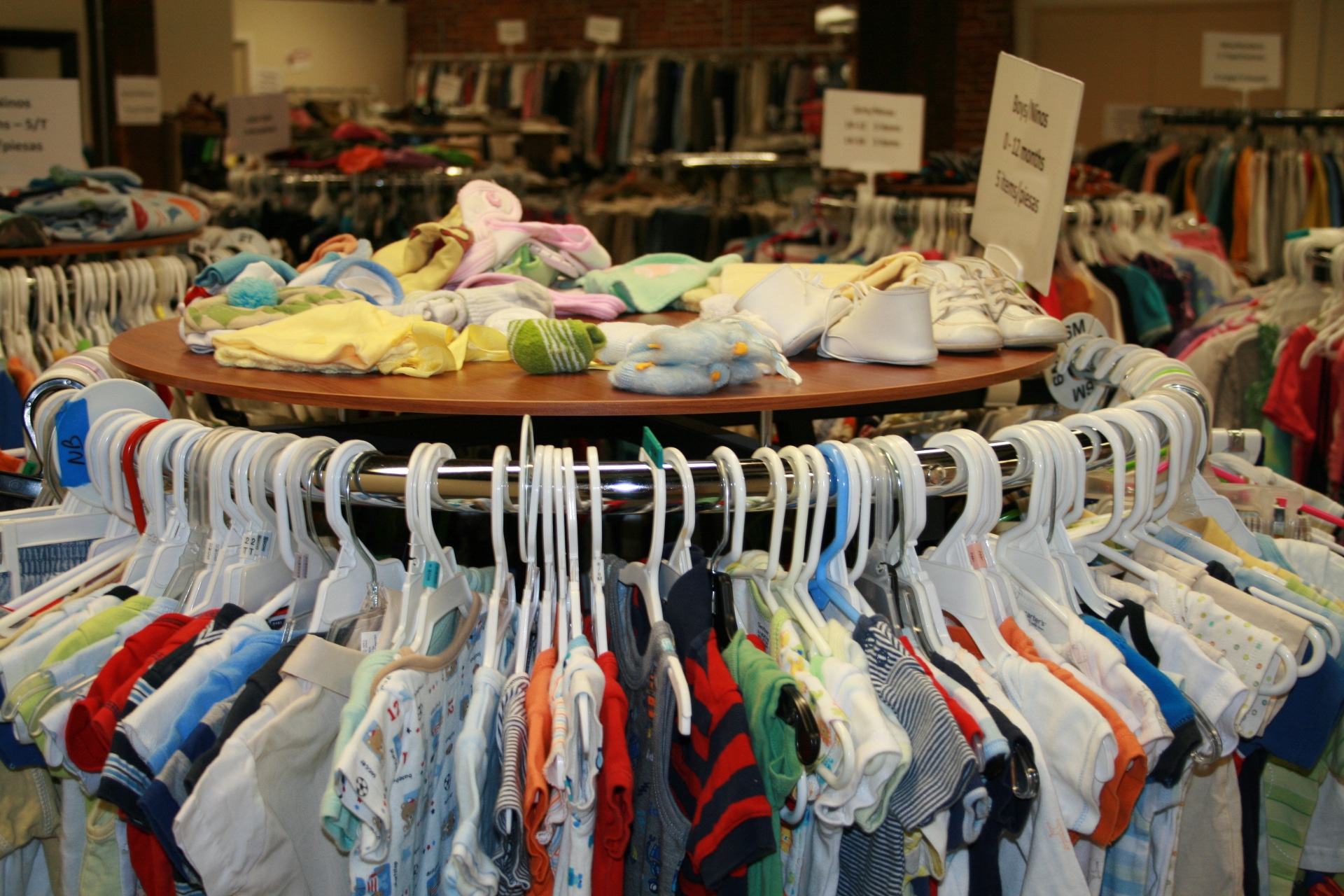 Lancaster County Food Hub also has programs to help provide food and shelter. Its on-site Clothing Bank, which McFarling believes is the largest free clothing resource in the county, provides a retail shopping experience, with volunteers helping shoppers find items and bag up orders. This project is entirely donations-based, occasionally from retails but mostly from individuals. There is often plenty of babies, children's and women's clothes, but they are always in need of men's clothes and shoes, as well as pre-teen sizes.
The other main component is The Welcoming Place, Lancaster County Food Hub's emergency overnight and a drop-in daytime shelter. The shelter, which is located at Ebenezer Baptist Church on Lime Street, is open 365 days a year for overnight stays, and 5 days a week for drop-in visitors. The daytime shelter offers amenities, like computers to apply for jobs or government assistance, soft seating to sit and relax, tables and chairs, snacks, coffee and water, and books and crossword puzzles.
"People at risk of homelessness can come here, and we get to know them, and build trust, and that can help them be willing to move into that next stable step," McFarling says. "Since we started doing this, about 50% of everyone that has come to us has moved towards something more stable. I'm not going to say housing, necessarily, because there's such a crisis in Lancaster County and the US, but we're doing what we can to help them."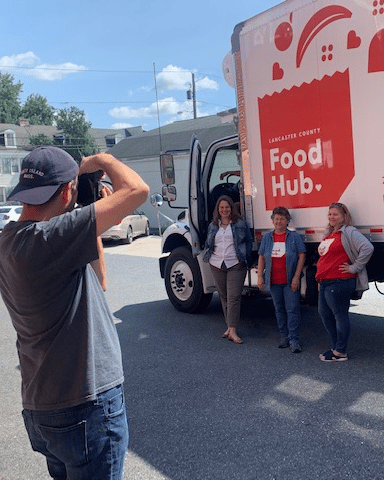 To learn more about Lancaster County Food Hub, including how to get involved or how to receive food, visit its website.
Find the Lancaster County Food Hub at 812 N. Queen St. in Lancaster, PA; phone: (717) 291-2261.
Photos:

Lancaster County Food Hub