Summer is the season of adventures, road trips and excursions in PA! If you've got kids, there's a good chance that at least one epic outing will include an amusement park, a place for the little ones to run wild and the bigger kids to get their thrills on water slides and roller coasters. Pennsylvania is home to a number of world-class theme parks, scattered helpfully across the state, so even if you're just in the market for a day trip or a mini-vacation, there is somewhere super-fun not too far away.
Each amusement park in Pennsylvania has its unique attributes, including their dining options! You might be amazed at just how much food is available at each park; from the usual suspects, like hot dogs and ice cream, to really special, creative fare. And, to set themselves apart from their competitors, they all have at least one signature snack that you just can't leave without trying.
Ready to dig in? Here are seven signature snacks at some of the best PA amusement parks:
DelGrosso's Park Pappy Fred's Original Park Pizza
DelGrosso's Park is owned and operated by the family behind a big name in Pennsylvania food manufacturing: DelGrosso Foods (the oldest family-owned pasta sauce producer in the US!). As you might expect from an amusement park named after a culinary brand, food is taken pretty seriously here. There are a lot of food options at this park, from Murf's Famous Potato Salad to the beloved Spaghetti Wednesdays, featuring homestyle Italian-American favorites, like baked penne and homemade lasagna.
But the standout signature snack at DelGrosso's is Pappy Fred's Original Park Pizza. No, pizza isn't the most unique theme park food out there, but for it to be high-quality pizza certainly is unusual! At DelGrosso's, the pizza pie, which is named after founder Fred DelGrosso, is made with homemade dough, which is hand-rolled before being topped with DelGrosso Pizza Sauce, cheese and other toppings, like pepperoni. You can buy it by the pie or by the slice! 4352 E. Pleasant Valley Blvd., Tipton, PA; (814) 684-3538.
Kennywood Potato Patch™ Fries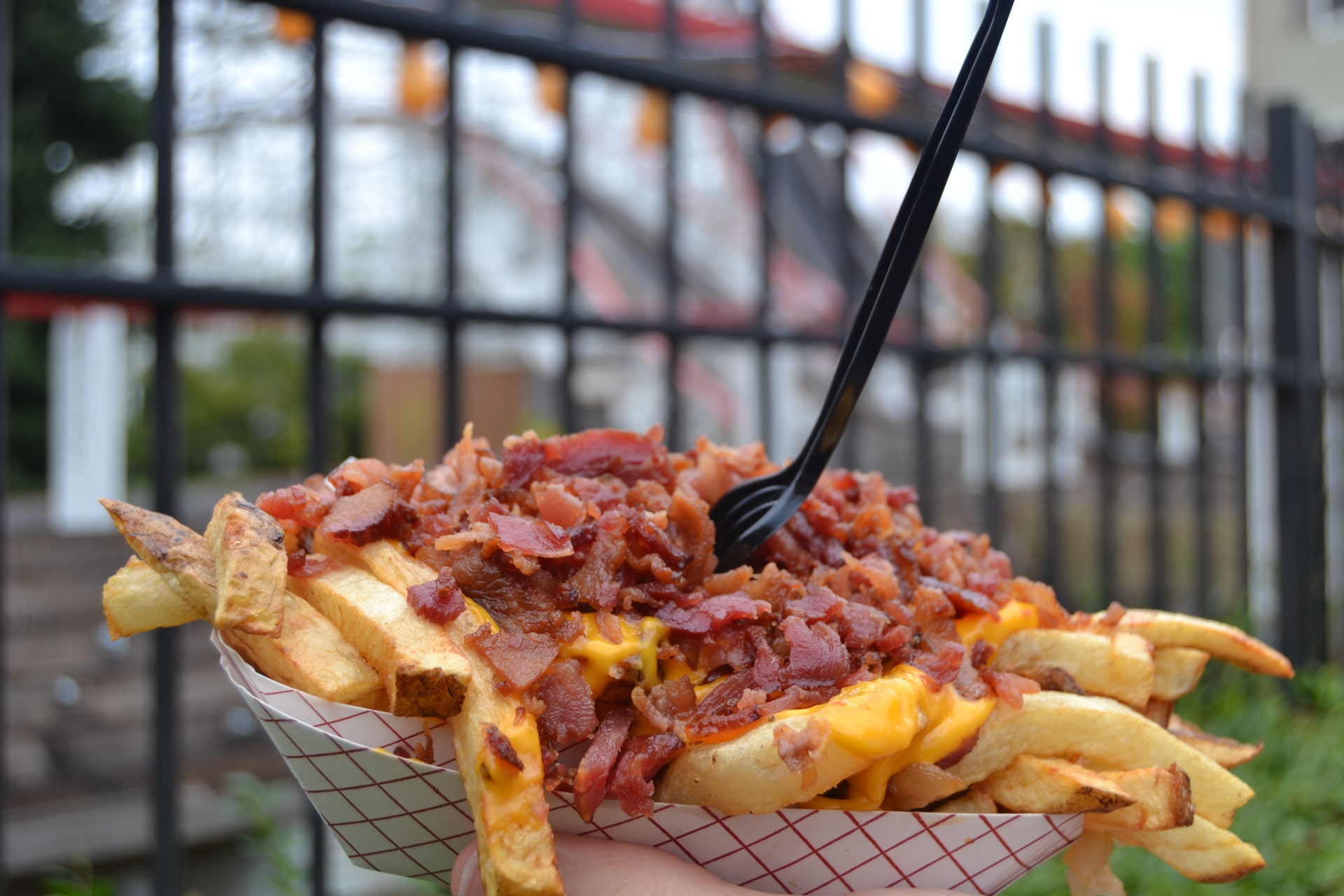 Kennywood, located right outside of Pittsburgh, is known for its fun coasters in Steelers County, and Kiddieland and the Thomas the Tank Engine mini park for littles. It's also known for its Potato Patch™ fries, which are frequently found on lists of America's Best French Fries.
These prove that fries, so simple in theory, are really all about the quality of the ingredients and the technique. Potato Patch fries start with quality Idaho potatoes which are fresh-cut just moments before they are fried and served. There are a whole bevvy of toppings guests can load them up with; these topping options include cheese and bacon, gravy and various seasoning salts. You can also order them plain, or "naked"! In a typical season, Kennywood serves 500,000 orders of Potato Patch fries! Find the Potato Patch next to the iconic wooden roller coaster, the Thunderbolt, which was dubbed "The King of Coasters" in 1974 by The New York Times! Snacking on fries and watching the Thunderbolt race past is a Western PA tradition! 4800 Kennywood Blvd., West Mifflin, PA; (412) 461-0500.
Knoebels' Chicken and Waffles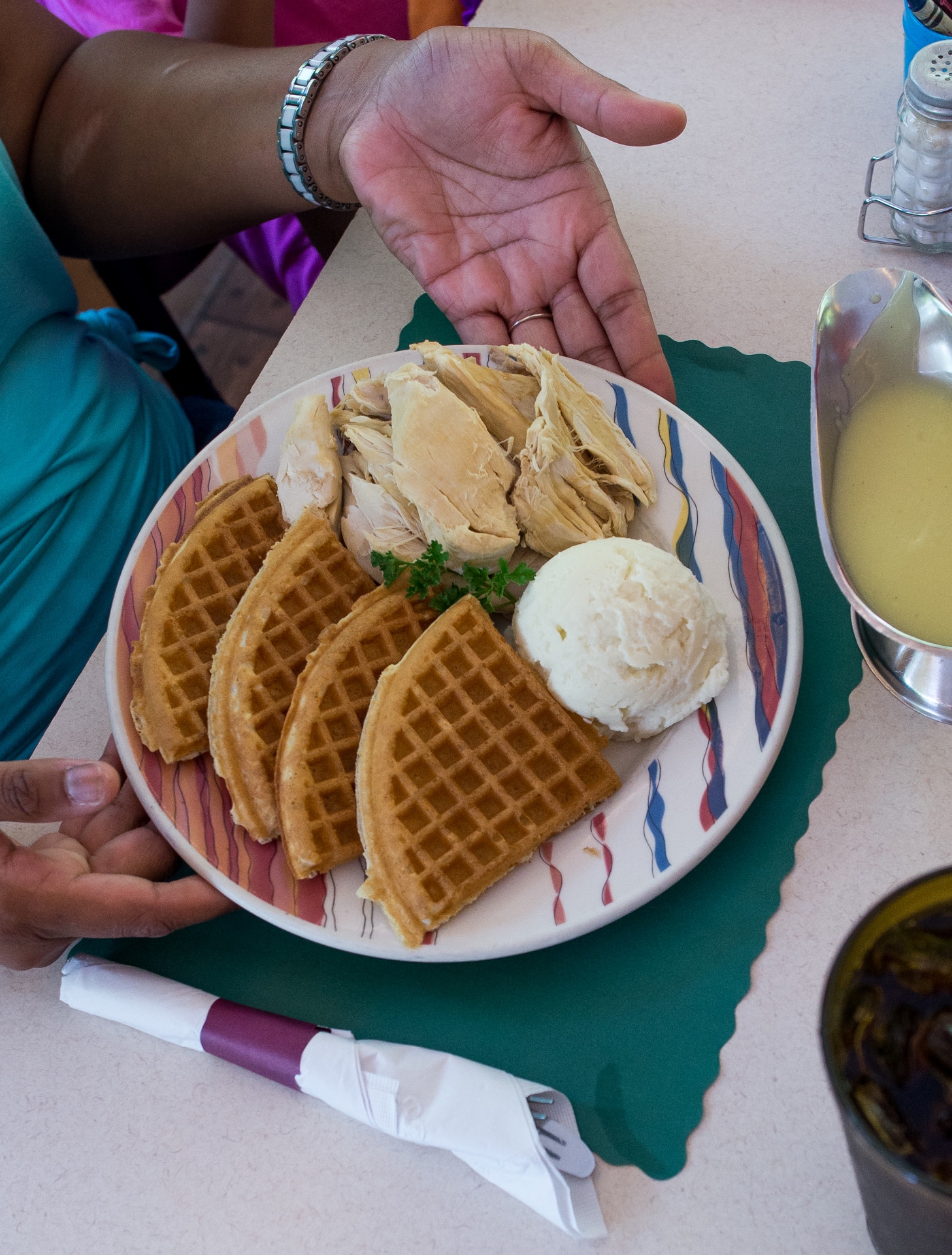 Knoebels is a one-of-a-kind amusement park. Instead of admission, you simply buy tickets for the rides you want to enjoy (boardwalk-style); there's an on-site carousel museum; you can camp to stay over; and best of all, Knoebels is dog-friendly!
Another awesome thing about this Central PA gem is the variety, affordability and quality of its food. In fact, Knoebels has won the Amusement Today's Golden Ticket Award for "Best Food" 18 times over the last 21 years! There are more than two dozen food stands at the park, from counter service options to a full service restaurant. There are salty and sweet snacks that you'd expect (think: kettle corn, burgers and soft serve), and a bunch that you wouldn't: pierogi, haluski, bison burgers, cookies and pickles on sticks, and even deep-fried alligator meat!
But perhaps the best-known signature dish is the chicken and waffles at the park's Alamo restaurant. It's a comforting traditional set-up of homemade waffles, tender off-the-bone chicken, mashed potatoes, two sides, and choice of soup or salad. Find the Alamo, which has been in operation since 1926, right near the Grand Carousel in the park. 391 Knoebels Blvd., Elysburg, PA; (800) 487-4386.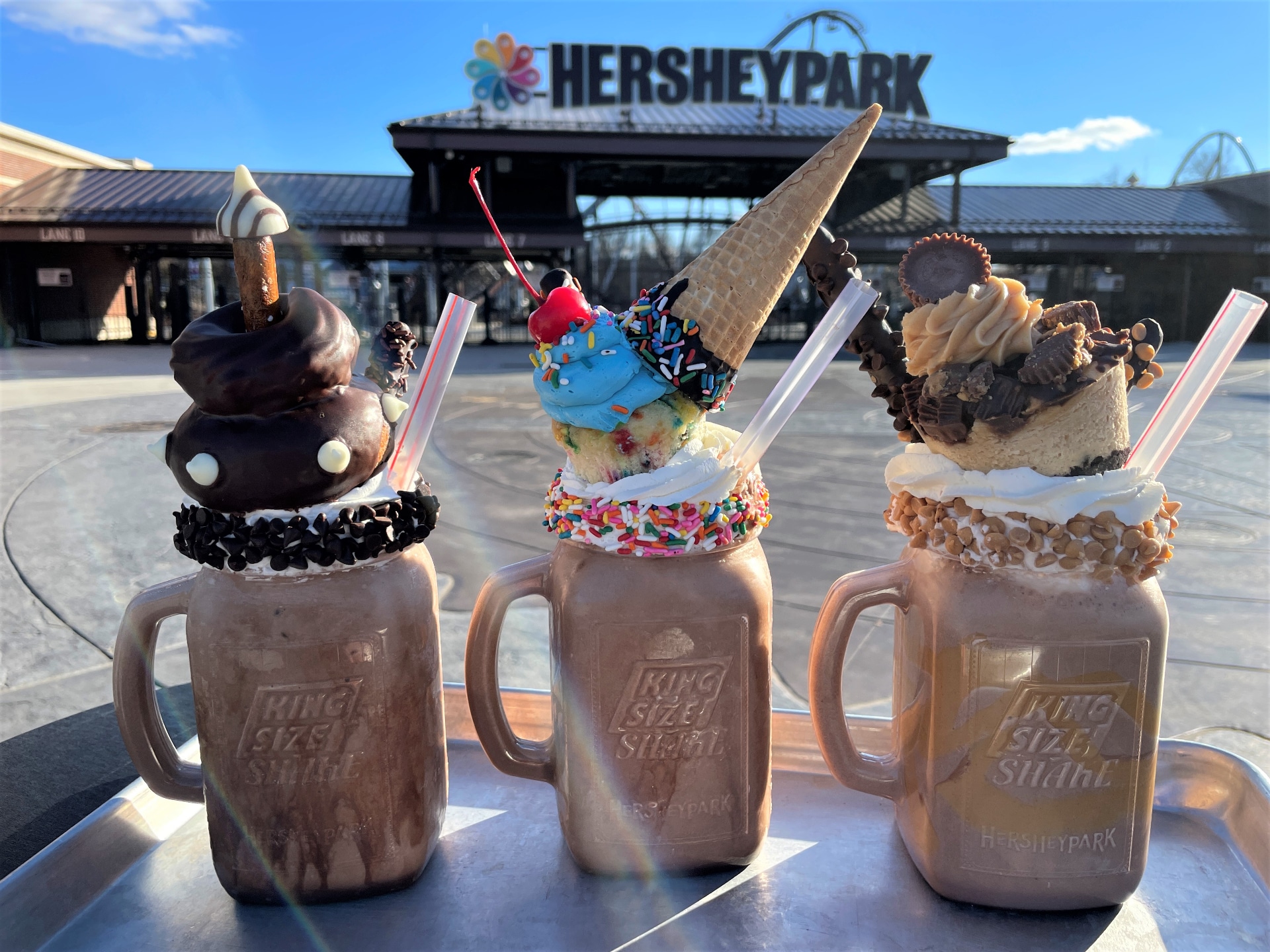 Hersheypark has been one of Central Pennsylvania's most famous tourist attractions for over 100 years. Originally started by Milton S. Hershey as leisure grounds for employees of Hershey's Chocolate Factory, it's now home to rides, a waterpark, a zoo called ZooAmerica, a number of resorts and so much more! Food is a big deal at Hersheypark, with a big focus on chocolate and sweets.
There are plenty of tasty ways to get your chocolate fix at the park, but one of the best-known are the over-the-top King Size Shakes, which can be found at Simply Chocolate in the Founder's Way section of the park. Flavors include the Kissing Tower King Size Shake, the Sundae King Size Shake and the Reese's King Size Shake. Each one starts with an ultra-creamy milkshake and is topped with a wild arrangement of treats! In winter, don't miss the Frozen Hot Cocoa King Size Shake (or try making your own at home). 100 Hersheypark Drive, Hershey, PA; (800) 437-7439.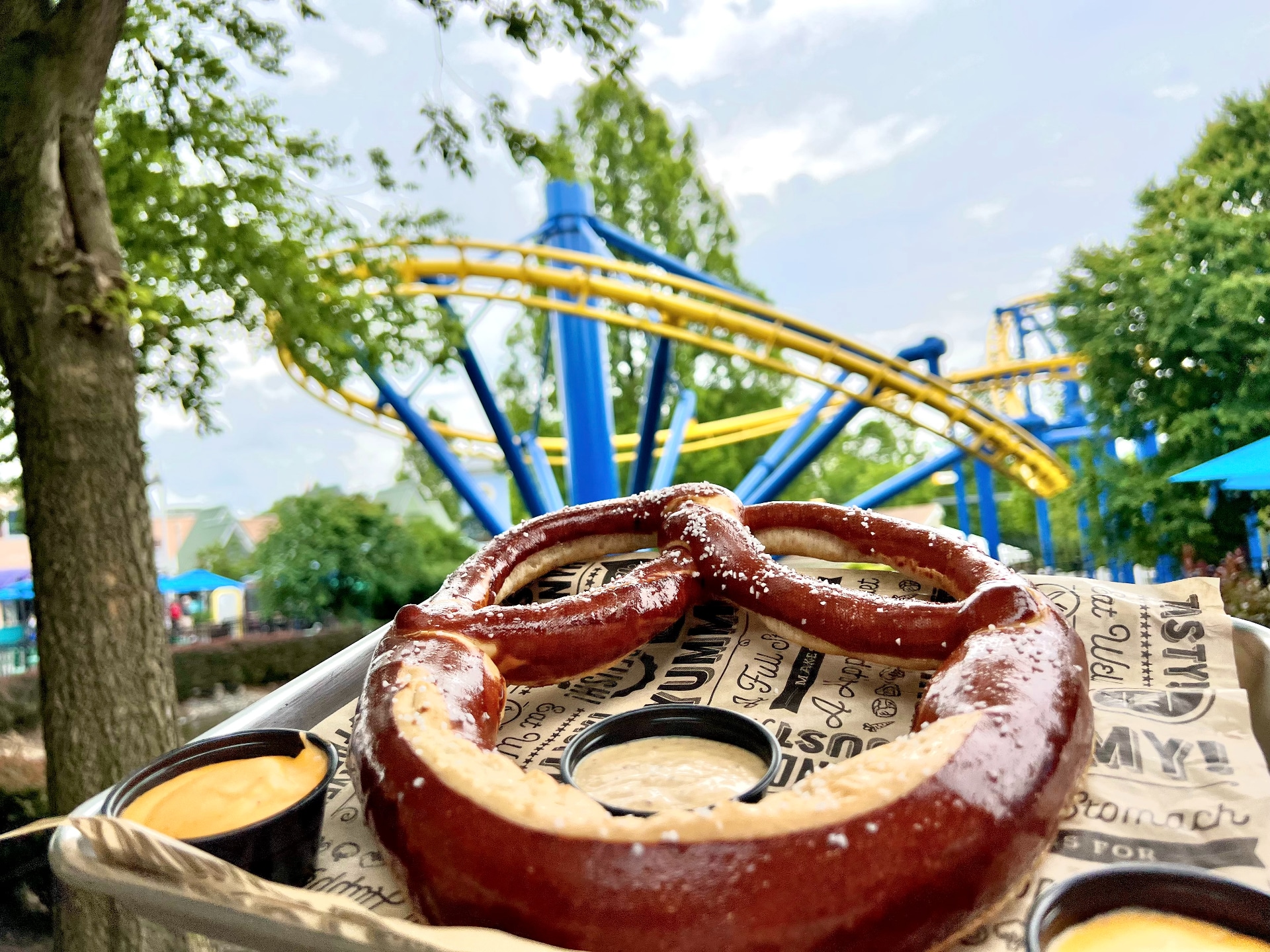 Nestled in beautiful Lancaster County, Dutch Wonderland is a family-friendly amusement park that features over 35 rides, attractions and entertainment shows. Ride highlights include the Wonder House, the Dino Dig, the Double Splash Lagoon water flume and Duke's Lagoon water park. There's lots of fun food to explore, as well, including iconic PA brands, like Turkey Hill Ice Cream, Auntie Anne's Pretzels and Rita's Water Ice.
But our main suggestion is to try the amazing selection of soft pretzels at Penley's Pub, a new dining location that opened right in the center of the park. Go for the giant pretzel, or branch out and try the dessert pretzel, jalapeno pretzel or pretzel sandwiches. This is also the only place in the park where you can find adult beverages, including craft beer and hard seltzers. 2249 E. Lincoln Hwy., Lancaster, PA; (866) 386-2839.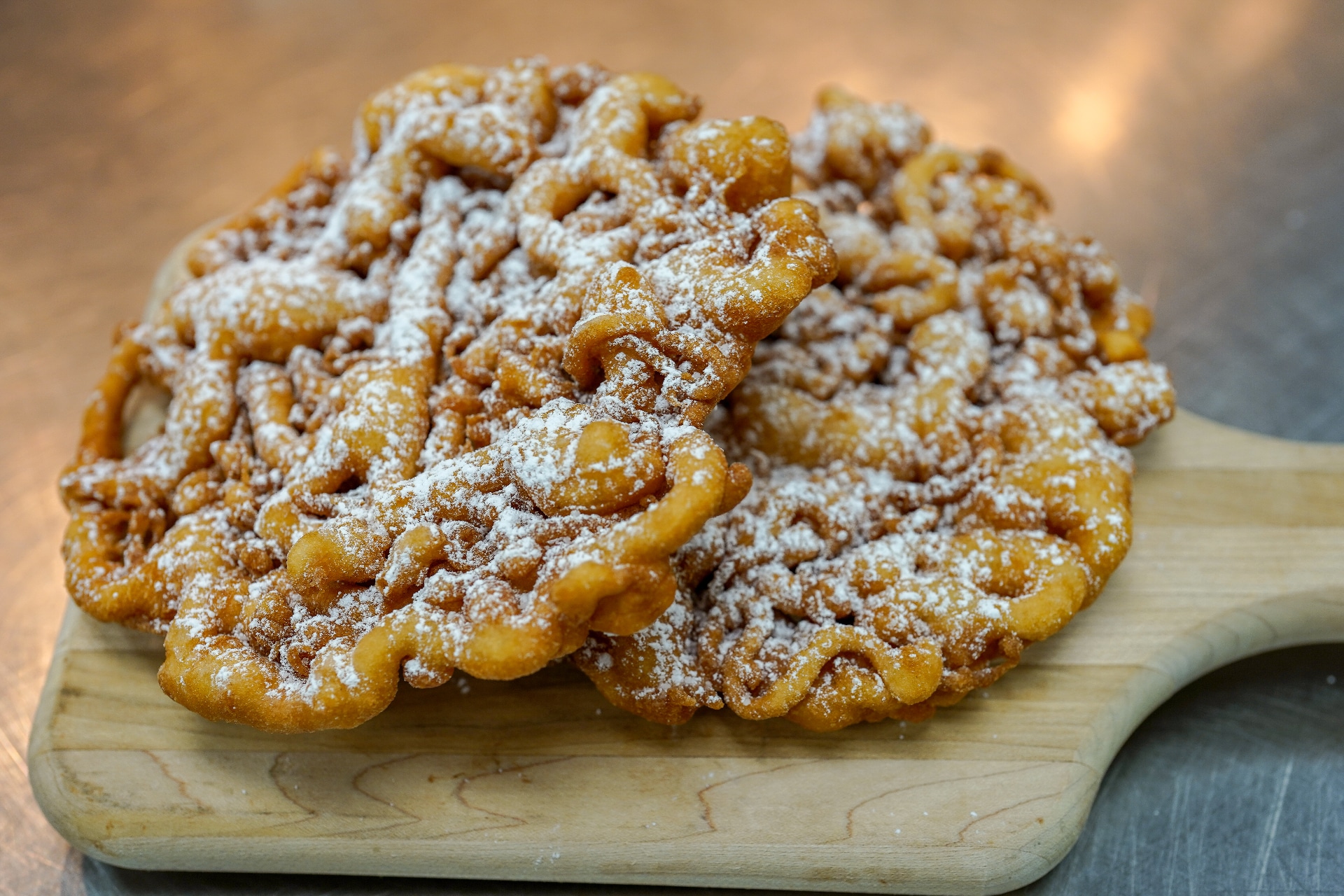 In the Lehigh Valley, Dorney Park & Wildwater Kingdom is the place to go for rides, entertainment and water park recreation! Explore over 60 rides, shows and attractions, including Planet Snoopy, an area just for kids. All of that fun is sure to work up an appetite, and there's a wide range of food and beverage options on-site. Alongside big-name chains, like Chickie & Pete's and Subway, there are tons of classic snacks like hot dogs, pizza and burgers.
But what Dorney Park is really known for are its Old-Fashioned Funnel Cakes! Year after year, funnel cake is its top-selling item. You can enjoy it sprinkled with powdered sugar, or take advantage of the chance to build your own, choosing from over 16 toppings. These include Oreos, hot fudge, strawberries, whipped cream and so much more! Find the Old-Fashioned Funnel Cake stand as soon as you enter through the park gates on the left side of the main midway. 4000 Dorney Park Rd., Allentown, PA; (610) 395-3724.
Pennsylvania Renaissance Faire Scotch Egg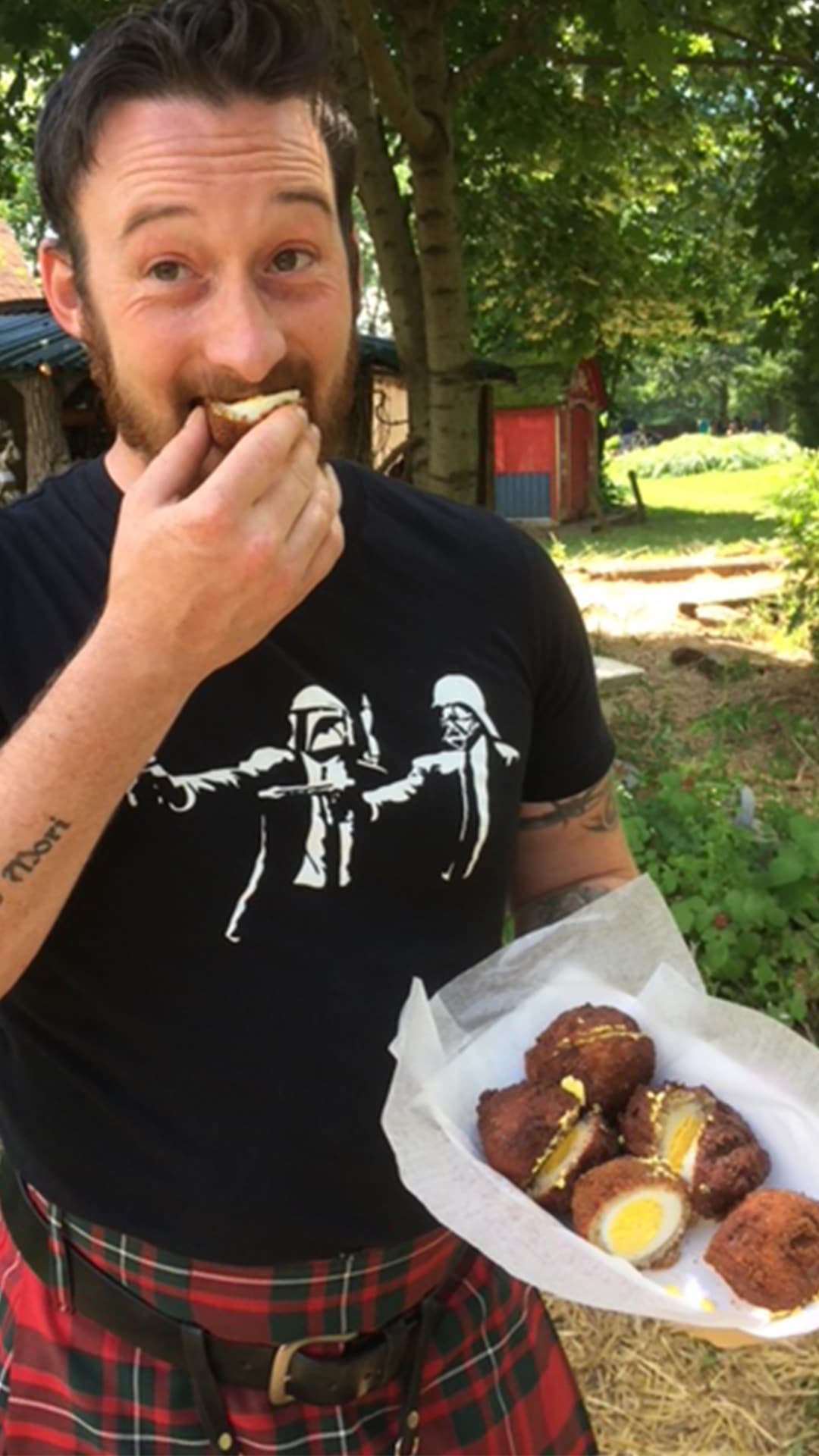 While the Pennsylvania Renaissance Faire isn't technically an amusement park, for the weekend it's open at the Mount Hope Estate and Winery, it basically serves the function of a theme park! Open Saturdays and Sundays, from late August through late October, this is an immersive experience on the beautiful historic grounds of the estate. Employees and guests go all-out with the costumes, often based around themed weekends, like Fairies & Fantasy, Viking Weekend and Time Travelers. There are musical, stunt and theatrical performances, magic acts and more to amplify the fantasy-land feeling.
Food is also a big deal, and though you might have an image of a giant turkey leg as the iconic Ren Faire snack, at the Pennsylvania Renaissance Faire, it's actually the Scotch Egg that's the darling of the day. In fact, The Faire is the largest non-wholesale producer of the Scotch Eggs, with visitors consuming over 50,000 of them each year during the 11-weekend season! Formerly made by hand, this year the Scotch Eggs will be prepared by new equipment that can make 30 Scotch Eggs per minute, which will mean quicker lines! Other snacky delights include Jalapeño Nacho Cheese Sausage Balls and Fried Potato Balls and, of course, the famous turkey legs. There are plenty of drink options, too, including Mount Hope Wines, Swashbuckler Brewing Company Beers and Lancaster County Ciders. 2775 Lebanon Rd., Manheim, PA; no phone.
What are your go-to snacks and treats at Pennsylvania's amusement parks? Let us know on the PA Eats Facebook page!
Feature photo:

Hersheypark

All other photos:

Courtesy of the respective theme parks