There are dozens of amazing food brands in PA, and though many of them have been around for multiple generations, their marketing efforts have modernized with the best of them. Among the more creative — and just a little bizarre — traditions that we've seen popping up in recent years are branded "food drops" on New Year's Eve. Think of it like the famous ball-drop in NYC's Times Square on New Year's Eve, except … it's food that's dropping!
Here are five towns in Pennsylvania that ring in the new year with fun and quirky "drops":
Way to lean into your town's name, Dillsburg! This borough in York County is named after its first settler in 1800, Matthew Dill, and really has nothing to do with pickles. But, on New Year's Eve, pickles take front stage at the annual Pickle Drop!  This year, the fun starts at 4:30 p.m., and features live ice sculpting, a baby pickle- and balloon-drop at 7 p.m. for the kids, bingo, dancing and the "Mr. Pickle-drop" at midnight with fireworks. There are also community-minded ways to get involved, like a blood drive and a canned food drive.
PEEPS® Chick Drop in Bethlehem
PEEPSFEST® is just as over-the-top and sugar-fueled as you'd expect from the makers of the iconic marshmallow candy. This family-friendly New Year's Eve party takes place over the course of two days at the Steel Stacks in Bethlehem. The festivities culminate on December 31 with the PEEPS® Chick Drop, when a giant glowing PEEPS Chick (nearly 5-feet-tall and 400-pounds) dropping toward the crowd. Other activities at PEEPSFEST include kid-friendly bands, ice skating, crafts and more.
Mushroom Drop in Kennett Square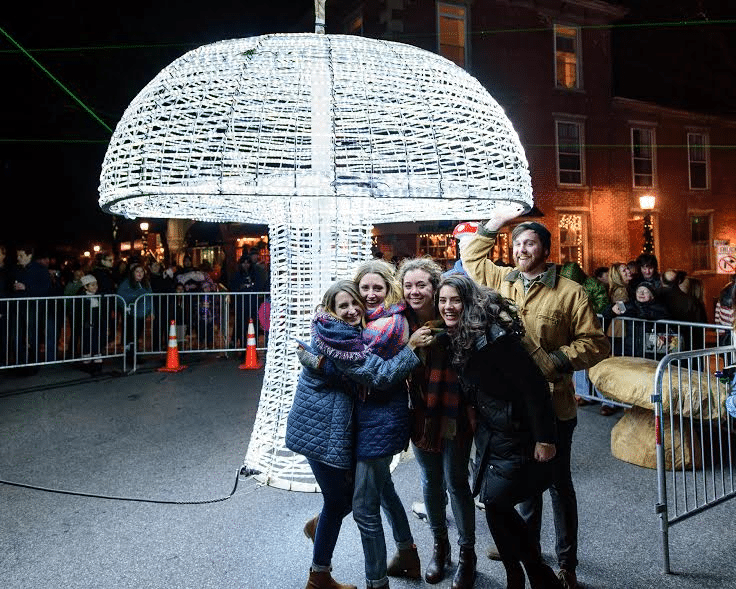 No, there won't be thousands of mushrooms raining down on you at the Midnight in the Square celebration in Kennett Square. The Mushroom Drop is actually one giant mushroom, all aglow, that descends on the audience from 100 feet up as midnight approaches! The town goes all out for this New Year's Eve party, with a laser light show, children's entertainment, food and beer from Kennett Brewing Co., and food trucks and live bands and performers. It all goes down at the corner of State and Union Streets at 6 p.m. The raising of the mushroom happens at 8:45 p.m., a great way for kids to get a piece of the action without having to stay up until midnight! Find more info at Midnight on the Square's website.
Hershey's Kiss Drop in Hershey
Hershey's New Year's is a huge annual event smack in the middle of Hershey, PA. Not only are there great live bands, but there are also plenty of other events and drinks and snacks from food vendors throughout the day. But, the main attraction is the Hershey's Kiss Raise at midnight, when a 12-foot, 300-pound replica of the candy is lifted three stories into the sky in front of the Hershey Press Building, followed by a fireworks show! The concert and event are free and open to the public. See the Hershey's New Years Facebook page for more info.
Strawberry Drop in Harrisburg
Downtown Harrisburg rings in the new year with a big party on 2nd Street. The family-friendly event includes a balloon drop, a milk and cookies toast and more kid-centered fun. Right before midnight, a big strawberry is raised up and then dropped as the New Year approaches (followed by fireworks at midnight!). Why a strawberry? Strawberry Square, the huge retail and office corridor that overlooks the state capitol, has been an essential component of Harrisburg's redevelopment in the past few decades, and its atrium has become an important community gathering space. For more info and tickets, see here.
Do you know of other towns in PA with unique food or drop tradition on New Year's Eve? Let us know!
Feature photo:

Midnight on the Square

Mushroom photo:

Chris Herring