To celebrate PA Beef Month this May, we've teamed up with the Pennsylvania Beef Council to bring you some great stories and content about this important agricultural product in our state! 
Here at PA Eats, we strongly believe in supporting local agriculture and small businesses. It's better for our local economy, usually better for the planet, and almost always means fresher, tastier products in your fridge. Nothing drives home the importance of buying local more than meeting and learning the stories of farmers, the people who've dedicated their lives to working the land to feed their communities. It's a notoriously tough job, with challenges around every corner.
In this two-part series, we're talking to a group of Pennsylvania beef farmers to learn more about what motivates and inspires them to do this work, day in and day out:
Gauker Farms, Berks County (Fleetwood, PA)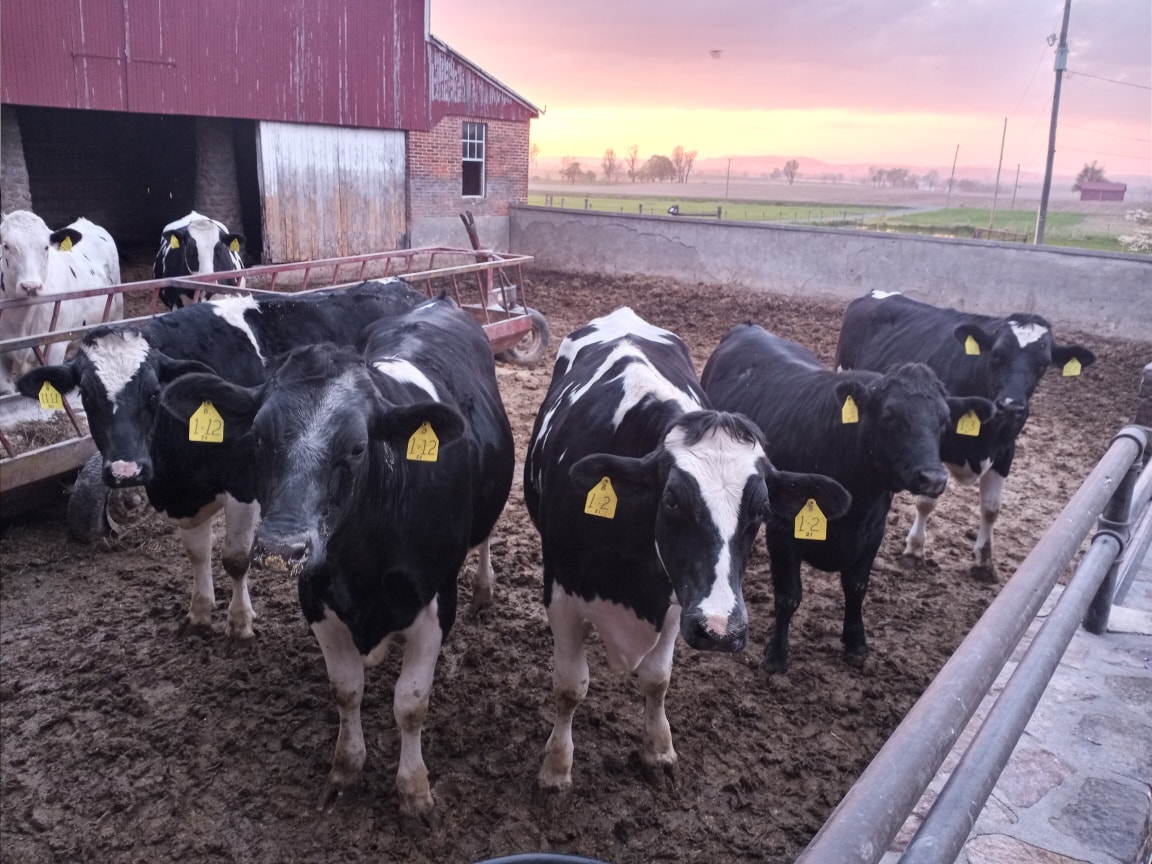 Jodi and Lee Gauker represent the ninth generation to run their family farm, Gauker Farms, where they raise Holstein dairy-beef cattle. Holstein are traditionally a dairy breed, but the steers go on to be bulls or beef. The Gaukers buy calves every month from three nearby dairy farms, which you can actually see from their property. The property is also a crop farm that grows corn, soy, wheat and hay. In total, Gauker Farms is 270 acres, and they raise 85 head of cow.
"That's a newer model," Jodie says. "I met my husband in 2005 at Penn State, and at the time his family was operating as a dairy farm. But because of dairy prices and struggles with labor, they sold [the dairy component] in 2006. But we missed having animals on the farm, so we started getting dairy steers from our neighbors in 2013."
They butcher about 50 steers a year and usually about 45 of them are sold by the piece. During the pandemic, the demand for bulk beef grew sharply, and Jodi says there are some customers who wanted quarters, halves or whole steers. They are also going into their 9th season at the Downingtown Farmers Market; she estimates that about two-thirds of the business is from the farmers markets, and the other third is selling to friends and neighbors and local restaurants, like Nomadic Pies in Kennett Square and Saucony Creek Brewing Co. in Kutztown.
As a self-taught farmer, Jodi has passionate feelings about her counterparts in the industry:
"I'm adamant that all farmers are trying to do the best we can with the resources we have. We're continuously learning, we have to! Things change all the time, like the weather and technology. There are a lot of buzzwords and stereotypes out there, but all beef is safe, whether you get it from the grocery store or from a farmer. We're eating what we're producing."
Jodi also feels that she and Lee are stewards of their land and their animals, and treat those resources with as much care and respect as possible. The straw they raise becomes the bed packs which keeps the steers comfortable and clean in the barns. Once manure gets on that straw, it's used as fertilizer in fields. For 16 years, they have been operating as a no-till farm, which has helped increase soil health and the organic matter in the soil.
"Our valley has some of the most productive soils in the US, and we want to keep the soil there," she notes. "We plant cover crops in the fall to prevent erosion and we kill off that cover crop, that's what we call green manure, putting organic matter back in the soil."
Jodi and Lee both hold off-farm jobs: she is the agriculture project director at the Chester County Economic Development Council, and he is a mechanic and welder.
"We just work all the time, it's sometimes good and sometimes challenging," she says. "But it's rewarding, and we take off every Sunday."
To learn more about Gauker Farms visit its website or Facebook page. They also run a farm store, which is open on a semi-regular basis; check Facebook for the most up-to-date hours! 846 Fleetwood Lyons Rd., Fleetwood; (724) 454-3674.
Nissley Brothers Farm, Lancaster County (Mount Joy, PA)
Darwin and Bernard Nissley grew up on their father's beef farm, "typical Lancaster County farm," as Darwin describes it, which grew various crops and raised beef cattle. Over the years, the family expanded the farmer-feeder cattle operation, which means the crops they raise are to feed the cattle. The farm's feedlot capacity has grown from 250-head when the brothers formed a partnership in 1983, to about 800-head currently.
"Someone said to my brother, 'Expand in something you're familiar with,' and we took that to heart and expanded more into beef, because we know the ups and downs," Darwin says.
The Nissley brothers strictly feed beef cattle (Angus, Charlais and Herefords), which come from Virginia and are kept on the farm until they reach market weight, which is between 1,300 and 1,450 pounds, and usually takes between 130-140 days. The steers on the farm eat corn and barley grown there, and are also fed byproducts, like chips from Herrs and various candy products processed into a more palatable feed for cattle.
"The cattle help us to be green, because if we didn't utilize those products, it would all end up in the landfill," Darwin notes. "Beef cattle can utilize the byproducts more than the dairy cows."
Nissley Brother Farm has pursued sustainability practices over the decades, including adopting no-till farming, which Darwin observes has noticeably helped with erosion and run-off. They also uphold strict animal welfare practices, with the safety and comfort of the cattle as their top priority.
"We really care about our animals and the land — why would we do something detrimental to what we're depending on to be our income?" he says. "We've really changed to focus on stress-free cattle. If you take your time and don't make a lot of noise with cattle, they'll do what you want. When they step off the truck, we try to make them very comfortable with clean water and fresh bedding, and that benefits us with less treatments for sickness."
Over their 40 years in the industry, the Nissley brothers have faced their fair share of struggles. The first year they farmed, they encountered a terrible drought; in the years following, market fluctuations have made things tricky on the business side.
"You have your good and bad years," Darwin says. "My dad always said, 'When you're making money save it for a rainy day.' And that's cattle farming."
At age 64, people ask Darwin when he's going to retire. While he says there are some days he's working in 20-degree weather, he wonders the same thing. But he says he's not quite ready yet, and knows he will miss farming when he does retire.
"Cattle are like people: they all have personalities, and I just enjoy working with them," he says. "Farmers just do it for the love of it."
Z&Z Farms, York County (Dover, PA)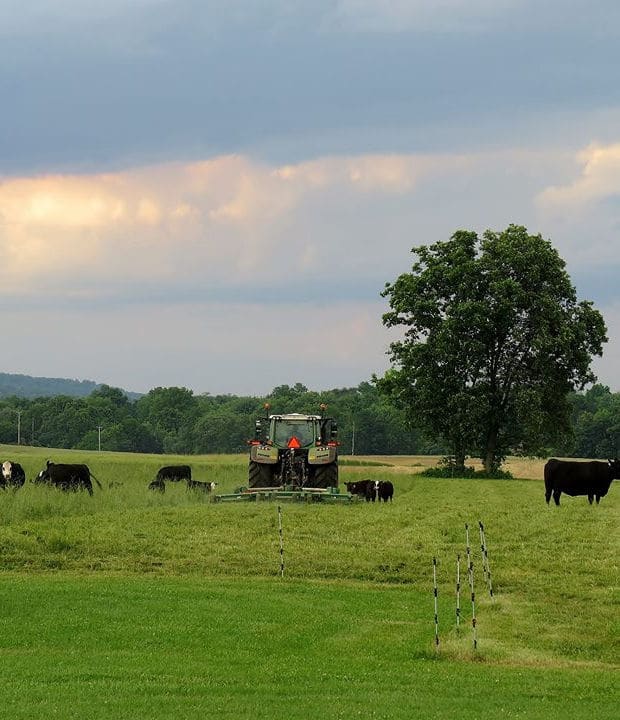 When Ed and Missi Workman got married, they were given a 26-acre farmette from Ed's parents to build a house and raise a family on. Ed was making a career as a radiation therapist, and no one in the family had an agricultural background, but in 1994, the family started converting extra acres into a hay crop to support Missi's desire to stay at home with their kids, Zach and Zoey. 
Once the kids were older, they both attended Penn State York College, though they both left to pursue other opportunities: Zach was a guide at an outfitting business for big game animals in Colorado and Zoey accepted an internship in Montana at Sitz Angus Ranch as their first calving intern in the winter of 2015. Both kids ended up returning home to help with the family farm, and they were able to expand the business so they could both work there full-time, growing and harvesting hay and raising cattle. 
"Originally when I applied to college, I knew I wanted to study agriculture but wasn't sure what career path exactly I wanted to take from there," Zoey says. "But once I had my calving internship and got to work alongside some great cattlemen, I was inspired and I knew from that point on that raising cattle from my own herd was what I wanted to do."
In 2017, the Workmans purchased a nearby 120-acre farm a mile from their original 25-acre farm. The plan was to have their grandparents come live in the original home, but in the following year, the family lost three grandparents for various health reasons.
"That took a big toll on us all, being as close as we all were," Zoey remembers. "But like any close family, we adapted and my parents ended up moving into the house, along with my last surviving grandmother so they could take care of her also."
In 2018, a record year of rainfall made planting and harvesting the hay crops extremely challenging and the mud made caring for the cattle difficult. The damage of the large amount of rainfall carried into the next year, which affected the quality of the hay and brought out bacteria in the ground from when the farm once housed horses. Some of the calves born that spring came down with a case of cryptosporidium, and Missi spent 3 weeks in the hospital from the parasite.
"All the hardships have taught me to be very appreciative of things that otherwise I may not have been," Zoey says. "We have also been blessed in so many ways through the years. I have gotten to watch my brother get married and start a family, and this year we were able to purchase another 232-acre farm to expand and better our operation."
Z&Z Farms is currently running a 85- to 90-head cow-calf herd and farming about 600 acres of land of hay and small rotational crops. Each of the family members maintains their own roles, though they all work closely together: Zoey works with the cattle; Zach manages the hay; and Missi takes care of the finances, and helps with the maintenance upkeep of the farm. Ed still has his full-time job and is the kids' "go-to" for decision-making.
"I realize that not many people my age have been given the opportunity that I have been and I truly feel honored for that," Zoey says. "It's a career path that's not only a job but a way of life — you can't just clock out from it at the end of the day. But through the sweat, tears and hard lessons, I get to see new life be born, I get to watch a field of dirt and seed turn into a beautiful field of green, and best of all, I get to do it all with my family by my side."
For more on Z&Z Farms, visit its website and Facebook page. 3310 Schoolhouse Rd., Dover; 5551 N. Salem Church Rd.
If you're enjoying stories from the Pennsylvania Beef community, find more on the PA Beef Council's website! And to meet more farmers across PA, explore our Meet the Farmer series.
Photos:

Courtesy of the respective farms