In these unprecedented times rife with uncertainty and economic instability, many Pennsylvanians are faced with food insecurity for the first time in their adult lives. Even before COVID-19 came to the US, there were already approximately 1.5 million of our neighbors (that's 1 in 8 people in PA) without enough food to eat. As unemployment numbers grow, so too will the number of food insecure people in our state, any many will be making their first-ever visit to a local food pantry for support. Perhaps you are among these newcomers to food pantries, and perhaps you're in search of some information about what to expect during your first visit. Asking for help can be a vulnerable, sometimes overwhelming experience, so we're here to help with information and advice from local food bank workers, so that hopefully you can feel a little more mentally prepared for your first trip to a Pennsylvania food pantry.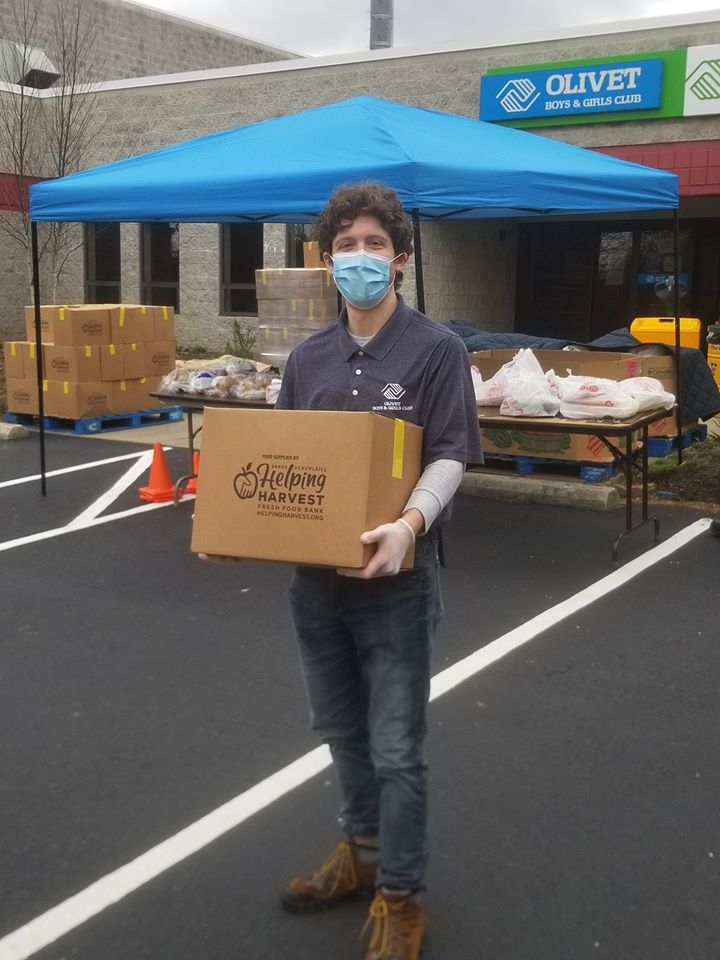 Food Pantry vs. Food Bank
First, let's define a few general terms, which are important to understand the difference between:
Food Bank: These are non-profit institutions that collect and store huge amounts of donated and bulk-purchased food, and then distribute that food to member organizations across their specific regions. Feeding Pennsylvania is made up of nine member food banks, that distribute more than 164 million pounds of food to more than 2,700 local agencies each year, including food pantries, soup kitchens, shelters, and child feeding programs. Often named after their specific area (for example, Chester County Food Bank and Westmoreland County Food Bank), these food banks are the centralized hubs from which the food flows to more local pantries.

Food banks are 

not

a place to show up looking for food. They are usually set up like warehouses and are not able to distribute food to individuals.
Food banks 

are

a place to go for information about where to find food! Their websites will be able to clearly direct you to a place near to you where food distributions are taking place.

Food Pantry/Cupboard: Often located in churches, community centers, Salvation Armies and other similar locations, food pantries are where individuals can go to get free food. Generally, pre-packed boxes or bags of shelf-stable foods, fresh produce, dairy and sometimes frozen meats, are given away at these locations.

Food pantries may only be open one day a week, or just a few days throughout the month. Some pantries require shoppers to sign up in advance, and some require appointments, while others offer emergency assistance daily. Be sure to do your research before showing up!
Megan Greevy, the Healthy Pantry Initiative Coordinator at Feeding Pennsylvania, says that if you have specific questions, your regional food bank is where you should turn for answers. "Most of the food banks have increased their staff for answering phones, as some are getting over 500 calls a day! The local food bank can tell you where to go from there," she notes. "Food pantries are mostly volunteer-run, so there might not be anyone there to answer a phone call."

Soup Kitchen/Rescue Mission: Places where one can go for a prepared hot meal.
Visiting a Food Pantry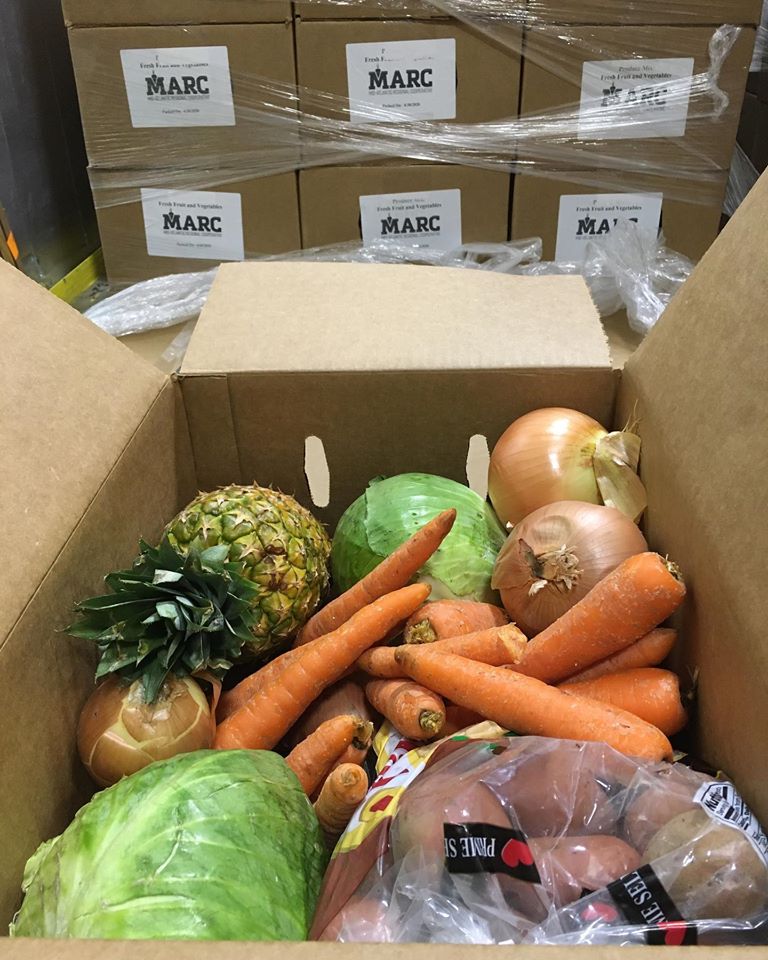 Aimee Hafer is the Marketing and Development Assistant at Helping Harvest, a food bank in Reading, PA, that supplies food to more than 300 partner agencies and feeding programs throughout Berks and Schuylkill Counties. She is in touch with many operational food pantries and shared some advice with us about what to expect from a visit to them.
"Due to social distancing protocols, food pantries are distributing as 'drive-through' operations wherever possible," Hafer says. "People drive through the line, and volunteers load the car with emergency food boxes. In urban areas where there is not possible to have a drive-through, pantries are held outdoors. Shoppers walk through the line, and pick up their items."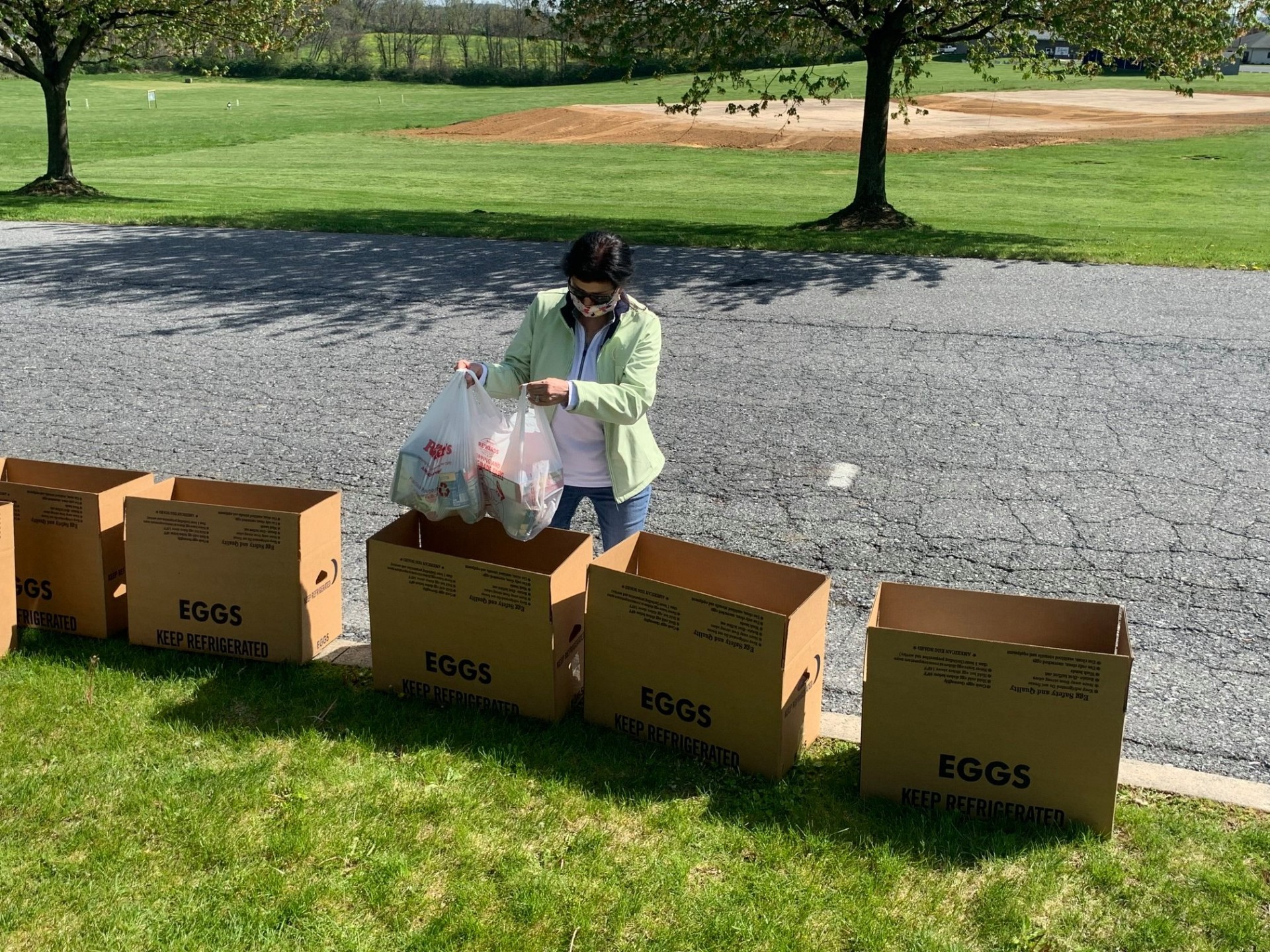 You may have seen footage on the news or social media of hundreds of cars in line at food distribution sites. Don't be scared off by those images! Megan Greevy of Feeding PA says that while this has occasionally happened in some places (and gained a lot of publicity), that it is actually pretty uncommon at the sites she is aware of in Pennsylvania.
"A lot of the food banks I've been talking to are sharing that that's not happening everywhere. At many of the small, local pantries and agencies, there is not a long line to pick up food," she notes.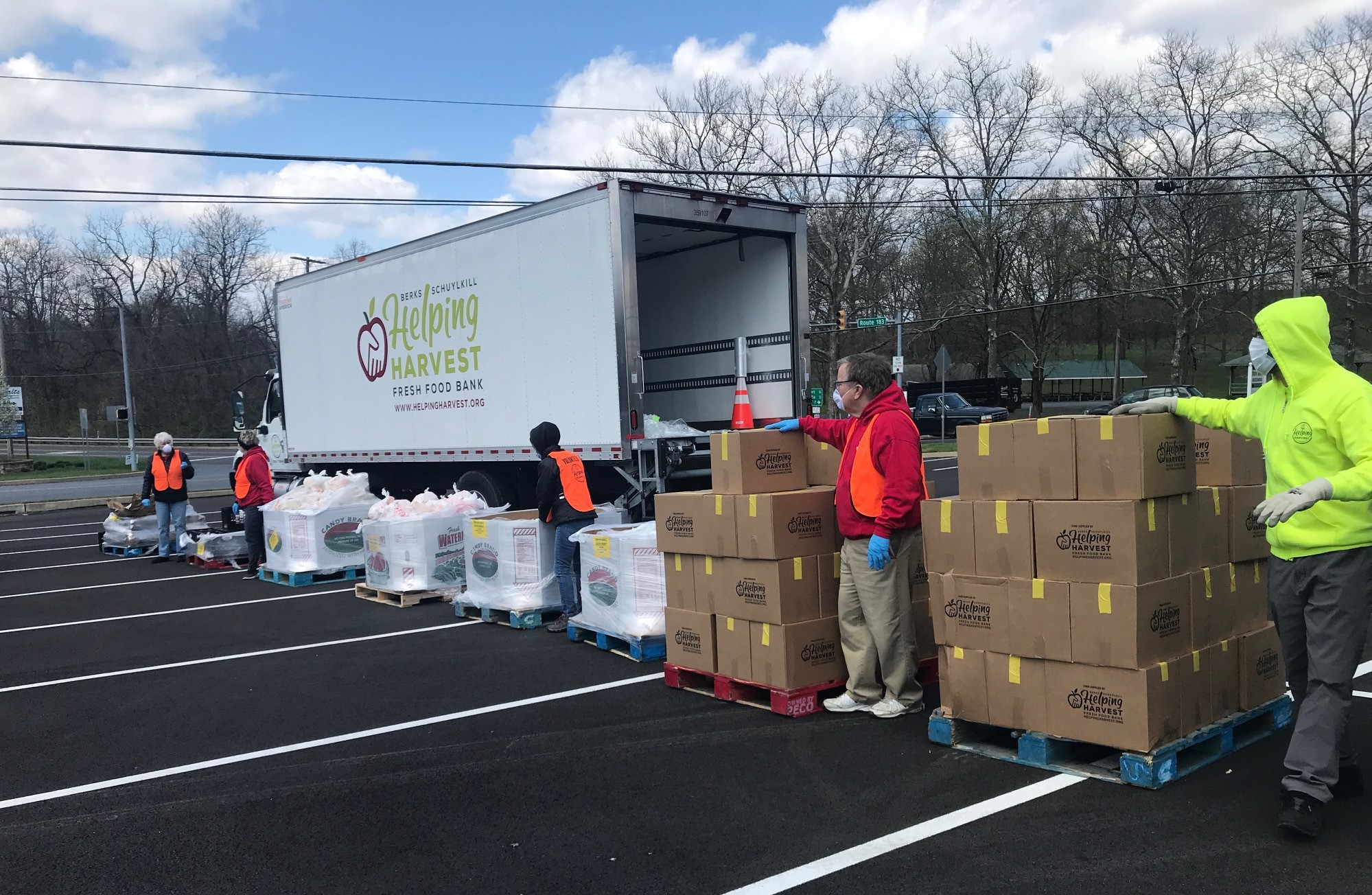 To help absorb the thousands of newly unemployed people now needing food assistance, Hafer says that Helping Harvest has been actively adding food distribution sites by partnering with other community agencies.
"These partner agencies host food distributions (food provided by Helping Harvest), which maximizes access to food assistance in our area. There have been long lines at the busier pantries, but we hope the increased frequency and location of distributions have lessened this issue. Also, the drive-through aspect does help keep things moving!" she says.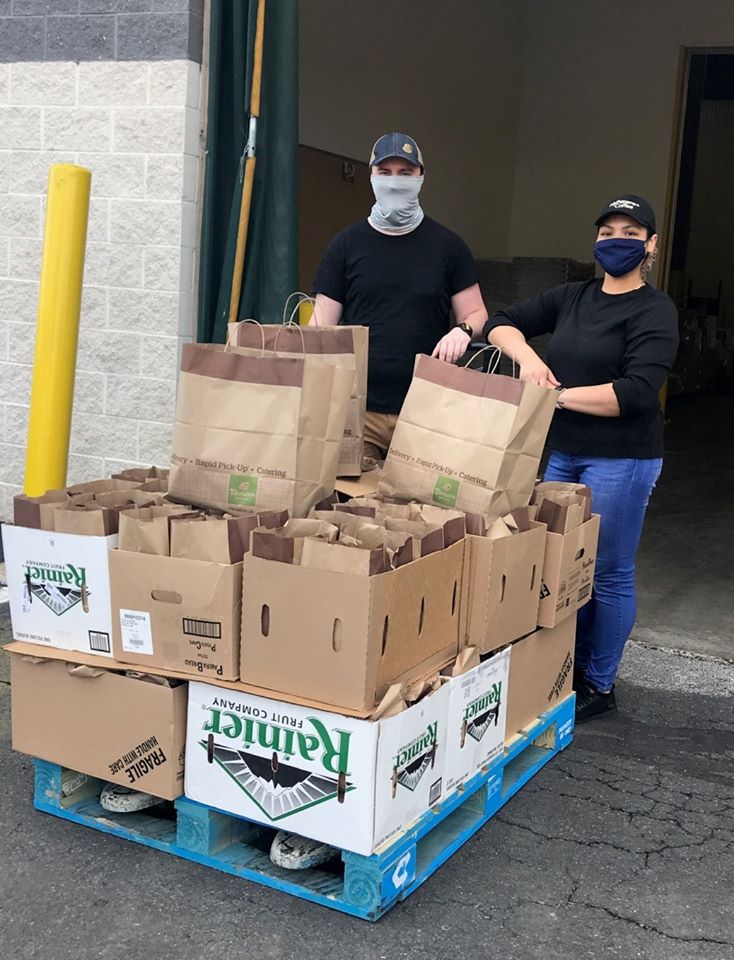 Other things to know:
Safety protocols are being taken very seriously by both food banks and food pantries across Pennsylvania. At Helping Harvest, staff wear masks and gloves, and consistently clean and sanitize work areas. Pantry workers and volunteers also wear masks, and they also do not have direct contact with the people whom they serve — particularly at the drive-through lines. You may want to also consider wearing a mask and gloves, just in case there is an unforeseen reason to get out of the car!
In the past, some food pantries would require you to fill out a few forms before picking up food. Both Hafer and Greevy told us that the need for self-declaration of need forms has been waived. "The pantries are open to everyone," Greevy says. "Right now, you don't have to fill out paperwork or bring pay stubs to get food."
When it comes to the actual food, expect to bring home a 20- to 40-pound box of shelf-stable food, as well as a variety of frozen meats, produce and dairy items. Fresh and frozen items will vary, depending on donations from local retailers and distribution centers. It is a common misconception that food pantries only provide canned and non-perishable foods, but Greevy reminds us that fresh and refrigerated items are commonly available, as well.
We hope this has helped give you a sense of what to expect at a visit to a PA food pantry. To find food assistance in your community, visit Feeding Pennsylvania's website, where you can easily search by county to find the food bank that can direct you to the nearest food pantry. Remember, you're not alone in this! There are many resources and amazing organizations here to help as we all navigate this strange landscape.
*If you are looking to help support your local food bank, Hafer says that some are not accepting food drive donations, but others, such as Helping Harvest, still are. Financial donations go farther, as for every dollar donated, food banks are able to acquire up to $20 worth of food, either by purchasing or picking up bulk donations.
Feature photo:

BigStock

Produce box photo:

Feeding America

All other photos:

Helping Harvest