What if we told you there was a condiment that was guaranteed to make pretty much everything taste better? Sorry, ketchup-lovers, we're talking about hot sauce. Fiery, sassy and loaded with attitude, just a dash of hot sauce can transform so-so scrambled eggs, plain pizza and ho-hum hot dogs in an instant!
There are a lot of different kinds and styles of hot sauce, ranging from smooth and smoky, to blitz-your-brain spicy. Pretty much all hot sauces start with a base of pureed peppers, but from there, they can veer off into numerous directions, with the addition of ingredients, like vinegar, dried herbs and spices, fruits and vegetables. Capsaicin is the active flavor compound in hot peppers that brings the burn, and different peppers contain different levels of it, which are measured on the Scoville scale.
You might be a "pepper-head" that searches for the highest Scoville heat units, prizing face-melters like Scotch Bonnet, Bird's Eye and Ghost Peppers. Or maybe you're just a food-lover who appreciates a blast of heat and flavor atop your tacos and chicken wings. No matter why you reach for that little bottle of fire, forgo the mass-produced brands, and try some hot sauce made right here in Pennsylvania! Here are 12 Pennsylvania hot sauces to check out: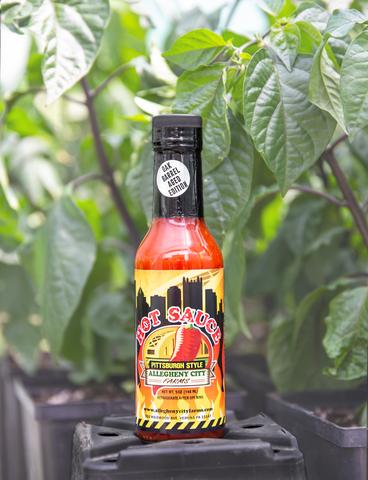 Allegheny City Farms: This small farm specializes in "seed to bottle" artisan pepper products, including a wide range of hot sauces. Varieties include the Original Pittsburgh Style Hot Sauce, aged in Wigle Whiskey barrels; Tom's All Day Hot sauce, a "table-style" mellower sauce that goes with everything; Aji Pineapple Sauce, with a tropical kick; and lots more! Shop online, or pick up a bottle in local retailers throughout Western PA. Verona, PA; (412) 716-9399.
Burning Hell Hot Sauce: A lot of hot sauce companies have intense names, meant to convey how wild the products inside the bottles are, and Burning Hell pulls no punches when it comes to branding. Its labels feature images of gas masks, poison apples, zombies and more! The bottles also come with a warning to use the sauces one drop at a time, and claims like, "You were warned" and, "Not for people with respiratory problems." Shop on Etsy, if you dare! York, PA; (717) 472-7500.
Electric Pepper Company: Using organically grown chilies from a small farm in Northwest Pennsylvania, Electric Pepper produces a range of hot sauce and spicy products, like dried chili powder and seasoning blends. Don't miss the XXX Wicked Tickle, a ghost pepper chipotle sauce made with 1,000,000 Scoville heat unit ghost peppers and pushed over the edge with an additional 2,000,000 Scoville heat unit chili pepper extract. Many of the bottles are sealed with sculpted red wax for a touch of extra drama. Shop online. Russell, PA; no phone.
Fishtown Ferments: As its name implies, fermentation is the name of the game at this Philly-based company. Alongside its products like kimchi, pickles and sauerkraut, Fishtown Ferments makes a mean line of hot sauces in a range of creative flavors. There's a Sriracha-inspired, fully fermented Smoked Tomato Hot Sauce, a super-spicy Ghost Pepper Hot Sauce, and more! One interesting twist is its Habanada NOT HOT Sauce, a sauce made from heatless habaneros, which provides all of the flavors of the peppers with none of the mouth-burning. Shop online or visit one of Fishtown Ferments' local stockists.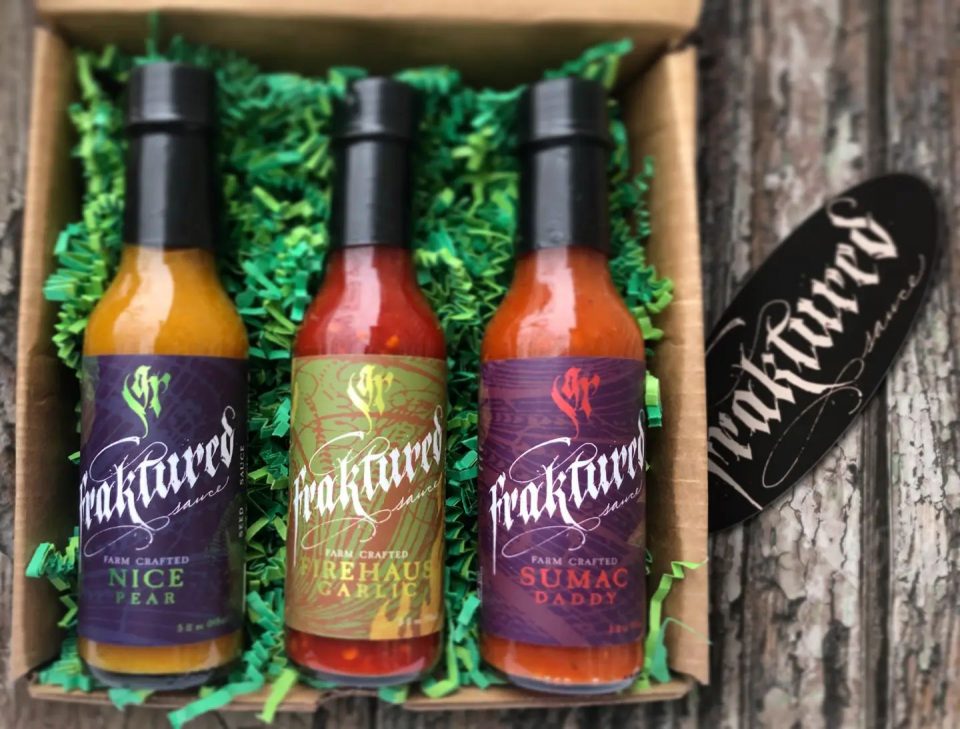 Fraktured Sauce: These hot sauces are made at Goshenhoppen Run, an organic and regenerative farm in Montgomery County. The peppers grown there are used for the base of the nine different Fraktured sauces, each one a lovely balance of flavor and heat. Choose from creative flavors, like Hot Shiitake, with aged red jalapeños, smoked reaper peppers, shiitake mushroom, tomato and spices, and Sumac Daddy, with sumac (a lemony spice), jalapeno, roasted cauliflower and honey. Explore the full range online or at one of Fraktured Sauce's stockists. Perkiomenville, PA; (215) 486-4038.
GhostlyHots: This small vegetable-growing operation started growing Ghost Peppers in 2013 and developed a line of hot sauces soon after. For a taste of the fire, try Jerry's Deadly Scorpion Sauce, made with a variety of red scorpion peppers, and Jerry's Ghost Rider Sauce, made with a blend of ghost and scorpion peppers. Ghost Pepper concentrate, ghost pepper powder and fresh ghost peppers are also available. Shop online. Gettysburg, PA; (717) 334-0362.
Habby Fruit Hot Sauce: This family-owned company is newer to the Pennsylvania hot sauce scene, and it began commercially producing its products after encouragement from family and friends. Nearly all of Habby's hot sauces combine habanero peppers and sweet fruits for unusual combos, like apple garlic, smoky apricot and blackberry cinnamon. Shop online. Fogelsville, PA; (484)-290-0595.
Homesweet Homegrown: This certified organic farm specializes in non-GMO, pesticide-free peppers, which it uses to make six fun hot sauces in a number of flavors and spice-levels. Mix Tape uses a blend of hot, sweet and chipotle peppers for a milder vibe, while the XXXXX Scorpion Hot Sauce employs the scorching spiciness of Moruga Scorpion peppers for a wild ride. For diehard hot pepper fans, check out Homesweet Homegrown's Fresh Pepper Samplers and CSA Subscription boxes and live, rare chili pepper plants for sale! Shop online or use its store locator to find a retailer near you. Kutztown, PA; (610) 780-3756.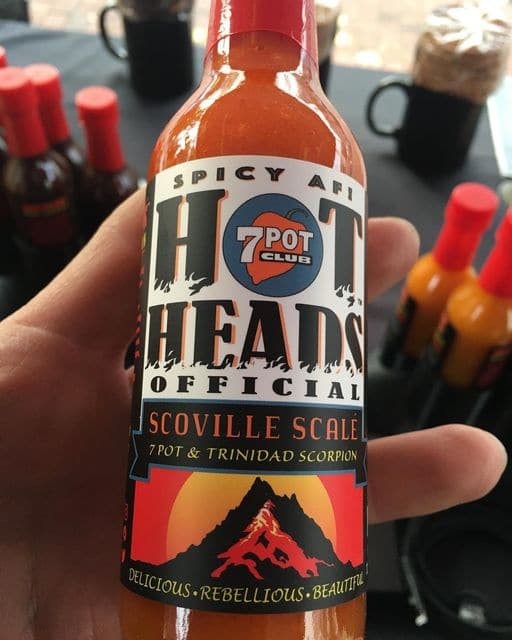 Hot Heads Official Hot Sauce: Hot Heads is a celebration of all-hot-everything! Its line of hot sauces goes the extra mile, with gourmet flavors like Lemon Drop Pop!, which uses a citrusy Andean pepper; Hot Slice, made specifically for pizza; and Hickory, a smoked sauce made in collaboration with Smoke & Pickles Artisan Butcher Shop in Mechanicsburg. The fiery fun doesn't stop there! Hot Heads offers tons of other spicy products, including spiced coffee, hot popcorn, and even spicy stroopwafels! Shop online or at a local retailer. Carlisle, PA; (717) 579-7519.
Inferno: This brick-and-mortar shop in Peddler's Village is a self-proclaimed "playground for pepperheads," with a retail shop and tasting room packed to the brim with hot sauces. Every day, there are 45 hot sauces to sample, as well as a range of spicy foods from around the world. Inferno has its own range of hot sauces in a rainbow of flavors, from Carolina Reaper to Ginger Chipotle to Orange Habanero. Shop online or in-person. 161 Peddlers Village, Lahaska, PA; (267) 544-5666.
Tannenbaum's: Though this company hasn't officially launched yet, we had to include them! The concept of Tannebaum's is a mashup between hot sauce and fruit preserves, for products layered with botanical sweetness and heat. Flavor combos will include pineapple, rosemary and turmeric; red pepper, lemon peel and smoked paprika; and more. Keep an eye on Tannenbaum's Facebook page for updates on when the sauces will become available for online purchase. Harrisburg, PA.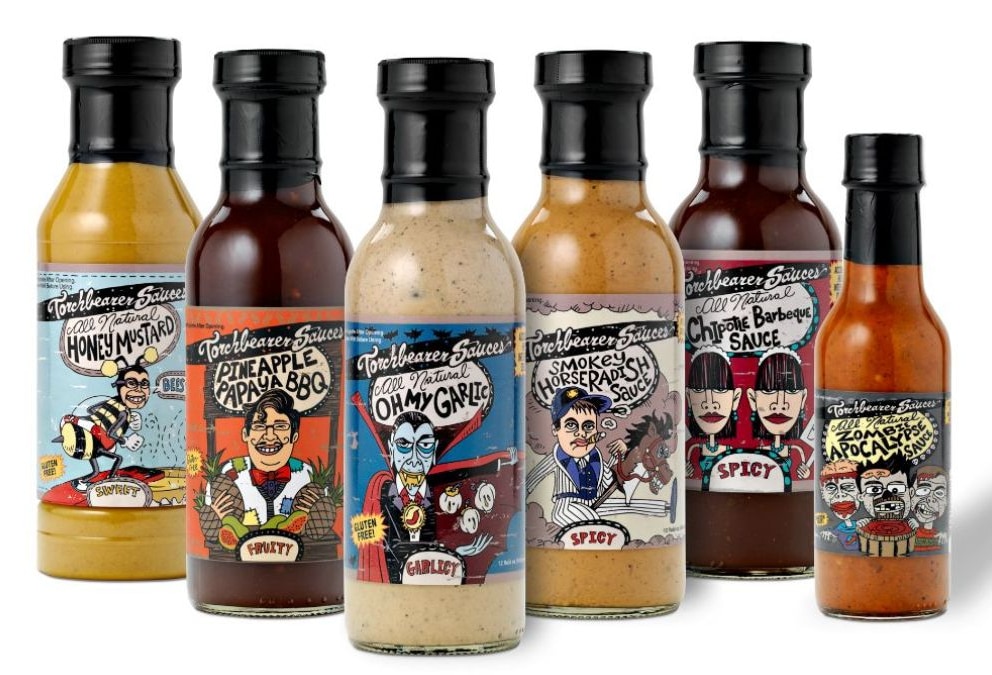 Torchbearer Sauces: Founded by three friends with a penchant for peppers, Torchbearer offers something for everyone! There's Honey Badger, like a super-spicy honey mustard, ghost pepper-heavy Zombie Apocalypse, carrot-y Tingly Sauce, pungent Garlic Reaper and many, many more. Other sauces, including barbecue sauce, wing sauce and mustard are also available. Shop online or at a local retailer. Lemoyne, PA; (855) 732-7373.
What is your favorite Pennsylvania hot sauce? We'd love to know! Join in the conversation on the PA Eats Facebook page to share!
Feature photo:

Torchbearer Sauces

All other photos:

Featured brands