This feature is brought to you by Chester County Hospital, where pediatricians from the Children's Hospital of Philadelphia are available in the Emergency Department to provide child-friendly care. Our long-standing affiliation with CHOP also provides our smallest patients with a dedicated pediatric inpatient unit staffed by CHOP pediatricians and the only Level III NICU in the county.
We often associate summertime with relaxing trips to the pool. Outdoor activities are a great way to have fun, and they get kids off the couch and unplugged! You and your family may also enjoy boating, other lake activities and time in the ocean during warm-weather months. Plus, indoor pools at YMCAs, swim clubs and gyms mean families have access to water activities all year long, not just during the summer. Whether it's a dip in the pool to cool off when the temps top 90 degrees, or off-season swim lessons, it's critical to keep water safety top-of-mind.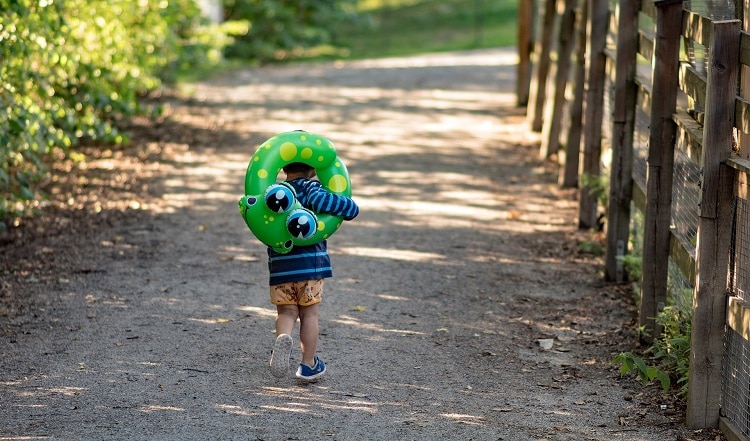 We sat down with Carol M. Curley, M.D., medical director of the CHOP Care Network — West Chester and an attending physician at Chester County Hospital in West Chester, Pennsylvania, to learn how to keep kids safe when they're near or in the water.
PA Eats: What's the top thing parents should know about pool safety?
Carol M. Curley, M.D.: I can't emphasize it enough: Children should always be supervised by an adult when swimming. And, the responsible adult should not be distracted by a book or electronics, and should certainly not be under the influence of drugs or alcohol.

The biggest factor for pool safety is appropriate supervision. Lifeguards at public pools are great, but they do not take the place of your eyes on your children and their specific activities.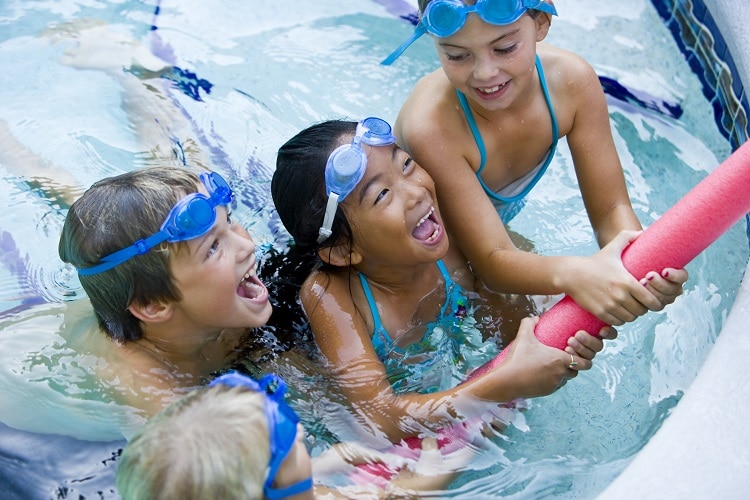 Although we focus our attention — and rightly so — on kids when they are in the water, know that pools can be just as dangerous when they're not in use. Even just a few inches of water present a risk of drowning, so baby pools should be dumped after use and stored so they will not collect rainwater. Backyard pools should be appropriately fenced and have a self-locking gate.

Some people don't realize that hot tubs pose risks similar to pools. They may even be riskier, due to the lack of fencing surrounding them. Hot tub covers that keep the elements out generally aren't made to keep young children out. Make sure covers are locked down tightly when the hot tub is not in use.
Should parents make use of swim accessories such as goggles, life jackets, floaties, swimmies and rafts?
Swim accessory recommendations can vary depending on the age of child, location and the level of swimming experience.
Goggles can be very helpful to reduce eye irritation when swimming in chemically-treated pools. Remember that friction from goggles may remove sunscreen, so consider reapplying sunscreen to the face after you are done using goggles.

Life jackets are a

must

with any boating activity. Check to be sure that the life vest you select is the appropriate vest for your child's weight. Last, but not least — and despite any protests from little ones — a life vest must be secured so that it fits properly and will not rise above your child's head when you pull up on the shoulders.

Floaties/swimmies may give a young swimmer more confidence. However, they may also give the adults supervising these young swimmers a sense that kids are safer, reducing their vigilance. For this reason, the

American Academy of Pediatrics

(AAP) discourages using these devices.

Rafts can be fun for more mature swimmers. However, they should never be relied on as a safety device. In fact, bigger rafts run the risk of entrapping a swimmer underneath. Also, be cautious, as rafts may encourage rougher play in the group of swimmers that you are watching.
How important are swim lessons, and how early should kids begin taking swim lessons?
The AAP recently changed its swim lessons recommendations. The newer recommendations now approve of swim lessons for children from 1 to 4 years of age. This change is based on new data that suggests that swim lessons may reduce the risk of drowning in this age group. Parents should be prepared to participate along with their child when swim lessons begin this early. This is great parent-child bonding time!

Are there different safety recommendations for outdoor pools versus indoor pools?
The basic safety rules apply, but there are a few specifics that are worthy of note. Indoor pools, due to decreased ventilation, might cause an increase in respiratory symptoms in children, such as asthmatics. Keep an eye on your child for flare-ups and symptoms, if he or she is at risk.

Outdoor pools are often covered when the pool is not in use. It may seem obvious, but it's critical to remove these covers completely before swimmers, of any age, enter the pool.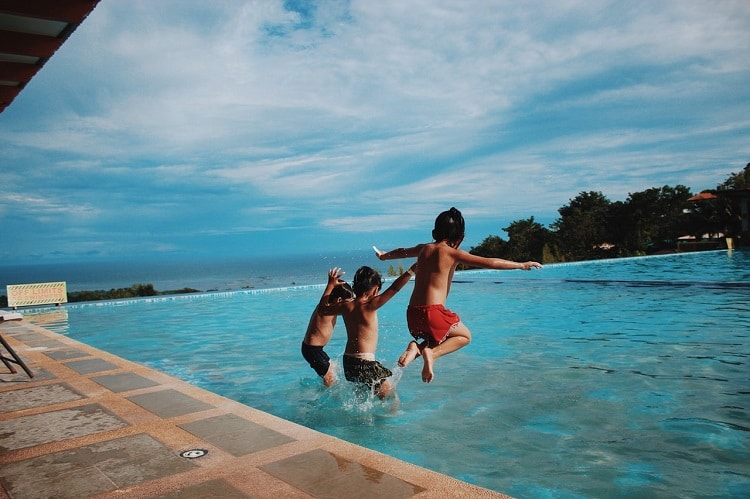 Outdoor swimmers also must be mindful of the weather and get out of the pool, and off the pool deck, if the weather turns severe, such as the risk of lightning.

Last, but not least, always use appropriate SPF protection when outdoors, even when swimming in shaded areas. Remember to reapply frequently, even if the container says "water resistant."
How about safety tips for other bodies of water, such as the ocean or a lake?
Centers for Disease Control and Prevention (CDC) statistics show that swimmers from 1 to 4 years old have the highest drowning risk in home swimming pools. Yet, with increasing age, the risk of drowning in natural bodies of water — think streams, lakes and the ocean — increases.

Safety considerations for natural bodies of water vary. Some basics:
Swimming is safest when a certified lifeguard is present, yet parents have to do their due diligence and watch their children, as well.

Always look for posted warnings where you are swimming.

Make sure you're in the water before your child to observe any potential dangers at or in your swimming site.
Other tips:
Ocean swimming: Keep an eye on tides and currents. Many beaches use indicators, like flags, to signal rough seas.

Rivers: These can vary greatly in flow and roughness with weather and the time of year. Use caution and opt out if conditions are rough.

Lakes, ponds and rivers: These spots may have locations where swimmers jump or dive into the water. Diving and/or jumping can be extremely dangerous in these locations, due to poor water visibility, possible debris washing in and sudden water-depth changes due to drought conditions.
One final caution: Be aware of any special risk factors for your swimmers. For example, a swimmer with a seizure disorder must be watched closely at all times due to the possibility of having a seizure while swimming. An unsupervised seizure while swimming could have catastrophic results.

Swimming and playing in water can be great fun for the whole family. These cautions may sound ominous, but we believe straight talk is important when educating parents about safety. Our kids depend on us. Having all the facts can make all the difference.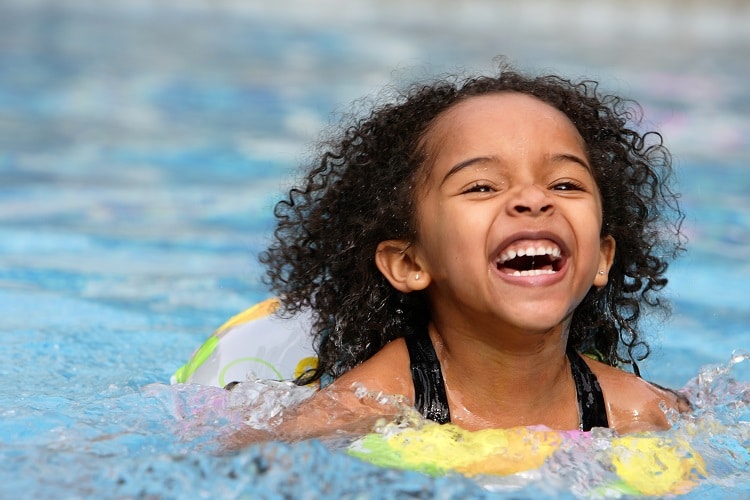 CHOP Care Network – West Chester provides top quality primary care for children. To learn more or request an appointment, contact (610) 436-8611. For more information about Chester County Hospital's services, including community wellness programs, contact (610) 738-2300.
Chester County Hospital is located at 701 E. Marshall Street in West Chester; phone: (610) 431-5000.
Feature photo:

Pexels

Child with innertube and swimming lesson photos:

Pixabay

Group of kids and girl in pool photos:

Bigstock