From the many agricultural workers we've had the honor to interview over the years, we've learned something simple but profound: Farming is a job you can't do halfway. It is physically demanding work, inextricably bound to the ever-changing patterns of nature, with a high amount of risk and no guarantee of reward. For many small, independent farmers, the land is not only their livelihood, but also, to some degree, their lives.
For Malaika Spencer, the founder of Roots to River farm in New Hope, PA, farming is at the source of many of her relationships (including her marriage), and her passion for the work, and the responsibility of being a steward of the land, is abundantly clear. She's been doing this work since she was a teenager, and after a number of experiences in Pennsylvania and across the world, founded a small organic farm and, with a dedicated team and a supportive community behind her, encouraged it to flourish.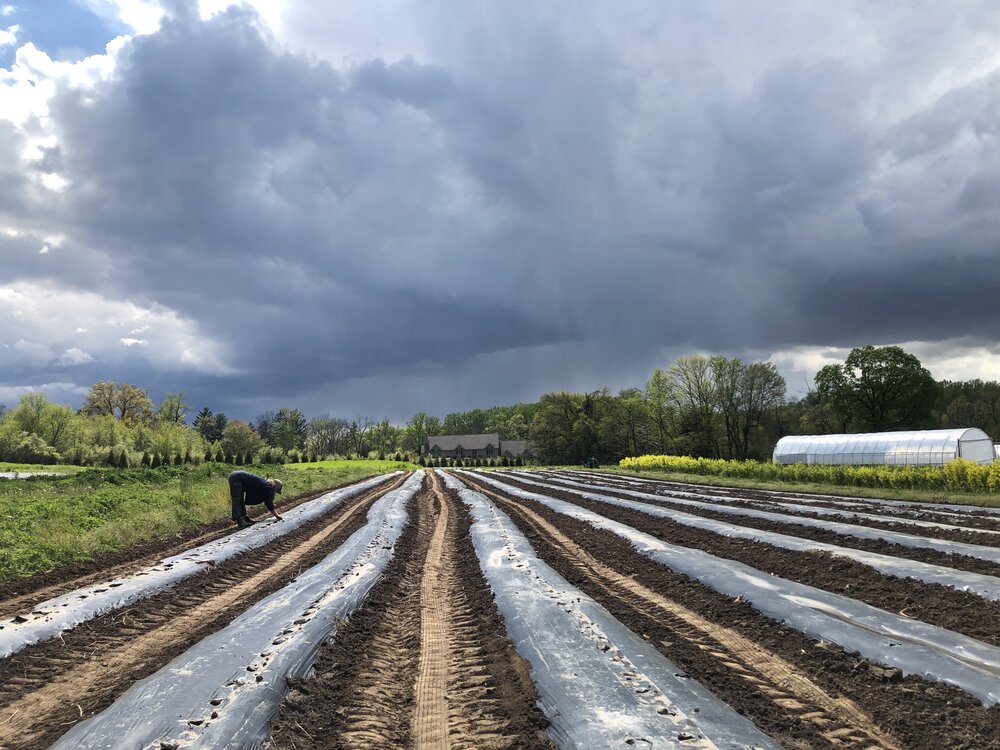 We got the opportunity to have an inspiring — and honest — conversation with Spencer about her career as a farmer. Learn more in this Meet the Farmer Q&A:
Working with the soil has been a long journey for you. Can you tell us a little bit more about the experience of discovering farming in high school?
Malaika Spencer: Sure! My high school had a "mini farm." It was a small, one-acre market garden that students could work in every afternoon as their P.E. credit. In the spring and fall, my friends and I spent our afternoons working in the garden, building raised beds, planting and weeding. We grew a small amount of food that went to the cafeteria salad bar. I loved spending time outdoors and having long conversations about food and plants. Being able to see our harvest feed other students was immensely satisfying. The garden was such a safe space where we could go on weekends and eat tomatoes and sit in the sun and just be ourselves. It was this experience that started my passion for growing food.

It also seems like farming has taken you around the world. Can you tell us about 1 or 2 formative experiences that helped show you that you were heading in the right direction?
Before I went to college I thought I wanted to study politics and international relations. But after working on farms in Mexico and Costa Rica over a gap year, I realized that farming was a perfect way to interact with work I found satisfying and hopefully, in some way, and benefit those around me. Learning from farmers in other places helped me realize how important agriculture is to a community and that I could use farming as way to improve a small pocket of humanity, rather than try to figure out how to improve it all.
How did you end up in Pennsylvania after graduating from college?
I knew I wanted to go straight into farming after college. The question was whether I should try to work on another farm or start my own operation. A friend of mine had a small family farm in the Poconos, Journey's End Farm, where a couple had started a small market garden and CSA. I would occasionally spend the night there on my way to or from college from my home in Bucks County. As I got to know the farm and community surrounding Journey's End, it began to feel like a place I could move to after college. The couple running the vegetable operation were moving to another farm in Vermont, and the business was ready for someone to take over.

So, I decided to use the opportunity to write my college thesis about starting a small farm business. The spring of my senior year in 2010, I started plants in a greenhouse in Massachusetts and used my mom's van to ferry them to Pennsylvania to plant each week in between classes. In exchange for using the garden plots and equipment, I grew food for the Journey's End's summer camp and spent an hour each day with the campers in the garden. For the next two years, I grew there on a few, mostly by hand, selling vegetables to CSA members and through local farmers markets. It was an extremely challenging, but wonderful, way to start a farm operation on "training wheels," so to speak. After this experience I knew it was time to head back home to Bucks County to find a place where I could have a bigger operation with a long-term lease.

Relationships seem really key to your story and career. Do you think connections are deeply forged when people work alongside each other in the dirt?
Relationships are everything. The relationships formed on farms can be everlasting. Doing hard physical work in all weather alongside someone for months on end can make for some really strong friendships. Being on a farm crew means being creative about how to spend time doing endless repetitive tasks, playing word games, making up songs, laughing at how ridiculous or hard a job is or crying about having to harvest in the sleet. It's easy to find common ground when your common experiences range from super-satisfying to super-challenging.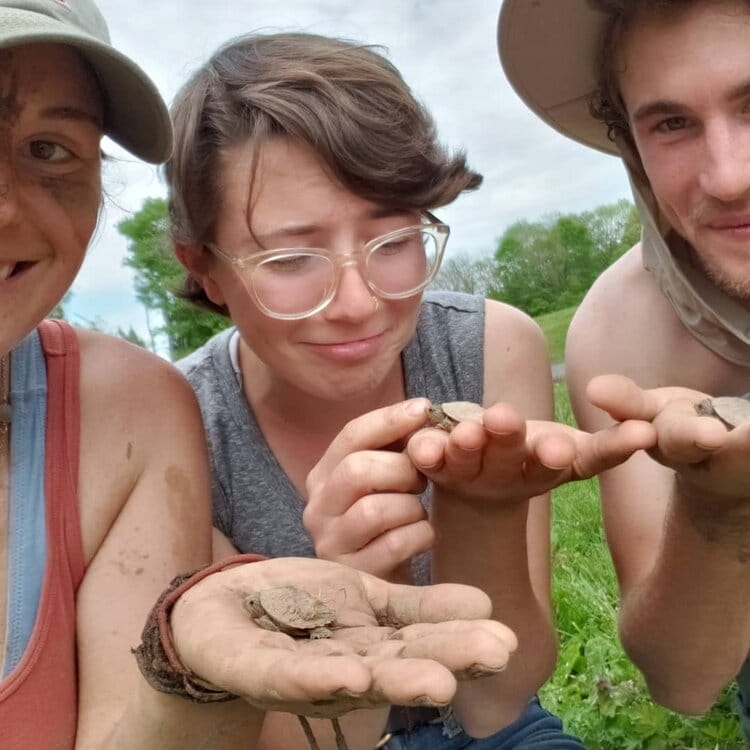 And then, of course eating together never fails to bring people closer, and farming is all about food. I spent my years after high school working and volunteering on farms every chance I got. I would be nowhere without the relationships I formed during those years just showing up and helping out. I met my coworker/landlord by showing up in the afternoons to help milk goats at her goat farm in Princeton, which led to the land that is now Roots to River. I wouldn't have been able to start the farm without the incredible help of Amanda Midkiff, who I met working on the crew at Genesis Farm in Blairstown, New Jersey. Every day, I reach out to fellow farmers and mentors with questions, or needing to borrow equipment. These relationships keep us going, and without them we would never be able to do what we do.
On your website, you say, "We believe that good farming is a public service." Can you delve into what the belief means to you, and where it came from?
I believe this was a term coined by the Young Farmers Coalition lobbying group, and it spoke to me as a phrase that encompasses how I feel about this profession. Farmers, and not just organic ones or small ones, are stewards of land. By taking care of land the best way we can is a service to us all. Farms, when managed well, sequester carbon, prevent erosion, increase pollinators, create habitat, and create jobs and community. All the while, farms produce food to nourish humans. It's a big responsibility, and most farmers I know take it very seriously. This is what I mean by farming being a public service.

What is one of your favorite things about farming? One of your least favorite? What is something you wished more people understood about what you do?
As for favorites, tangible rewards still get me up in the mornings. Facilitating a plant from seedling to harvest, looking back after a few hours on hands and knees to see a freshly weeded bed, newly staked tomatoes, farm crew members coming out of the fields with arms full to bursting with bunches of greens, helping people find their inner strength and humor through super-hard physical work, the feeling of excitement of a field ready to plant after a long day on the tractor. And I love when parents tell me their baby's first food came from the farm.

My least favorite is anything to do with row cover. Fixing irrigation. Anything that takes a lot of time for relatively little reward.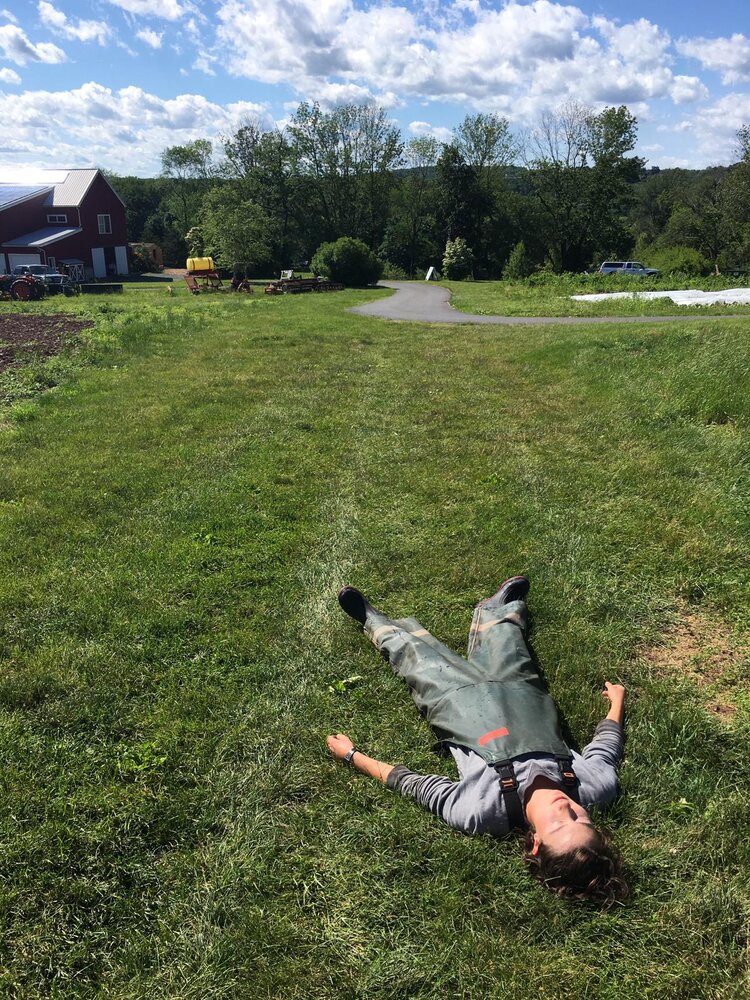 Farming is extremely complex. It requires an insane amount of different types of skills, from tractor maintenance, plant science, accounting, advertising and people management, just to name a few. Running a farm is not just growing crops but it is carefully balancing the needs of soil, plants and people with the added insanity of the weather. In other words, be nice to the farmers you meet at the farmers market and know that they are certainly not charging enough.
It seems like a lot of your team members have come to Roots to River after making career changes. Any thoughts on what draws people toward farming, especially during transitional parts of life/careers?
Our crew is awesome. I think farming is something a lot of people gravitate toward if they are unsatisfied with their current work, and it can definitely be a shock for people, because farming is insanely hard. But a certain type of person will stick with it because it is also extremely satisfying, compared to most other jobs.

The farm has undergone a few different iterations in the last few years. Can you explain what the model of Roots to River is now, and how people can best get involved and support you?
We are constantly changing the business. This is for two reasons: One is in order to survive, and the other is to work towards a business where we are doing the least amount of things we don't like doing. For instance, it took three years of having our own on-farm market, and seven years of farmers markets, to realize we don't like doing farmers markets. Shifting to custom CSA box shares, where people can order exactly what they want and pick it up each week, has worked really well for us. Coincidentally, we switched to this model before COVID, but it suited the pandemic perfectly, and the response from customers has been great.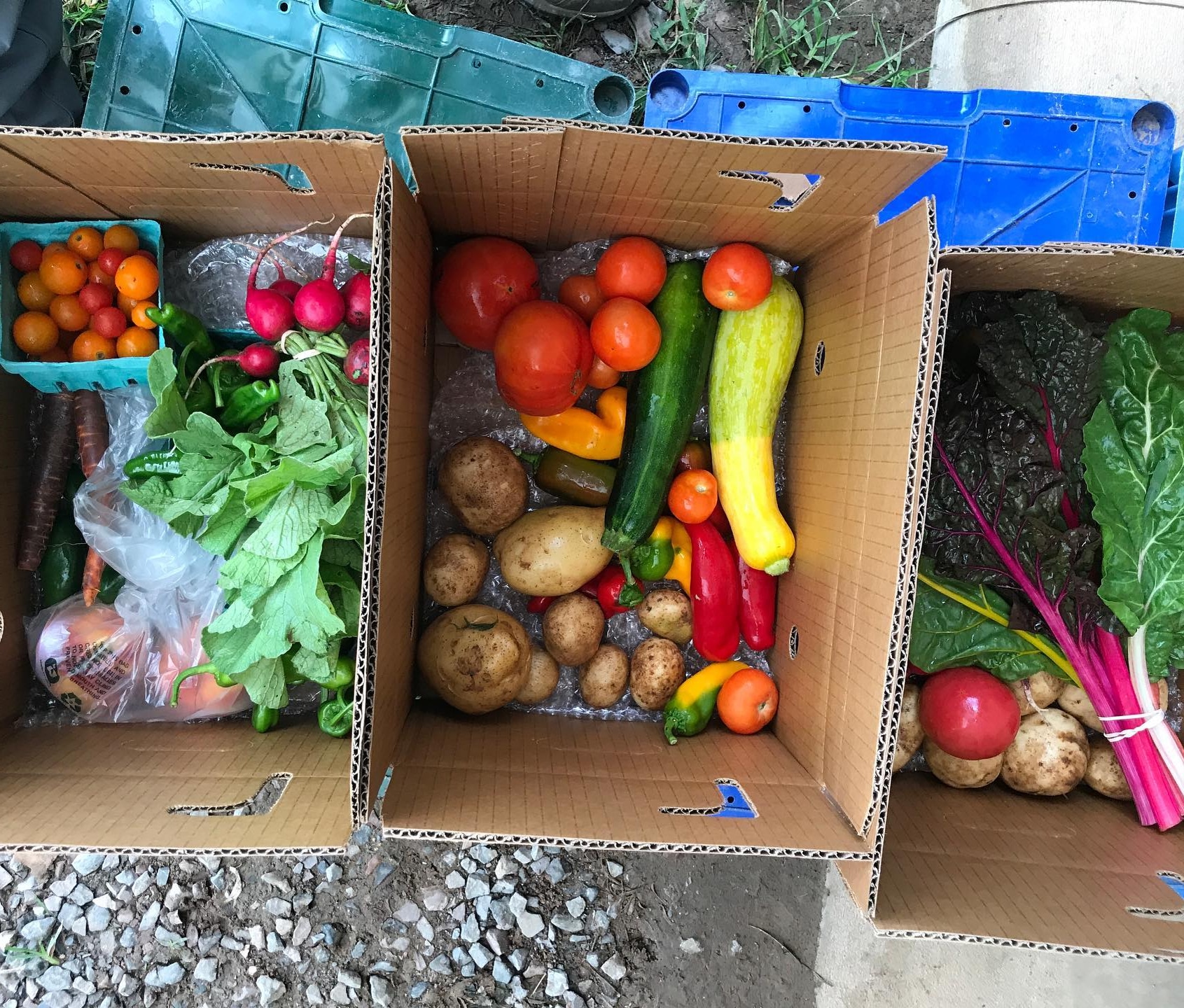 We are also working to change the business to adapt to our strengths. I love growing tomatoes, but I hate having to figure out how to sell them since they are such a fragile crop. Since my husband is a chef, he is able to make sauces that we can sell all year round. I love growing radicchio and fennel, but they can be tough to move in a retail environment so, we recently obtained a winery license and began producing an artisanal aperitivo, Amara, made from fennel wine, radicchio and herbs from the farm!
To find out more about Spencer's work and to sign up for the farm's CSA wait-list (the 2021 season is currently sold out), head to the Roots to River website. The site also features a number of farm fresh recipes, as well as a list of local restaurants and retailers using Roots to River's produce. For a behind-the-scenes look at life on the farm, follow along on Roots to River's Instagram page!
Roots to River Farm is located at 3211 N. Sugan Rd. in New Hope, PA; phone: (215) 833-5215.
Photos:

Roots to River Farm