A local coffee shop is about so much more than caffeinated drinks and pastries, and no community is complete without one. We're not talking about a drive-through window at a big chain — we mean a real gathering place, where neighbors can hang out, gear up for the day, work remotely, or maybe even meet up for a first date. In Camp Hill, Pennsylvania, the place is Cornerstone Coffeehouse, which has been an integral part of the fabric of the town for over 25 years.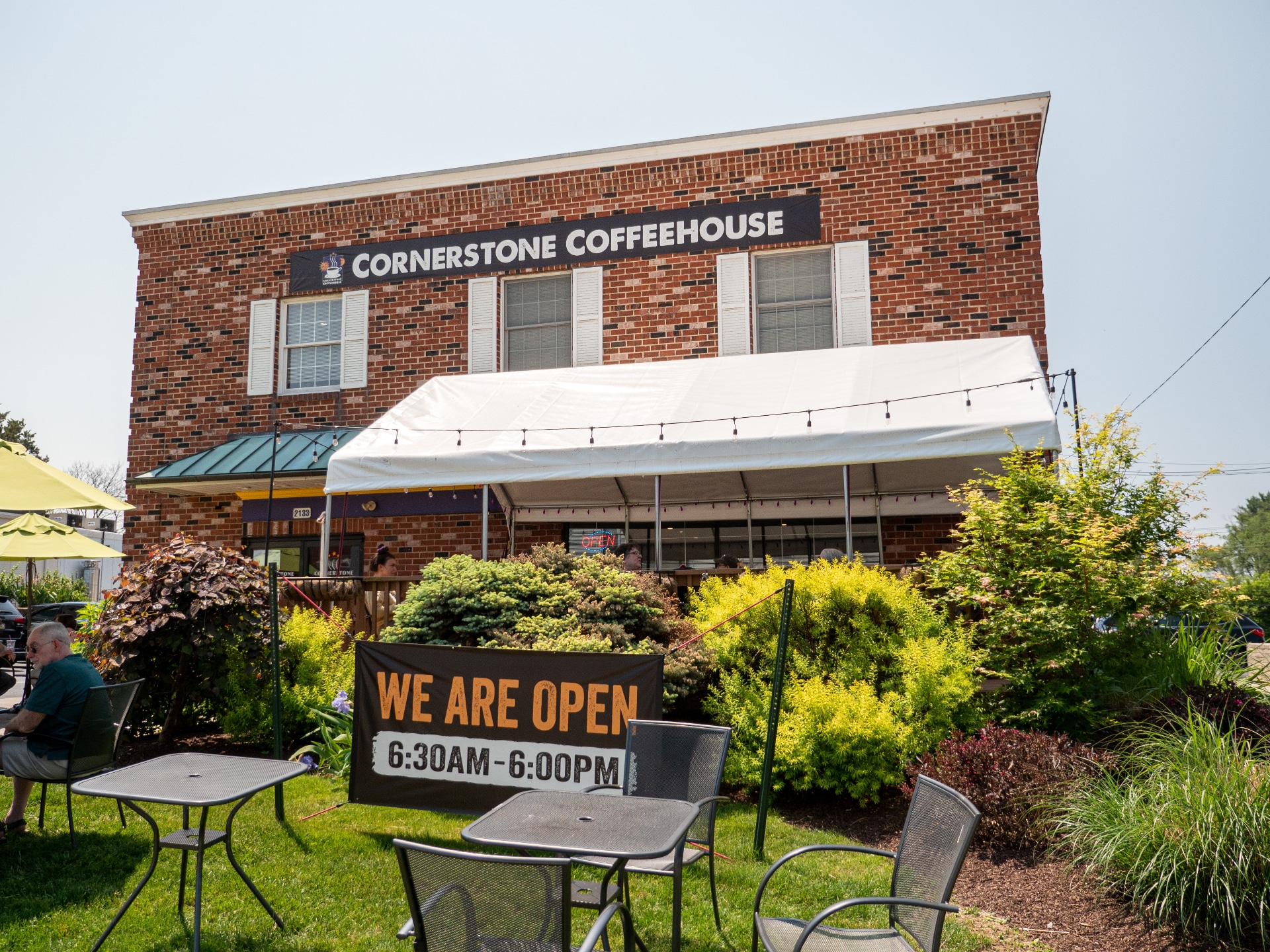 This beloved spot is open every day, from early morning to early evening, serving up a wide range of coffee drinks made with beans from local roasters, cold beverages like kombucha and smoothies, baked goods made in house, and a food menu of scratch-made food. Local art hangs on the walls and an on-site demonstration kitchen hosts cooking classes, which are very popular.
We had a chance to chat with Cornerstone owner Sue Pera and her general manager, Nicole Miller (who's worked for Sue for 12 years!), to learn more about this local institution and these women leaders in PA coffee:
PA Eats: 25 years is a long time in business! How did this all get started for you?
Sue Pera: Well, I didn't actually found Cornerstone Coffeehouse. The original owners were two women, Mindy and Kim, who were a couple. They founded the shop in 1994 and it was literally the first coffee house in all of Central PA. They were like rock stars, and people totally supported them. I used to come here when I owned a cheese shop on Hershey Ave.

After about four years, they were splitting up and decided to sell the business. I decided to get out of the cheese shop business and was struggling to figure out what to do. So I bought the shop from them in 1999. The community was already in place, all it's done is gotten hugely bigger!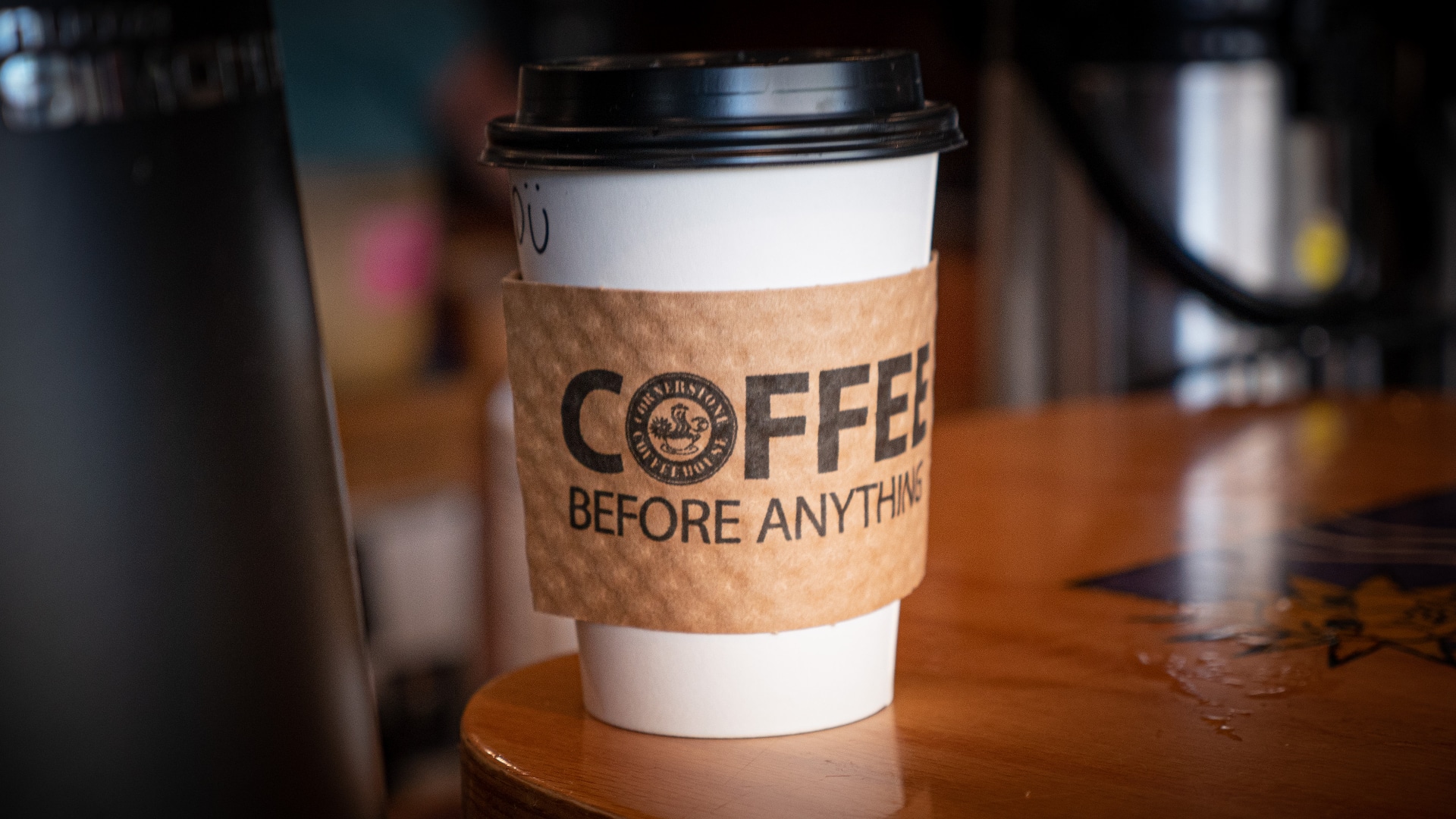 What do you attribute the steady growth of Cornerstone Coffeehouse to?
SP: We offer a space for people to come be together. They can be sad, or be happy here … everyone's going through something. I'd owned this place for two years when 9/11 occurred, this became a refuge for people. There was so much sorrow and fear, and coffeehouses helped communities in so many ways.

I also think part of our growth is because of Nicole. She sees part of the world that I don't really see. I'm in my late 60s, she's 31, she continues to question things and move us forward. She and I, as partners, we get each other, we bounce everything off of each other. We're a great team. We are never ones to sit and assume that people are going to keep coming here. We work really hard every day.
We have become well-known for the food we make here. We make most everything from scratch, including all of our baked goods. When I first bought this business, they were doing scones, muffins and three types of bars. Those recipes continue to be popular, but we expanded so we could bring more people in. Now, we're more of a coffee house/cafe. Our food tends to be more healthy, we have more things for people with dietary restrictions to choose from. We stand out from all of the chain restaurants in this area.

Nicole Miller: This is due to Sue's drive to serve quality and interesting foods. For instance, we were one of the first places in the area to offer avocado toasts and acai bowl in the area. Sometimes those items aren't popular right away, but then the trends hit here and people get it. That's all Sue — she follows the trends!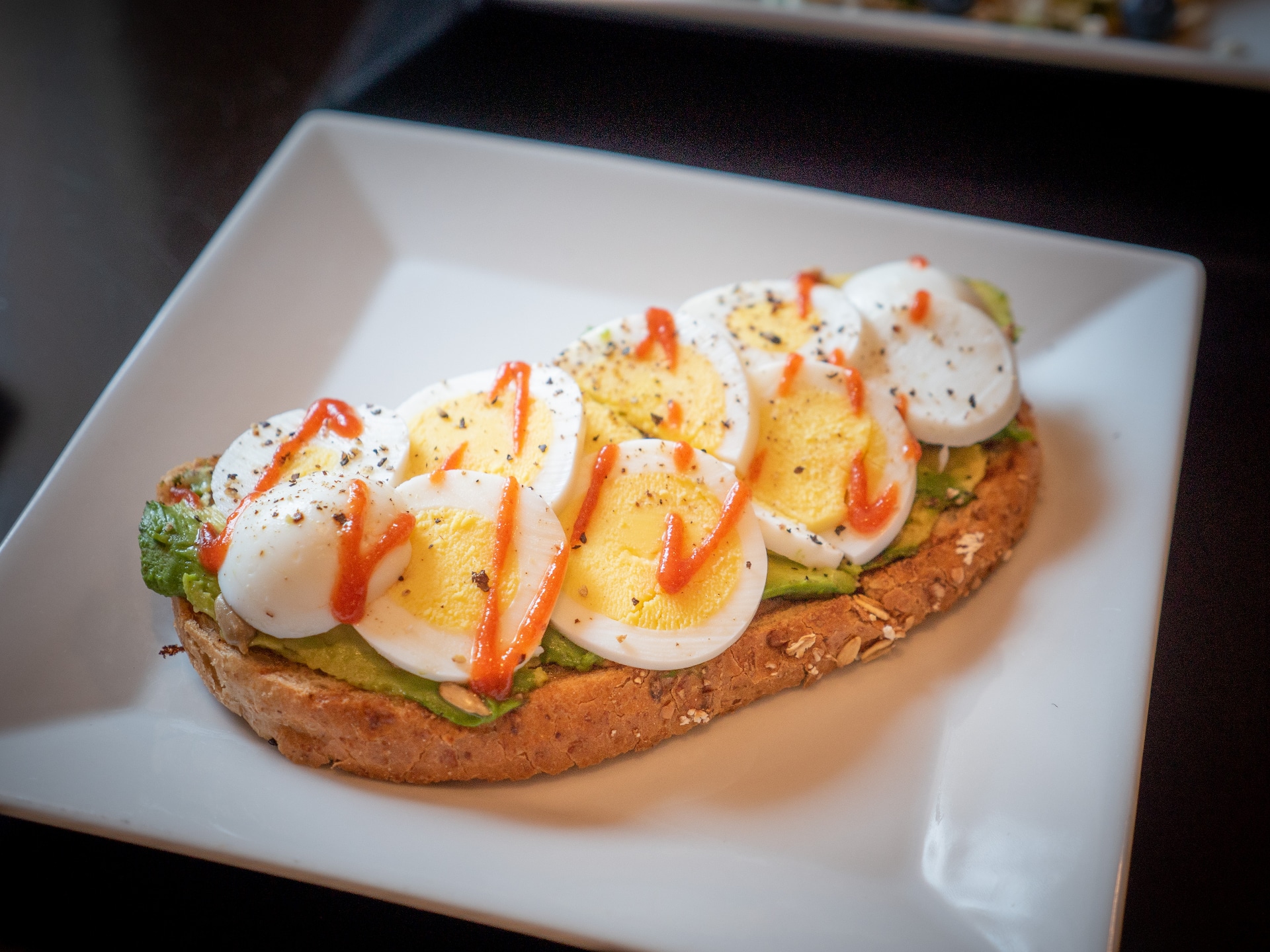 Sue, have you always been a foodie?
SP: Yes, food is a passion. I follow culinary trends, and when I go to other cities, I love seeing what other people are doing. I went to Penn State Harrisburg and during my last two years, I worked at a place called 1 potato 2 potato, which was a kitchen shop and cooking school. I became the assistant to the chef for all the classes there. From there, I founded businesses in my mid- to late-30s that were food- and people-related. 

Can you tell us more about the cooking classes that you offer? That's so unique for a coffee shop!
SP: We started to offer cooking classes in 2004. My husband Al and I purchased the building and got more space when the other tenant moved out. The classes were Al's idea. Back then, there was a husband of one of our regular customers who owned a nearby restaurant. We hired him and he's stayed with us for 18 years! Every single class is a sellout. I give the chef all of the credit, he's a good teacher and very entertaining. Also, the space is intimate and lovely, and people just love it.
There are a lot more coffee shops now than in 1999 when you took over Cornerstone. What makes you stand out from the crowd?
NM: We've experienced a lot of organic growth, but we're not necessarily doing anything different; we're selling coffee and we're selling food. Propelling us forward are the people that work here. They help us create an environment that makes people want to come back and tell their friends about us.


SP: Yes, the reason that so many people come back here is the staff. We have long-term employees, which is rare in hospitality. People have been here 6, 7, 10, 12 years. We make sure to offer them good pay and healthcare, and we treat them exceptionally well, because they're our front line.

We can't really talk about previous years without talking about the pandemic. What was that experience like for you?
SP: At the beginning of the pandemic, one day there were 1,000 people coming through our front door, and the next day, three. It was a shock. But neither of us sat still, we had to make changes. We're still going through it, even though we don't think we are. It's still difficult, with the rising prices of everything. Coffee went up 15%, food costs, plastic, the price of everything is up. But we're running things really well, our business is going back up, in 2021 we were up 20% from 2019. People love local, and they're supporting us more and more.

NM: Sue is like a pusher, she always says let's keep going, and I like to play it safe. But we just survived the pandemic, we just made it, and we're still dealing with the aftermath of what the pandemic put on our plates. My main concern is always: Do we have enough staff?
You're women from different generations. Have your experiences being in the coffee industry been shaped by your gender identity?
SP: I am so incredulous that so many industries continue to be male-dominated in America. When I was opening my first business, when I went to get a loan from the bank, I had to get my parents to co-sign. Even though I owned a house, I had assets, that didn't matter at all to the bank, and I was so upset. I have a very strong personality, and even when I worked for big corporations earlier in my career, I never allow anti-feminism to get to me. That's me: I'm very strong and I speak up. But I want to make sure that women are empowered, because we are smart and equal to men.

NM: I have worked for Sue for 12 years, that's basically my entire career. I've lived in such a bubble, working only for a woman-owned business. So half of the issues people face in the workplace I've never had to think about, because I've worked for a woman who's paved the way.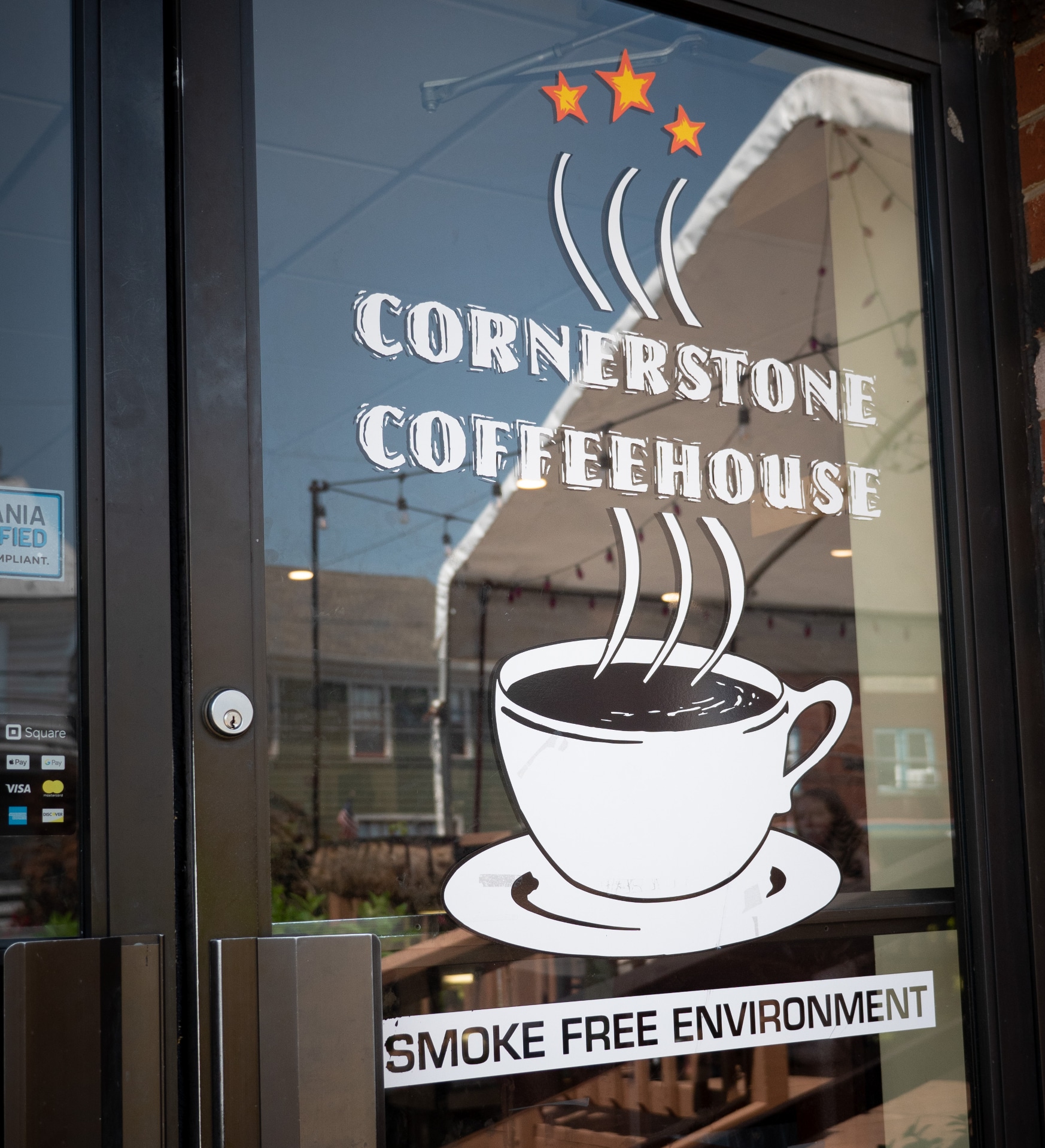 To learn more about Cornerstone Coffeehouse, visit its website and follow along on Instagram and Facebook!
Cornerstone Coffeehouse is located at 2133 Market St. in Camp Hill, PA; phone: (717) 737-5026.
Photos:

Cornerstone Coffeehouse