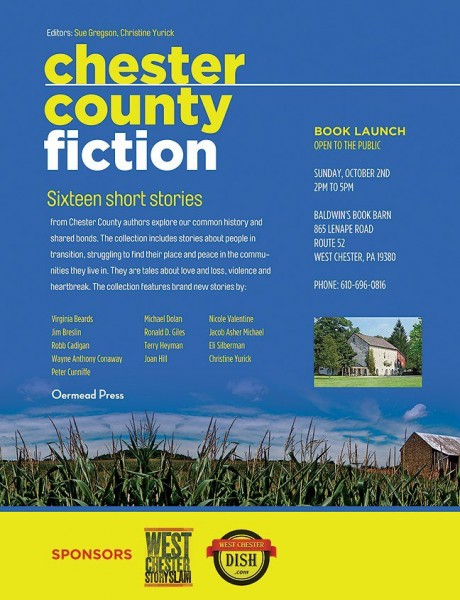 You are invited to attend the Book Launch for Chester County Fiction! This new anthology featuring local writers is being released on Sunday, October 2nd at the iconic Baldwin's Book Barn.
The thirteen writers will be on hand to sign copies of the book and chat about the origin of their stories. Attendees will also have the chance to meet the visual artists who shot the photo and designed the book cover.
Chester County Fiction features sixteen short stories about people in transition, struggling to find their place and peace in their own communities. They are tales of love and loss, violence and heartbreak. A few humorous stories round out the collection.
The writers featured in Chester County Fiction are: Virginia Beards, Robb Cadigan, Wayne Anthony Conaway, Peter Cunniffe, Michael Dolan, Ronald D. Giles, Terry Heyman, Joan Hill, Nicole Valentine, Jacob Asher Michael, Eli Silberman, Christine Yurick and Jim Breslin. Two professional editors, Sue Gregson and Christine Yurick, edited each story to draw out the author's voice.
For the cover, graphic designer Larry Geiger and photographer David James collaborated to bring a fresh modern design that reflects Chester County's heritage.
The book launch for Chester County Fiction is being held on October 2nd, from 2 p.m. to 5 p.m. at the iconic Baldwin's Book Barn, located on Route 52 (865 Lenape Road) as you head south out of West Chester. Baldwin's Book Barn is a Chester County landmark and possibly the best used book store in the country. Refreshments will be served.