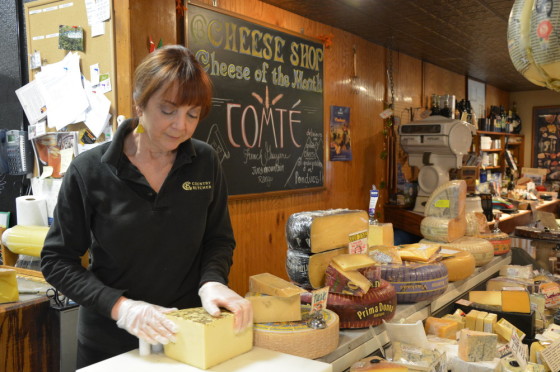 For Rosella Porro, the cheesemonger at the Country Butcher in Kennett Square, cheese is an art form, and that is not a term she uses lightly. The ability to "turn milk into gastronomic heaven" Porro exclaims, is worth of the label. With a background in art and a love and appreciation of good food, Porro came to work at the Country Butcher five years ago, and has spent those years educating herself about every aspect of cheese. Her self-taught skills come from interactions with suppliers, the cheese and wine pairings hosted by the Country Butcher, reading books on the subject, and of course tasting lots and lots of cheese.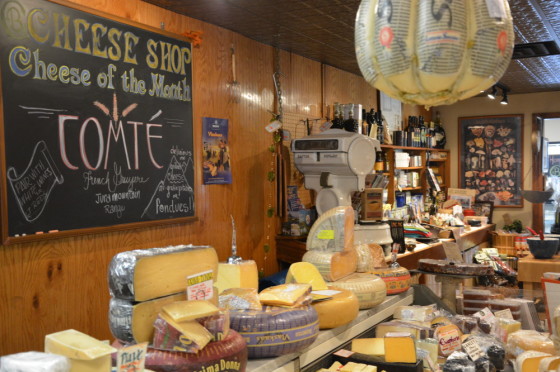 Porro finds the history of specific cheeses particularly interesting. Whenever she travels to Europe, Porro makes sure she samples the regional cheeses and visit local cheese shops. On a recent trip to Paris, she brushed up her French just enough to explain that she too is a cheesemonger. She describes her European counterparts as extremely open and sharing, as interactions usually start with an exchange of hugs and end with photographs taken to document the whole experience. European cheese shops tend to include an affineur, an expert who ages the cheese within an in house "cave" or aging room. Rosella has been inspired to do a little cheese aging at the Country Butcher whenever supplies and demand allow. For more information on the cheeses of the Country Butcher, click here.
When asked about her favorite cheese, Porro names the Moliterno al Tartufo from Sardinia.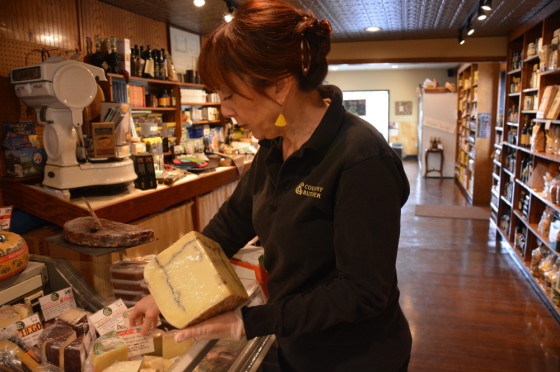 Porro explains that it is a "wonderful autumnal cheese made from sheep's milk and Italian truffles, and it is as delicious as it is beautiful. I think pairing it with a soft triple cream and an aged goat Gouda or 26 month cow's milk Gouda would provide a lean, delicious start to the Thanksgiving table."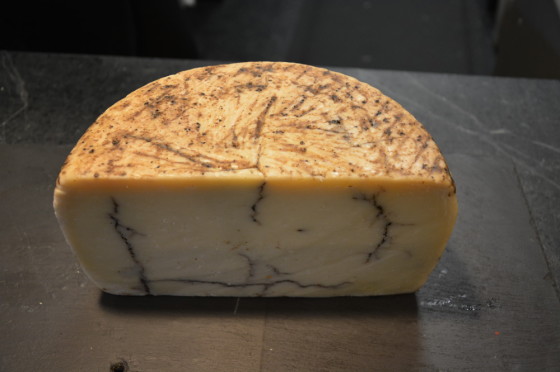 Porro's other recommendation for this celebration of family, gratitude and home, is to go with a selection of American artisanal cheeses—after all Thanksgiving is a uniquely American tradition.
Rosella Porro's Thanksgiving Recommendations: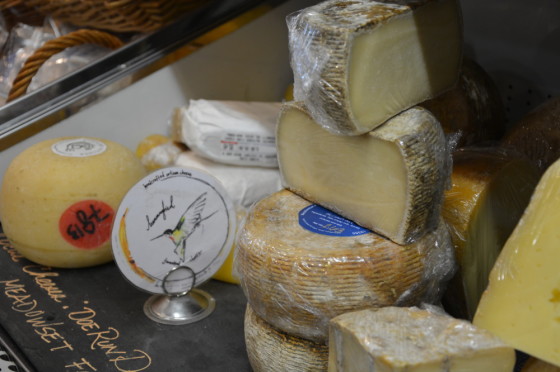 A creamy, mixed-milk cheese from Vermont, like Cremont. It's wonderful and light, yet complex.
Merlot Bellavitano from Wisconsin with flavor notes of parmesan and cheddar and just a faint hint of the Merlot with which it is washed.
Buttermilk Blue, a raw blue from Wisconsin is made from what the name suggests (buttermilk), which is leaner in milkfat. Delicious, slightly creamy with a touch of sweetness. A customer fave.
Harvest Apple Cheddar is a seasonal selection from Wisconsin. The cheddar itself is delicious and mildly sharp, with the addition of cooked apple chunks, and a touch of cinnamon it just sings of autumn.
Happy Thanksgiving, happy cheese tasting.
Find Country Butcher at 145 S. Walnut St. in Kennett Square. Country Butcher's hours of operation are as follows: Store hours: Tues. – Thurs., 8 a.m.–6 p.m.; Fri., 8 a.m.–7 p.m.; Sat., 8 a.m.–4 p.m. Cafe hours: Tues.–Fri., opens at 7 a.m.; closed Sun. & Mon.
Photographs credited to Claire Murray.