Delaware may not be known as a culinary mecca—but it should be. Alas, among even the thorniest of bushes, a rose blossoms. In the First State, there are several noteworthy bright spots worth the trip. Not always the most expensive, skillful intent trumps some of the pricier institutions of fine dining. Below, discover nine exceptional restaurants that make your trek across the Delaware state line worth the trip. From Wilmington to Newark and the many neighboring towns in between (Greenville, Bear and Hockessin), we trust you'll soon be frequenting the First State.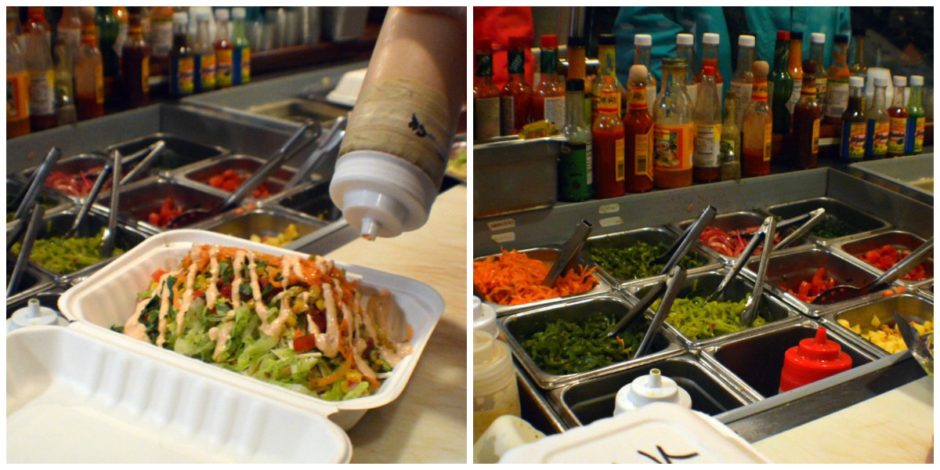 Faster versions of burrito rollers are as plentiful as big burger places. Oversized and under-flavored seem to be alright on college campuses and for late-night, post-fiesta gatherings. Up from the ashes rises El Diablo. Artful interpretations of burritos can be spotted at Branmar Plaza and the original location in Trolley Square with a third location in Newark due in a month or so, says partner Dean Vilone. "We are grateful to be here to do what we do," say Vilone, of the often jam-packed Trolley Square location. Burritos, tacos, salads and quesadillas are the only menu offerings with a choice of protein bound by, say, sherry-cured onions, corn relish, jalapeno-walnut vinaigrette making for devilishly good Mexi-fare action. The top seller? The chicken varieties for now; the fish tacos return in the summer. Trolley Square, 13 Trolley Square, Wilmington, (302) 691-5532; 1812 Marsh Rd., Wilmington, (302) 439-4648
Top of the list for quirky but delicious, the Gyro Kabob House has as nondescript and shockingly treacherous a presence as most of the scary places found in South Philly. And that makes it great. Flanked by a gas station and bargain liquor store, Gyro Kabob House is the real deal for lamb gyros. Rivaling the best pita-folded creations found overseas, gyro dowsed in the rousing white sauce, the tzaziki sauce is second to none. This shabby chic (minus the chic) spot boasts spirited gyro as good as Philly's South Street eateries. 1142 Christiana Rd., Newark, (302)368-7777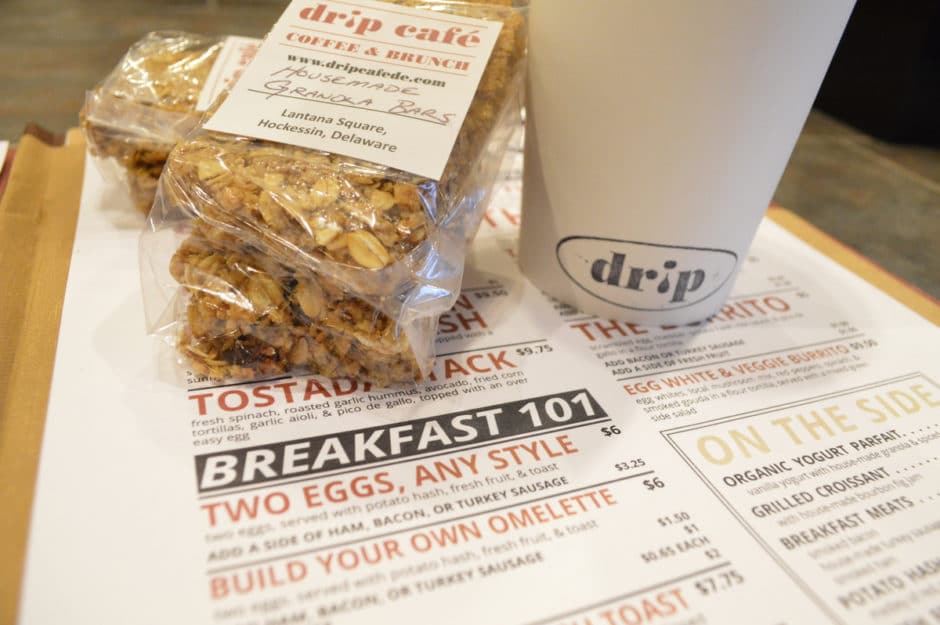 Drip owner Greg Vogeley is a ridiculously dedicated coffee enthusiast. If good coffee is the drug, then Vogeley is the dealer. "We source our coffee from small-batch, quality-focused roasters.  Currently we are using Ceremony Coffee from Annapolis, Md. We offer a number of single-origin coffees brewed in various fashions, and a traditional espresso bar with hand-made syrups and sauces to pair with your lattes," Vogeley says of his caffeine-fueled obsession. Tucked into Hockessin's Lantana Square shopping center, Drip offers a pour-over coffee array, espresso-based drinks and a really crafty menu to soak up the caffeinated goodness. "We focus on pairing a great coffee bar with a cafe menu that is second to none for brunch in the area.  We source a lot of our core products locally, from our neighbors and friends." says Vogeley of Drip's approach to the kitchen's artful menu. The coffee and brunch spot gleans some of the best from nearby Highland Orchards, among others, to make the figs, apple and brie grilled croissant. 144 Lantana Drive, Hockessin, (302) 234-4430
Vietnamese in Wilmington? Everything that makes pho wonderful can be found just off of I-95 at Pho Nhu Vu. The sparse dining room, chilly service and steaming troughs of noodle-laden broth make it easily mistaken for any of the noodle houses that dot Washington Street off of Passyunk. All the classics are here; the fatty beef, the tendon, seafood cake and chicken varieties are on the menu. Of particular note, the chilled noodle salad with hoisin-basted chicken, smacked with cilantro, marinated carrots and bean sprouts is a tough competitor for making a dinner choice. Get pho for here and the chilled noodles to go. 1146 Pulaski Hwy., Bear, (302) 595-2529
Absolutely unexpected. Great Asian? In a strip mall? Still overlooked by locals, the buried treasure of Potstickers is not the common Chinese place on the corner. Rather, the skillful take on the food of Asia with a shake to some European ingredients are respectfully presented. Sushi is definitely a focus. The essential California, eel and cucumber, and spicy salmon rolls all make appearances. But so does the unforgettable claypot chicken in lemongrass basil sauce. The namesake potstickers are way better than most; Peking pork with napa cabbage will ruin any future experiences with the familiar dumplings found elsewhere. Yes, there is General Tso chicken. Yes, it is very, very good. Skip the second helping of brown rice in lieu of the crispy banana spring roll. Seriously. 1247 Churchmans Rd., Newark, (302) 731-0188
One of the last vestiges of Wilmington's red gravy houses, Attilio's remains family owned and operated. In the city's Little Italy, cash only and one dimly lit, dark paneled dining room tell the story. Fried smelts. Garlic greens. Ravioli. Lasagna 'very special' (the only descriptor on the menu!) Green beans and potatoes. It is the place that lingers in the form of garlic seeping from every pore the next day, and pleasantly so. 1900 Lancaster Ave., Wilmington, (302) 428-0909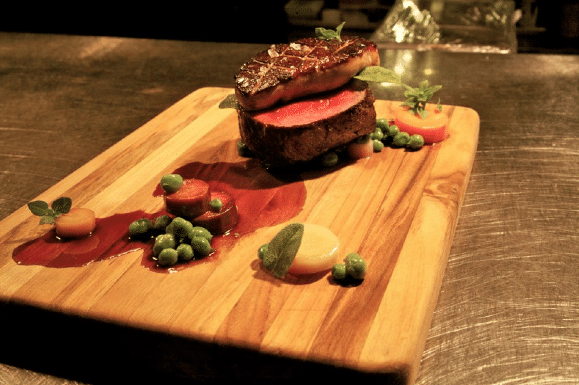 Simply put, William and Merry bring craft food to the northern Delaware scene. Chef/Owner William Hoffman brings olive oil-poached octopus to life. The strip steak comes with bone marrow mashed potatoes. Sweet potato gnocchi are nothing new. Alas, Hoffman serves the housemade variety with pork-broccoli rabe ragu. Seriously. The 1922 farmhouse was made merry in 2011 to incorporate the restaurant while maintaining the husband and wife team residence above the Hockessin eatery. 1336 Old Lancaster Pike, Hockessin, (302) 234-2255
A Hippie-ish revolving menu that highlights vegan and vegetarian fare, Home Grown was one of the first in northern Delaware spots to truly get the notion of using local and seasonal ingredients without being pretentious about it. The Pot 'o Fries with chef/owner Eric Aber's touch, elevate the french fry to crave-worthy. Caramelized shallot and pumpkin puree make for a mac 'n cheese construction that is far from the overtly traditional style that lacks inventiveness. Aber's approach to a multicultural dining experience is evidenced with a glance at the current menu that trumpets Korean chicken and waffles, mahi rolled tacos, and short ribs. What might fail elsewhere as confused fusion fare works as an eclectically successful nod to the growing complexity of the current food scene. 126 E. Main St., Newark, (302) 266-6693
Rumor has it that a very well known veep haunts Pizza by Elizabeths when he is town, wink wink. The Greenville pizza destination is not the paper plate, take-out place lit by the glow of a Coke machine in the corner. Rather, PBE is the pastel and gold gilded dining room equipped with a culinary team, salads that are more than just chopped iceberg, and pizza like the Shannon; fig jam, gorgonzola cheese, and thinly sliced prosciutto, garnished with scallions. Yes, it is that type of place. The bar is visit worthy, as well. The drinks at PBE get equal footing with a significant nod to haute offerings partnered with good stuff from the kitchen. 3801 Kennett Pike, Greenville, (302) 654-4478
Editor's Note: We've heard from some of you that you'd like to see a greater focus on other parts of DE, and that there's a lot more great food to highlight.  (We couldn't agree more!) We absolutely want to hear your suggestions for inclusion in future Delaware articles, so please contact us with tips.