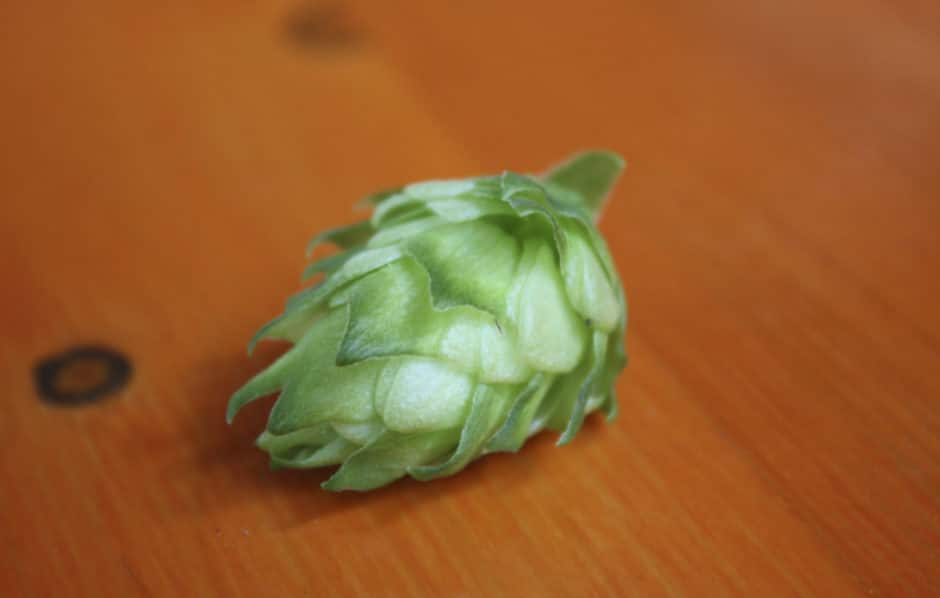 While recently writing an article on Pennsylvania's fresh-hopped beers, I became educated about the state's plethora of hop farms. During my research for the article, something specifically stood out to me: out of the six harvest ales I showcased, three of them used hops from Sunny Brae Hops.
As a backyard hop farmer myself, this was enough to pique my interest and I decided to learn more about this small Pennsylvania hop farm. Initial research revealed more about their interesting hop selection and environmentally friendly farming practices. So, to dig deeper I decided to reach out to owner Adam Dellinger for a Q&A to learn more about Sunny Brae Hop farms.
PA Eats: When was Sunny Brae Hops started?
Adam Dellinger: I had been thinking about, and working towards, farming full-time for about five years. We started the business planning process in 2013 and planted the first test yard in the spring of 2014.
Why did you decide to start Sunny Brae Hops?
I grew up around agriculture my whole life, working on dairy farms as a teenager and my dad was in the farm-equipment business. I went to school for soil science and started to develop a further interest in the local-food/small-farm movement. After that I spent about 10 years working for the US Dept. of Agriculture doing conservation work.
My wife and I had a hobby farm at our current location for a couple years and wanted to take it to another level and begin a commercial farming operation. As craft beer enthusiasts and homebrewers, hops seemed to be a natural fit for our land and our interests. Unfortunately, there wasn't a lot of resources available at the time to small-scale beginning hop growers, so we have been learning a lot on the fly. For example, when I designed my trellis system it was based on some input from other small-scale growers (who were just learning themselves) as well as a number of observations from large farms out west and even small farms in Germany.
In the end, it just seemed like the right kind of challenge for me that I was willing to accept, and it helps to really enjoy the final product as well.
Is the Cumberland Valley well suited for growing hops?
Generally speaking the whole state of PA falls into the typical hop-growing latitude range 35-55 degrees, so it's conceivable to grow them anywhere. But there are a lot of site specific considerations you need to take into account, especially when it comes to the soil and sunlight hours the plants will receive.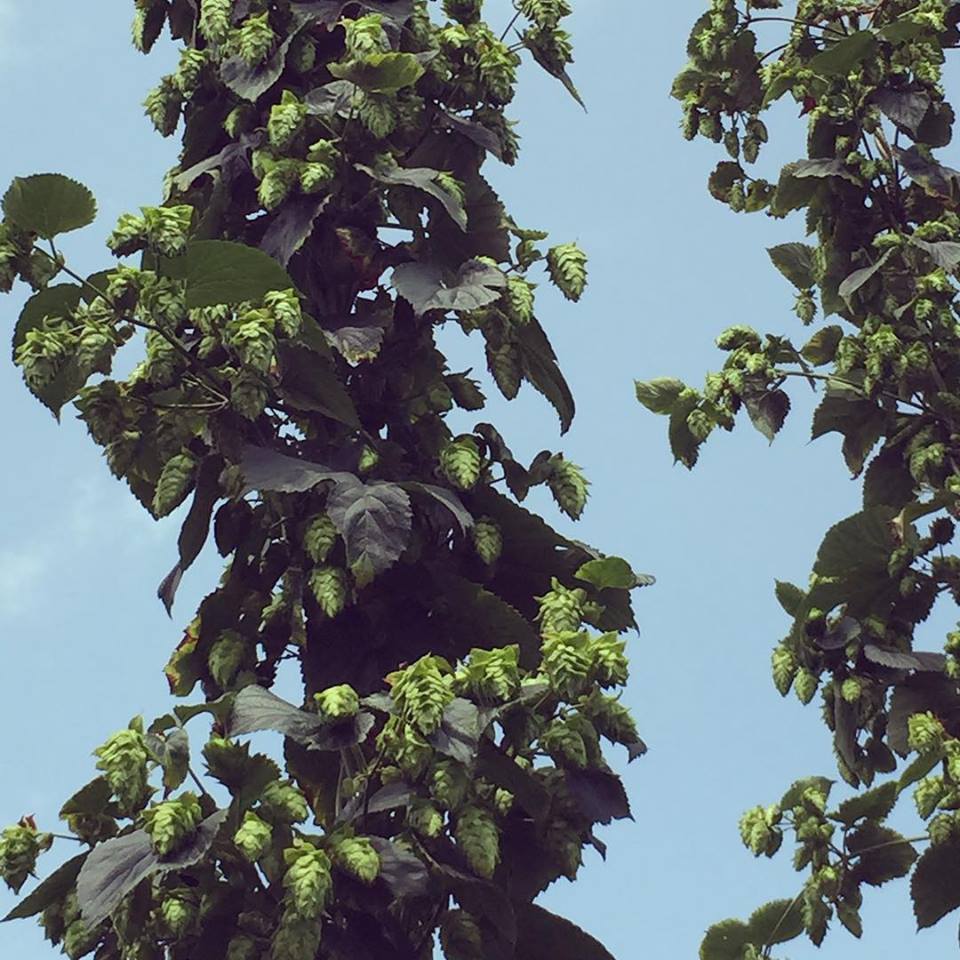 Is there a difference in aroma or flavor between cascade hops grown in Pennsylvania and cascade hops grown in the Yakima valley in Washington state?
Yes, similar to terroir for grapes, it's well understood that differences in soils, climate and other factors can affect the hops between geographic regions.
What environmentally friendly practices have you put into place on the farm?
We try to manage our hop yard as naturally as possible. To start we chose varieties of hops that are less susceptible to disease and grow well in this area so we could hopefully reduce the need for sprays. We also use drip irrigation to precisely place water and fertilizer exactly where it is needed, we use nitrogen-fixing alley plantings (like clover) that supply N to the soil naturally and we use compost and other natural fertilizers whenever possible over man-made chemical fertilizers.
Currently we are taking the spent grain from a local brewery and composting it to add to the plants. To control pests we have released multiple types of beneficial predatory insects that help us control the damaging pests without the use of harmful pesticides and we try to keep the base of the plants as clear of weeds as possible which deters pests and diseases. When we do have to spray for pests, disease or weeds we use organic formulas to reduce the impact on the environment.
We recently featured some beers in our Harvest Ale article that used fresh Sunny Brae hops. Have any other breweries utilized your hops?
I think you hit on Molly Pitcher, Troegs and Moo-Duck in your article? Those were the three breweries we worked with this year on fresh hop batches. Last year when we had our smaller test yard, we worked with some breweries that just dry-hopped firkins with some of our hops. Troegs did that with a Blizzard of Hops firkin, Pizza Boy did a West Shore IPA firkin, Brewery at Hershey did a firkin of Hip Hops Hooray that was served at Al's and Moo-Duck dry-hopped a 1/6 barrel keg of Big Bru imperial IPA.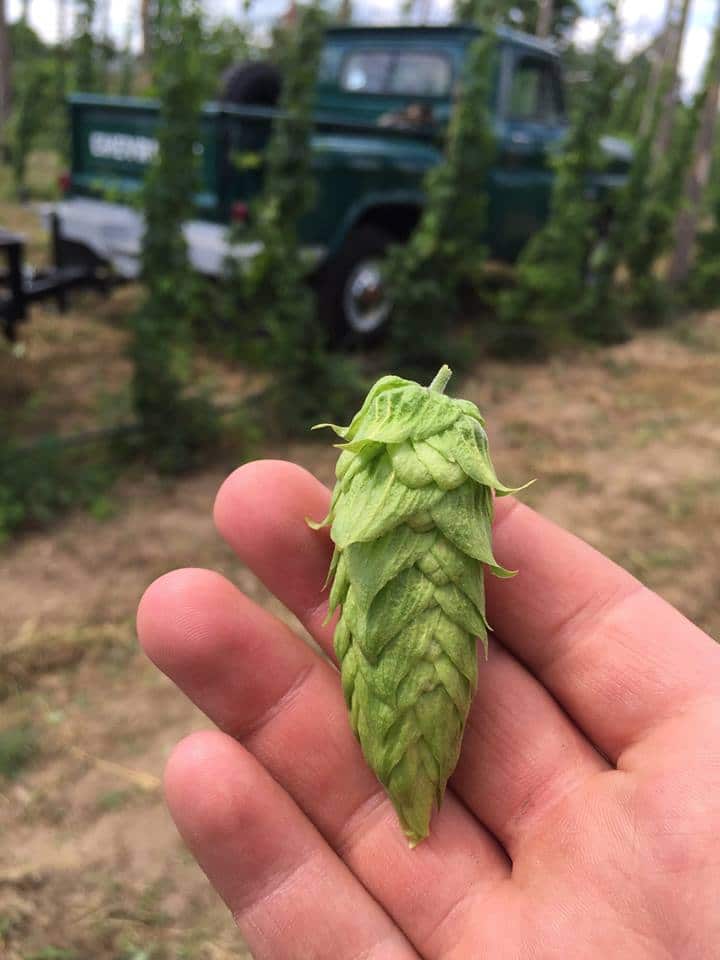 Are home brewers able to purchase Sunny Brae hops? If so, where?
In 2015, we did not have enough hops to satisfy the requests from brewers and also sell to homebrewers. We want to change that for 2016 as we'd love to see (or taste) some of the brews that really creative homebrewers come up with [using] our hops. We'll send out an announcement through our newsletter and social media when we are ready to take orders. So if anyone is interested in this, I would recommend that they sign up for our email newsletter at our website. The newsletter is probably the most sure-fire way to make sure they don't get left out.
What hop varieties do you grow?
Cascade, Centennial, Chinook, Nugget, Comet and Cluster.
What factors do you take into account when choosing which hop varieties to grow?
Lots of things—interest from brewers in certain varieties, oil content, alpha acid levels, yield, growth habit and natural resistance to certain diseases (which down the road would hopefully mean less spraying).
When looking through the hop selection you offer, Comet stuck out to me as a variety I don't see too often. Can you tell me a little more about Comet and why you chose to grow it?
It was different and the description of its characteristics piqued my interest. It's great to have a selection of varieties that most brewers are familiar with and use regularly, but I wanted one type that no one else was growing. It was a total gamble, though, as I had no idea how brewers would react to it. I chose it over some other less common types because it has very clear lineage with wild North American hops. Since I can't grow proprietary hops, I wanted to go the other direction and try something that was more "heritage."
On your website, it says you grow early and late varieties of Cluster hops. What is the difference between the early and late varieties?
Cluster is another hop the piqued my interest for different reasons. Early cluster is probably the oldest cultivated hop used for brewing in the U.S. It was developed from a Dutch parent and wild North American parent, and has an intense citrus aroma. The late cluster is a result of moving the early cluster to the west coast and having open pollination occur with wild hops from out west. The late cluster then became a little better suited for the climate out west because of those genetics. We wanted to grow them both here to celebrate and revitalize hops with North American heritage.
What is the next step for Sunny Brae Hops? Are you planning on trying out any new hop varieties in the future?
We are constantly experimenting with techniques and thinking about new types of hops. It's the best way to learn. For 2016, we will be improving upon our growing after having learned some valuable lessons in 2014 and 2015. There's not really a good manual for this stuff, so it takes a lot of trial and error. We will definitely be getting a hop harvester next year because our yield will be too much to harvest by hand. After 2016, we will re-evaluate and see how and when we expand our operation. One thing is for sure, we love growing hops and will be around for a long time to come.
Stay updated on Sunny Brae Hops through their website, Facebook, Twitter or Instagram.