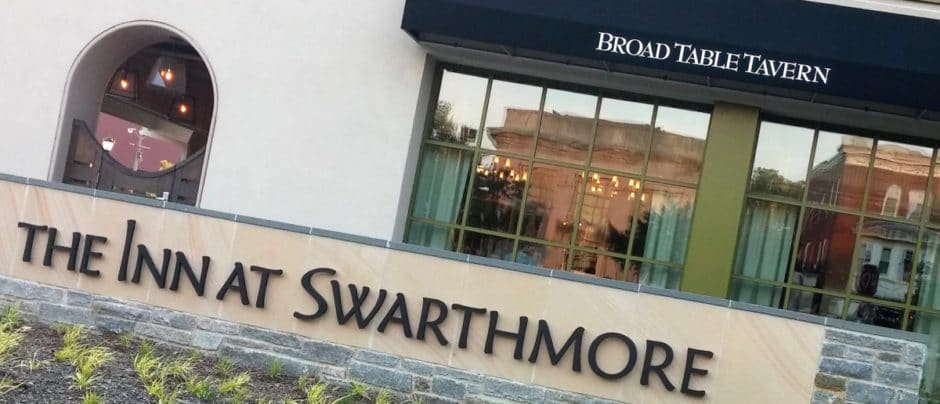 Nestled within Swarthmore College's quaint suburban campus is the new Inn at Swarthmore, a 40-room inn featuring signature restaurant Broad Table Tavern. Simply stated, the breakfast, lunch and dinner menus are equally inspired by the changing seasons, and the dishes are artfully created with locally sourced ingredients and artisan products.
I had the opportunity to take a seat at the table and sample a delightful dinner. Here's the dish on 10 things to savor and enjoy at Broad Table Tavern.
Social Starters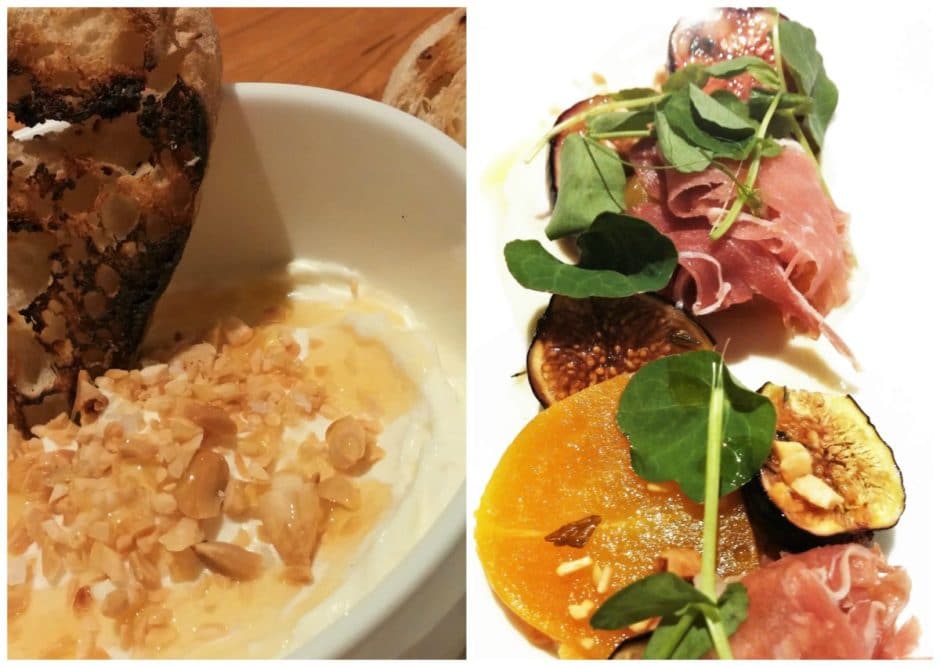 More cheese, please. I spotted the Whipped Ricotta appetizer and couldn't resist. The Italian cheese was whipped into a creamy dream, drizzled with a sweet local honey and sprinkled with Spanish Marcona almonds. Then to my surprise, Executive Chef Keith Ahern delivered a newly created seasonal appetizer featuring ripe figs, prosciutto, yellow beets, blue cheese and honey vinaigrette. I could definitely note the farm-to-table quality of the ingredients in both dishes.
Eclectic Entrees
For my entree, I chose the evening's special, seared New Zealand butterfish served atop salsified noodles, roasted cauliflower and red cabbage jam. The fine, flaky white fish was smooth and buttery and melted in my mouth. Other popular dinner dishes include scratch pastas such as goat cheese ravioli, and the Alaskan halibut and hanger steak come highly recommended as well.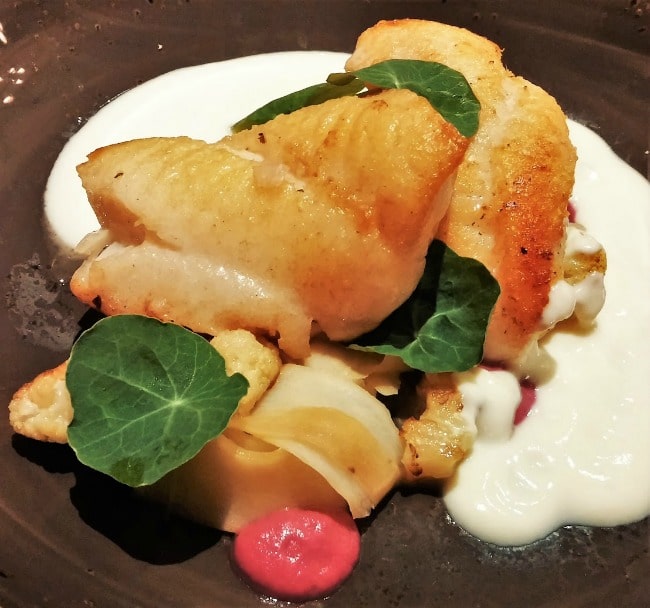 Delectable Desserts
Though quite full, I couldn't pass up dessert. Chef Ahern's classic Italian lemon budino is a sumptuous yet refreshing souffle that reminded me of a lemon meringue pie without the crust. The sweet, tart pudding is topped with a local honey drizzle, sweet cream and almond shortbread.
Chef Keith Ahern
He's the mastermind behind the culinary creations at Broad Table Tavern. With a rich Italian heritage, Chef Ahern developed his love for food at a very young age, and he's since developed his career into fine dining establishments. Chef says his dynamic culinary style is focused on cooking with the seasons.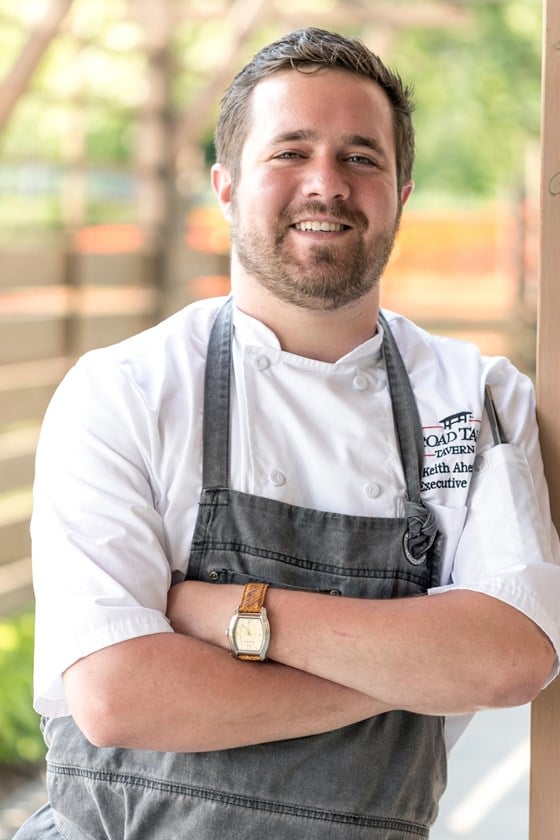 "I choose ingredients that catch my attention when the farmers show up at the back door with things they've just pulled from the ground or tree. That way I can stay creative and not be pinned down with any one approach to the menu," he says. "I always think back to eating fresh figs from my grandmother's backyard fig tree. At that point, you're eating them at their best moment, when they should be eaten. That's what I look for in my ingredients—that moment of peak freshness and flavor—and you only really get that when you use things that grow right around the corner. A thousand-mile ride in some truck totally destroys that."
Smiling Staff
From Chef Ahern to the hostesses and the servers, everyone on the Broad Table Tavern team was friendly, engaging and efficient. For a relatively new restaurant, Broad Table has a solid system down and has hired a staff that puts pride into what they do.
Creative Cocktails
Be sure to try the Bloody Brew, a BTT Classic Takes freshly made cocktail with Absolut Peppar, a local IPA, house made bloody mary mix and pickling juice. Or sip on a signature cocktail like the Pom Pom Pom, created with Grey Goose vodka, Pama pomegranate liqueur, fresh lime juice and prosecco.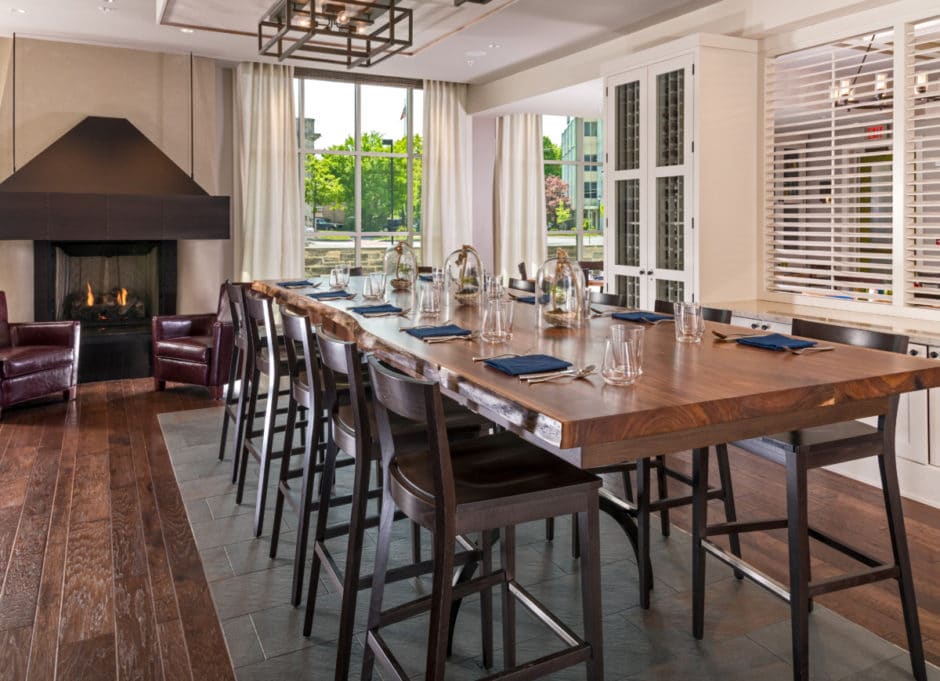 Bright & Early Brunch
Guests of the Inn and visitors alike can enjoy a unique brunch menu on Saturdays and Sundays. Start with a house-made bloody mary or mimosa and nibble on cheese and charcuterie. Salad selections include kale Caesar or heirloom tomatoes with ricotta, wax beans, aged sherry and crispy pork rinds. Plates include pork roll Benedict, bourbon-infused French toast and Philly cheesesteak hash. That will get your day going!
Inviting Ambience
Broad table is classy and chic, but casual just the same. You can dine with a date, celebrate a birthday with a group of friends or meet with colleagues for social bites and cocktails.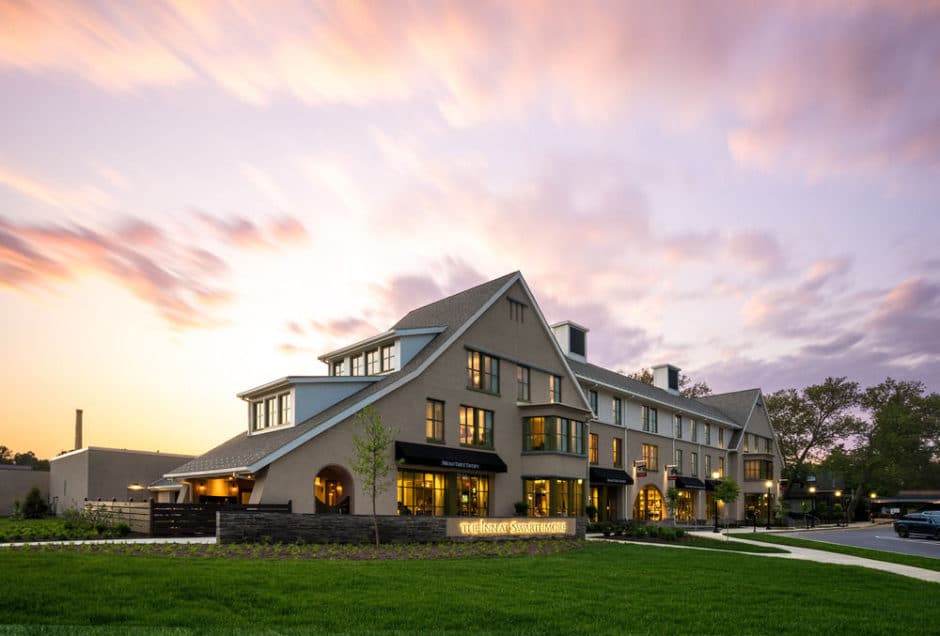 Artfully Tasteful Decor
Before or after your dining experience, it's worth it to take a look around. The Inn at Swarthmore showcases artwork of Swarthmore College alums and students throughout. Each piece is unique to the Inn and speaks to Swarthmore's place and position as an institution of higher learning.
Exciting Events
Broad Table Tavern offers exciting events throughout the year. Taste signature dishes and meet Chef Ahern at the 6th Annual Taste of the Town at the Community Arts Center in Wallingford on September 22. Enjoy a five-course meal paired with wine at the Chef's Table Dinner Series on September 29.
For more information, visit the Broad Table Tavern website, and be sure to follow along on Facebook.
Find Broad Table Tavern at 10 S. Chester Rd. in Swarthmore; phone: (610) 543-7500.
Top three photos:

Lauren Avellino Turton

Remaining photos:

Inn at Swarthmore