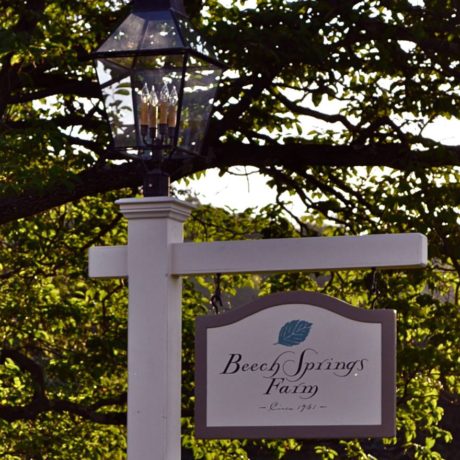 I arrived at Beech Springs Farm, located 10 miles Southwest of Gettysburg, on an overcast, drizzly March morning. The newly installed paver driveway welcomed me through a grand entrance to the beautifully maintained property. Despite just coming out of winter, the farm looked fresh and crisp—the deep burgundy accent color of the barn striking against the bright green expanse of lawn dotted with trees and blocks of gardens. A potter's shed (now used for groomsmen to dress before a wedding), a spring house and a serene pond rounded out the view.
Jayne Shord welcomed me at the door with her two golden retrievers—Paige and Taylor—and I instantly knew Beech Springs Farm was a great place to be. We sat in her gorgeous country kitchen with the dogs curled on the floor in front of a brick fireplace that I am sure crackles with a warming fire on a chilly evening. Sitting at her oversized kitchen island and facing windows with foot-deep windowsills revealing a pastoral view, we chatted about her early beginnings as a gardener, her passion for sustainable agriculture and her CSA that reinforces farm-to-table living and makes her members feel special.
PA Eats:
Jayne, the farm is gorgeous. What a beautiful spot you have here!
Jayne: Thank you! We are nestled on about 10.5 acres. The house was built, we believe, in 1830. My husband and I have been here for 14 years. The property was owned by the Musselmans in the '30s and '40s, and the fields adjacent to the house and barn were filled with cherry trees. The barn was used for packing cherries. The weight of the crates stored in the barn caused a portion of the barn floor to collapse. Soon after we moved here, we replaced the barn floor and the roof, and the flooring worth keeping was later reused in our kitchen and in the sunroom we added to the house. We continued to renovate the house and barn, recycling many of the building materials in other farm projects.

Can you tell me about your gardens? I see some impressive plots out the window.
Well, approximately an acre of the property is used for growing produce. The single fenced garden in front of the house is dedicated to growing annual vegetables and some perennial crops like asparagus, rhubarb, raspberries and blueberries. It also contains a small cutting garden where our CSA members can pick their own bouquets. When we host special events, the entry point for guests is through the produce garden, which makes a very inviting entrance to the property. Then there is a 4-square garden in the center of our yard that I am turning into an English garden. Over the winter, the flagstone walkway was replaced with bricks and I can't wait for all the plants to come back this spring! It's filled with boxwoods, roses, peonies and many other flowers and is a popular spot for wedding photos. Then there's the herb garden adjacent to the barn that is enclosed by a picket fence. CSA members are invited to pick their own herbs and caterers sometimes set up grills in the garden for weddings and special events.

What types of vegetables do you grow?
For years I have been growing heirloom varieties of produce and I'm currently in the process of renewing my Certified Naturally Grown certification. I love growing different varieties and colors of heirloom vegetables, herbs and flowers—some edible, like violas, calendula, marigolds and nasturtium. We grow red raspberries, blueberries, rhubarb, asparagus, broccoli, cauliflower, kohlrabi, cabbage—the entire gamut of veggies with the exception of corn, which I don't have room for.
I hear you are known for your salad greens.
Well [laughs], at the Gettysburg Farmers' Market they called me the "lettuce lady." People really liked the mesclun mix that I grew and used to wait in line to purchase it. It's very tender and sold out in a jiffy. Our CSA members now receive it in their shares.

Let's talk about your CSA
—
can you tell me a little about it?
This is the sixth year for the CSA. For the past few years, membership has fluctuated between 22–27 members. Members may purchase a full, half or quarter share. They receive 20 weeks of produce and have access to herbs, flowers, pick-your-own raspberries and honey from our bees. I'm excited to be partnering with other area farmers to introduce our members to additional local food options. Members may purchase chicken and pork from Rettland Farm, fruit from Oyler's Organic Farms, mushrooms from our neighbor, Peter Bugler, and eggs and goat cheese from Itsy Bitsy Acres.
How else does the CSA at Beech Springs Farm embody the farm-to-table philosophy?
It's great for folks to be able to associate a face with the food that they eat. In a world where we seldom know how our food is grown or where it comes from, the CSA and farm-to-table movement has opened up options for farmers and consumers to connect that didn't exist just a few short years ago. As part of our CSA, we invite our members to think of the farm as their own and to enjoy it beyond their pick-up day. Understanding that some of our vegetables might not be familiar, each new member receives a copy of the cookbook From Asparagus to Zucchini [produced through the FairShare CSA Coalition in Wisconsin] when they join. For the past two years, Chef Fabio Carella has come to the farm and conducted cooking classes. I want our members to know how to prepare what they receive in their share and for the CSA to work for them.
Do you think you'll ever expand the size of your CSA?
There are many larger farms with CSAs of 100 or more members. But that's a scale that I don't feel comfortable with. I want to stay small and be in touch with our members. A CSA doesn't work for everyone all of the time. Some of my members take a year off depending on what is going on in their life; I want to be flexible for people's needs. Last year there was a week when the weather was so bad, I decided to set up in our kitchen instead of the barn. It created such a homey environment that we never went back to the barn! If I were much larger, I wouldn't have had that option.
Do you have a history of gardening in your family?
I would say it's in my blood, not necessarily in my family! I grew up on a dairy farm outside of Pittsburgh, which has been in my family since 1890. When I was about 10, my dad dug up a plot of land and I started growing vegetables. It got to the point where I grew so much that I loaded up my red wagon and took the produce to our neighboring town and sold it to my neighbors. Eventually my brother and I set up a produce stand at the end of our driveway. I really didn't venture too far in my life! My next step was selling produce on the square in Gettysburg and now to CSA members.

So, how did you end up not starting a farm and CSA until you were in your 60s?
I raised my family and in the mid 1990s, when I was in my 50s, decided I wanted to finish the degree I had started to pursue when my children were small. I became interested in sustainable agriculture while working at Wilson College and was intrigued by their CSA program. I pursued my degree at Allegheny College and, following graduation in 1999, I returned to Wilson. Over the next couple of years, I wore various hats within their Center for Sustainable Living. On one project, I worked directly with local farmers and realized the challenges they faced in marketing their products. I helped organize farmers' markets in Chambersburg and Shippensburg to provide a local market, but after my husband and I purchased Beech Springs Farm, I decided I really wanted to be the farmer. It has taken a while for what I dreamed to evolve, but Beech Springs Farm is slowly becoming the farm I imagined.

Do you use your produce when hosting events here at the farm?
Yes! I work with the caterers to design the menus for the events that we host around the seasonal produce in our gardens. It really promotes the farm-to-table concept that we're all about at Beech Springs Farm. I love the opportunity to expose people to food freshly harvested from our fields and the value behind sustainable agriculture. In 2015, we began hosting a series of farm-to-table dinners we call our Second Sunday Suppers. The second Sunday of each month, May thru October, a guest chef will prepare a dinner designed around my garden and the area's seasonal offerings. Dinners are complete with entertainment and local drink pairings. The kickoff for 2016 is on Mother's Day.
What are some of your favorite farm-to-table recipes that you prepare in your own kitchen?
I'm not a complicated cook! My best recipes are whenever I don't have a clue what I'm going to make! I love to go out into the garden with my basket and pick whatever appeals to me and then see what I can whip up with it. I prefer to keep my veggies simple so you can taste the real flavor. Because they are so fresh, they really don't need much other than olive oil, butter, maybe a little lemon juice, salt and pepper. I love making cobblers with fresh fruits from the garden. There's nothing more luscious than raspberry cobbler.
Find Beech Springs Farm at 784 Mt. Carmel Rd. in Orrtanna; phone: (717) 642-5695.
Photography:

Beech Springs Farm