The joys of outdoor summer fun—camping, hiking, picnicking and splashing in the ocean or the lake—can all be dampened by the three summer fun killers: sunburn, bug bites and thunderstorms. While nothing can be done about dark clouds rolling over bright skies, there are plenty of products designed to prevent sunburn and mosquito and tick bites. Before heading outdoors, many people run into a conventional drugstore and grab whatever's on the shelf for summer skin care.
But, what's put on a body is equally important as what's is put in it. Today, there is a growing trend among consumers who have become expert label readers to seek out body care products that are free of harsh chemicals. While preventing damage to the skin during summer fun is the goal, modern shoppers are looking for sunscreen and bug sprays that aren't loaded with toxins that could harm their families and the earth.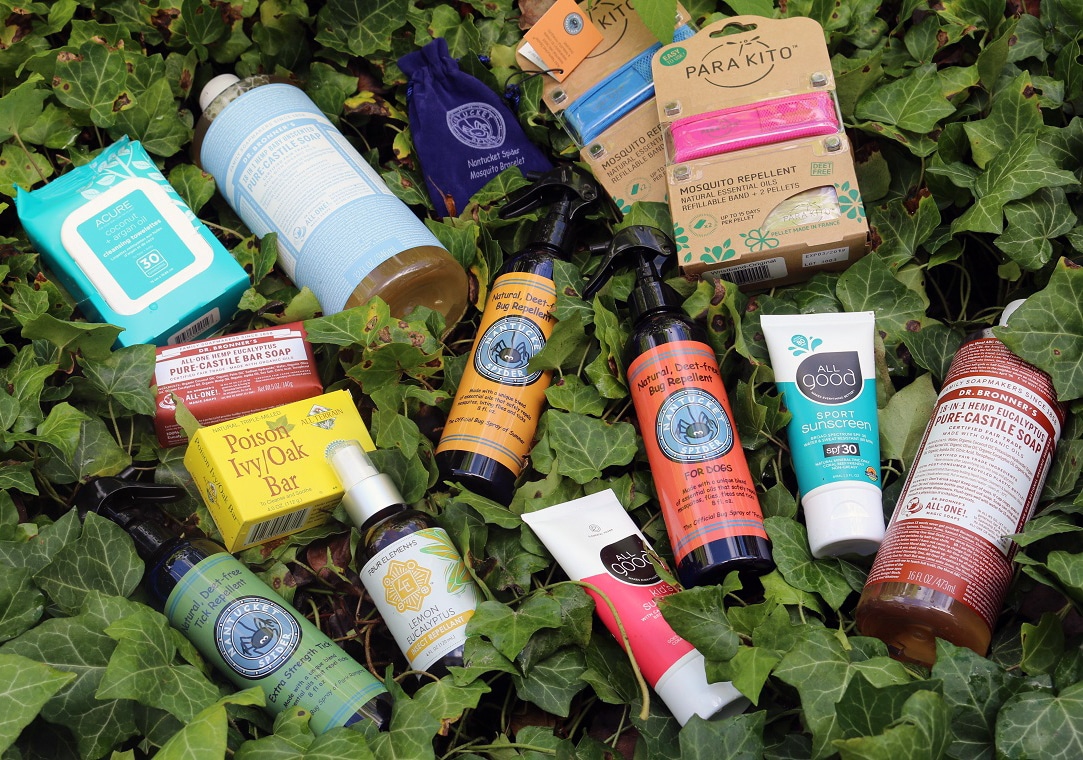 Can natural summer body care truly be safe and effective? With so many bottles lining the shelves of both conventional pharmacies and natural food stores, shoppers are often on their own (or at the mercy of Google) to discover the answers to important questions regarding ingredients, effectiveness and product testing of sunscreen and insect repellent.
The Apothecary department at Kimberton Whole Foods is the go-to place for natural body care-related products, with a dedicated, knowledgeable team who is ready to walk customers through questions related to the products that the market carries. Is that sunscreen safe for a baby? Can essential oils really keep mosquitoes away? How do I keep my dog safe from ticks in the woods? The Kimberton Whole Foods staff is there to help field any and all inquiries.
The team presented PA Eats with the opportunity to test some of these incredible summer-specific skincare products. Each product was tested in different settings, including a garden party at Bartram's Garden where several repellents were tested. Let's put it this way—the most popular table at the event was the one that had a centerpiece of bug repellents, rather than freshly cut flowers from the garden. Attendees were stopping at the table to ask, "Excuse me, is that tick repellent up for grabs?" A few spritzes and party-goers were good to go, feeling confident that the repellents would make for a fun, bug bite-free evening.
Here's a brief overview of the products that we reviewed:
These are mosquito-repelling wristbands that have inserts scented with essential oils. They are waterproof, one-size fits all, and come in a variety of colors. Each insert should last 15 days.
Its Neoprene band was flexible to wear, not constricting at all. Ingredients in the insert also had vanilla in it, so its scent was very lovely. Sporty and minimal, the Para'Kito band looks like the latest generation of a fitness tracker. The band also stretches and can be worn on the wrist or ankle.
After a five-mile workout on the Betzwood Trail at Valley Forge National Park (which can be a picnic for ticks and mosquitoes), the workout was successful and bug bite-free from wearing the Para'Kito.
This is an insect repellent spray made with herb infusions including lemongrass and rosemary, as well as essential oils.
The fact that the herbal infusions are all natural certainly created a delicious fragrance. Aside from being effective, the repellent also acts as a moisturizer. Gardeners will appreciate how the light, floral scent of this repellent doesn't detract from the rich, sensory experience of working in the soil. It will surely make the gardening experience more enjoyable, as bugs do not like the aroma of the combined oils.
These are vegan, sulfate-free, paraben-free and cruelty-free face wipes for removing makeup and cleanse skin. They're also fragrance free, which makes them ideal for a post-hike clean up. The towelettes are perfect in size to fit right in the glove box of a car, so they're always at the ready when needed. Bonus: the moistened towelettes contain all-natural, biodegradable Argan Oil which helps to cleanse, soothe and detoxify the skin.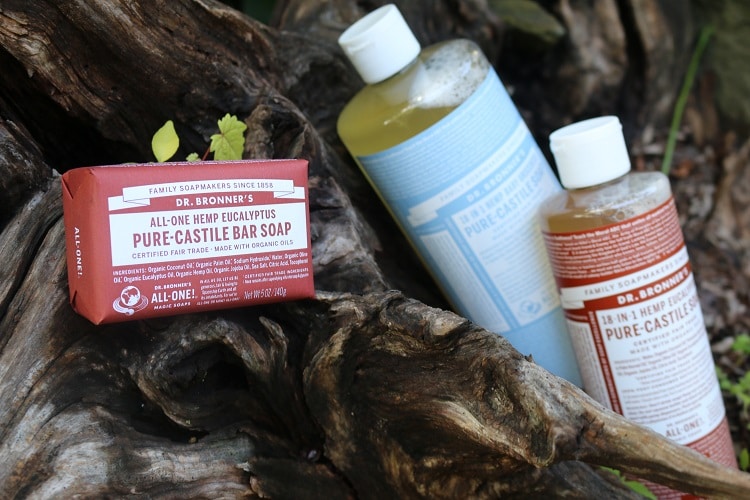 This "18-in-1" cleaning product is good for any task: cleaning dishes, doing laundry and even washing hair. Like all Dr. Bronner's products, this one is biodegradable and free of harsh chemicals. Eucalyptus is a very effective oil in repelling mosquitoes, ticks and fleas. It's safe enough for your cat or dog, too. This stuff is potent, though, so remember to dilute before using.
This soap contains soothing leaf extracts such as neem, tea tree and plantain. Anything that contains tea tree oil will act as a skin-soothing agent. The soap is made to help help relieve itchiness poison ivy, poison oak and/or poison sumac and support the healing process. It's the perfect soap to use even before stepping foot on a hiking trail!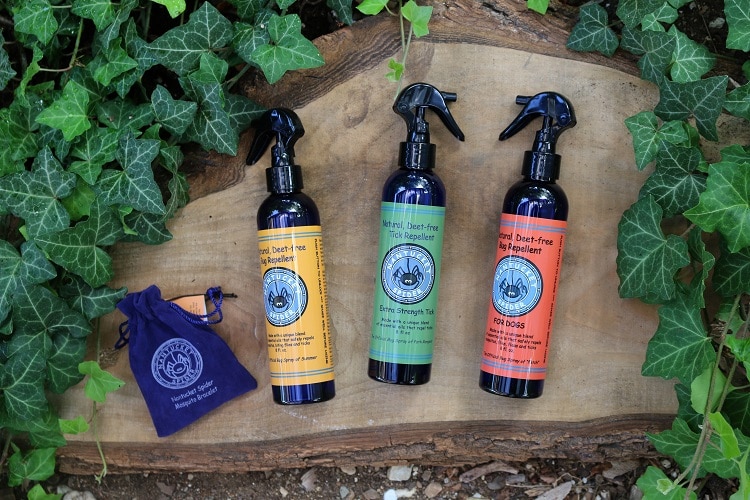 Nantucket Spider has four varieties of this product: Kid's Citronella-Free, Classic DEET-free, Extra Strength and Dog.
Protecting dogs in the woods can be difficult at best, Nantucket Spider's pest repellent for dogs is specifically formulated to keep mosquitoes, biting flies, ticks and fleas off your pup. Its fragrance is derived from thyme oil, which is a powerful anti-flea repellent. Free of citrus oils, which dogs do not like, the thyme oil is blended with other effective essential oils that include rosemary, peppermint, cedarwood and geranium.
The Extra Strength Tick formula for humans contains a carefully selected blend of essential oils known to deter ticks, plus natural vanillin to extend the product's effectiveness. For best results, spray liberally over skin and clothing.
This SPF 30 sunscreen, which the EWF rates highly, is organic, oxybenzone-free and biodegradable, making it coral reef friendly for beachgoers. It's also vegan and gluten-free. The sunscreen is water resistant for up to 80 minutes and has a convenient continuous spray cap for easy application, perfect for sandy beach days.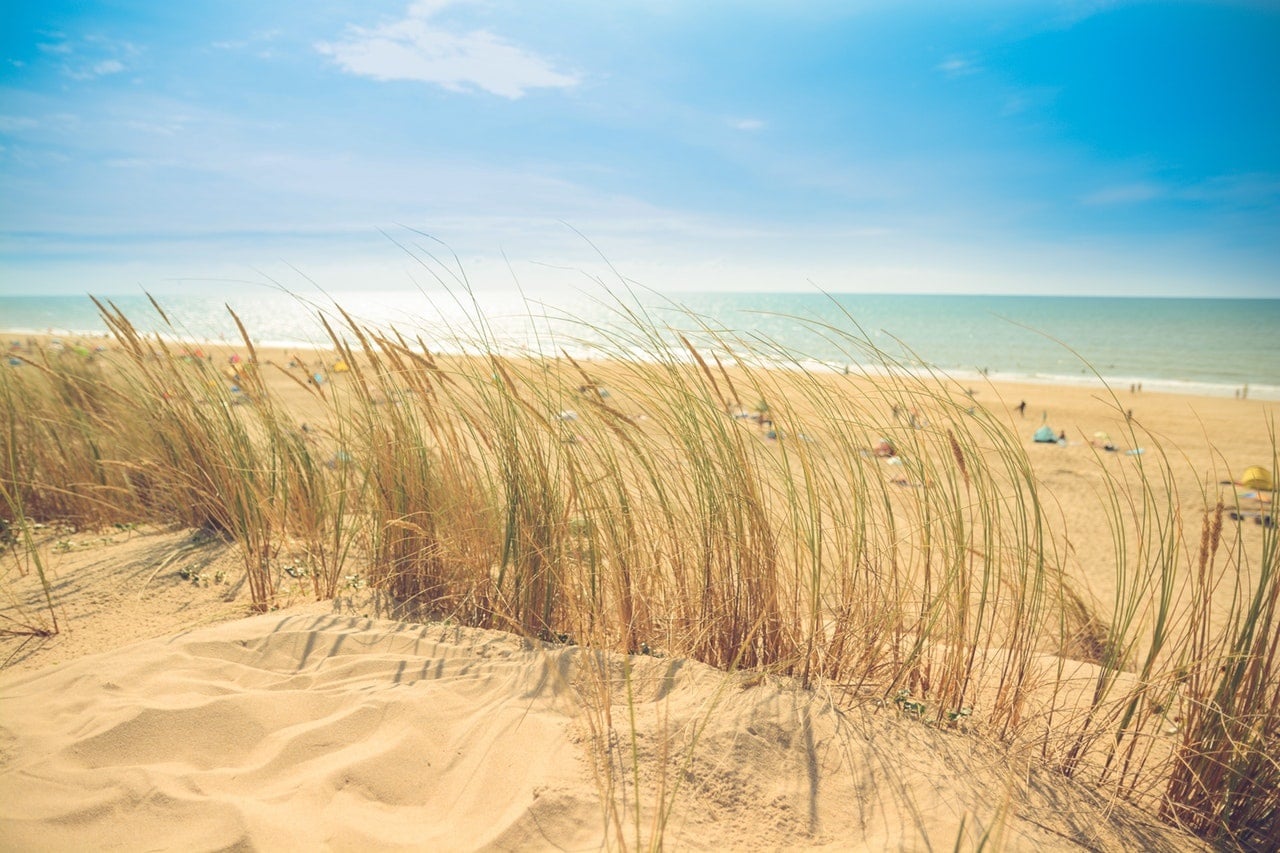 Skin needs lots of attention and special care, and putting heavy chemicals on it may not be beneficial. Knowledge is power, and that's why buying body care products from well-informed (and trained) employees makes a huge difference. Find other unique and effective salves, ointments and lotions at your local KWF. Happy summer!
Product availability may vary by store, so best to give a buzz to the Kimberton Whole Foods location nearest you: Kimberton, (610) 935-1444; Downingtown, (610) 873-8225; Malvern, (484) 324-2800; Douglassville, (610) 385-1588; and Ottsville, (610) 847-2419.
Product photos:

Kimberton Whole Foods

Beach photo:

Pexels