Located within a five-minute drive of Longwood Gardens—one of Chester County's premier tourist destinations—The Gables at Chadds Ford features an outstanding property, an on-point menu and so much more.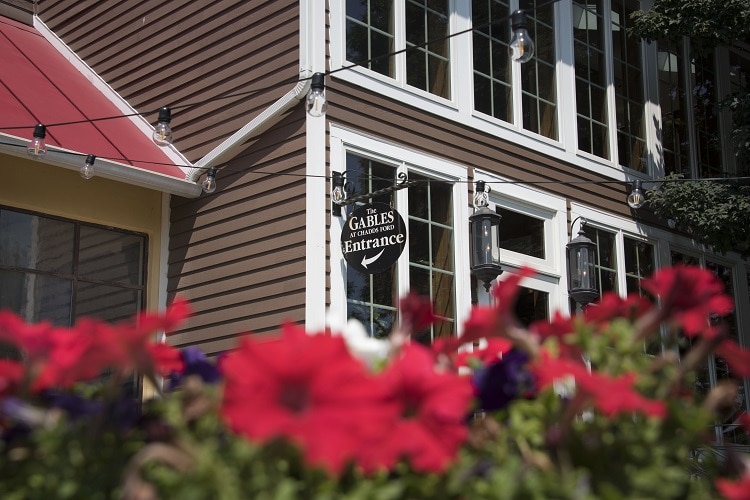 Long a part of Chadds Ford's rich history, Ann and Dan Kolenick purchased the Gables in 2011 and continue to thrive by hosting spectacular weddings, corporate meetings, wine-pairing events, happy hours, brunches and intimate lunch and dinner dates.
The ambiance of the bank barn and stone structure is stunning and succeeds in continuing the garden-like atmosphere of Longwood with potted flowers and succulents, tree specimens, fountains, water features, firepits and the aura of romance.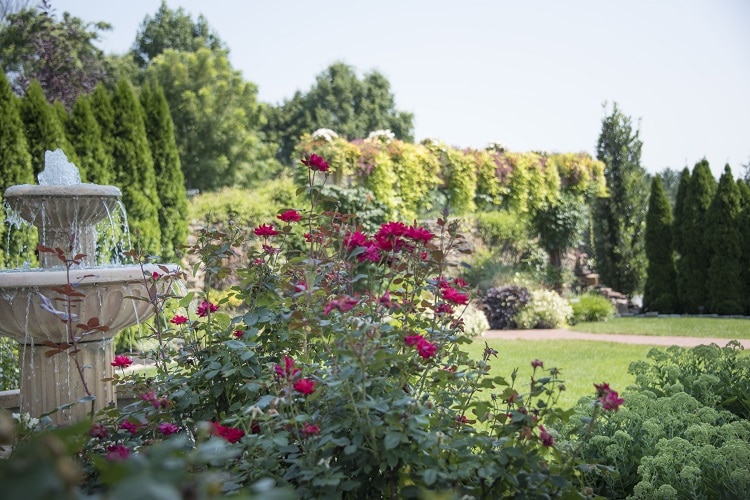 "The property is small and I get to work with my hands outdoors most of the time," said maintenance/gardener and 1982 Penn State graduate (ornamental horticulture) Greg Twerdok. "I've been taking care of the garden and landscaped areas here for two years and I get comments all the time about how great the place looks." We couldn't agree more as vibrant impatiens, clematis, mandevilla, fragrant rose bushes and twisty wisteria vines drape the historic structure to create a veritable eden.
The property also touts an airy and lively bar (complete with a baby grand piano) and an upscale-yet-rustic dining area that opens up into the stone-walled garden terrace. A fully equipped quaint and naturally lit banquet room—used for weddings and larger groups—sits atop the inn.
Utilizing every nook and cranny at the Gables, a 500-square-foot herb and vegetable garden sits perched on top of the property's country-chic bridal suite. At the beginning of the season, Anne and executive chef Dave Wenerd provide Greg with a list of crops to be grown in the garden, providing a true "roof-to-table" dining experience by incorporating fresh yield into the menu.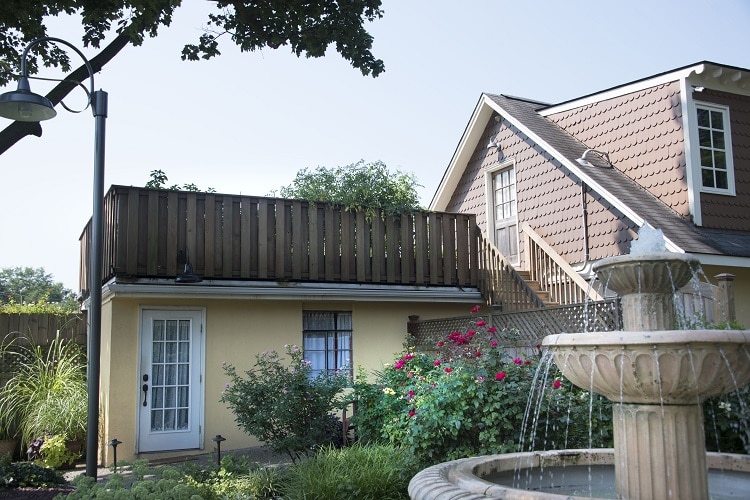 "The chefs love to come out to see what's growing and available to make on-the-spot daily specials for the restaurant," said Greg.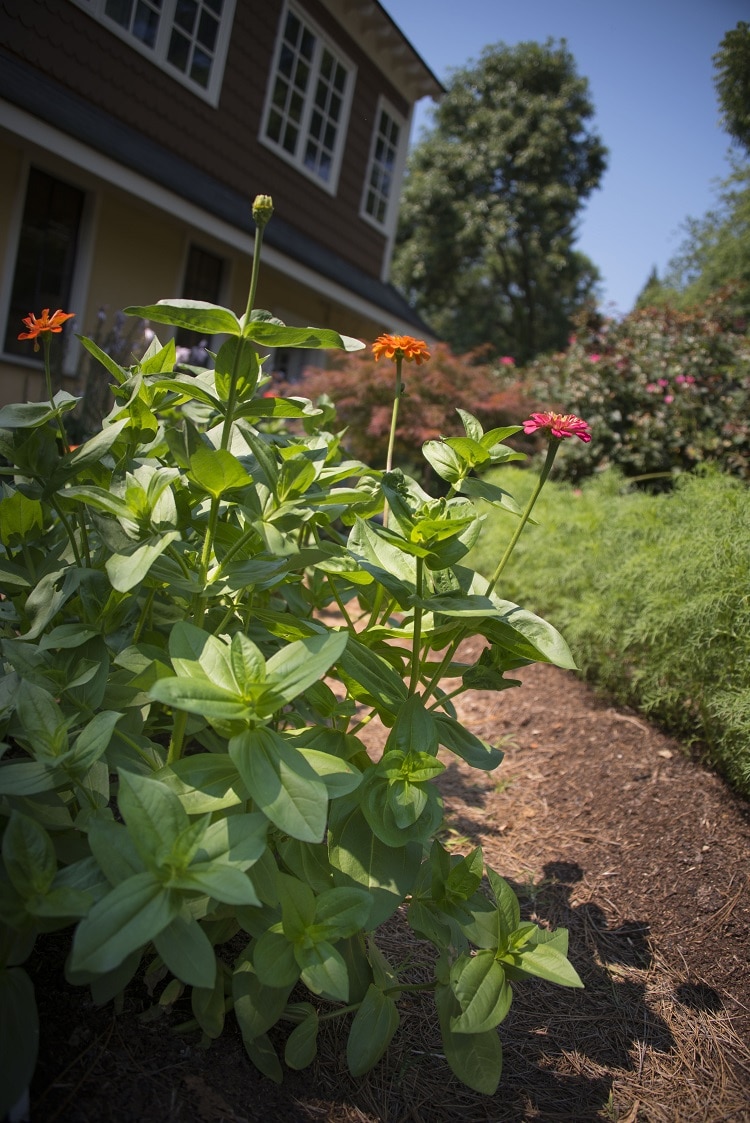 Overloaded at various times of the season with tomatoes, green and purple kale, zucchini, peppers, radishes, arugula and a plethora of all the best herbs, Greg tends the garden daily, watering, weeding and planting local seedlings in large movable planters for portability. A large electric hoist at one corner of the rooftop garden is set up during delivery of heavy loads of local mushroom compost during planting. He uses only organic methods of pest control while harvesting as well.
This year, Greg also started a small side garden of colorful cosmos, zinnias, bachelor buttons and ornamental basil which are used to supplement vases of fresh flowers on tables, the bar and throughout the venue.
As the outdoor growing season wanes, Greg totes several of the plantings indoors for safekeeping while tending to scheduled maintenance projects as well as snow removal outdoors. He loves working at The Gables with the team here and added, "It's great to feel appreciated for what I enjoy doing. We have plans to improve a few small areas with additional plantings and rainwater flow next year, and I'm looking forward to that." 
For Greg and Dave's top ix gardening tips, see here. And, we couldn't let you read about gardening without getting award-winning chef Dave to give us one of his favorite restaurant recipes straight from the roof garden. Whip up this easy-to-make salad anytime of year—or better yet—head out to The Gables at Chadds Ford for their own version.
Garden Chopped Kale Salad
Yields 4 servings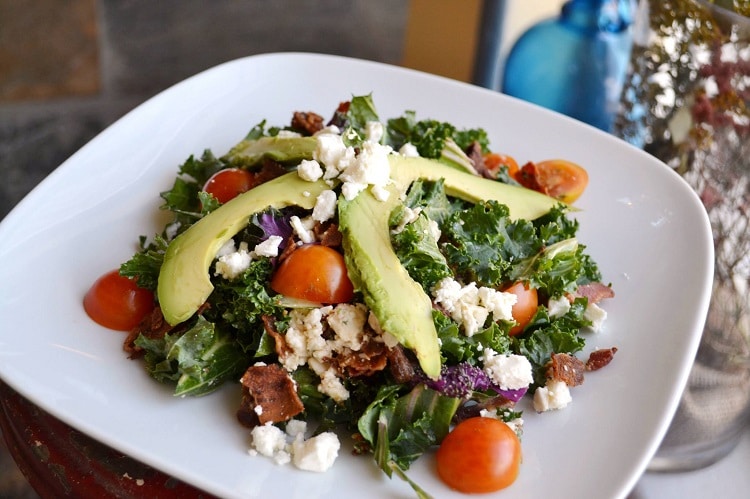 Ingredients
Salad
2 bunches garden curly kale

1 pint cherry tomatoes (cut in half)
1 cup chopped bacon
1 ripe avocado, diced
feta cheese, crumbled
Dressing
1 minced shallot
5 thick bacon slices, cooked then crumbled
2 garlic cloves, smashed
¼ cup white balsamic vinegar
4 tablespoons olive oil
Method
Strip the kale off the stems, tear into bite-sized pieces, wash. Transfer kale into large mixing bowl.

Whisk all of the dressing ingredients together in a smaller bowl. Pour half of the dressing in with the kale and let it soak into the leaves for a few minutes.

Add the bacon, tomato, avocado and feta to the large mixing bowl. Add the remainder of the dressing.
Mix with a pair of tongs to combine and coat everything with the dressing. Serve immediately.
Find The Gables at Chadds Ford at 423 Baltimore Pike in Chadds Ford: phone (610) 388-7700.
Salad photo:

MM Visuals

All other photos:

Ed Williams