Since opening its doors in 2013, Tellus360 has been creating spaces where live music and a hefty bit of Irish charm come together with craft beer as the catalyst. Owner Joe Devoy and his gang of comrades consistently keep us on our toes when it comes to the ever changing building that is Tellus. Just when you think there's no more room to expand, a speakeasy dubbed "An Sibin" pops up in the basement and there's buzz of a rooftop re-do.
Well, the rooftop buzz has turned into a full-blown transformation, including another bar, additional seating and an herb and veggie garden lining the perimeter. Every inch of the rooftop is maximized to allow for green space, and, of course, there's a great view of the city below. While all of this is beautiful and inviting, the roof serves a bigger purpose: it collects and absorbs rainwater to aid in downtown Lancaster's continual goal of reducing storm water run-off.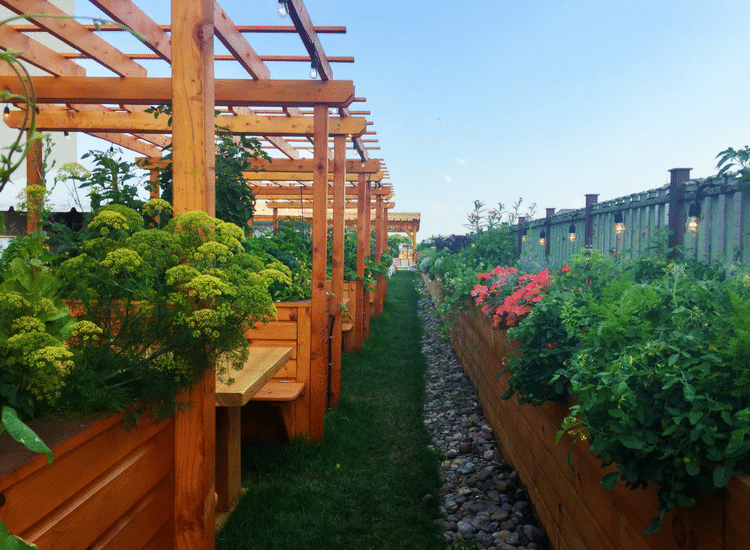 Another bonus is the menu that goes along with the green roof. Starting on Tuesday, July 25, you can grab a meal on the roof every day from 4–10 p.m. We recommend you start with the focaccia or hummus platter; both are housemade and perfect for sharing. The burgers–too many to list–are also all made in-house, from the dressing to the bread and the goodies in between. If you're looking for BBQ, order the chicken or ribs and grab a few sides to complete your meal. Grilled Lancaster corn on the cob with butter and parm or loaded potato salad will do the job. Wash it all down with a draft beer or fresh cocktail for the perfect outdoor dinner.
As is Tellus' M.O., the roof is multi-functional. Head up every Saturday morning at 9:30 a.m. for a $10 yoga class taught by the educators from West End Yoga. Sign up for the Tellus360 newsletter to stay in the loop on all of the exciting events happening in (and on) the ever-evolving building.
Find Tellus360 at 24 E. King St. in Lancaster; phone: (717) 393-1660.