Hanukkah, like the other fall/winter holidays, is especially food-centered. Along with it comes a slew of celebratory dishes: The most famous among them are potato latkes, fried in oil to recall the miracle that this holiday is founded upon. During a rededication of the Holy Temple of Jerusalem during the Maccabean Revolt in around 200 B.C., one night's supply of lamp oil lasted for eight nights. This is why Hanukkah is referred to as "The Festival of Lights," and why the menorah is lit with an increasing number of candles each night for eight nights.
The holiday is also big on sweets and baked goods. While gold foil-wrapped chocolate gelt coins might be the most iconic, there are a wondrous array of treats to explore, both traditional treats and new-school varieties. Here are eight locally made Hanukkah goodies from around Pennsylvania to dig into and share this year!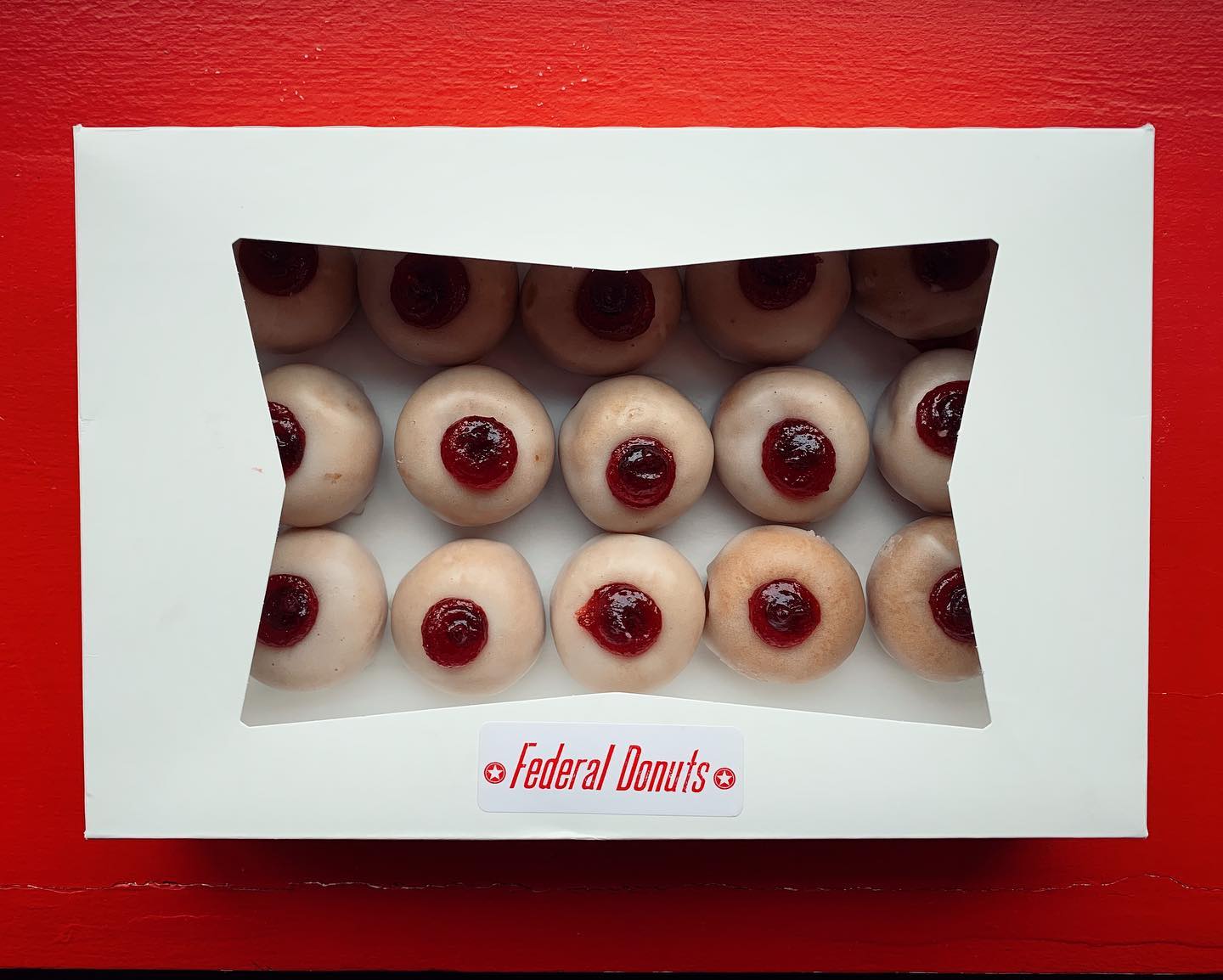 Federal Donuts Chanukah Minis: Sufganiyot are round jelly doughnuts covered in powdered sugar, which are traditionally eaten during Hanukkah. Federal Donuts has its own spin on these delights: Chanukah Minis, bite-size doughnuts with a light lemon glaze and the shop's signature raspberry jam. These babies are only available for pre-order for scheduled pickups between December 19 and 24 from Fed'Nuts' Parkway, South Street and North Philly locations. 1776 Benjamin Franklin Parkway; (215) 560-8112; 540 South St., Philadelphia; (267) 761-4512; 701 N. 7th St., Philadelphia; (267) 928-3893.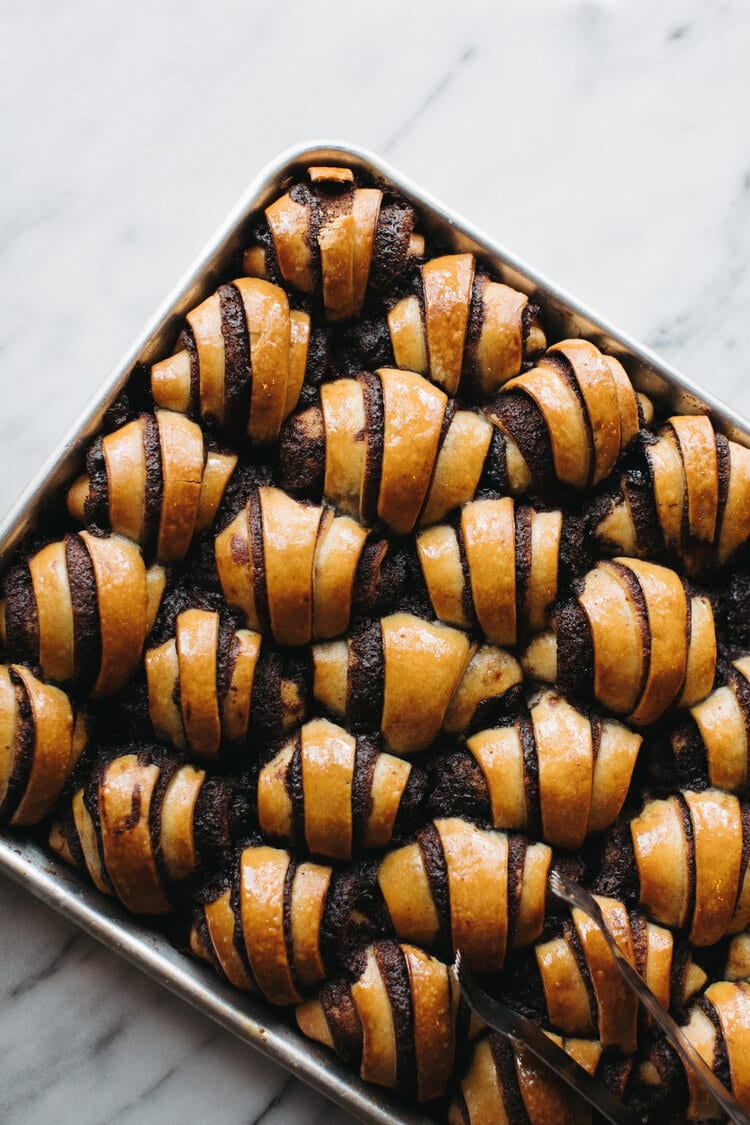 Essen Bakery Chocolate Rugelach: You can find these crescent-shaped filled pastries in lots of places — but they are not all alike. For such a rich, decadent bite, we trust the experts at Essen, a small bakery in South Philly. This James Beard-nominated shop specializes in scratch-made Jewish baked goods, ranging from babka to bagels. Order chocolate rugelach by the half dozen, for pickup or delivery, through Essen's online shop. 1437 East Passyunk Ave., Philadelphia; (215) 271-2299.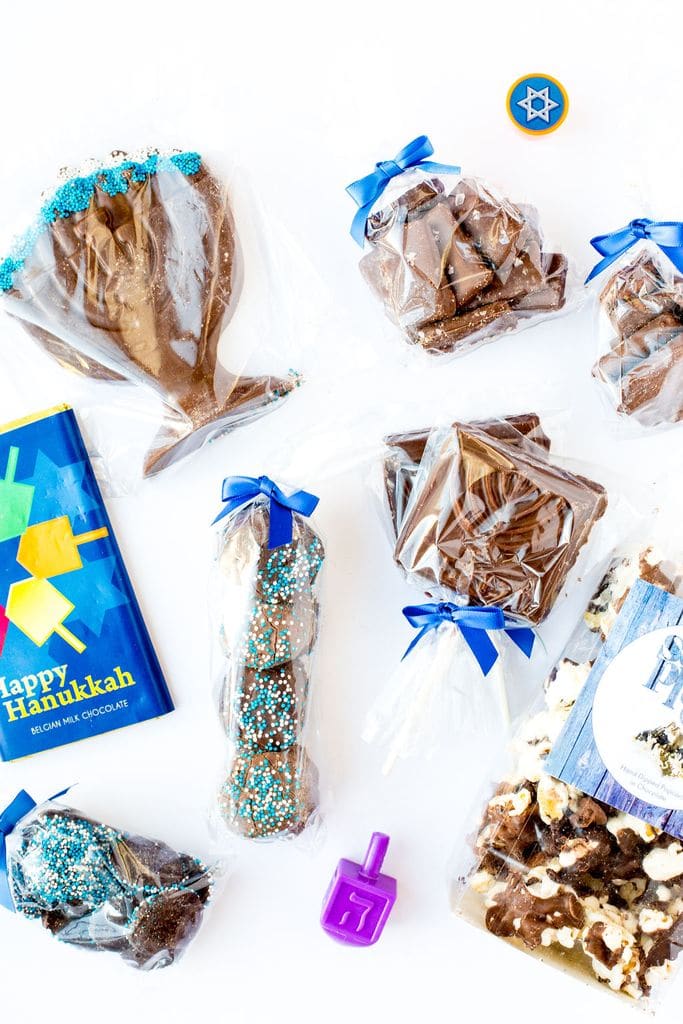 Sugar Plum Chocolate's 8 Days of Hanukkah Gift Box: If you're looking for a heap of sweets to celebrate Hanukkah, this chocolatier in Forty Fort, PA, has you covered. This jam-packed chocolate gift box includes enough handmade artisan kosher chocolates to keep you on a sugar high all Hanukkah-long. This epic assortment in a cute box includes a chocolate menorah topped with blue and white nonpareils, two chocolate Hanukkah lollipops, a four-pack of chocolate-covered sandwich cookies with blue and white sprinkles, a 4-pack of chocolate-covered pretzels with blue and white sprinkles, a four-pack of fluffy milk & dark chocolate-covered marshmallows, a gourmet Hanukkah chocolate bar, a bag of milk chocolate blue and white nonpareils and a bag of chocolate-covered popcorn. Can you handle how much deliciousness this is? Order online.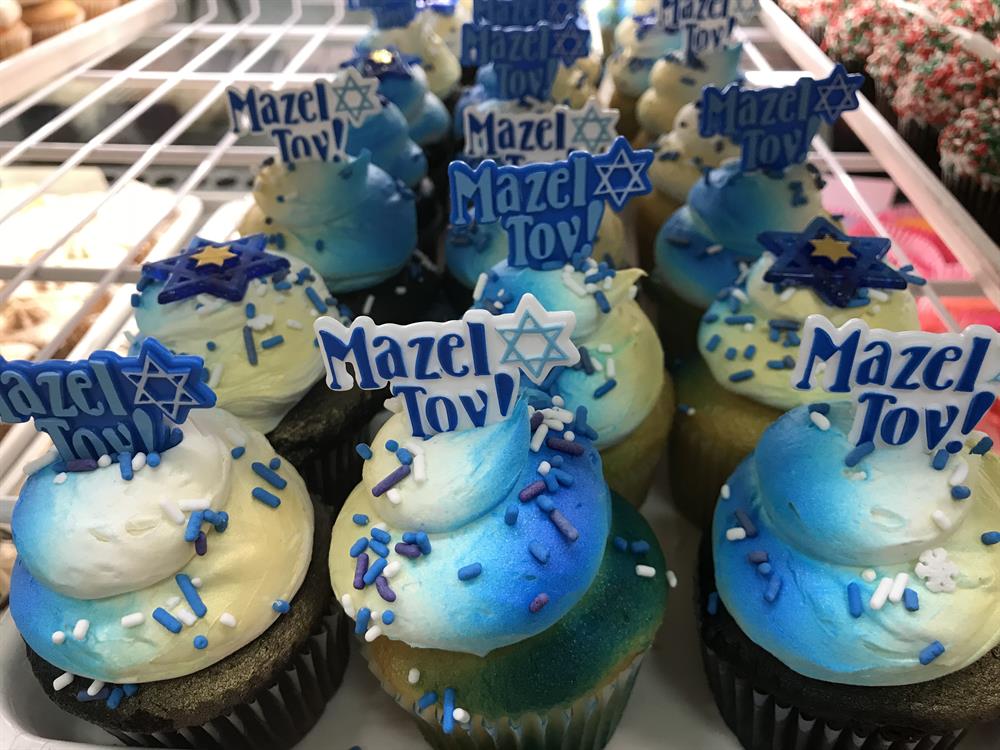 Pennsylvania Bakery Hanukkah Cupcakes: For an adorable treat that's especially kid-friendly, check out the blue-and-white Hanukkah-themed cupcakes. An order of a dozen comes with six each chocolate and vanilla, topped with a festive swirl of buttercream, garnished with sprinkles and Mazel Tov decorations. Purchase them online for shipment to your front door, or pop into the shop to purchase in person. 1713 Market St., Camp Hill; (717) 763 – 7755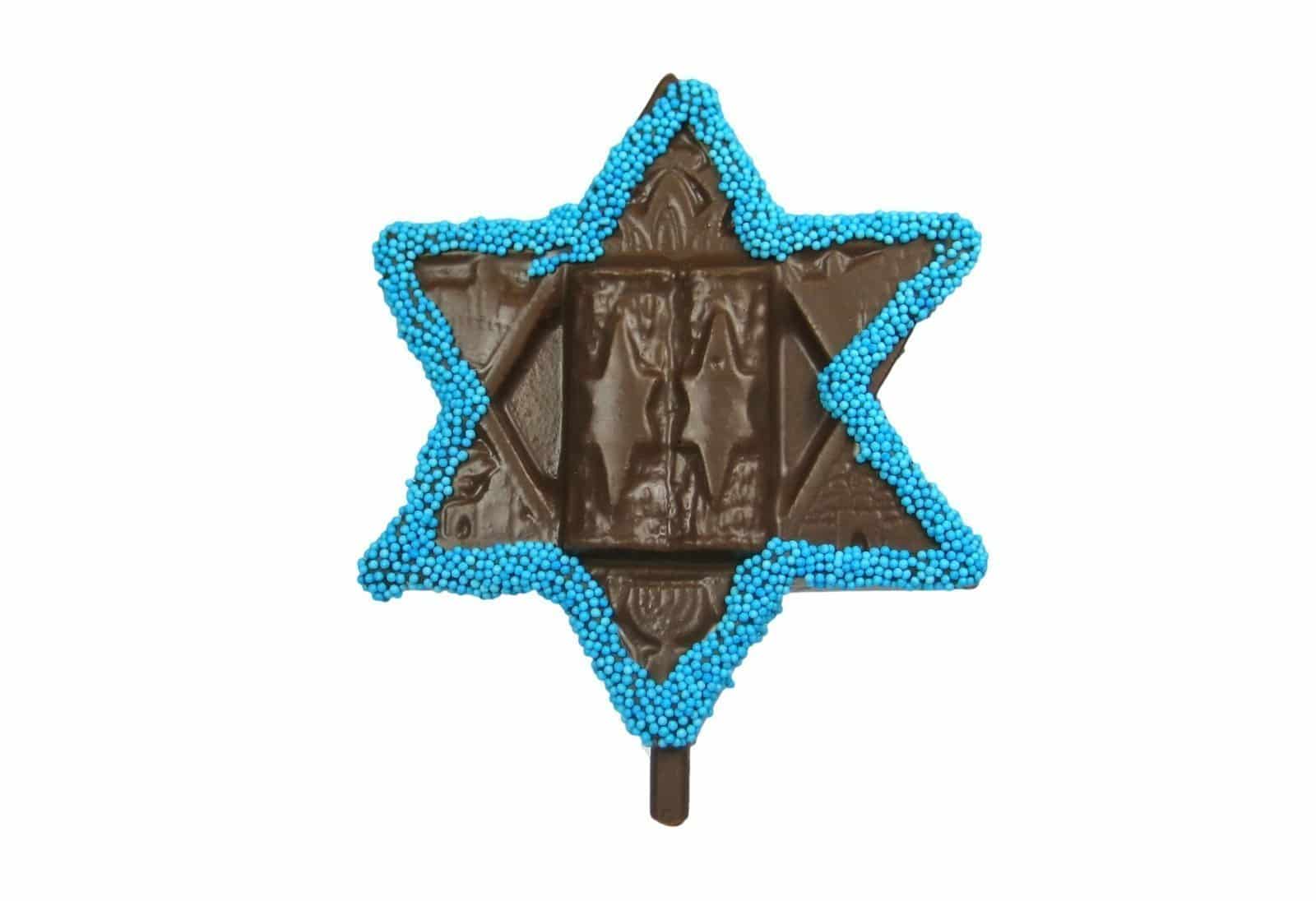 Chocolates by Leopold Star of David Milk Chocolate Lollipop: We consider chocolate one of the most crucial food groups during all of the winter holidays. This Star of David-shaped chocolate pop is the perfect little treat to share on any night of Hanukkah, or to sweeten the gelt pot during a competitive game of dreidel. The milk chocolate itself is of a lovely high quality, as is everything you'll find at this renowned chocolatier in Susquehanna County.
Lil Yenta's Vegan Rugelach: This multi-cultural family-run business specializing in New York-style Jewish comfort food that are all 100% vegan. So of course, they're offering a plant-based version of these classic Hanukkah treats this year! Choose from chocolate walnut, cinnamon walnut, chocolate with no nuts and raspberry for enjoying after a big meal with a hot beverage. Find them at V Marks the Shop, a vegan grocery in South Philadelphia.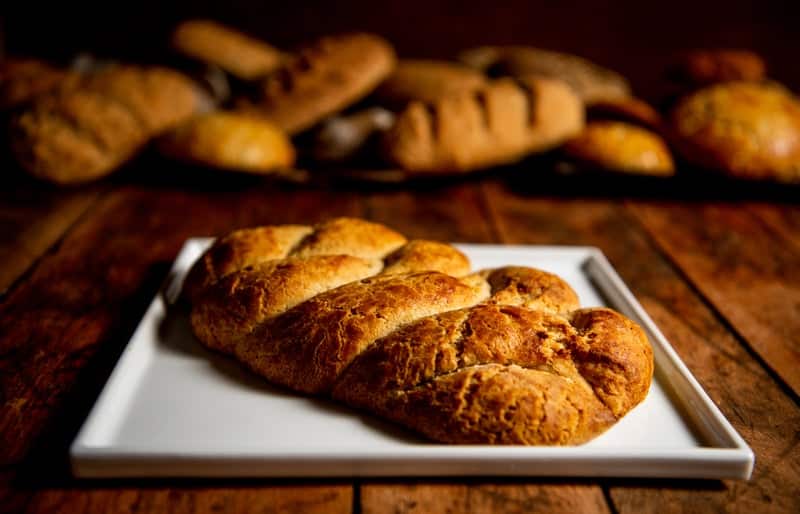 Wild Rise Bakery Challah: Is there anything more divine than a fluffy braided loaf of challah bread? For those who've given up gluten, this pleasure might seem to be gone forever. But thanks to Wild Rise Bakery in Pittsburgh, gluten-free challah can be yours! Choose from a medium or large loaf, and grab a Kosher version for a small upcharge. Order online for pickups at the Wild Rise bakery space or its current pop-up at Caffe d'Amore.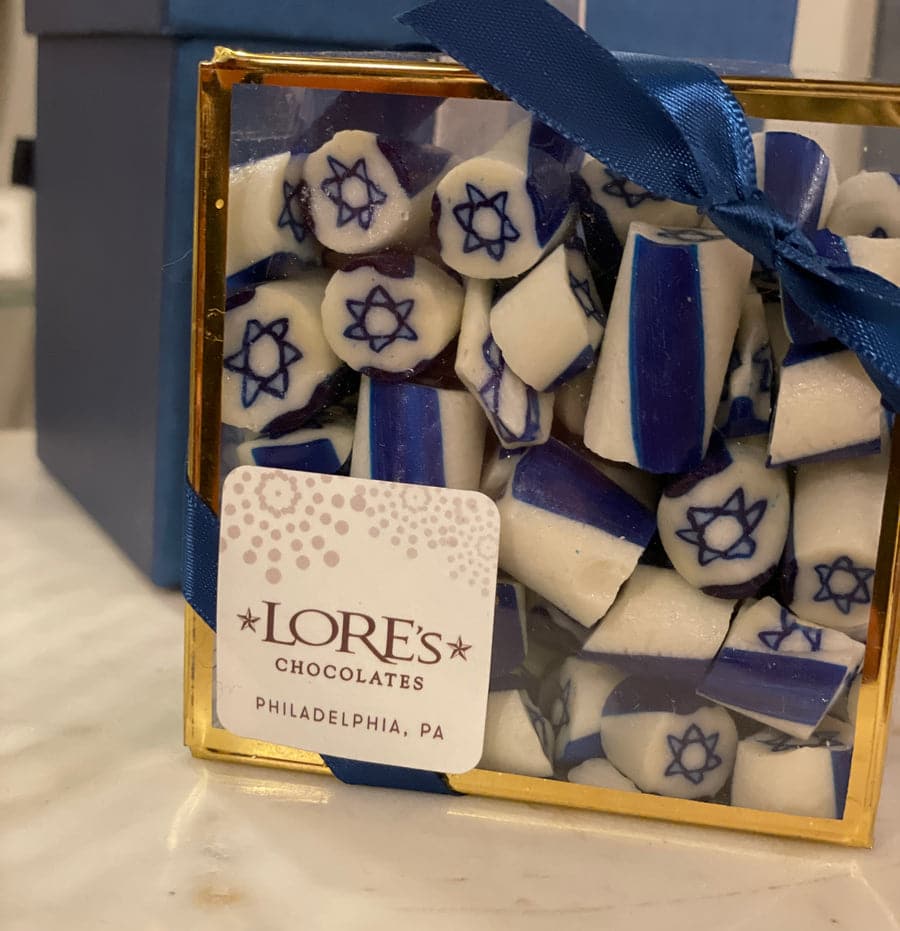 Lore's Chocolates Hanukkah candies: These handmade, blueberry-flavored Star of David ribbon candies are serving up charming, old-timey vibes, which is perfectly fitting with this Philadelphia candy shop's whole aesthetic. This second-generation, family-owned business is in the heart of historic Philly, with strong ties to the candy tradition in the city. Shop online or visit Lore's retail location in person on 7th Street.
What PA treats are you going to be indulging in during Hanukkah this year? Let us know in the comments or on the PA Eats Facebook page!
Feature photo:

Shane Confectionery

All other photos:

from the respective brands