Gluten-free baked goods are widely known to be … challenging. If you're used to conventional squishy sandwich bread, dense, chewy bagels and flaky pastries, the switch to these items made with GF flour can be a bit jarring. For those living with gluten intolerance, celiac disease or have simply chosen a gluten-free lifestyle, there is often a half-hearted acceptance that delicious carbs just might not be a part of life anymore.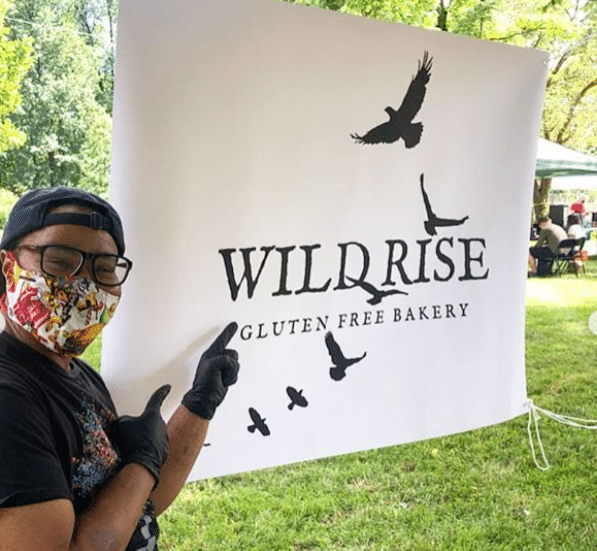 But! We are happy to report that there is a new school of gluten-free baking on the rise (wink wink), a younger generation of bakers who are taking wheat-free baking to the next level. One of those is Oliver Pinder of Pittsburgh's Wild Rise Bakery. Since his start in 2019, Pinder has been wowing his fans with gluten-free (GF) breads and treats that can go toe-to-toe with their gluten-full counterparts. Pinder's line of goods ranges from bread loaves and rolls, to chewy bagels, to spiced coconut rolls, to Aloo pies.


We enjoyed the chance to chat with Pinder to learn more about his background, his culinary roots and his plans for Wild Rise Bakery:
Hi, Oliver! So, where are you from?
I was born in Brooklyn, NY, but spent almost my entire childhood in the Caribbean. My family is from Trinidad and Tobago, and that is definitely where I got my love of baking from. My mom is a caterer and baked a lot for our family and others growing up. Interestingly enough, I didn't learn to bake from her, just to love the meditative act of baking.
Is your background in baking? What did you do before Wild Rise?
My culinary background is part home-taught, part culinary school, and part self-teaching. While my mom didn't teach me to bake, cooking with my mother taught me fundamental skills in flavor building, proportions, and creativity. My dad, who passed when I was eleven, was also a trained cook. However, it was not until after undergrad, while I worked abroad in South Africa, that I was able to attend culinary school at the Capsicum Culinary Studio. At the time, I also started baking gluten-free baked goods part-time for a small cafe, which was my gateway, if you will, into the baking world.

I went on to intern at a small French bistro in Durban, South Africa, then returned to the US and left the industry for two years before starting my Master's at Chatham University [in Pittsburgh] in Food Studies. While there, I was super-fortunate to be hired at the former Legume and Pie for Breakfast restaurants in Oakland, and I was there for almost a solid year before I left to work for Black Radish Kitchen. In the midst of all that, I continued gluten-free baking, experimenting with online recipes, crafting my own, and exploring the world of sourdough baking. I learned most of my skills from trial and error.
Are you gluten-free? If so, when did that become part of your diet?
I am gluten-intolerant, so yup! I eat a gluten-free diet. It is actually why I started baking GF. Around my senior year of undergrad, I started developing a lot of GI issues, but chalked it up to stress and kept it moving. However, after graduation, I interned at an organization in Tunis, Tunisia for three months and really embraced the wheat-centric food culture of the country. Colonized by the French, it was not uncommon to see folks walking home with a baguette under arm or bread sellers with vast carts of assorted bread from the crepe-like brik pastry (malsouka) to seed-topped round semolina flatbreads. I also ate a lot of couscous … by the time I got back to the US that fall, a simple bowl of pasta or cereal was enough to cause a lot of upset and discomfort. I had to go on an elimination diet to determine the cause of my stomach and inflammation problems, and so learned that gluten was the culprit. It's been about eight years now.


It seems like people with GF diets often struggle to find delicious baked goods – is this part of what inspired you?
Definitely. Giving up bread was a great loss. The US was very young in its gluten-free offerings around 2011 and 2012, and everything available was a bit tragic or just overly expensive. When I moved to South Africa, my access to different grains and gluten-free products expanded. I'm not sure why South Africa was more GF-friendly, but I began my baking experimentation there. I was tired of the soggy rice and potato starch store-bought bread that was available in stores, and could find affordable gluten-free flours like buckwheat, brown rice and premixed blends. I figured: If I want better, I'm gonna have to make it myself.
Why IS it so hard to find good gluten-free bread?
This is changing as the West begins to reclaim a lot of native and embrace nonnative GF grains. This is thanks to demand by the health food industry, more awareness of the needs of those with celiac disease and other food sensitivities or dietary problems, like IBS. Also people are just trying new things. However, [gluten-free bread] is still hard because it is labor-intensive, cost-intensive and finicky. Gluten-free doughs require help to behave even marginally close to their gluten-filled counterparts. That can mean working with plant seeds like psyllium husk, or binders like xantham gum and flax meal. Production can be costly, especially if you're mixing your own flours, and if you're baking healthfully.
How did you experiment, research, etc. to find the flour blend and techniques that you felt happy enough with to put your name on?
To get to the recipes I am happy with now I baked A LOT of bread. I still have notepad pages of bagel experiments futzing and fixing and tweaking. I started by referencing the work of other bakers from basic Google searches and then began pulling the things I liked, and leaving out those I didn't. A lot of what was online required a broad range of ingredients, like milk powders and potato starch in very specific ratios. I wanted to bake for accessibility, ease and taste, so I would push until I found what I was looking for. I was also very fortunate to have good friends who were also gluten-free, and later on, an entire cohort of Food Studies majors all ready to give feedback.
How do you decide on the mix of products you offer? Is it driven by your own interests, customer demands, or something else?
It's mixed. I bake what excites and interests me most. I'm always thinking up delicious things, or things I remember eating as a child. Many of the basics like sandwich bread and tarts, along with the Aloo pies actually for me are cultural. The sandwich bread reminds me a lot of the bread my mom would bake at home in Trinidad. Dense, delicious, and aromatic loaves meant to be buttered and eaten with a slice of ham at Christmas or just cheese year-round. The tarts are also very common, and while their presentation on the islands are more like danishes or closed flaky pastry pies, I like the open-faced presentation, especially in the summer months, to show off the color and texture of what can be found seasonally. I'm so fortunate to know the farmers at the market who have the most amazing local fruit, like Sturges Orchard's peaches and apples!!!
The Aloo pies are also traditionally Trinidadian but with a personal twist. I use pastry dough when traditionally it's a 'bready' dough that is then deep-fried. I just love working with pastry, and I started making a buckwheat crust as an homage to Pennsylvania when I started using PA-based Weatherbury Farm and Frankferd Farms grain flours for personal baking. The pepperoni rolls I make I'd been ruminating on just because I heard it was a PA treat, and then I mentioned it to a customer and a friend and both demanded it be done immediately.

This is my long-winded way of saying, I just go as the spirit moves me: a mix of the diasporic offshoots of Trini cultural foods, like the cinnamon raisin rolls (based on currants rolls), some of my formal culinary training, and my love for pastry, and the rest what people enjoy. I also just love making bagels … it's more like meditation than work.


What is your current set-up? Are you baking out of your own space? A commissary or shared kitchen?
I bake out of two commercial kitchens in East Liberty and Point Breeze. My schedule is: Lawrenceville Farmer's Market on Tuesdays through December, pick-ups at BOOM! Concepts in Garfield on Fridays, and Friday deliveries, as available, indefinitely.
Can you tell us more about the Wild Rise Bakery Mixer Fund? What will buying this new mixer mean for the business?
The Mixer Fund is to purchase a standing 20-or-more-quarts mixer. At present, every batch of our bread or pastry is mixed by hand. It used to all be by my hands until my friend and pastry goddess, Emily Bourdon, who also worked with me at Legume and Pie for Breakfast, joined me and Wild Rise recently. A mixer would allow me the luxury of 8-hour workdays instead of 12. It would be a great help as we knead giant batches of bread and pastry, the latter especially, which are temperature-sensitive and would prefer the cold dough paddles to our warmer hands. And while kneading four different batches back to back does bode well for the biceps, not so much for the back, wrists, elbows, and soul. Ultimately, it also will mean we can diversify the menu further.
Any other future plans you can share?
Well, apart from an endless menu of things I'd like to offer, we are working toward having our own kitchen in the future and continuing partnerships, like the Books and Bread collaboration we do with the Black Unicorn Library Project. Founder and librarian, Bekezela Mguni, offers black-centered books, and I offer assorted bread and pastry at the market or other pop-ups to nourish the whole self.
Wild Rise's wares are available at the Lawrenceville Farmers Market on Tuesdays from 3 to 7 p.m., at BOOM! Concepts on Fridays from 8 to 9 a.m., and for local delivery on Friday mornings from 8 to 11 a.m. And, be sure to check out Pinder's newest community action: Neighbor Loaves. You can purchase a Neighbor Loaf through Wild Rise's website for $10. Neighbor Loaves supports neighbors in need, small businesses and local farmers during this challenging time in the following way: For each Neighbor Loaf purchased, Wild Rise Bakery will bake a loaf of bread made from at least 50% locally grown and milled gluten-free flour, and donate the loaf to a local community food organization, like CRAFT Chatham and the 412 Food Rescue. For more info, or to just enjoy some drool-worthy bread and pastry photos, follow Wild Rise Bakery on Instagram.