There might be candy lining the shelves of drug stores and supermarkets, but when you want something truly special, shop local at one of the many chocolate and confection shops in Pennsylvania.
Charming interiors, handmade sweets, and artisans dedicated to high-quality ingredients all make a huge difference. Choosing bonbons from a sparkling glass case, or removing caramels from their patterned paper is such a lovely experience versus opening a plastic wrapper. Whether it's innovative, gourmet creations from modern chocolatiers or classic flavors from childhood that you crave, there are sweets shops in every community in PA where you can find them.
Here are 20 to visit or order from the next time you seek a sugar-spiked treat:
Central PA
Over 1,000 types of candy? Check. Homemade fudge? Check! International and rare sweets? Check and check! Georgie Lou's Retro Candies, owned and operated by the Gilbert family, draws inspiration from the past with old-school treats and gifts. Buy bulk candy by the bag, check out throwback brands of craft soda, or pick up some chocolaty treats! Note that Georgie Lou's is currently only offering online orders for pick-up or shipping. 56 W. High St., Carlisle; (717) 243-1002.
Matangos Candy, founded by Christoforos "Pop" Matangos in 1947, provides PA with classic, hand-dipped candies, like chewy candies and jellies, boxed chocolates, fruit cordials and something called a "Figaro," which is a magical arrangement of three types of chocolate blended with hazelnut paste and then layered together. We love the vintage white candy boxes and packaging! Shop online or visit Matangos' ridiculously charming storefront in downtown Harrisburg. 1501 Catherine St., Harrisburg; (717) 234-0882.
The Wilbur Chocolate Store is just one more reason to visit lovely downtown Litiz, PA! Peruse the shop to find a selection of Wilbur products, including its famous Wilbur Buds (free samples are usually available, too), and to watch candy makers making fudge on site. There are plenty of other treats, too, like chocolate-covered nuts and fruit, candy bars and caramel. 45 N. Broad St., Lititz; (888) 294-5287.
Miesse Candies is a truly classic candy company, dating back to 1875. Its hand-dipped candies, made with fresh ingredients and no preservatives, carry on the shop's tradition of quality and craft. Find three locations in Lancaster, including its factory and retail shop downtown, and a stand at the Central Market. 118 N. Water St. Lancaster; (717) 392-6011; 2084 Fruitville Pike, Lancaster; (717) 392-6011; 23 N. Market St., Lancaster.
Lehigh Valley
Love a nostalgic vibe? The Peppermint Stick Candy Store in Boyertown, open since 2015, offers jars and drawers full of mix-and-match penny candy, all sorts of chocolate, caramels, gummies and ice cream scoops, floats and novelties. Don't live nearby, but still want some of that old-fashioned candy goodness? Check out its online shop for a great selection. 26 E. Philadelphia Ave., Boyertown; (610) 473-2616.
With two locations in the Lehigh Valley (Allentown and Bethlehem), Josh Early Candies is over 100 years old — it was founded in 1900 in Reading, PA, by Josh Early III. Now a fifth-generation family business, Josh Early produces its own chocolate and candies, ranging from mint patties and meltaways to caramel corn to boxed chocolates in every size. New to its selection is a line of Naturals, chocolates made from 100% organic ingredients. 4640 Tilghman St., Allentown; (610) 395-4321; 3620 Nazareth Pike, Bethlehem; (610) 865-0580.
The Chocolate Lab in Bethlehem takes a fun, modern approach to candy, but with artisanal production methods: Everything is made fresh daily, by hand. Seasonal treats abound, and you'll also find plenty of year-round favorites, like hand dipped chocolate butter creams, Oreo cookie bark and inside out peanut butter cups (pure genius). Our favorite? The Bethlehem Steel chocolate bar, brimming with local pride. 446 Main St., Bethlehem; (610) 865-5781.
Northeast PA
Sugar Plum Chocolates is a cute candy shop (with a big online storefront, as well) in Forty Fort, PA, just a few miles north of Wilkes-Barre. A family-run company, founded in 1995 by Frann Edley, it operates a factory in the same town that churns out an impressive line of chocolates, including bars, chocolate-covered chips, pretzels and cookies and gorgeous truffles (a highlight is the popular wine truffle box assortment). Bonus points for super-cute packaging! 900 Rutter Ave., Forty Fort; (800) 447-8427.
Gertrude Hawk Chocolates has a long history in Scranton; started in 1936 by Gertrude Hawk in her home in the Bunker Hill section of Scranton. This homegrown company grew throughout the 20th century, and it opened a production facility in the Keystone Industrial Park in Dunmore in 1998. It also has a number of shops across PA, NY and NJ, including several in the Scranton area. Its popular items include Smidgens, Teenie Poppers and chocolate-dipped strawberries. Various locations throughout PA.
Chocolates by Leopold is based on Montrose, PA, and was founded with the goal to craft the best gourmet chocolates with the finest ingredients available. The brand is also closely connected to the community, with fundraising opportunities for schools and charities, and runs its own fundraiser for the Susquehanna County Libraries. Peruse its online shop or brick-and-mortar locations for chocolate pops, truffles, gift boxes and more. 170 Church St., Montrose; (570) 278-1230; 107 W. Main St., Boalsburg; (814) 808-6254.
Main Line Philadelphia & Western 'Burbs
The Sweet Trading Co. is a sweet little spot on Narberth's bustling main street, specializing in handmade Belgian chocolates, confections, baked goods and candy. All of its wares are handmade each day, and everything, from the chocolate-dipped marshmallows to the mint-swirled chocolates to the decadent cupcakes and brownies, is certified Kosher under supervision of Community Kashrus of Greater Philadelphia. 733 Montgomery Ave., Narberth; (267) 935-9294.
French candy and pastries are the name of the game at Aux Petits Delice in Wayne. Among the cakes and macarons, you'll find sophisticated chocolate creations, like The Palma, a dark chocolate shell filled with Cointreau ganache, crunchy peanut butter-filled bonbons, and passion fruit mango caramels. 162 Lancaster Ave., Wayne; (610) 971-0300.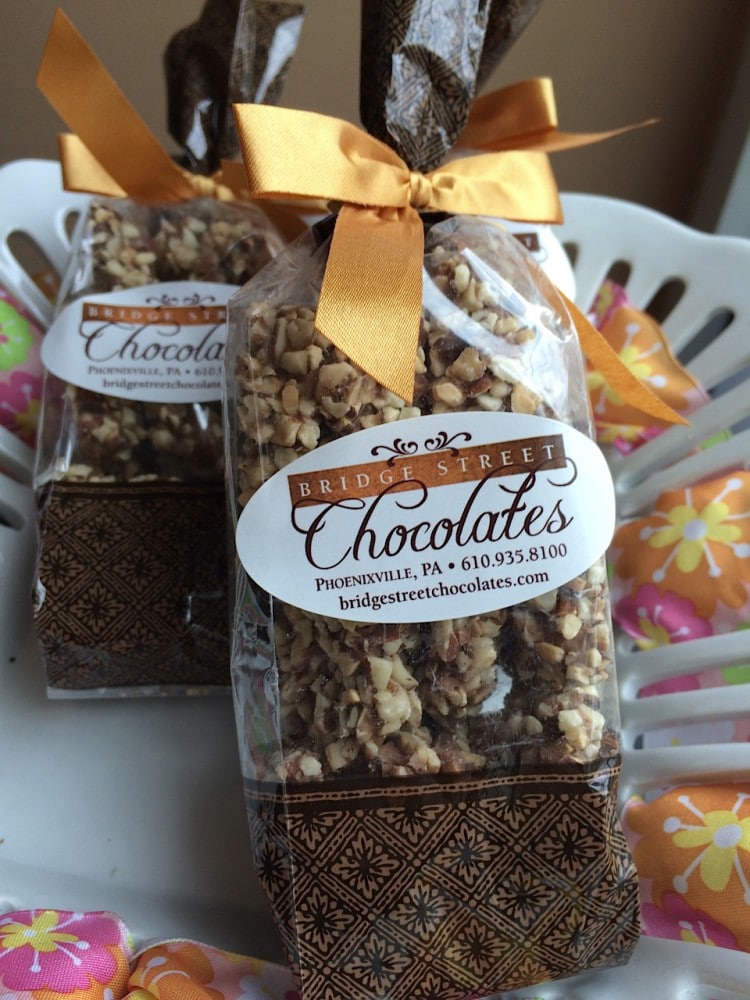 Since 2010, Bridge Street Chocolates has provided Phoenixville with a delightful array of artisan chocolates and sweets. Inside its charming shop, you'll find dozens of flavors of truffles, nutty barks, shaped figurines and fudge, as well as other confections, including seasonal caramel apples, jellies and caramels. Don't leave without at least a few of Bridge Street Chocolate's glorious marshmallows, many of which are dipped in chocolate and coated in toppings, like toasted coconut and sprinkles. 158 Bridge St., Phoenixville; (610) 935-8100.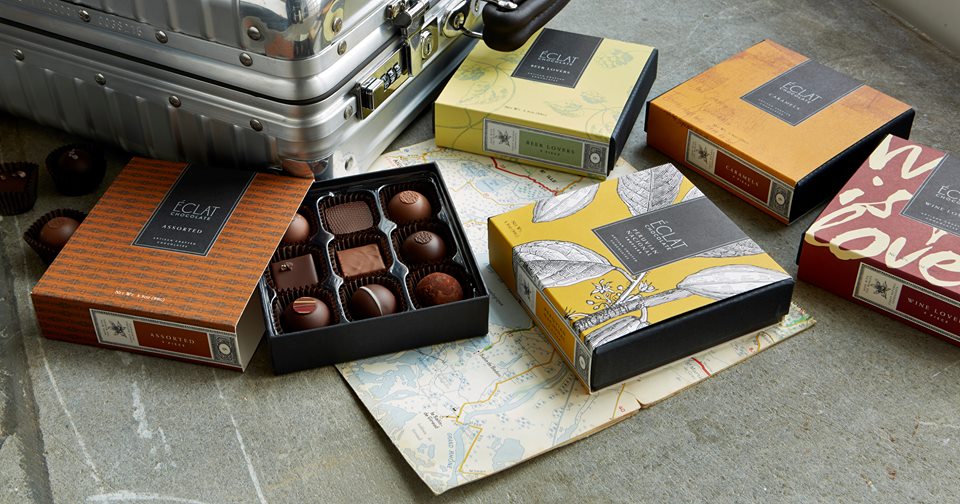 Perhaps one of the best-known brands of artisanal chocolate in PA, Éclat Chocolate by Christopher Curtin is a jewel in the local food community's crown. Extraordinary techniques and supremely high-quality cocoa beans come together in Éclat's many artful creations, like the dual-flavored Parallel Bars, inspired by symbiotic relationships in nature, Peruvian Nacional Truffles made with a very rare type of cacao, and the wildly appealing, colorful Heart Collection. Shop online or visit Éclat's shop in downtown West Chester. 24 S. High St., West Chester; (610) 692-5206.
Philadelphia
Shane Confectionery, America's oldest candy store, is a sweet-tooth wonderland in Philly's Old City neighborhood. The Berley Family (of the neighboring ice cream shop, The Franklin Fountain) purchased and reopened the shop in 2010, restoring the interior to its original beauty. Made with extremely high-quality ingredients, including responsibly sourced cocoa, the enticing treats in the glass cases at Shane are abundant, from clear toy candy to old-fashioned licorice to the shop's signature candy bar, Whirly Berley Bars (layers of salted chocolate caramel and chocolate nougat dipped in dark chocolate and sprinkled with roasted cacao nibs). 110 Market St., Philadelphia; (215) 922-1048.
Aurora Grace Chocolates is a combination coffee/pastry shop and chocolate shop, where the stars of the show are the hand-painted chocolate bonbons, vibrantly colored and irrepressibly fun. Each 62% dark chocolate shell is individually hand-painted with cocoa butter, then filled with different flavors of chocolate ganache. Custom orders are also available. 517 S. 5th St., Philadelphia; (267) 703-8886.
You can't talk about candy shops in Philadelphia without mentioning Mueller Chocolate Co. in Reading Terminal Market. Mueller's offers the usual candy shop suspects (glazed fruit, chocolate turtles, chocolate covered pretzels and so on), but also strays far from the expected with what it calls "unique gifts": anatomically correct chocolate body parts (rated PG, don't worry!), a chocolate tower and even a chocolate covered onion! 51 N. 12th St., Philadelphia; (215) 922-6164.
Western PA
A519 Chocolates produce stunning, vivid and creative truffles that are almost too pretty to eat. Almost. Founded by pastry chef Amanda Wright, this Pittsburgh-based company has become known for its gem-like treats, and the custom work it's done for various companies and brands. Shop for a limited selection online, or find its wares at a number of local retailers, like Mon Aimee Chocolat in the Strip District.
For a classic chocolate shop experience, Sinful Sweets in Pittsburgh's Cultural District, has got you covered. Handmade chocolate bark, truffles, fudge, dipped fruit and edible cookie dough, all creatively driven by owner Christopher George's goal to make "edible art forms" have earned it multiple "Best of Pittsburgh" nominations. 539 Liberty Ave., Pittsburgh; (412) 720-1381.
Romolo Chocolates is Erie's legacy chocolate brand, started in 1926 by Romolo and Elizabeth Stefanelli. This now fourth-generation company still makes Old World-style chocolates with some modern treats thrown in the mix, as well. Its signature confections are Sponge Candies, little squares of crunchy sugar taffy, coated in chocolate. Its impressive retail store in Erie combines a chocolate shop, gift shop and cafe, and offers guests a chance to watch workers make chocolates, cakes and cookies. 1525 West 8 St., Erie; (814) 452-1933.
Happy sugar hunting! Who makes your favorite candy or chocolate in Pennsylvania? Let us know!
Bridge Street Chocolates photo:

Michele Kornegay

Feature photo and Éclat photo:

Éclat Chocolates