No matter what kind of Thanksgiving you've got planned — from an intimate gathering to an everyone's-invited-including-the-second-cousins feast — you're likely facing a bigger shopping list and more kitchen prep than regular, non-holiday weeks. Whether you're cooking a whole turkey with all the trimmings or calling in takeout from your local dumpling joint, ordering up a pie from a local bakery is one of the best ways to de-stress your holiday prep!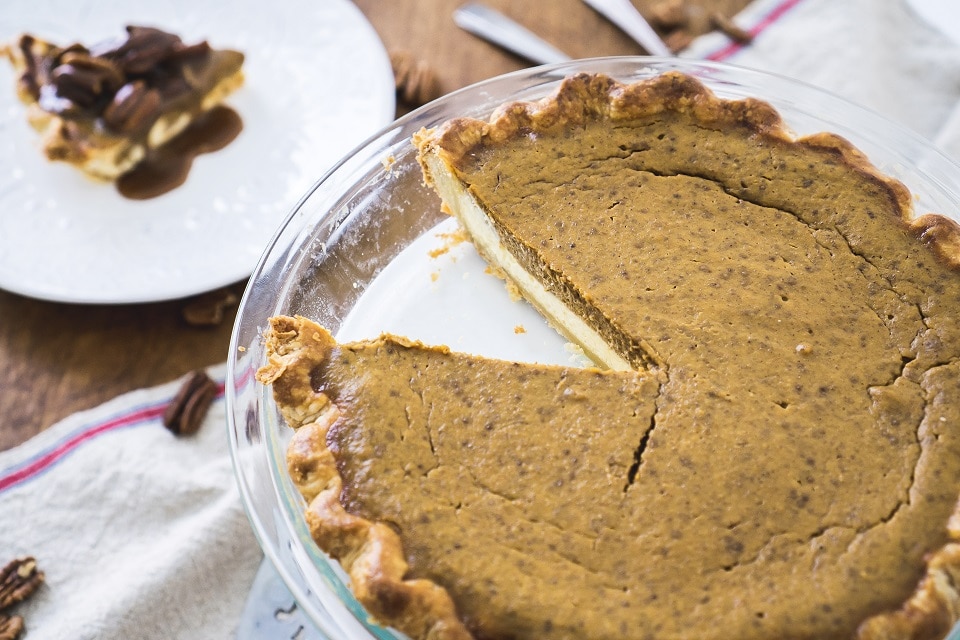 Here are 21 of our top picks for perfect, professional pies in Pennsylvania:
Chester County
Talula's Table has an incredible Thanksgiving spread available this year (including swoon-worthy cheese plates), and it is not disappointing on the pie front, either. Spiced pumpkin, salted caramel apple pie with double crust and pumpkin pecan rolls are ready for you, as well as other desserts. Order by Wednesday, Nov. 15, for pick up on Nov. 21 or 22. Order online. 102 W. State St., Kennett Square; (610) 444-8255.
Yori's Bakery offers both traditional pies (apple, pumpkin, pecan, etc.), as well as a large selection of refrigerated pies (key lime, chocolate mousse, etc.) and specialty pies (Dutch apple, French apple and caramel apple). All pies come in either an 8- or 10-inch size, and are available with lattice top, cinnamon butter crumb top, or a fully covered top. Order online by Sunday, Nov. 19, and plan to pick up by Wednesday, Nov. 22! Call (610) 344-9674 to order. 15 N. Church St., West Chester; (610) 344-9674.
Local, organic produce is the name of the game on Malvern Buttery's Thanksgiving menu. Place your order for pick up on Wednesday, Nov. 22 or Thursday, Nov. 23 — you do not want to miss out on some of the most sophisticated seasonal baked goods around, like classic pumpkin pie and apple almond tarts. Bonus points for picking up some chocolate espresso scones, as well.  233 E. King St., Malvern; (610) 296-2534. 
Gettysburg Area
It just makes sense: A farm that grows apples and pumpkins is going to make amazing apple and pumpkin pies! Hollabaugh Bros. in Adams County has got all kind of homemade goodies made with the freshest seasonal produce, including the classic pumpkin, pecan and apple pies. Sugar-free pie is available, as are breads, doughnuts, quiche, fresh produce and more. Order online by Saturday, November 19, for in-store pick-ups in the coming week. 545 Carlisle Rd. Biglerville; (717) 677-8412.
Gateau Monique is an adorable bakery specializing in European and American pastries, and has set aside some pies for the Thanksgiving rush. Give Chef Monique a ring at (717) 900-4916 to see what flavors are still available and to place your order! 5 S. Queen St., Littlestown; (717) 900-4916.
Harrisburg Area
The Pennsylvania Bakery has so much going on for Thanksgiving! Pies abound, with different sizes, sugar-free options and plenty of flavors. Don't miss out on the other seasonal specials, like apple cider doughnuts, caramel apple cheesecake, fall butter cookies, and literally dozens of other sweets. Gluten-free options are on the menu, too! Order online for pick up. 1713 Market St., Camp Hill; (717) 763-7755.
There are too many pies to list on offer this year from Butcher's Farm Market: French apple, Black raspberry, pumpkin cream and peanut butter are just a few. Check out the full list and order online by Saturday, Nov. 18, for pick ups the following week. For pie skeptics, pick up a crowd-pleasing pumpkin roll while you're at it! 590 N. 4th St., Newport; (717) 567-353.
Lancaster County
Pies Galore wants to lend a hand with your dessert spread this year. It's got the following pie flavors available: apple, blueberry, caramel apple, caramel apple pecan, mincemeat, pecan, chocolate pecan, pumpkin, pumpkin custard, pumpkin praline, triple berry, cherry, shoofly and peanut butter. How will you ever choose? Call or email [email protected] to order. 76 E. Main St., Mt. Joy; (717) 492-4058.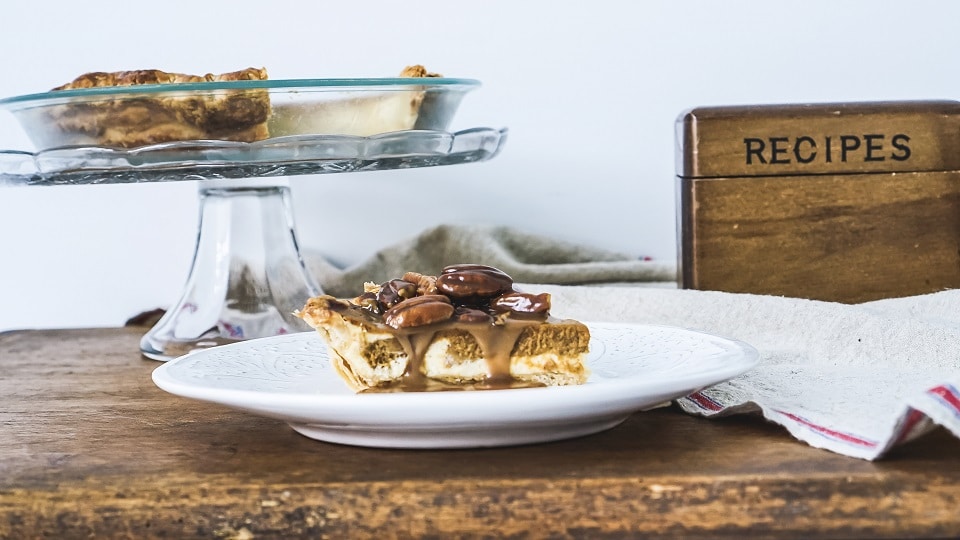 Bird in Hand Bakery offers a range of pies in different sizes and flavors (some sugar-free ones, too!), so you're not stuck with pumpkin, if it isn't your favorite. Try the seasonal special, sweet potato pie, or keep it classic Pennsylvania with one of its award-winning shoofly pies. Call to order. 542 Gibbons Rd., Bird in Hand; (717) 656-7947.
Lehigh Valley
Are you vegan, or expecting guests with plant-based diets at your Thanksgiving gathering? No problem! Pick up a homemade vegan pie at Vegan Treats, one of the most well-known vegan bakeries in the region and in the whole country! Order online for curbside pick-up. Its shop is open every day, Monday through Saturday from 9 a.m. to 9 p.m., and Sunday from 10 a.m. to 8 p.m. 1444 Linden St, Bethlehem; (610) 861-7660.
Pappy's Orchard & Bakery, a charming family-owned farm and market in Coopersburg, is ready to hook you up with a tasty fresh-baked pie this year, like caramel apple, chocolate cream and Southern pecan! Traditional PA Dutch treats, like Funny Pie and shoofly pie are also available, as are a huge range of other desserts, like cookies, cheesecakes, cakes and pastries. Stop by to order seven days a week. 2576 Cassel Rd., Coopersburg; (215) 679-3981.
The Main Line & Western 'Burbs
The Bakery House is locked and loaded for all your Thanksgiving treat needs! Place an order for one of The Bakery House's expertly-crafted pies in fall-fabulous flavors, like double crust apple, pecan cranberry and pumpkin. Other options include fruit tarts, pumpkin crisp, Boston cream pie, and a dozen other delights. Order online and choose your pick up day. 604 W. Lancaster Ave., Bryn Mawr; (610) 525-4139.
Linvilla Orchards delivers year after year, not only with farm-fresh turkeys, but with beautiful pies. The menu this year includes too many pies to count (seriously, like, dozens), but highlights include sweet potato crunch, peach melba and apple caramel walnut. Call (610) 876-7116 or order online. 598 Linvilla Rd., Media; (610) 876-7116.
Pittsburgh
Piebird, a bakery dedicated entirely to pies, is offering seasonal flavors include tart cherry, pumpkin custard, bourbon pecan and more. With so much pie passion behind this homegrown bakery, you can pretty much bet pies are going to be out of this world! Order via email or online by Thursday, Nov. 16, for pick-up on Wednesday, Nov. 22. 5304 Butler St., Pittsburgh; (412) 448-6348.
Pittsburgh Pie Guy is indeed a guy who makes (very good) pies. Though he doesn't have a storefront, you can find his pies for sale at various farmers markets in Pittsburgh, including Northside Farmers' Market and Bloomfield Saturday Market. His special Thanksgiving menu focuses on the classics, like sweet potato, apple-cranberry and pumpkin.  Order by Thursday, Nov. 16, for pick-up on Wednesday, Nov. 22 at either the Pittsburgh Theological Seminary in East Liberty or the public parking lot across from Washington Elementary in Mt. Lebanon.
Philadelphia
Crust Vegan Bakery is offering a bevy of animal product-free Thanksgiving treats this year: sweet potato, pecan, apple and pumpkin pies! Gluten-free options are also available! Order these 9-inch pies online, and choose pick-up at Crust's storefront in Manayunk, or GrindcorexCrust in West Philly, between Saturday, Nov. 18 and Wednesday, Nov. 22. 4409 Main St., Philadelphia:(215) 532-7867.
A mainstay in Reading Terminal Market, Flying Monkey Bakery is perhaps best-known for its whoopie pies. But it knows a thing or two about traditional pies and has some awesome flavors on deck for Thanksgiving this year. Other seasonal cakes and treats, like its special carrot snap cake, are also available. Place your order by Saturday, Nov. 18.
Scranton
You might know Lynn Sandy's Bakery for its incredible cake creations, but it's also got pies aplenty. The classics are all there — pumpkin, pumpkin cream, apple and apple crumb. Not that into pie? Cheesecakes, pumpkin cupcakes and cookies, brownies, and plenty of other treats are on offer. Call ahead to order, then pick up in the shop. 619 Pittston Ave., Scranton; (570) 346-2440.
Minooka Pastry Shop has all kinds of pies on deck, but this time of year, it's all about the pumpkin and pumpkin cream pies. It also offers gluten-free pumpkin and lemon meringue! These are all super-popular, so it's best to call in your order or place it online in advance. 3276 Birney Ave. Scranton; (570) 342-1876. 1146 Arch St. #431, Philadelphia; (215) 928-0340.
York County
Looking for phenomenal pies in York? Look no further than The Copper Crust, which has put together an extensive holiday list of goodies. All types of fruit, chocolate and classic Thanksgiving pies are available. A bounty of cheesecakes, loaf cakes, pastries and more are on the menu, too, including gluten-free items. Call before Monday, Nov. 13, to place an order for pick up. 966. S. George St., York; (717) 650-6235.
Pies, pies and more pies are hitting the ovens over the next week at Brown's Ochard's bakery! Call to place your order for pumpkin, apple, mincemeat, or egg custard pie and more. Plenty of other baked treats are available, too, like muffins, brownies and pumpkin sugar cake. 8892 Susquehanna Trail South, Loganville; (717) 428-2036.
Where's your go-to bakery for delicious pies and holiday treats in Pennsylvania? Let us know!