My husband and I made very few set plans for our recent trip to Nashville, but we both agreed that we couldn't leave Tennessee without a trip to the Jack Daniel's Distillery, the oldest registered US distilling company. Jasper Newtown "Jack" Daniel may have only been 5'2", but he left behind a legendary legacy. Throughout the tour, his description felt like a cross between the punchline of a Chuck Norris joke and "the most interesting man in the world" commercial.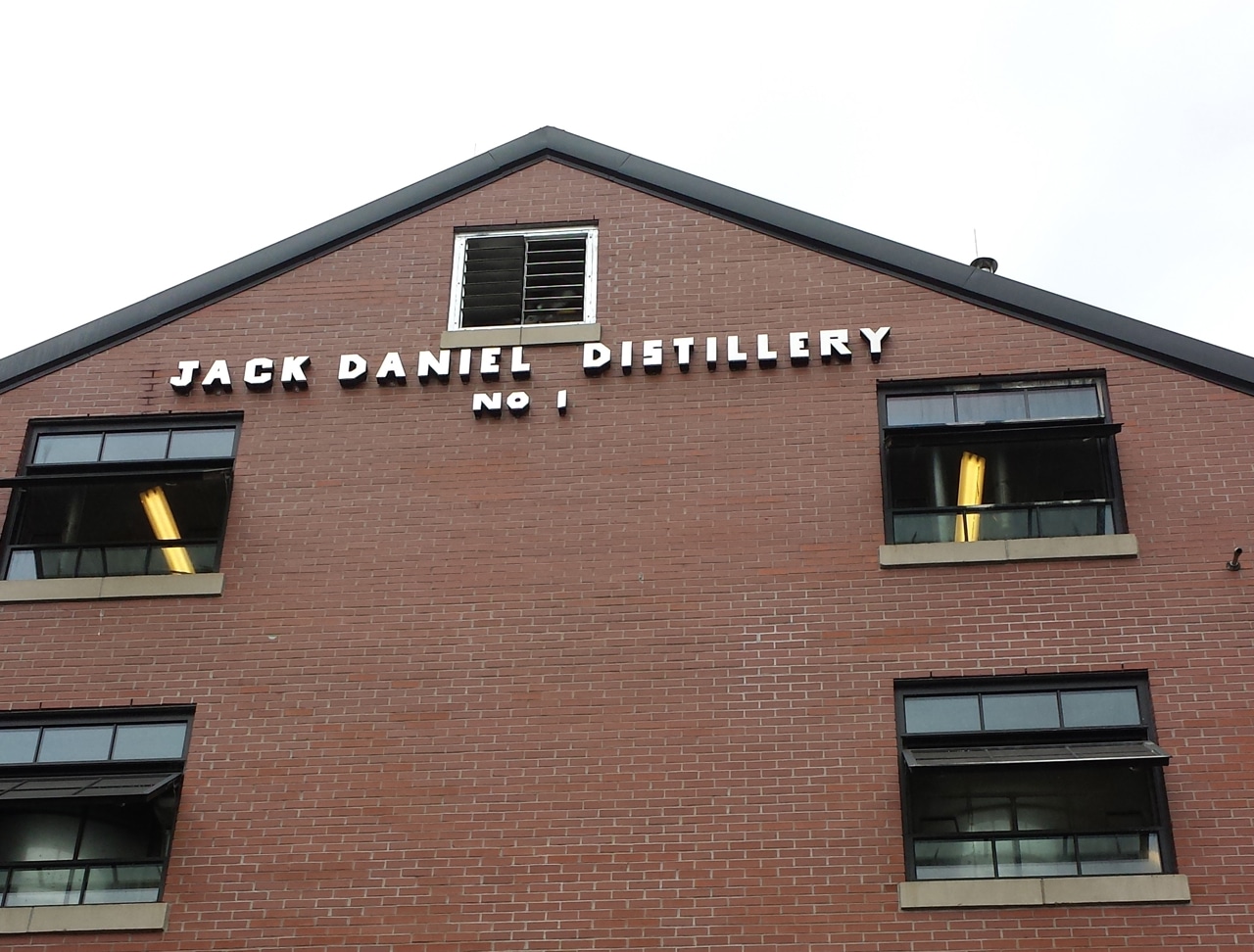 Here are the Top 10 interesting facts we learned from the tour: 
1. Entrepreneurship at an early age.
Jack was six when his mother passed away, leaving behind Jack and his nine siblings. After clashes with his stepmom, Jack moved into his uncle's house. He befriended Dan Call, a local Lutheran minister and storekeeper. Dan taught Jack the tricks of running his store, but Jack was more interested in the "still house" on the property. Dan took him under his wing and taught Jack everything there was to know about whiskey. In 1863, Call's wife made him choose between his ministry or his whiskey business after hearing a sermon on the evils of alcohol. So, Call sold the whiskey still to his mentee, Jack, a mere boy at 13 years of age.
2. 56 degrees and flowing.
As Jack Daniel's popularity began to seep through the area, he searched for a new distillery location. He found a tract of land in Lynchburg with an abundance of sugar maple trees and a cave containing an iron-free, flowing spring. The spring and Call's charcoal mellowing process is what sets Jack Daniel's Tennessee Whiskey apart from the rest.
3. "Every day we make it, we'll make it the best we can."
That was Mr. Jack's main mantra. To became a true Tennessee Whiskey and not a bourbon, the whiskey goes through a charcoal mellowing process before maturation. For 10 to 12 days, the whiskey drips through 10 feet of tightly-packed vats of homemade sugar-maple charcoal. This "Old Lincoln County Process" gave Jack Daniel's its distinct, smooth, refined flavor. The recipe and process have remain unchanged since 1866.
4. No dates needed.
Jack Daniel's felt dates shouldn't dictate when a batch was ready. Instead, it was determined by look, taste and smell. More than a century later, a batch of whiskey or individual barrel isn't deemed mature enough to bottle until it passes the lips of the master tasters.
5. The mysterious Number 7.
There are many rumors surrounding the name of Jack's iconic product. As the notorious town bachelor, it was rumored that Jack had seven girlfriends. Others say the number-seven train carried his barrels. Others believe he lost a batch of a whiskey for seven years and named it Old No. 7 when he found it. However, the true story was buried with Jack Daniels.
6. Cue the music.
Jack understood marketing. In 1892, Jack decided the town of Lynchburg needed a town band. With $227 and a Sears and Roebuck catalog, Jack outfitted 13 of his employees and fellow community members with nickel-plated instruments and uniforms. The Jack Daniel's Original Silver Cornet Band became quite popular in the region. They drew quite the crowd in downtown Lynchburg, across from Jack's two newly constructed saloons—The White Rabbit and Red Dog. 
7. Free whiskey, anyone?
The Jack Daniel Distillery is the only place in the world where you get free whiskey. After Prohibition, Moore County stayed a dry county. Lem Motlow, Jack's nephew and eventual predecessor, became a state senator shortly after Prohibition. Under his term, he passed a law that allowed whiskey to be manufactured, but not sold, in Moore County. The Jack Daniel's gift shop is the only place in Moore County where "decorative bottles" of alcohol can be purchased.
8. Baudoinia compniacensis.
The trees on Jack Daniel's property and surrounding area sprout green leaves, yet their bark is a deep black. This phenomenon isn't natural, but a fungus. This fungus feeds off the ethanol that is released in the air from the distillation and aging processes. During Prohibition, government revenue agents used this bark to catch moonshiners in Tennessee.
9. Tiny Town. Big Impact.
Lynchburg, TN is a quiet, one-traffic-light town that receives hundreds of thousands of visitors a year. It only has 365 residents, while  the Jack Daniel's Distillery employees 371 people. The distillery never has sick employees on the first Friday of the month when their employees receive their paychecks and a bottle of whiskey.
10.  Going to work early kills.
Lem Motlow maintained the distillery's books and kept them locked up in a safe. Jack arrived early to work and needed to access the safe. In a fit of frustration of not remembering the safe's combination, Jack gave it a swift kick and broke his big toe. Infection slowly moved its way up his leg, eventually killing him six years later on October 10, 1911. Ironically, a splash of his own product would have saved him.
More information is available at jackdaniels.com.