No meat, dairy or eggs? No problem! Now, more than ever, there are so many vegan products to try – some are made right here in Pennsylvania! Whether you're committed to a strict plant-based diet, or you're just looking for some easy ways to swap out animal-based products for items that are a little more health- and eco-conscious, you are in luck. From doughnuts to trail mix to organic tofu, here are 9 PA-based companies making awesome vegan food:
COB (Crazy Over Baking) is a vegan, gluten-free bakery based in York, founded in 2015 by David and Kazumi Rogan. A godsend for people with allergies or dietary restrictions in South Central PA, COB bakes all kinds of delicious things: English muffins, bagels, flatbreads and loaves, whoopie pies, cookies, tarts, bars, cake pops, doughnuts, pies, cupcakes and more, all of it free of wheat and animal products! The Rogans say they try to keep the ingredients as simple as possible, and non-GMO, organic when possible, and always free from gluten and animal products. COB doesn't operate a brick-and-mortar bakery, but can be found at the Farmers on the Square farmers market in Carlisle.
Bandit (Philadelphia)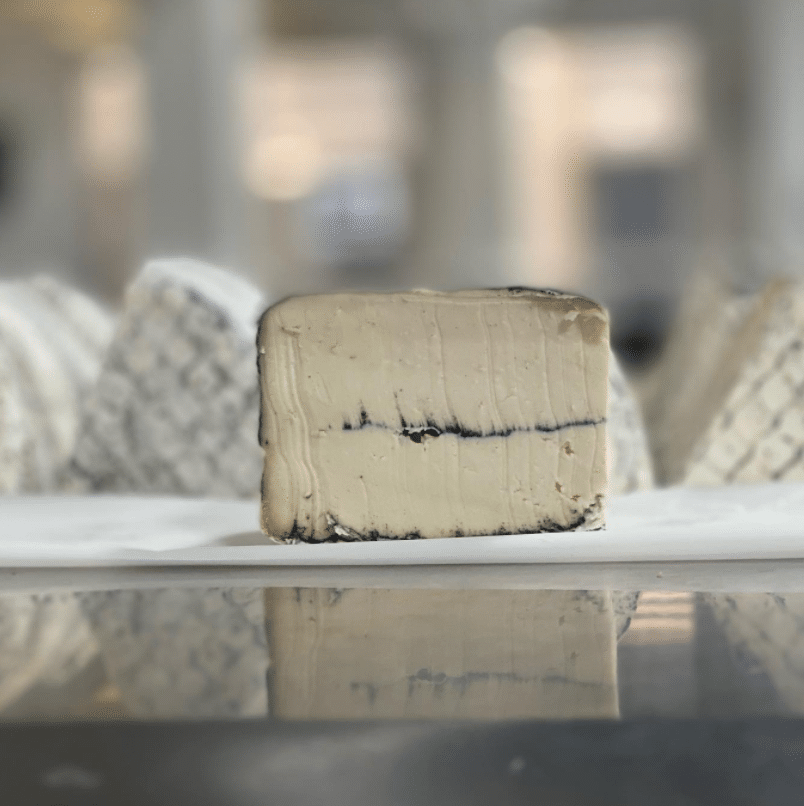 Vegan cheese is having a serious moment. Forget the mass-produced, plastic-y, anti-melting mystery shreds that you might've once purchased from the health food store – the new wave of plant-based cheese is all about real fermentation and aging techniques informed by cheesemaking traditions. Bandit is at the local forefront of this movement; the Philadelphia-based company is making beautiful, artisan cheese and butter (mostly nut-based), that can easily pass for the dairy version. Maverick is a brie-esque vegan cheese that's really nailed the texture and flavor of this classic French style. Word has it that other varieties are coming to the lineup in the fall of 2019! You can find Bandit's creations at V Marks the Shop, a vegan convenience store in South Philadelphia, and plenty of other spots around the city. Use their finder tool to locate Bandit!
At better coffee shops and cafes through the Philadelphia area, you'll find tasty treats from Crust Vegan Bakery, a woman-owned and operated small business that was founded by two friends in 2015. Its wholesale options include cookies and cookie sandwiches, scones, muffins, bars and loaves, all in delectable flavors, like peanut butter blondies, lemon blueberry scones and oatmeal cream pie chipwiches. Crust also makes fabulous custom cakes for special events, including weddings! In 2020, Crust opened a storefront in Manayunk in addition to its shared space with Grindcore in West Philly. You can also find its vegan delights at over 40 locations in and around Philly, including Riverwards Produce in Fishtown and Steel City Coffeehouse in Phoenixville. 4409 Main St., Philadelphia; (215) 532-7867; 4134 Chester Ave., Philadelphia; (215) 825-6928.
Looking for vegan doughnuts in Philly? Look no further than Dottie's Donuts, with two storefronts – one in West Philly and one in Society Hill – and a robust wholesale operation that puts its wares in plenty of markets and coffee shops' pastry cases. The texture of Dottie's raised donuts is light and airy, and its bakers go wild with flavor combos and creations, which rotate daily. Memorable varieties include: maple bacon French toast, espresso chai cookie dough, Dunkaroos, raspberry cheesecake and matcha pistachio. Check out the full daily selection at either of Dottie's shops or at one of the many coffee shops that carry its doughnuts, like Green Line Cafe and Front Street Cafe. 4529 Springfield Ave., Philadelphia; (215) 662-0379‬; 509 S. 6th St., Philadelphia; (267) 761-9447; 5105 Rochelle Ave., Philadelphia; no phone.‬
Did you know there is a tofu factory in the Lehigh Valley? It's true! For over 30 years, Fresh Tofu Inc. has been making non-GMO tofu and other soy-based products using high-quality ingredients and traditional methods. Its straight up plain organic tofu is some of the best we've had, and that's just the start of Fresh Tofu's product line. It also makes marinated baked tofu, stuffed tofu, tofu-based burgers, meatballs and no-egg salad, and more! Its pièce de résistance is its Tofu Turkey, a golden-brown tofu creation in the actual shape of a turkey, with special herb gravy. Fresh Tofu's products can be found at locations all along the East Coast and in plenty of Pennsylvania grocers and markets, including Whole Foods Markets. 1101 Harrison St., Allentown; (610) 433-4711
Seitan is a vegan meat alternative made from wheat gluten, and while that might not sound instantly appealing to some, when properly prepared, it can be an epic flavor and texture experience. Based in Levittown, Michael's Savory Seitan is locally made vegan wheat meat and contains no dairy or animal products, refined sugars, preservatives, artificial coloring, honey, trans fat or cholesterol. It's a nutritious, affordable alternative even for meat-eaters (we love it in burritos!). A number of PA-based delis and restaurants, like The Greyhound Cafe in Malvern and Frankie's on Fairview in Woodlyn, use Michael's Seitan as an ingredient in vegetarian dishes. Look for Michael's Savory Seitan in the refrigerated section of natural food markets and some bigger grocery stores, too! 4029 New Rodgers Rd., Levittown; (267) 597-7596.
Lots of people who follow a vegan diet consider honey an animal product and won't eat it. One challenge is that honey sneaks its way into all kinds of products, like granola bars, trail mix and breads. Sarah's Snacks, based in York, specializes in vegan snacks (it has some non-vegan items, too) featuring bold, international flavors, clean, non-GMO ingredients, and tons of flavor. Its Vegan Brittle, made with organic coconut oil, organic brown rice syrup and 40% nuts and seeds, makes for an addictive sweet treat, and the Vegan Trail Mix is a sweet and savory blend of mixed nuts, toasted oats and dried cranberries, without a drop of honey in sight. Don't sleep on the Cookie Dough Bites, in flavors like red velvet and almond butter, that are not only vegan, but Whole30 and Paleo approved, and the dessert-inspired, protein-packed nut butters in sweet potato pie and banana bread varieties! Shop online, or at Sarah's flagship cafe and market in downtown York. 9 W. Philadelphia St., York; (717) 814-9648.
Sugar Spell Scoops' handcrafted vegan ice cream creations are truly magical: inventive, whimsical and fun. All of its frozen desserts are made with cashew, hemp and other nut milks, and are sweetened with vegan cane sugar and agave. Sugar Spells used to just do pop-ups and sell its treats in other locations, but it now has its own vegan ice cream parlor in Sharpsburg (just a few miles outside of Pittsburgh). There, you can find scoops in all kinds of rad flavors, like cinnamon peanut butter fluffer nutter, strawberries and cream, and birthday cake. But the fun doesn't stop there – Sugar Spells' ice cream novelties, include mini peanut butter chocolate pies (Hydrox cookie crust with peanut butter ice cream, chocolate ganache, peanut butter Magic Shell, peanuts and whipped cream), frozen s'more sandwiches and Sketti & Meatballs, a sundae that looks a whole lot like spaghetti and meatballs, with vanilla ice cream noodles, strawberry sauce and chocolate sprinkle meatballs. We'll take one of everything, thanks! 1014 N. Canal St., Sharpsburg.
Vegan cakes! Vegan doughnuts! Vegan soft serve! Vegan cannoli, whoopie pies and sticky buns! If it's sweet and delicious, chances are that Vegan Treats makes it. Since 1998 – long before veganism was a mainstream wellness trend – this woman-owned, Bethlehem-based bakery has been cranking out some of the most awesome desserts around, with incredible designs, wildly good flavors and wondrous, you-honestly-can't-tell-it's-vegan textures. Ask any vegan in PA: the peanut butter bomb cake is the stuff of legend. Vegan Treats operates a storefront in Bethlehem, which is an essential stop on any vegan bucket list, and its treats can be found at one of hundreds of stockists on the East Coast. 1444 Linden St, Bethlehem; (610) 861-7660.
What are your favorite locally produced vegan foods and products? Let us know in the comments here or on the PA Eats Facebook page!