We're pleased to introduce you to local artisans who are making handcrafted dishes, serving wares, vases and vessels in Pennsylvania. We call this series, "Future Heirlooms." If you know of an artist or craftsperson we should talk to, let us know at [email protected].
When is a knife more than just a knife? We all know there are differing levels of quality between knives that you might buy at a high-end kitchen stores versus a national chain department store; perhaps you've even had the pleasure of chopping up vegetables or breaking down proteins with a properly sharpened, nicely weighted and balanced, well-made chef's knife.
But there is another echelon beyond even those big-name German and Japanese knife companies: handmade knives. And even within that category, there are varying degrees of craftsmanship and skill. It's pretty rare to find true bladesmiths who actually forge their own blades, but we've found one such artisan, and he's living and working in Pittsburgh, PA. That's Jared Ondovchik, of Artifact Metalworks.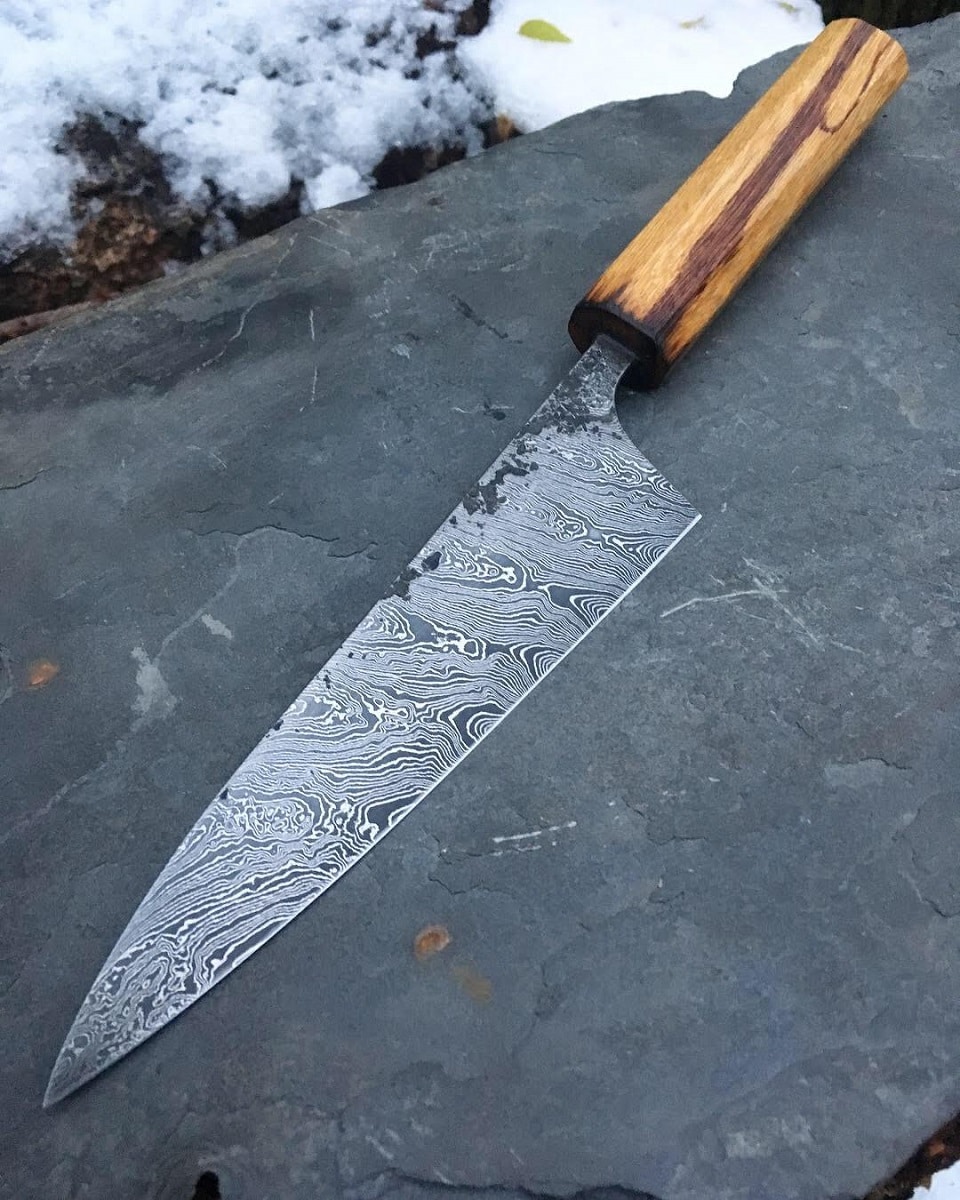 Ondovchik, who grew up in Beaver County, PA, and now lives in Pittsburgh's Bloomfield neighborhood, painstakingly crafts gorgeous cooking and hunting knives, all by hand. These incredible future heirlooms, and his passion for making blades, are inspired by an heirloom of his own: a hunting knife left to him by his grandfather. He's created a small but dedicated following for his knives, including a number of Pittsburgh chefs, like Kate Romane of Black Radish Kitchen, Keith Fuller of Pork & Beans and Kevin Sousa of Superior Motors.
We wanted to get to know more about Ondovchik's journey to becoming a bladesmith — like, how does someone decide to do this as their job? And what makes his knives so special? He shared more of his story in this artisan Q&A:
PA Eats: Why do you think knives appeal to you? What is it about their form/function that inspires you?
Jared Ondovchik: Well, my grandpa left me this hunting knife, and that knife is still with me. There's something about passing a knife down … I like objects that hold meaning, and I see that in blades. You read myths about the importance of the sword; they often seem to have magical capacities. And in history, as I've read, one culture would develop advanced smithing techniques and then they could dominate, whether through agriculture or weaponry. They were the technology of the time. The closest thing I've had to a mentor once said, "As blacksmiths, historically, we would make tools for agriculture and to sustain life." That's a tradition I'm really proud to be a part of.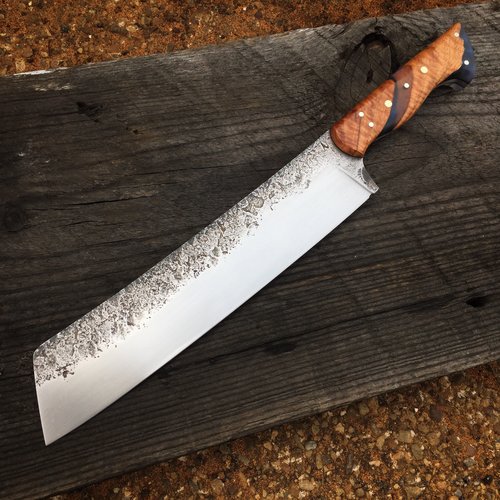 Also, I like how multi-faceted knives are: They can be life-bringing, useful tools, but as weapons, they are swift and life-ending. I like that they're dangerous. There's a part of my brain that kind of needs that, that's why I think I like blacksmithing. It keeps my focus, because if you mess up, it's permanent.
PA Eats: How does one become a bladesmith? What path did you follow to get to your position today?
To be real, very few people forge their own blades, and not many people know that much about blacksmithing. I taught myself. I first got into metal work through my friend Tim Kaulin, when I helped him finish these sculptures called The Workers, on the Southside, in 2011. I'd been bartending, but then I quit my job and I had a bunch of time and decided to make a knife. I started reading about it, and started using this work space I had access to through some artist friends. The first few knifes I did were a learning experience. I used a saucepan that I drilled holes in, filed with coal, laid with bricks and put fans under to stoke the flames. It was super dangerous, but it did work!

I watched a lot of YouTube videos and read forums. Teaching myself was hard, because I didn't know anybody at all, 10 years ago, who made knives. Even the metal workers I talked to didn't know about forging blades. Then, I got introduced to my friend Glen Gardner, he's a classically trained blacksmith. Having somebody to ask questions to in person was a game-changer, because for four years, every time something went wrong — and things always go wrong — I had to sift through internet forums.

When people ask me now, I strongly advise them to take classes. I'm proud that I'm self-taught, but it was so frustrating — so much wasted time.
Do you have a favorite part of the job?
Heat-treating is probably the most important step of making a functional knife. My favorite part is the hot work; I'm an anxious person, so I like fussing over the details. But, the hot work makes me feel like I'm part of our history as humans.
When and how did you decide to take the leap into owning your own business? Was that a hard decision to make?
I was working part-time for another metalworker, part-time doing construction and part-time at Churchview Farm, then doing metal work at night. In 2014, I had my first knife show coming up, and I was trying to make stock for it, and was really just burning the candle at both ends. Then, I hurt my shoulder at work and the company wouldn't hire me back. So I just used that as a chance to go for it, and all my knives sold at this event!

Then, I got accepted to Handmade Arcade [a large, independent craft fair in Pittsburgh], so I threw down for that, and then sold out there. Then, I felt more confident that I could really do it. I traded a lawyer a knife to set up an LLC for me, and all of a sudden, one day I was like, "This is what I do now." I come from a working-class family, and running a business is not easy for me.
What makes your blades/knives special? How do they differ from a knife someone can buy at a hunting store or a kitchen store?
It seems to me that a lot of larger companies are like, "How can we make a ton of these things for cheap and sell them for money?" But my name is on the blade, if that blade fails, it's on me as a person. It's my work and my legacy, so I take it really seriously. Knife makers are the nerdiest version of blacksmiths, and I spend so much time on every detail. I'll do differential heat treatments so the blade is a little springy, so if you drop it, it won't snap. I do a lot of custom work, and I put tons of time and effort into research on how to balance everything. I talk to chefs all the time to try to figure out the perfect chef's knife. It's also about quality of materials; I'm buying the best high-carbon steel I can find.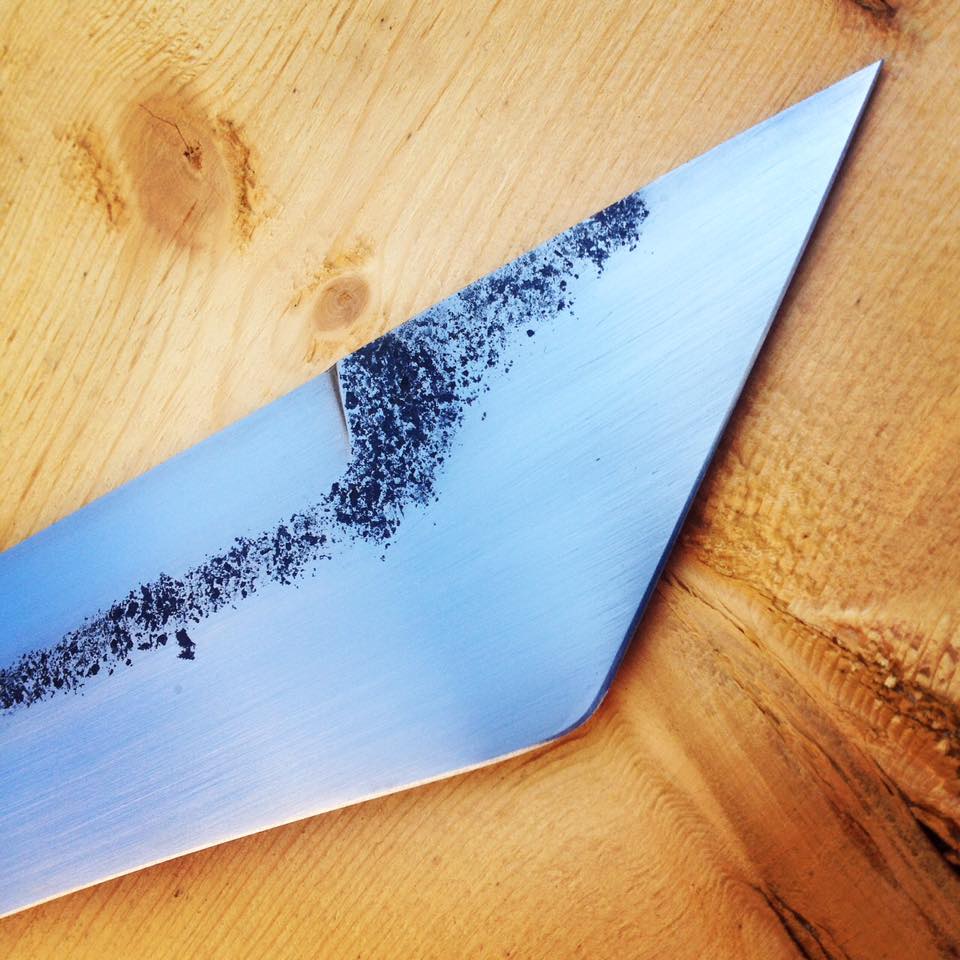 What's something you've made lately that you've been extra excited about?
Yeah, one is a small iron-age-style knife. They don't make genuine iron anymore, any wrought iron you see is usually from a long time ago. I have this really old wagon wheel that I used. I made this knife with three layers: pure iron from the wheel and the inside is new high carbon blade steel. When I etched it, it looked really raw. I made some punches to do this lunar theme on it, so it is a little more artsy, and I got to incorporate some really super-old iron. That piece has the style I aspire for and incorporates a lot of cool techniques, it could perform with the knives of today, but has that old, storybook aesthetic.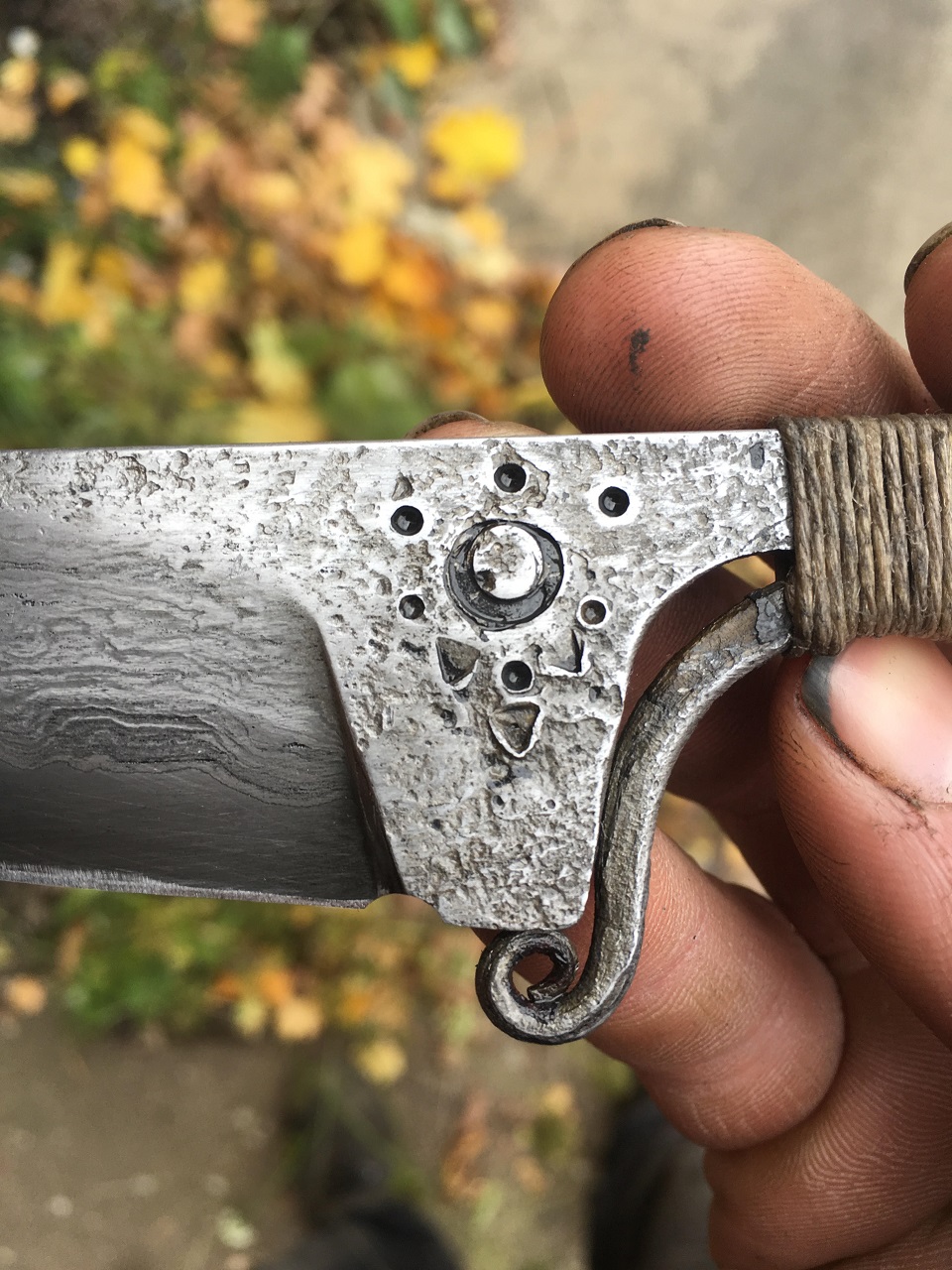 How have you grown as an artist and craftsman?
I've been through a lot of changes. I hadn't taken more than a day off in probably two years, until after the holidays in 2018, then I took five days off. I finally got to look back at what I've done in the past few years. My forging has gotten really tight, my form is a lot smoother and my work is clean. I have a hammer work technique down that is solid. I've found some ways to keep the quality high but make my work a little faster, because I don't want my work only to be for the rich. I think everyone should have access to well-made tools and heirlooms. I've also learned to work smarter, and I have some friends who have taken classes who have helped me improve. Taking care of my body also helps make the work better and faster, too. I'm improving as an artist and I've got blade geometry dialed in.
How can people buy your knives?
A lot of my work is custom, and I don't just do knives. I also make talismans, hair pins and all smaller stuff on request. Often, people contact me through Instagram or word-of-mouth, like a chef might get my number from another chef. I still table at Handmade Arcade. I love those people and I love that event, it's so well done. Also, I finally started an Etsy shop. Some of the witchy looking stuff I make I'll sell through The Weeping Glass [a curiosities shop in Pittsburgh's Allentown neighborhood].
Do you have any plans for the future you can share with us?
I'd like to push the online store more, and I'd love to do more collaborations. I take it one step at a time. It's been a long, weird ride.
Keep up with all of the rad stuff Artifacts Metalworks is crafting via its Instagram account, and don't hesitate to reach out to Jared with your custom requests. He says he's happy to make all kinds of things besides knives!
Photos:

Artifact Metalworks