We're willing to bet that if you're reading our Who Behind the Brew column, you're familiar with a lot of beer styles, even the rare ones. But, have you ever heard of braggot? This obscure beverage is a blend of beer and mead (a beverage made from fermented honey), and it's the drink that first sent Willie Wrede, the co-founder/owner of Artifice Ales & Mead and Meduseld Meadery, on his fermentation journey.
After over a decade spent working on aircrafts for the US military, Wrede was looking for a career change, and after discovering a passion for home brewing, he changed career lanes. This Mount Joy, PA native is now the owner of two popular spots in Lancaster County, which offer unique beverage offerings and great food to the surrounding communities.
We chatted with Wrede to learn more about this veteran-owned Pennsylvania brewery — and why his meads are not the stuff you find at the Renaissance Faire — for this installment of Who Behind the Brew:
PA Eats: What was your experience with craft beer, or the beer industry, before you became a brewer?
Willie Wrede: I really wasn't a fan of beer, in general, until I started to see more of the craft aspect of things coming around in the early 2000s. Weyerbacher was one of my first craft beer experiences, and that changed everything I knew about beer. Before that, I'd just had the big macro beers, but craft beer was like an adventure of tasting, with all these fun names, label art and beer styles. I started appreciating the stories of the people who made these beers, and their influences. That drew me to wondering if maybe I could try to make some of my own things. A friend of mine, Duro Rajkovic, and I started home brewing with our wives in our kitchens, which was a lot of fun. We made glorious messes and loved popping bottles open and drinking various things. We got fairly good at brewing on the small scale.
How did you discover mead?
I was always aware of what mead was, but it wasn't really prevalent in the area. I'd had mead at the Renaissance Faire and wasn't a fan of the cloyingly sweet flavors, which were overly sugary and unbalanced. My first positive experience was with mead from Rogue Farms, which had released a couple of different braggots. There was this marionberry braggot from them I tried, and I was blown away at the complexity of it. It set my mind spinning, and I decided that's what I wanted to make. The first mead I tried to make was a braggot, and even though I'd done a lot of reading, it turned out horribly bad!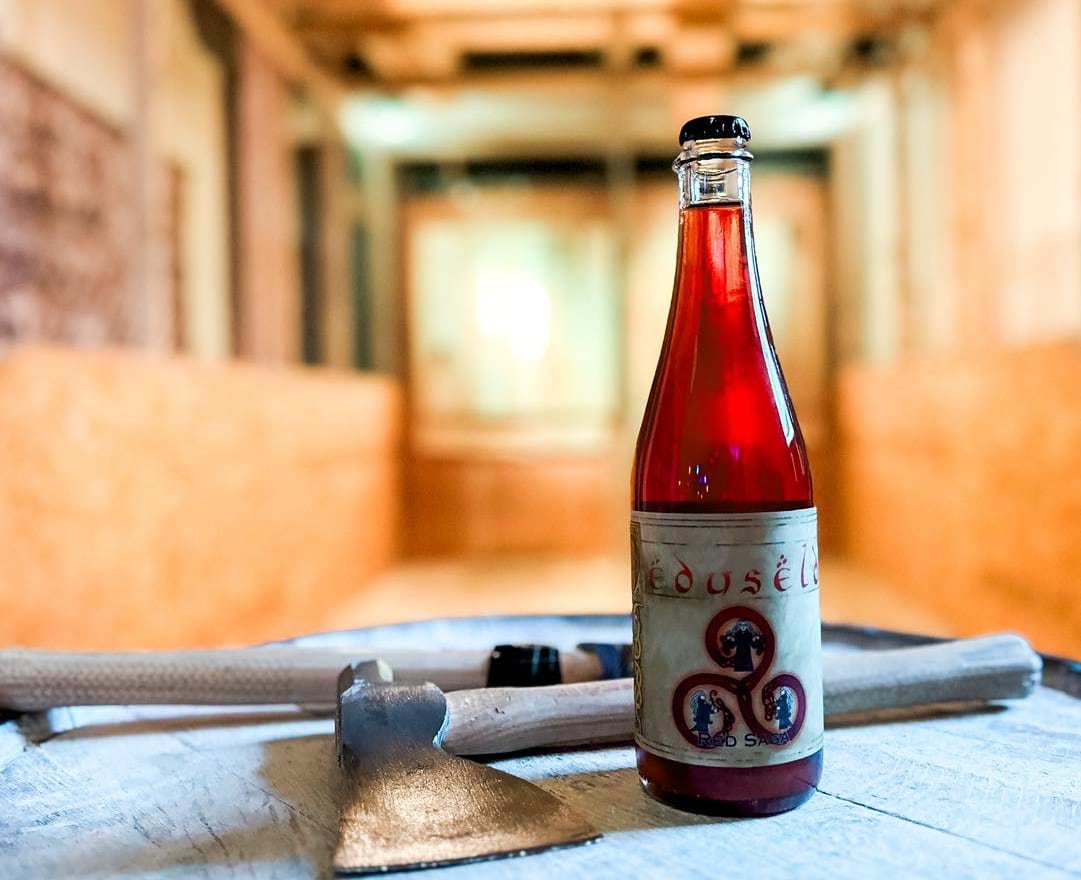 What prompted the transition from brewing hobbyist to starting a meadery/brewery?
I was looking for a career change. I'd been working on air crafts since I was 19, and was trying to figure out what other kinds of skill sets I had. Turns out, not much really, but I'd started making meads and entering competitions. I didn't really see much else out there in the style of mead that I like. I came from a beer background, while most mead makers come from a wine background. I wanted to make things that could be a bridge between craft beer and wine, and I think mead is that bridge. I love the versatility of mead, too, you can flavor it with basically anything.

So, I started approaching people, explaining how there's no mead in our area, and some friends of mine got excited about it. The barrier to entry to mead making is pretty small, because you don't need a huge expensive brew system to make good mead. I'd done a lot of networking with similar mead makers who also had home brewing backgrounds, and we came up with a plan and started looking for funding. We found some partners together and incorporated our LLC in 2015 and started looking for location. We opened Meduseld Meadery in Lancaster in May 2017. We added axe throwing several months later, making us the first axe throwing venue in Central PA, and that really took off. We have a whole community of avid throwers that are very passionate about the sport, it's mind-blowing! I just thought it was would be a fun activity, it spiraled into this crazy thing.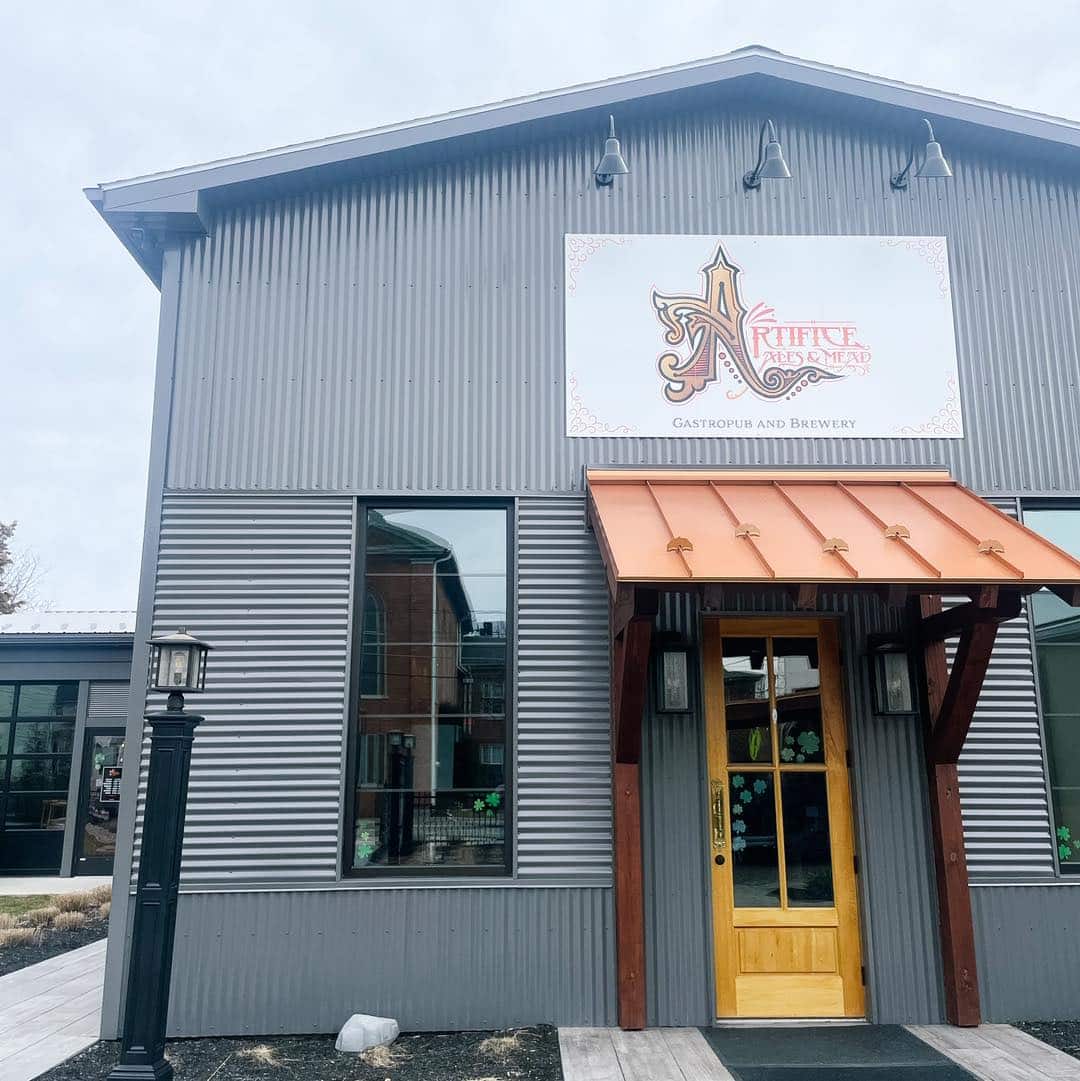 So you started with the meadery first — when did Artifice Ales come along?
The plan was to open the mead hall first, and grow that business to the point where we could use the capital and experience to add a brewing license and start making beer and braggot. At the end of 2019, we were coming off a great year. We'd been looking for locations that whole year, and finally settled on Manheim because we live there, and wanted to build a legacy business and put down roots there. There wasn't much in Manheim at the time, though now things are getting better as far as small business goes, and it's not just a drive-through town anymore.

So, we settled on this location in an old Bickel's Chip factory. It already had sloped concrete floors, a central drain system, tall ceilings and great owners. The owners did stipulated that we had have a kitchen, and couldn't be just a manufacturing spot. We wanted to do food anyway, just not right away, but the stipulation accelerated our plans. We signed our lease on April 1, 2020 thinking the pandemic would blow over. When it didn't, we halted construction til that September where things were starting to open back up. We didn't actually open until the end of April 2021.
Can you describe what the Artifice Ales space is like?
We've got a beautiful outdoor spot with garage doors on two sides, that opens into this breezy yet covered space. We have a big lawn area so people can play cornhole, and other games, and kids can come run around. The taproom has high ceilings with dark paneling, kind of a British pub feel. The intent is to be like the local pub for Manheim. Initially we opened with table service and the food side was the focus for us. We put a ton of time and personnel into that, but we had an identity crisis, because people were treating us like a restaurant. That might sound great, but food margins are terrible. We simplified things in the beginning of last year and streamlined our service, switched to bar service only and that changed things for us in a positive way. We also have cocktails and mocktails, and soda flights for kids. We want to be family-oriented, because we're family people ourselves; one of our owners has young kids and we love going as a family to places where everyone can go.

We're part of REO Manheim Marketplace which houses four other businesses. It's like Etsy, but in person. It's become a hub, a destination, a place people want to go! In the past, everyone used to leave town to go and do things, even locals, but now you don't have to!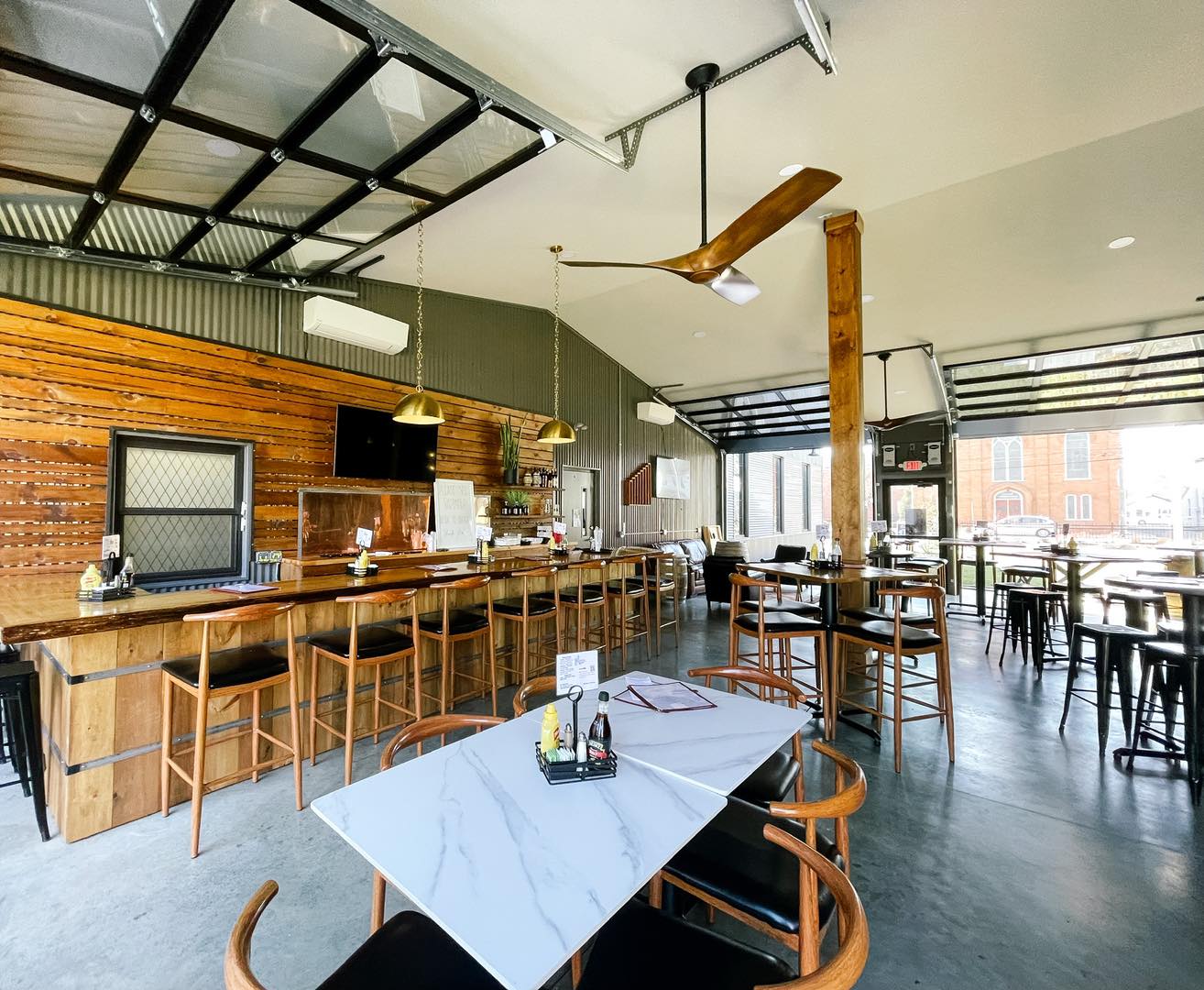 How do you describe the style of your beers?
It's always evolving for us. However, my wheelhouse is solely rooted in English styles, like pub ales, Irish stouts, Scottish ales, oatmeal stouts and barley wine, that sort of thing. As far as our mead goes, I still focus on draft-style meads, that are more about the fun flavor combinations and playful naming conventions, and less about the honey being the star of the show. For instance, How to Choke Your Dragon, is one of our most popular meads, made with dragon fruit and chokeberries. That does bother some people. Some people have it in their heads that mead is this old storied thing, and it is, but it doesn't have to stay there. It can be fun!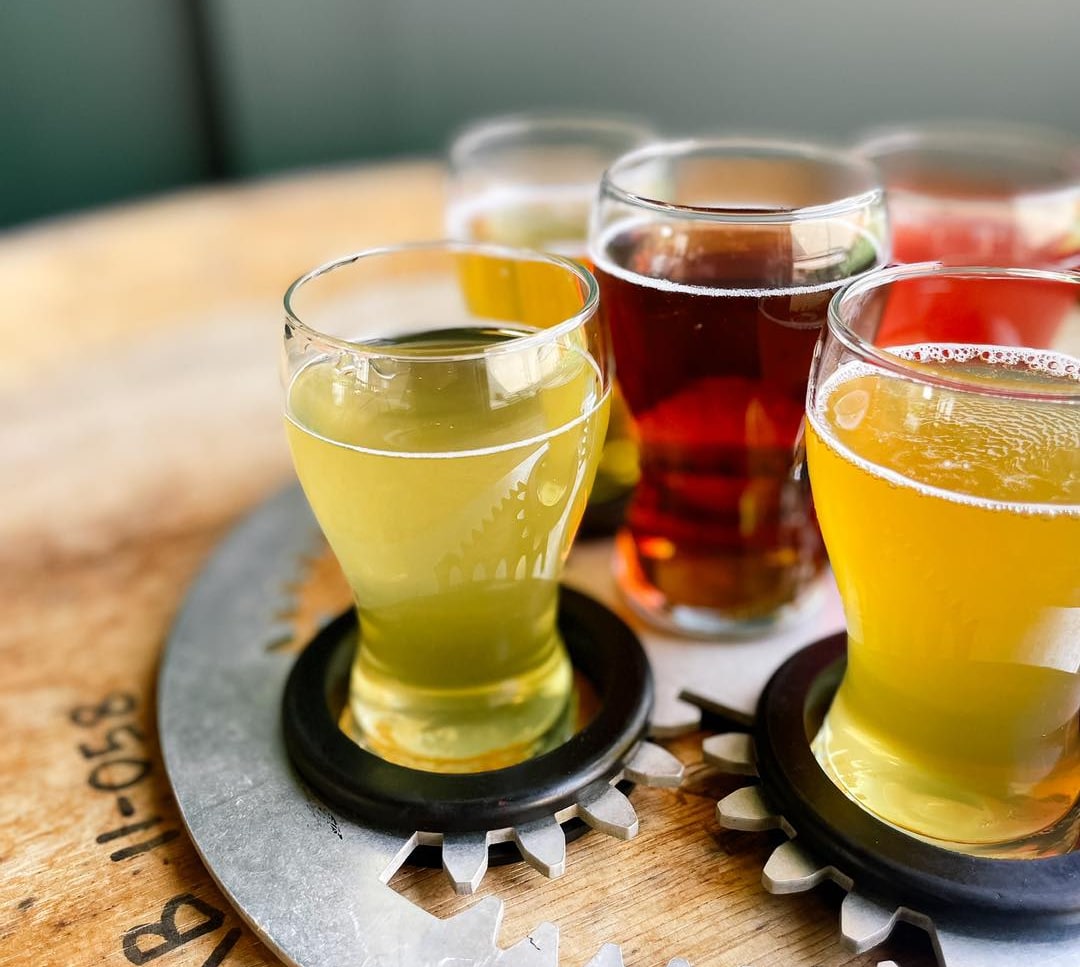 How would you describe the flavor of mead to someone who've never tried it?
Throw out any kind of preconceptions you may have and go in with an open mind! Most of our meads are semi-sweet and balanced. The drinking experience is enjoyable, and the flavors listed are true to what you're going to taste. You taste the fruits, and the sweetness is balanced with the tart fruit. We have a fall cyser that's primarily an apple mead that's flavored with cardamon and cinnamon, vanilla, nutmeg and ginger. It's like an apple pie. I have done and will be doing more completely dry meads, too. I like to balance everything so you get the flavors of all the ingredients.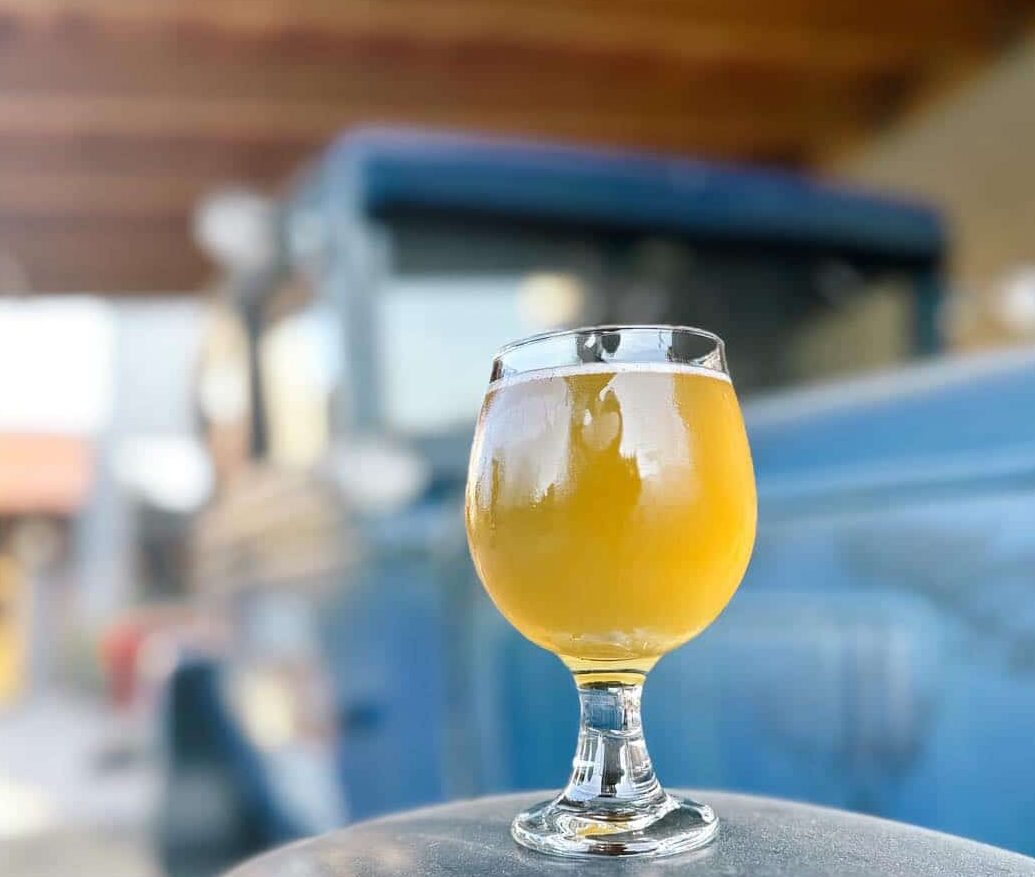 Do you use any local ingredients?
Yes, I like to keep the money as close to home as possible, but that does limit my choices. Some of our local honey places bring in honey, like orange blossom, from other places. But purchasing from them still keeps the money in the economy. We get a lot of honey from Wompler's Honey, which is primarily a pollination service, and Dutch Gold, which is based in Lancaster County.
What's the response to the mead from your guests who are there for the beer?
People like to have the option! Lots of people get a flight, and they'll try three beers and then say, "Why not try this mead?" Then, maybe they'll try another mead while they're there. A lot of folks want to just experience mead, because it's one of our specialties. Even at brew fests, I'll take a beer and a mead, and the mead always kicks first. People are curious because they've heard of it but never had it.
To learn more about Artifice Ales, check out its website, and follow along on Instagram and Facebook. You can also order its beer and mead online for pick-up!
Visit Artifice Ales & Mead at 55 N. Main Street in Manheim, PA; phone: (717) 879-9499.
This series is made possible by support from the Pennsylvania Malt and Brewed Beverage Industry Promotion Board and grant funding from the Pennsylvania Liquor Control Board.
Photos:

Artifice Ales & Mead