Local craft breweries can have transformative effects in neighborhoods, towns and cities, providing not just watering holes, but spaces for the community to gather. Over the past two decades, breweries have opened their doors all over Pennsylvania, but there are still quite a few pockets that have had no active breweries since Prohibition. One such area was the Germantown section of Philadelphia, an historic neighborhood that's home to tons of cool architecture, flourishing arts and music scenes, and a number of small businesses. But it hadn't had a brewery for over 100 years — that is, until Attic Brewing Co. opened its doors in 2020.
Of course, opening a business in 2020 was not without a unique set of challenges. But in the handful of years since, Attic has emerged as a really strong voice in the Philadelphia brewing scene, not just because of the quality of the beer (which is high), but because of the powerful ways in which it has integrated and engaged with its community. Its welcoming taproom always has 14 beers on tap; you won't find any wacky, new-school beers, but instead classic styles, like its award-winning Bloodhound Brown Ale. There are visiting food trucks, and Deke's BBQ is next door; Attic's calendar is packed with fun, inclusive events, like Metal Mondays, comedy nights and live music.
We spoke with Attic Brewing's co-founder/co-owner Laura Lacy about her and her husband Todd's journey to opening this vibrant destination:
PA Eats: How did you and Todd become brewery owners?
Laura Lacy: I worked for H&M for 12 years. In 2016, I was in a place where I wasn't happy working there, and decided to quit. I had some money saved and wanted to figure out the next step. I knew I wanted to own my own business, but I didn't know what that was going to be.

Todd and I have always enjoyed craft beer and breweries. I'm originally from Chicago, he's from Colorado, and in our 20s and 30s we traveled a lot and visited close to 400 breweries! He'd also been home brewing for a decade. So, in a way, owning a brewery had always been a pipe dream. Shortly after I left my job, the Craft Brewers's Conference took place in Philly, and we went. We took it seriously, met a lot of people, and left the conference with real excitement for opening a brewery.
How else did you prepare yourselves to make this big career change?
From 2016 to 2020, Todd still worked his full-time job, while I started to home brew and started working in the beer industry around Philadelphia and volunteering in breweries to learn how to brew commercially. Eventually, I got a job working at Dock Street Brewing, bartending, serving and working as a sales rep. I was able to gain a lot of knowledge while also building our business, but we still realized that we didn't have the commercial experience, and we knew we'd hire a head brewer to run our operation.
Did you have to find investors or secure funding in a different way?
We were able to raise almost $1 million in funding through a crowdfunding platform called Wefunder, so 100% ownership is with Todd and me. We know that a lot of friends who own breweries have investors involved, but we really wanted to maintain as much control of the business as possible. We're located in Germantown, which on paper is not the place one would open a brewery, because it has a high concentration of deep poverty. But we knew this is where we wanted to open. With investors, it would've taken too much time to find the right person who had enough money and believed in our vision.
Why did you choose Germantown as the location for Attic Brewing?
At the time, we'd lived in Germantown for most of the 18 years we've been in Philly. Before opening the brewery we weren't even sure we'd stay in Philly. I wanted to be able to walk to work, and so we decided, if we're going to stay, this brewery is going to be in Germantown. We found the location and bought a home a few blocks away!

Germantown is a special place filled with like-minded people, and it's a good fit for us. Attic Brewing feels like it belongs here, because it's not fancy or over-the-top — it's real. But the neighborhood lacks amenities, and we saw the need for more hospitality and restaurants. Plus, we made a map that marked out every brewery in Philly and in Germantown, there's this big hole where there are no breweries!
What are some of the challenges and benefits of being in a neighborhood that doesn't have a lot of tourism or a big restaurant scene?
Well, a century ago, this was a huge manufacturing area, but most of that is gone. We love the building we're in, but we're surrounded by blight. Germantown has a large Black community and the demographics skew older. There aren't a lot of 21-year-olds living here. So we've always known that we'd have to approach things differently for our business to work. We did a lot of business planning and research. For over two years before opening, we were pouring at neighborhood festivals, introducing our beers to people, getting feedback and laying the groundwork, so when we opened, neighbors were like, "We know them, we've had their beer!" We had developed a pool of customers who were familiar with us.

And being here has been better than I imagined it would be! We've had the opportunity to meet and build relationships with so many amazing people through our brewery. It just feels like our lives are very full all the time! I know that if we need anything, we have thousands of people who have our back. I never could have imagined that in 2016.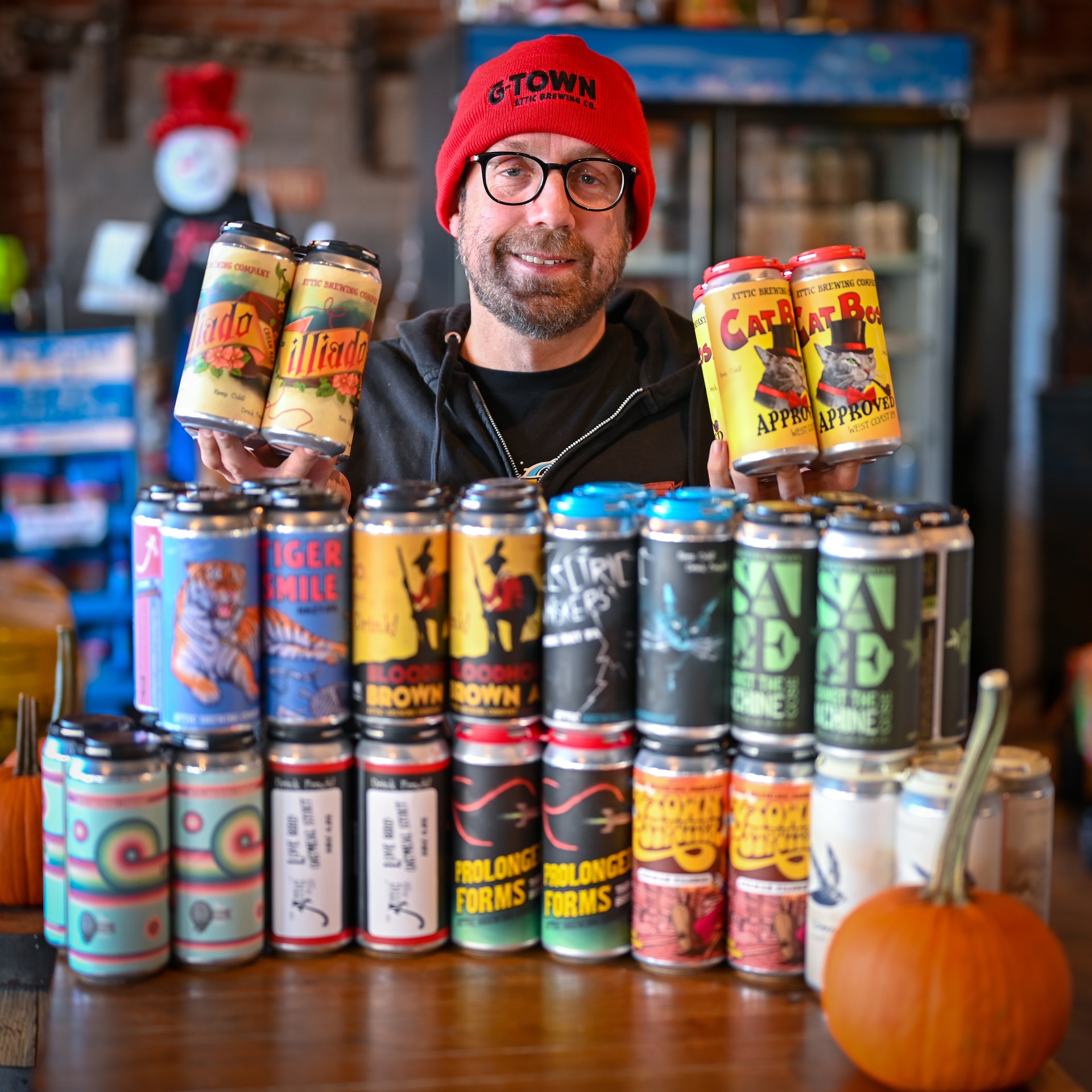 Opening in 2020 meant being brand-new right when the pandemic hit. What was that like?
It was scary. We'd poured all of energy, money and time into the business. We opened in January of 2020, and 8 weeks later, we closed. We always built Attic Brewing to be a destination, because most money is made when you sell beer over the bar. So we had nothing in place to package our beer, and had to quickly make a decision to add in canning equipment, but so did thousands of other breweries.

We didn't get our commercial canning line until December of 2020, so for almost the entire year were were individually filling, labeling and delivering cans. Still, we somehow managed to package over 75,000 cans in 2020! It is expensive to work that way, and we were operating at a loss. We built a beer garden in the parking lot and introduced outdoor seating there. Then in 2020, we won our first Great American Beer fest medal, which was a highlight of that year and really showcased the quality of the beer we're putting out!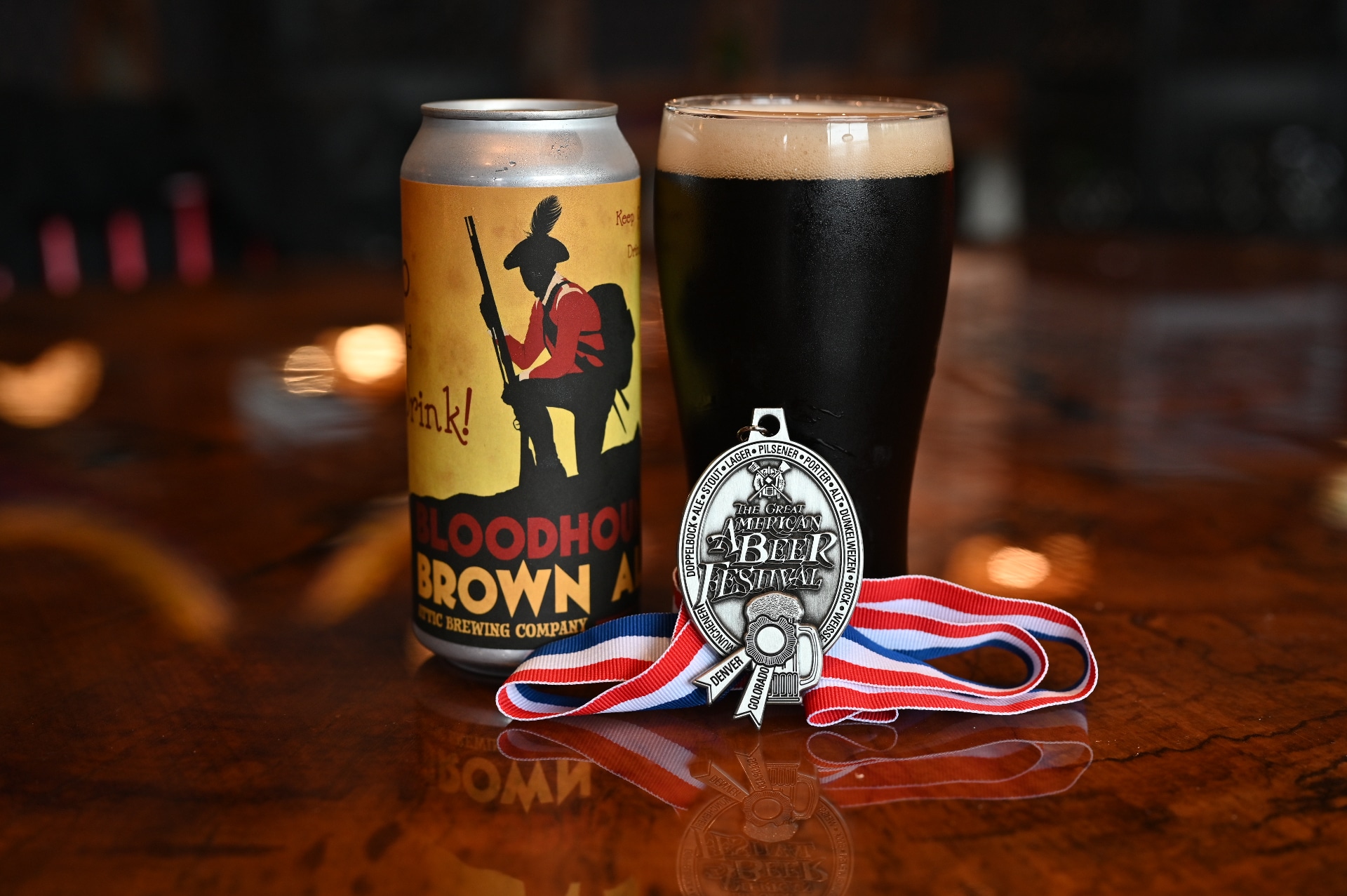 In 2021, we were lucky to be able to take over an empty lot and build an 8,000-square-foot garden, with 250 seats and an outdoor bar. The biggest challenge for us is that we didn't qualify for funding because of when we opened, so we didn't get any grants or restaurant recovery funds. We were running lean and are very grateful for all the support!
How have things been since things have returned at least partially back to "normal"?
Now, our goal is to continue to brew more beer and grow our brand in Philly. We push ourselves to be one of the best breweries in Philly and on the East coast, and we're still investing in being a destination brewery. Most of our team lives in Germantown and we've paid out almost half a million dollars in salaries, and we're really proud of that. We also put energy into relationships with community organizations, and we are working with the city to encourage more businesses to open and bring more revenue into our neighborhood. 
Community engagement is a huge part of your brand. Can you talk more about those efforts?
We have a series called Give Back Beers that we've been doing since the beginning. They are collaboration beers, and a portion of sales goes to organizations that have a big impact in our neighborhoods. For instance, we did a collab with Rasheed Wallace [a Philly native who is now a professional basketball player], then gave back to the athletics department at his alma mater, Simon Gratz High School. It was a triple hazy IPA — we brewed it and he helped out! It's big and bold, just like him.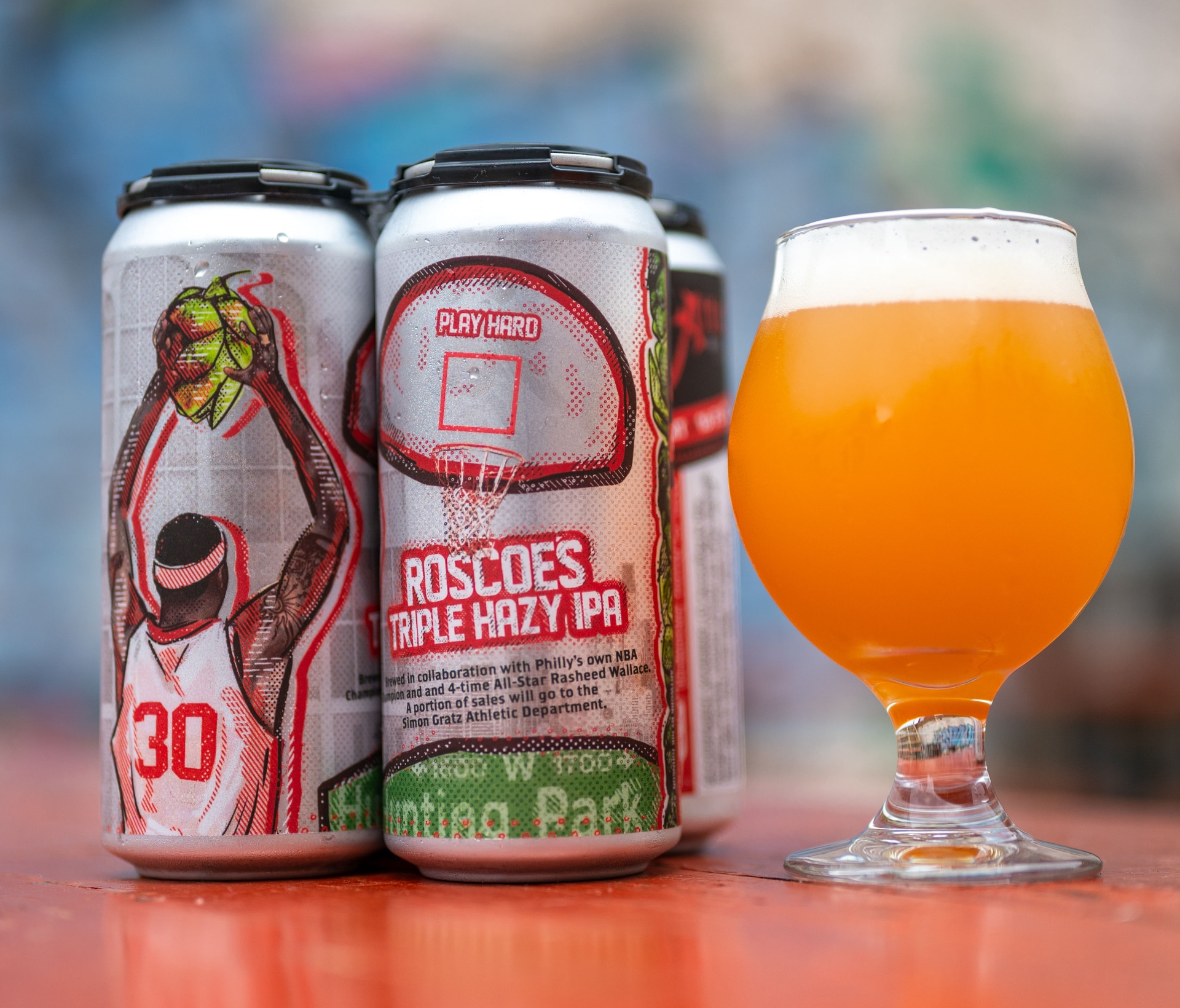 We brewed another beer called Breath of Change, that was a response to the murder of George Floyd. In a neighborhood like ours, that impacted everybody. We all talked as a team about our experiences and asked what everyone would like to do. We partnered with Urban Youth Kings & Queens, which cultivates leadership and self esteem through youth athletics, and NW Victims Services, which serves families and survivors of gun violence. We hope that giving to these organizations can help make big impacts on the lives of people of color in our neighborhood.
Attic Brewing is right on the cusp of your third anniversary. What are your main takeaways from your time open so far?
The beer is amazing and the people are amazing! We have a lot of good things going for us right now. In my mind, I thought it would have taken us longer, and I'm really proud of what we've built.
For more on Attic Brewing Co., check out its website, where you can also shop for beer (for local delivery) and swag. You can also find them on Instagram and Facebook.
Visit Attic Brewing's taproom, which is open every day, at 137 Berkley St. in Philadelphia; phone: (267) 748-2495.
This series is made possible by support from the Pennsylvania Malt and Brewed Beverage Industry Promotion Board and grant funding from the Pennsylvania Liquor Control Board.
Photos:

Attic Brewing Co.