When Charity and Clay Cadwalader were stationed in Washington State during Clay's service in the military, they found themselves immersed in serious craft beer country. Clay, an avid homebrewer, outfitted their garage to ramp up his personal production and spent every weekend out there, honing his skills and mastering beer recipes. After 20 years of service, Clay retired in 2019, and set his sights on the next phase of his career: starting a professional craft brewery.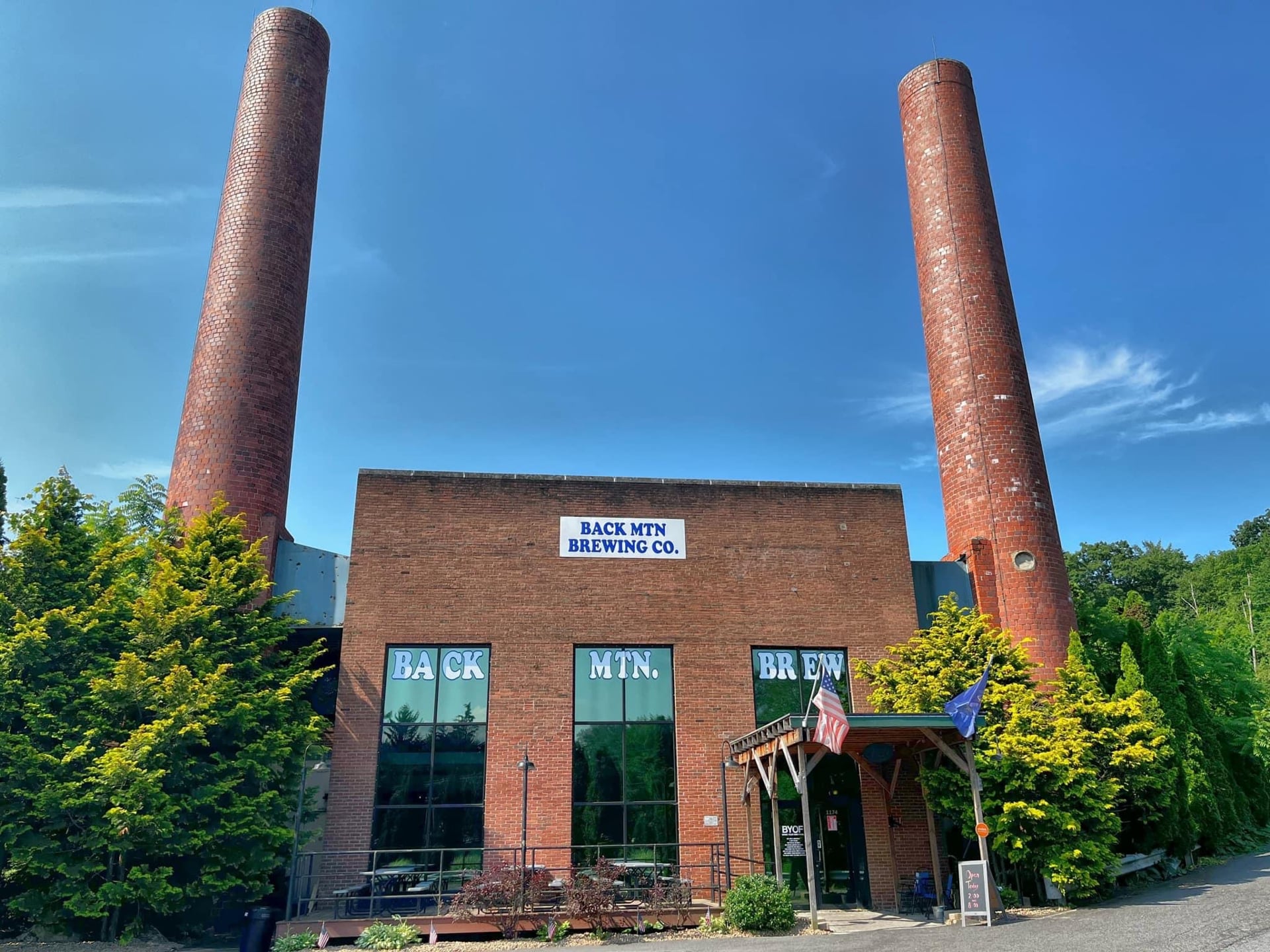 Two years — and a cross-country move — later, the Cadwaladers opened Back Mountain Brewing Co. in Dallas, Pennsylvania. A lot happened in that time span to get this homegrown brewery off the ground, and we were able to get the behind-the-scenes story from Charity about the couple's journey to this point.
PA Eats: What brought you back to Pennsylvania from Washington State to start the brewery?
Charity Cadwalader: When Clay was retiring from the Army, we had to decide what we were going to do with our lives. We were both born and raised here; from the Sweet Valley area and Harvey's Lake area. We even went to the same high school! At that time, we had a 14-year old daughter, and just thought it was time to come home and be with our family.
Did you always know that Dallas was exactly where you wanted to open Back Mountain?
Yes, we knew we wanted to be in Dallas! We'd already had the brewery's name picked out, which means we have to stay on the back mountain. There was one building in particular in the Twin Stacks Center [a mixed-use commercial business park in a former textile factory] that we had in mind before we even came home. We had our eye on it, and thought let's wait it out and see if it becomes available. We did look at other locations but hit some snags, because we had to be on a sewer system, and a lot of places weren't going to allow food trucks, which was part of our business plan. 

As soon as we got back, we bought my childhood home. That was the first step. Then, we were able to secure the space in Twin Stacks, which was perfect for us. It's well-situated on the main road that everyone travels to get through Dallas; it's a pretty great location.
How did you and Clay prepare to go from home brewing to large scale brewing and being business owners?
Clay had the opportunity to be one of the first people enrolled in the Craft Brewing and Distilling program, which was a brand new two-year degree that had been started at South Puget Sound Community College in Olympia, WA. Even though Clay knew how to brew, there he learned a lot about the business end of things. He also did some internships and apprenticeships at two breweries in Olympia/Tacoma area, so he knew how to work on larger scale. 

We also just kind of flew by the seat of our pants. We came home and just kind of gave it a go, and started taking the steps, planning out the website and the brewing space. I was still working full-time and Clay was parenting and getting to the brewery to get things done. It was hard because we moved home the summer of 2020, and doing this was a big leap of faith with Covid. We didn't know what was going to happen, but it ended up working out, and we opened at end of August 2021.
What was it like when you were able to open to the public?
It was amazing! We sold out of beer the first weekend, and had to close the next weekend to make more beer. We were not prepared at all for the response. Everyone was super-excited about this brewery opening, and everyone enjoyed the beer.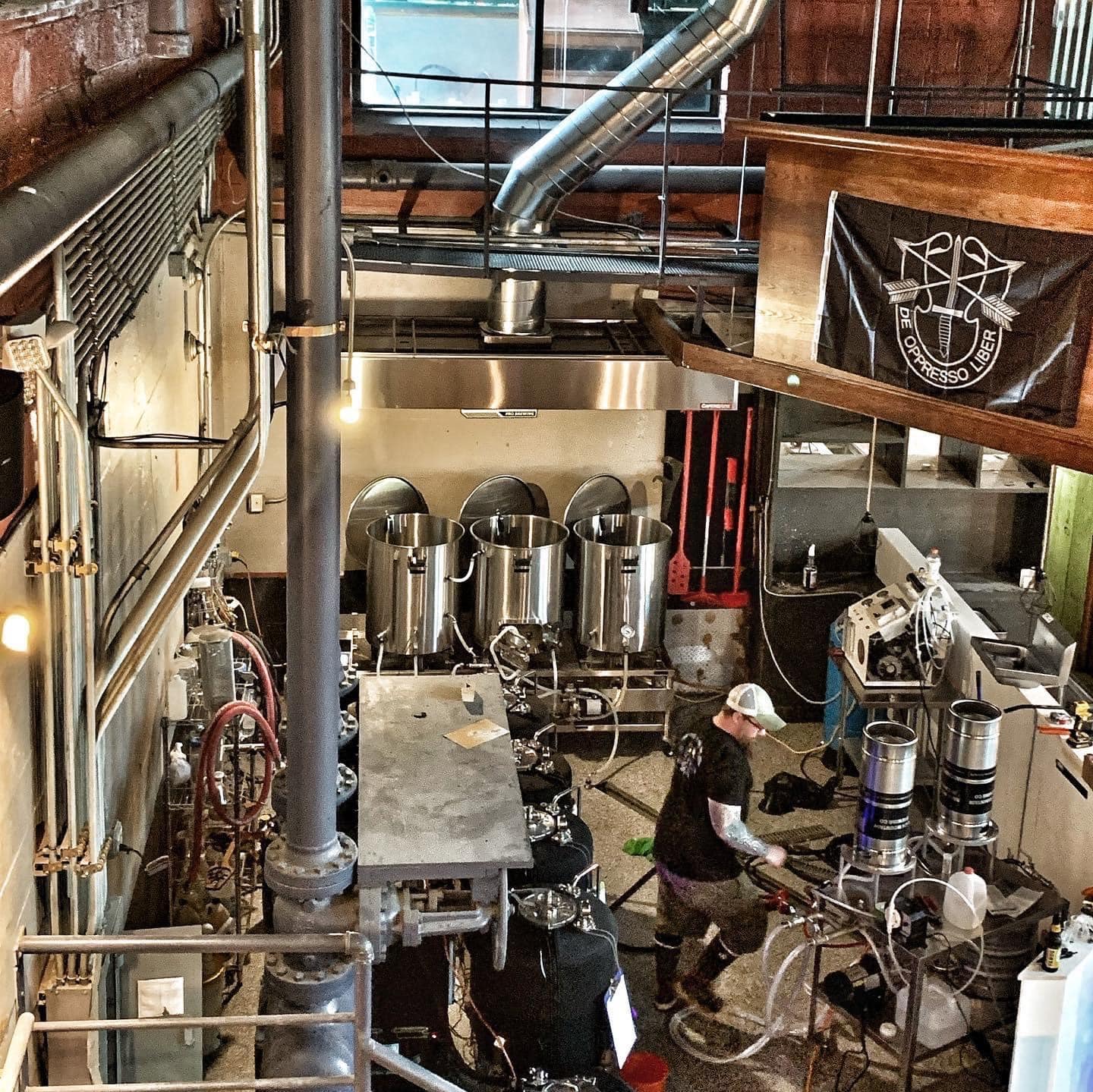 Can you describe the brewery and taproom?
There had been two restaurants in the space in the 90s, so we didn't have to do a huge build out. For us, we felt the more industrial, the better. The look is very eclectic; we have a lot of cool things around, like old beer trays, beer signs that customers have actually donated to us and a lot of Clay's military gear, plaques and flags. It's very open, with high ceilings and good lighting with the huge windows we have. I like to think it's a cool spot. We don't have a bar, it's more of a counter, but that actually lets people hang out and move around a little more. The brewing system is open, so everyone can see them working back there. We have an outdoor deck, too.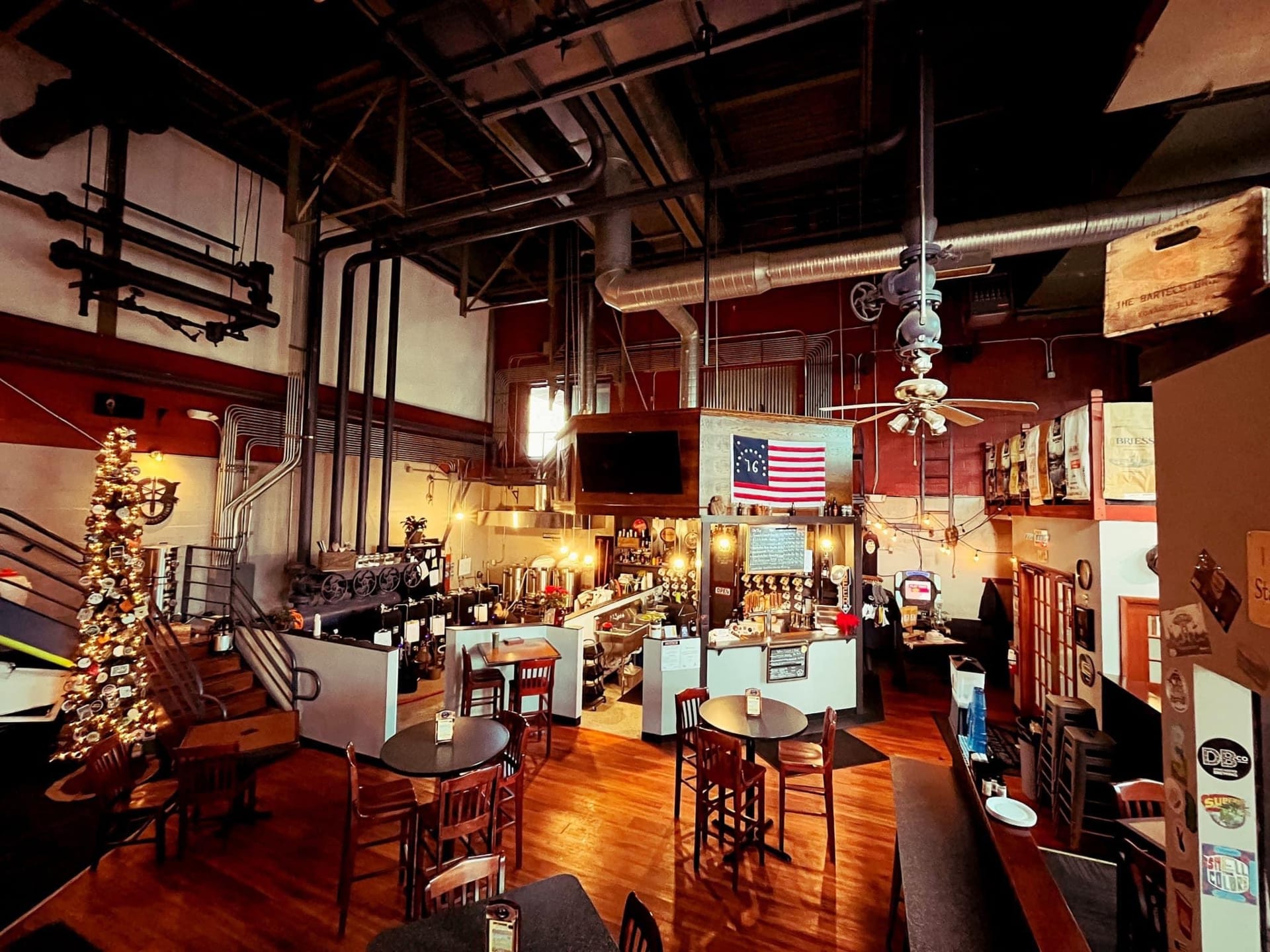 Let's talk about the beer. What's Back Mountain Brewing style? What do you offer on a regular basis?
Clay likes to stay true to style, meaning all of those beers like peanut butter ripple stouts, he's not into those. He doesn't use lactose in any of his beers. We have been branching out a little in terms of fruit beers, but he doesn't want to go overboard. For instance, there is a fan favorite from last summer, where we took a wit beer and put blood orange in it. We called it The Back Mountain Sunset, and everyone was losing their minds over it. It should be back on soon. The seltzer came from customer demand, because you do get people who come in and want to hang out but aren't really beer drinkers. It's plain hard seltzer on tap and we offer eight different flavors that we dose into it. For the beers, though, our most popular are probably Grandad's Cream Ale, a very easy drinker, Old 76 American Stout and the Little Squatchy West Coast IPA.

We have eight brews on tap, and one of those is a hard seltzer. Clay rotates through beers often, so we have something for everyone, from light to hoppy to dark beers. We do have hard cider and a local wine, and pickle shots. We try to stay true to being a brewery, not a bar. There are so many bars, you can go anywhere and get mixed drinks, the beer is what it's about here. That's why we're doing this. We do not can, and we're only a one-barrel system, so sometimes it's hard enough to keep up with our customers. For beer to-go, we sell 32-oz. crowlers and jugs, and we can fill bigger growlers, too.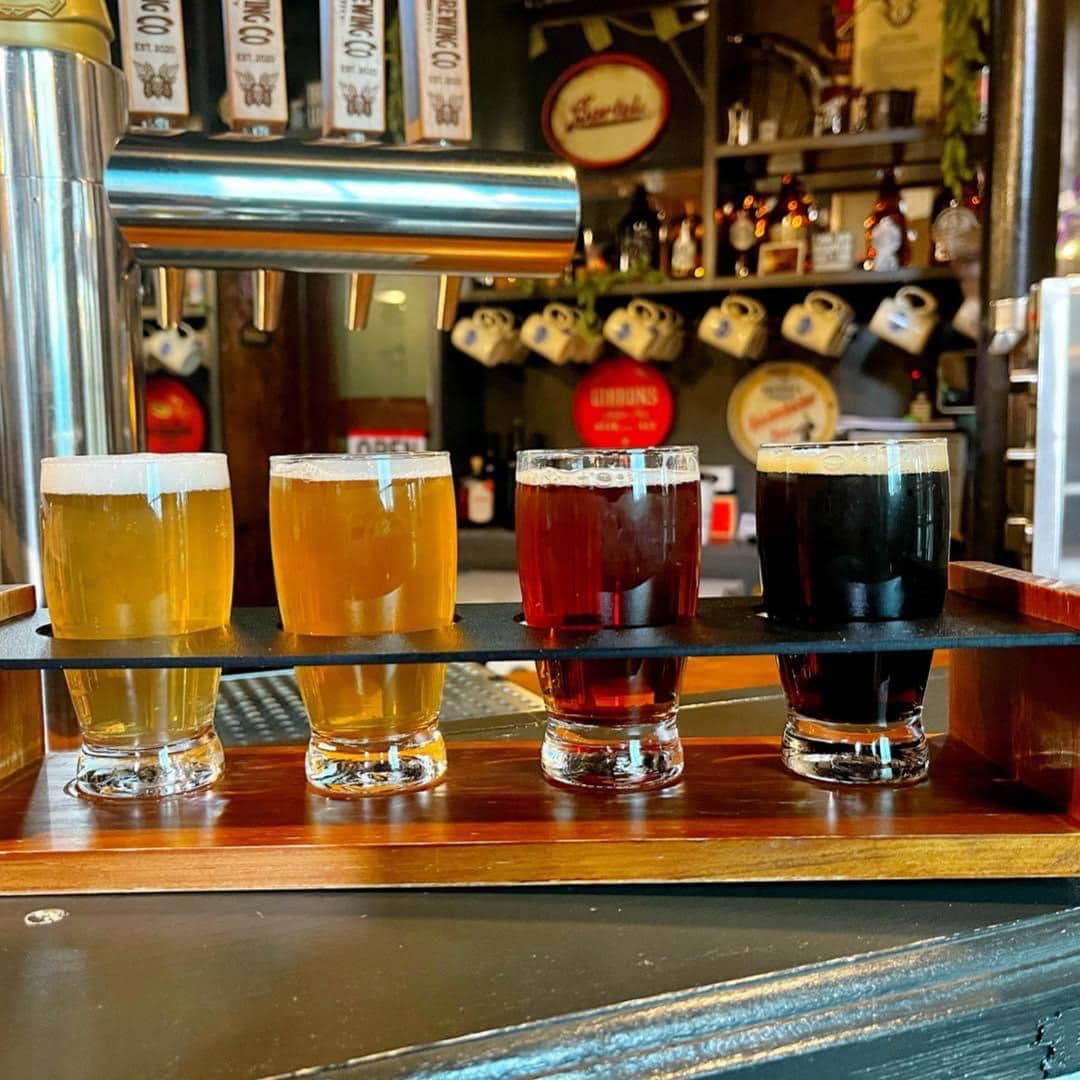 How do you engage with the community in your area?
We try to do events for everyone, and we borrowed some ideas from breweries in Washington. Every Thursday since we first opened, we have been doing Trivia Night run by the same guy. People love it, and everybody knows who he is now! We offer yoga classes every Sunday, and none of the people who regularly come knew each other before, and now they're all super-close, it's so wonderful. Live music is a big thing here, too, we try to do it twice a month right now. We have the space, why not use it? We've done plant-making and jewelry workshops, and things like that. These events help other small businesses get their name out there, and gives people something fun and different to do.
To learn more about Back Mountain Brewing Co., including events and food truck info, visit its website. The taproom is open Thursdays from 3 to 8 p.m., Fridays from 3 to 9 p.m., Saturdays from 2 to 9 p.m., and Sundays from 2 to 7 p.m.
Find Back Mountain Brewing Co. at 1174 Twin Stacks Dr. in Dallas, PA; phone: (570) 310-1387.
Photos:

Back Mountain Brewing Co.