For Alisa Tongg, storyteller, celebrant and founder of the Bacon & Lox Society, some of her best food memories from growing up in Hawaii are going out to a Chinese restaurant after church with her family. Both her grandfather and great grandfather were Chinese, and experiencing this part of her heritage made a huge impact on her. Sitting around the large table, she and her siblings would petition her father about which dishes to order, as the entire meal was served family-style.
"No one got their own plate – it all went to the center of the table," Tongg remembers. "Growing up with that, the generosity of the 12-course family meal, probably contributes to my idealized vision of gatherings. If you ask me what would be my final meal, it would be a Cantonese feast!"
The annual Creek Dinners that Tongg spearheads and helps to organize every summer in Stroudsburg, Pennsylvania, are rooted in those memories of the boisterous family dinners where everyone shared everything. These epic feasts, which literally take place in the middle of a creek, are made possible by the creative community in NEPA (Northeastern PA) of which Tongg is a central figure.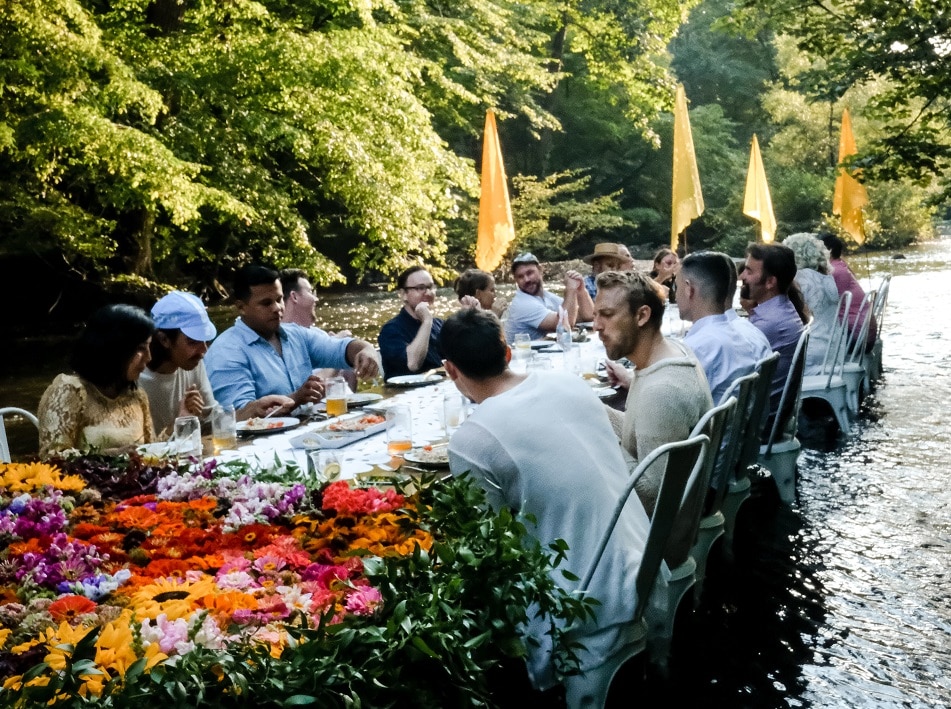 Tongg is a registered celebrant, someone who guides others through life moments and rites of passage, like marriage and funerals, in a spiritual but non-religious manner. In order to get licensed in Pennsylvania, she needs to have an official congregation, and hers is the Bacon & Lox Society. This group is made up of her friends and acquaintances, a group of makers, chefs, photographers, artists and other like-minded folks, many of whom originally met at the Delaware River Food & Wine Festival that Tongg organized in 2008.
Tongg moved to Pennsylvania from Maui in 2005 and fell in love with the Delaware River region. Even as people wondered aloud how she could've relocated to PA from Hawaii, she says she's always felt like this area is a special place, and not like she was living in a "second-best" location. She put the festival together to highlight and celebrate the food artisans and makers that she'd discovered in her new community. She planned four days of 12 not-your-average events, like a woodland hike guided by a naturalist, followed by a chef-made feast of ingredients foraged on the walk.
"I met a lot of chefs and a lot of people who were making things during that time," Tongg says. "But then, the recession kicked in, and it was a really scary time around here, especially for creative businesses."
She put the festival on hold and decided to pursue her career as a celebrant, inspired by trying to imagine how she'd handle her parents' funerals when the time came (she fully admits to being a Type-A personality). In 2012 she became ordained, and in putting her congregation together, saw an opportunity.
"I was thinking about my life growing up in Hawaii with all these different cultures, and the power of the shared table, so I called my congregation the Bacon and Lox Society," she notes. "The mission is to gather different people, and in the process of sharing stories and connections, to create community."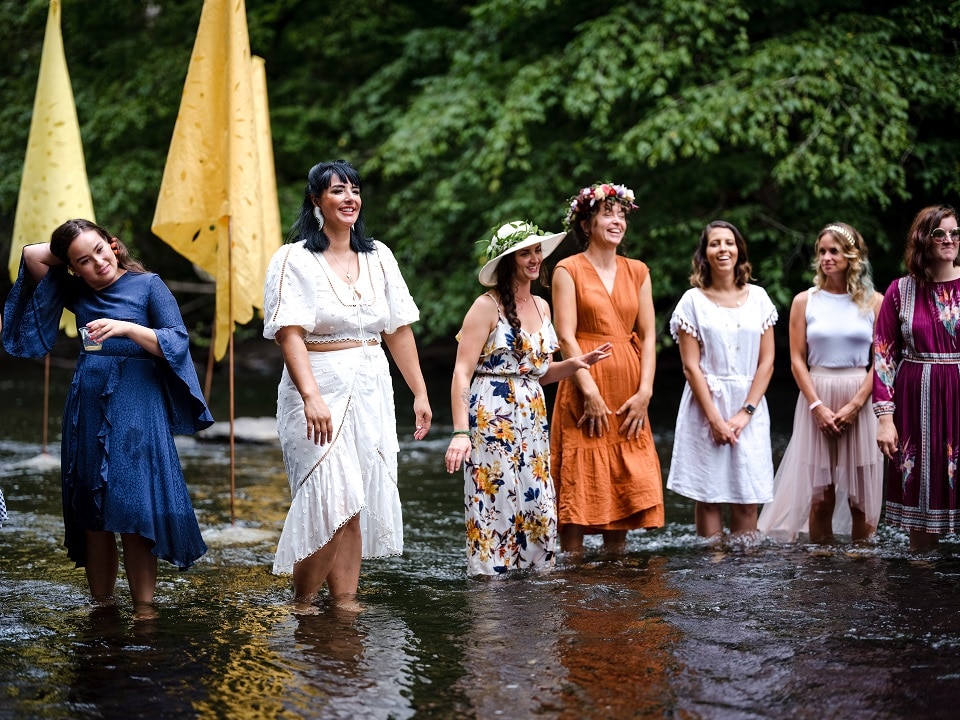 The Society was founded on the friendships that started with the festival, and their main gathering each year is the Full Circle Dinner, which takes place in a creek adjacent to Tongg's property, a venue called Promise Ridge. On July 28, 2019, they celebrated the 4th Annual dinner. Unlike other supper clubs or pop-up dinners, this is not a ticketed event. Each year, the 50-seat table is inhabited by the people who make the dinner happen: florists, event planners, musicians, cooks and other people who often help make weddings and events successful.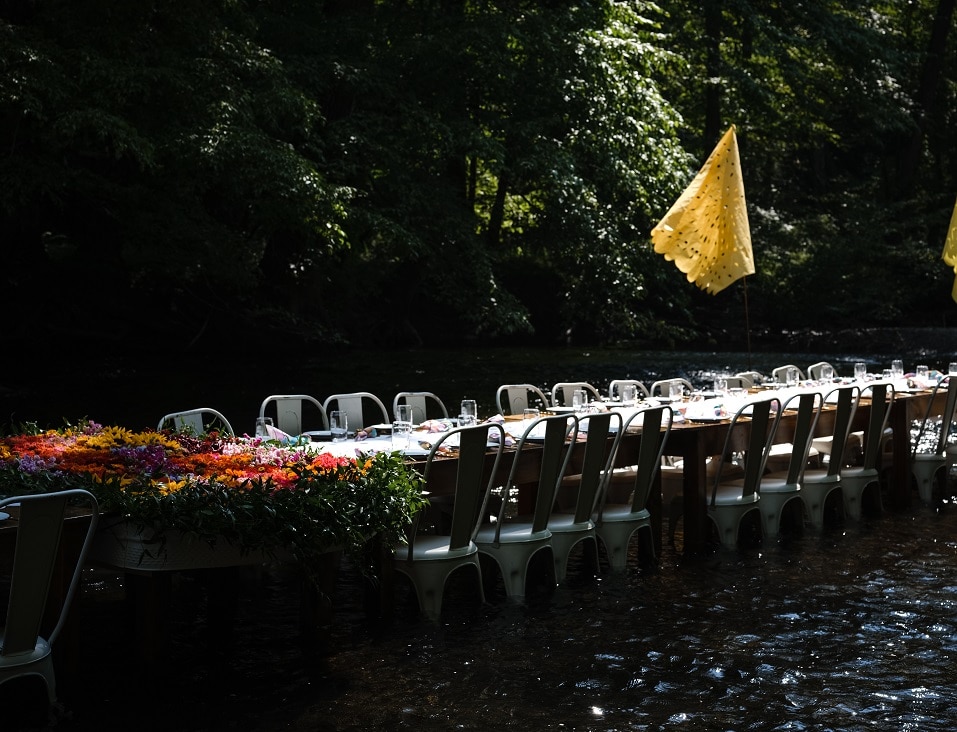 "The chef, and whoever he or she needs to be there, they're attendees. The person bringing the table is sitting at the table. It's the event for people who are always making events for other people," Tongg says. "And because we've brought people into our community who are crazy-good in their fields, when we ask them to bring something, it's always spectacular."
For each dinner, Tongg comes up with a specific, focused message, and this year's was about the responsibility of artists to truly create, to put things out into the world, and then to bear witness to how those things take on new meanings with their audiences. Nicole Hutnyk of Rabbit Rabbit Crew, a Philly-based event and design company, decided that kaleidoscopes would be the visual representation of that process and the theme.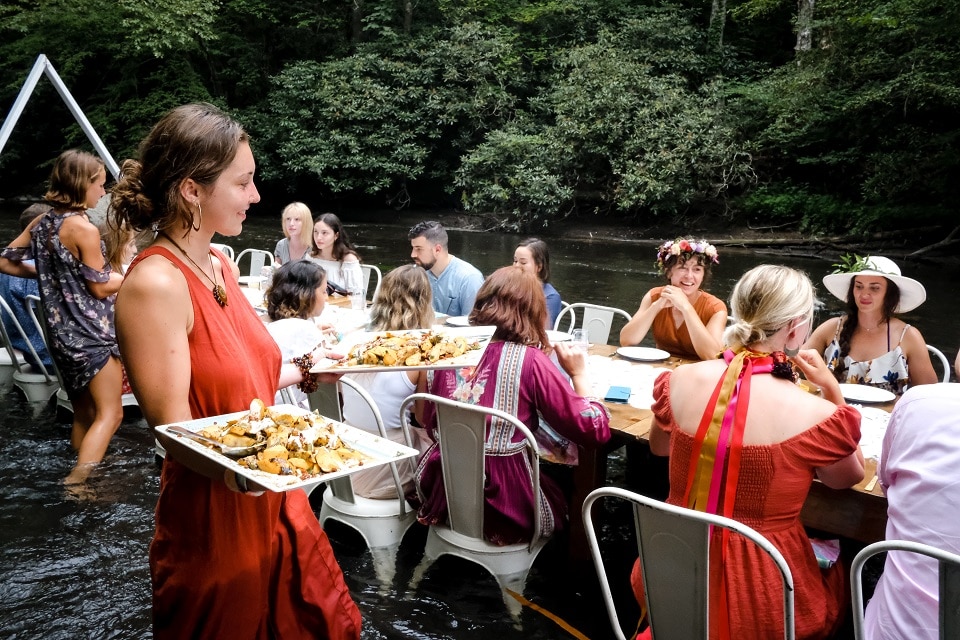 The food at the first few years of Creek Dinners was room temperature picnic-type food, prepared by Tongg and her friends. But for the last two years, she's had Chef Andre de Waal, of Andre's Lakeside Dining in Sparta, New Jersey, on board. This year, he was joined by additional chefs, Mike Carrino and Brandon Grimila (of 403 Broad and Hotel Fauchere in Millford, PA). They decided to have three chefs for the event to go along with the kaleidoscope-theme of the dinner (kaleidoscopes work with the use of three mirrors). To create the menu, the trio played a sort of cheffy version of "pass it on." One chef would start with a vegetable, email that to the next chef, and so on, with each person adding something to the idea in a free form brainstorm session. Then, they divided six dishes up, so each chef would lead in two of the courses.
"I've never heard of chefs giving up power like that, but that's what these dinners are all about, collaborating and working together," says Tongg. "That was a true collaboration-over-competition exercise, which is not normal for chefs, in my experience."
To be able to make hot foods, de Waal procured a small metal rowboat and built a fire in it, over which they grilled trout and other foods.
They also created a floating, 42-inch kaleidoscopic hummus and veggie platter right in the middle of the water for grazing.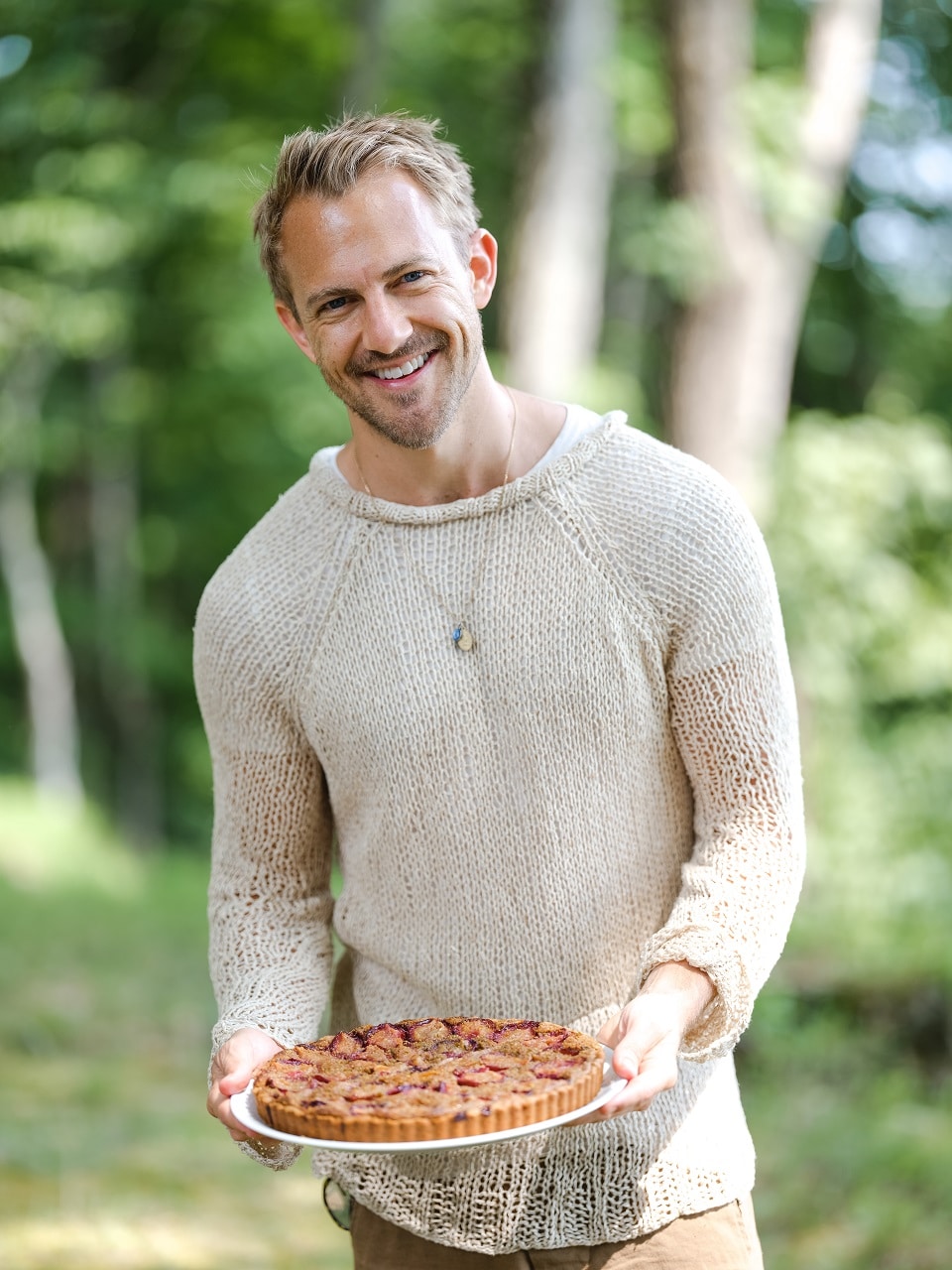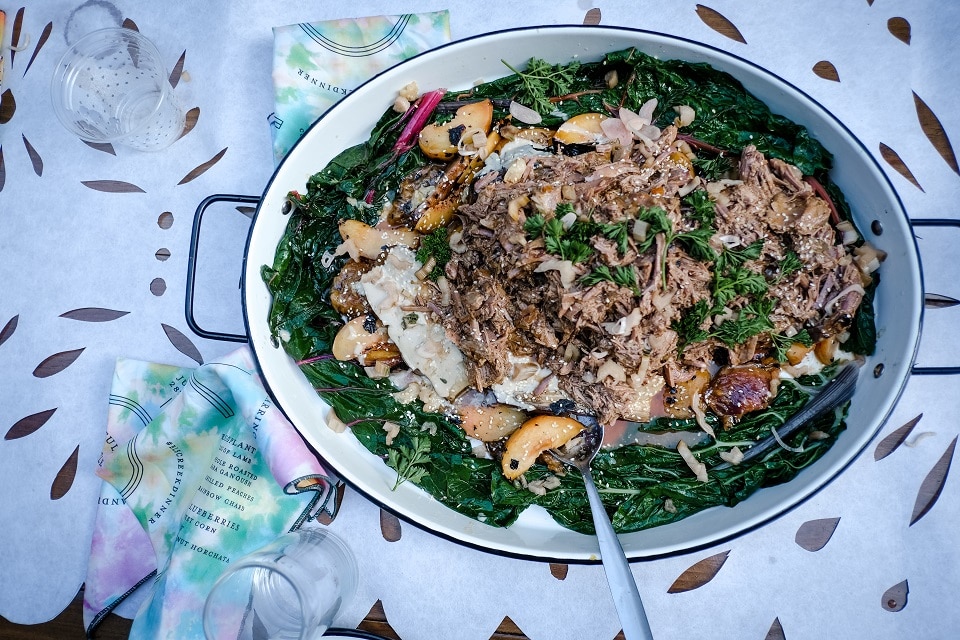 The visual direction, planning and invitation design were contributed by Rabbit Rabbit Crew, and the stunning flower installations were handled by Sarah Petryk of Allium Floral Design & Event Styling in Bethlehem, PA.
Visual artist Karina Puente designed and fabricated the beautiful Papel Picado-inspired flags and tablecloth, which added such dramatic flair to the area of the creek surrounding the table.
Artist Karina Puente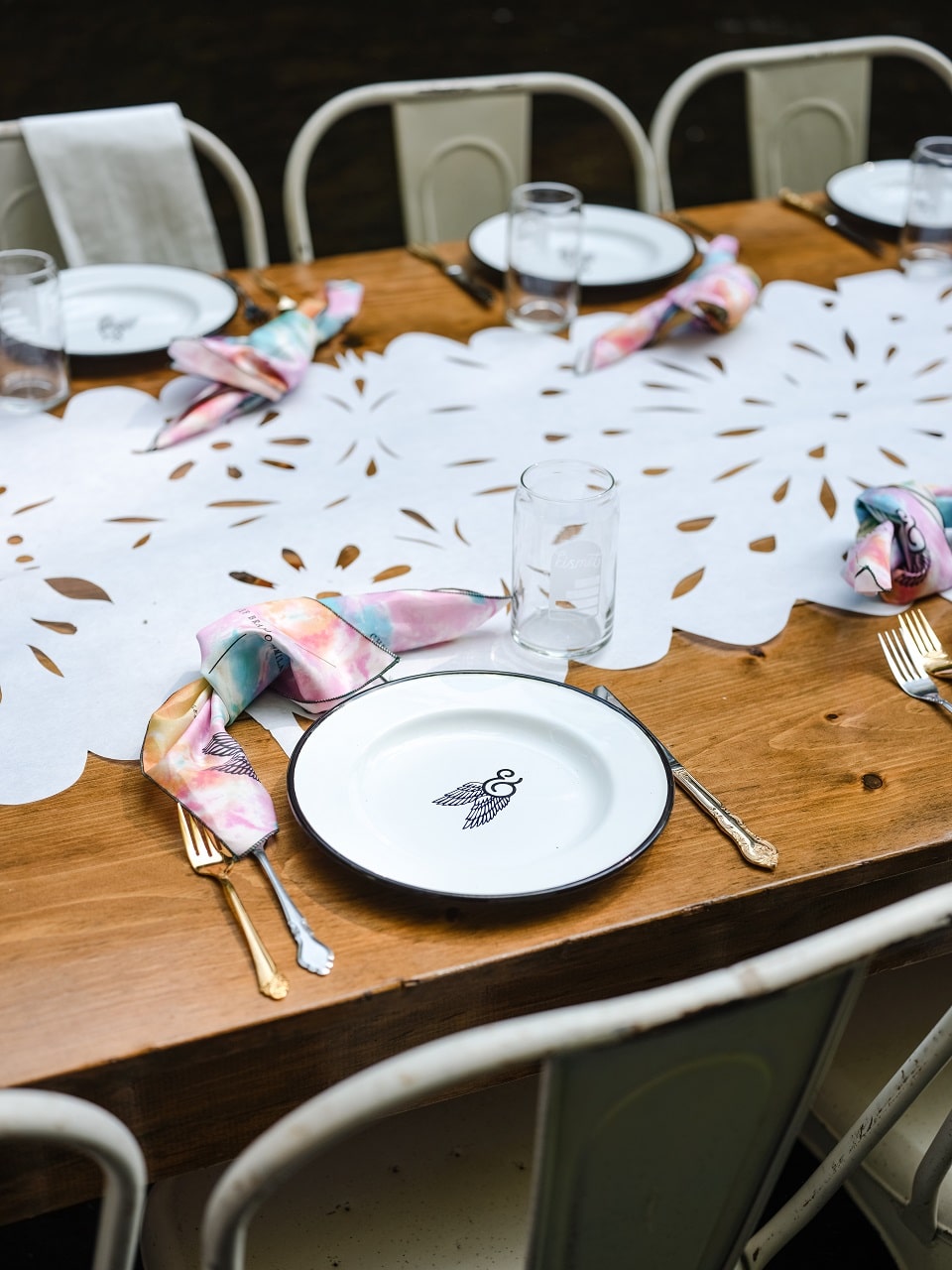 Other local makers involved with the 4th Annual Full Circle Creek Dinner are event photographer Alison Conklin, filmmaker and photographer Christian Lopez, customer builders Abundant Inc., woodworker Hand Sawn LLC,  boutique rentals company Chippy White Table, photographer Rob Yaskovic, Water Portraits, Ken Jones Jr. and Two Paper Dolls, who collaborated on the menu napkins Collaboration, Atomic Cocktail Experiences, Tia Jones of Meraki Beauty, chef Erika Urso of Love Bites, musician Honeywatts, Shawnee Craft Brewery, and local flower growers Periwinkle Flower Farm and Flores Temporis.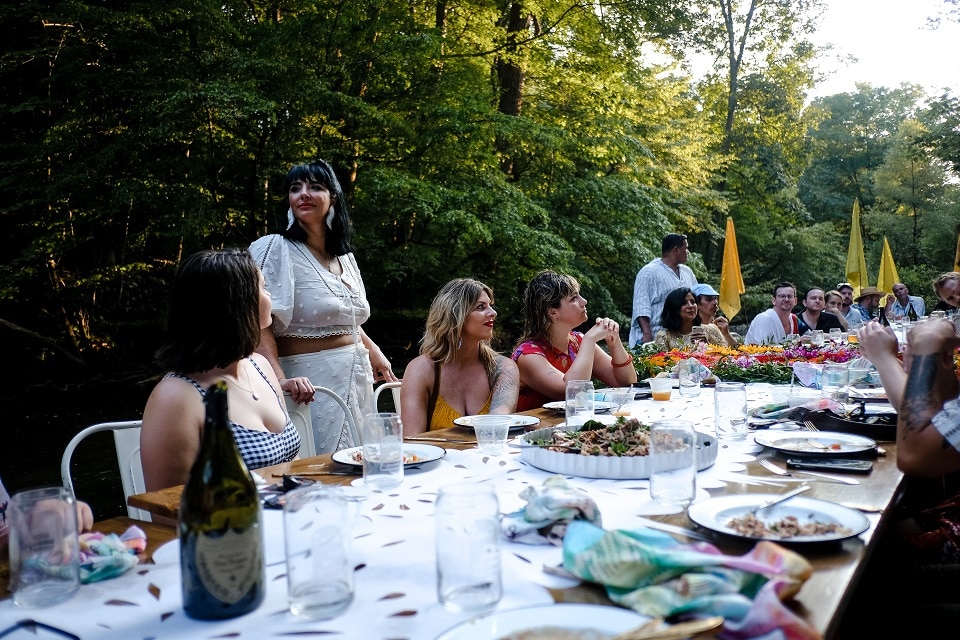 People join the Bacon & Lox Society by being "baptized" in the creek at the end of the dinner, a visually dramatic process documented in water portraits by photographer Rob Yaskovic and filed under the hashtag #blsbaptism on Instagram.
Of course there are challenges that come along with holding a 50-person dinner party in a creek in the middle of the woods: no electricity, no bathrooms and never knowing what the weather is going to do. But Tongg says it's that unpredictability that lends an extra layer of excitement to gathering in nature, and that it helps everyone feel gratitude for the beauty of the part of Pennsylvania where they live. Once the dinner is over, no matter how magical, she says the exhaustion from planning it makes her reluctant to do it again. But soon after the dust has settled, she's back in it, planning again for the year to come.
"As soon as it's over, people who were there are already talking about what we're going to do next year," she says. "The people who come aren't like, 'Wow me,' they're like, 'What can I do to make this amazing?'"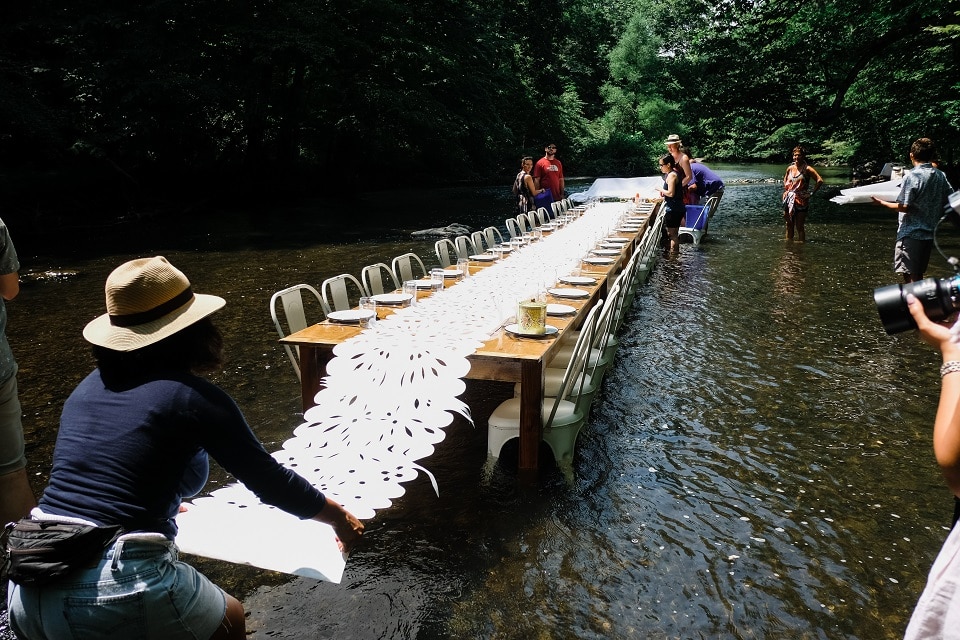 Though there aren't tickets available to these dinners, Tongg notes that she does put out a call for collaborators every year, depending on what the vision is for the next gathering. She says that charging money and packing out the creek with hundreds of people is just not what these dinners are about.
"This event is for artists, for people who usually use all of their creativity for other people … we're challenging them to receive," she says. "I would love it for people to be inspired to make their own gathering like this; who in your life has a table or a little patch of land that you can set up something on?"
For more on the Bacon & Lox Society and its amazing events and gatherings, check out its website and Instagram page.