As part of our Sip + Splash theme, we're introducing you to some of the best local bartenders around. If you know someone we should profile, please let us know at [email protected].
If you've ever been to a good cocktail bar — we're talking good — you know the drill: You scour the menu for the drink that screams out at you, "drink me!" Then, you ask the bartender if that's a good choice, he or she nods approvingly, and then gets down to business. Each ingredient is meticulously added to the shaker. A dash of this, a sprig of that. Maybe there's even a rind that gets burned, or a glass that gets smoked. And the first sip of your completed drink is like no other that came before it.
If you're lucky enough to grab a seat at the bar, you're able to observe this impressive process as each drink order comes up. You watch in awe as the bartender's knowledge and passion gets poured into every drink. Each drink is mixed, muddled or shaken with the patience of a saint, as the bar crowd gets louder and louder as the night progresses.
You may have even experienced that exact evening at the Horse Inn, Lancaster's coolest spot for cocktails, a fresh daily menu and $2 mystery beers pulled out of an old bathtub. And, if you've ever visited the Horse Inn, it's very likely that Ben Hash, bartender extraordinaire, made your drink. He's the one usually sporting suspenders and a smile on his face … unless you order an Orange Crush (more on that later).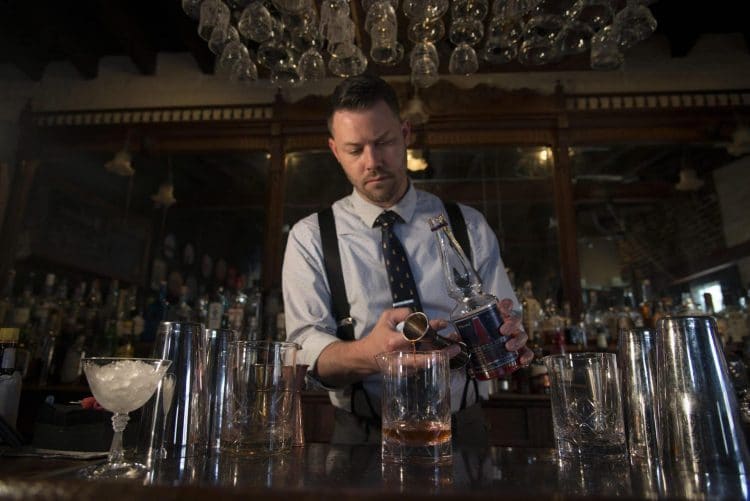 We decided we had to sit down with Hash to get the details on his career, the Horse Inn's bar program and whether he's a strictly-cocktail kind of guy. See what he had to say below!
PA Eats: How long have you been bartending? How did you get into it?
Ben Hash: I'm 33, and have been bartending since I was 20. I've been in food service since I was 13, when I was a dishwasher and prep guy at a local retreat camp. Being homeschooled at the time, I would work the breakfast shift and then ride my bike home to finish my schoolwork. I transitioned to the front-of-house at a bar and grill in West Virginia when the bartender couldn't finish her shift. I came out after working the grill and helped bartend for several hours. When I came back to Pa. later that year, I only applied for bar positions and never looked back.
Is this a stop along your career route or did you fall in love with the bar life?
I know I am tied into the spirit industry for the rest of my life. I hope to own my own bar and restaurant down the road, but haven't closed the door on a distillery either. I am also working on several really neat media collaborations I'm really excited about. More to come there!
How do you think bartending has shifted as a job/career path since the generations that came before you?
People care much more about what they put into their bodies now than they ever have before. With a shift towards local and sustainable food sources and television shows demystifying culinary techniques and the introduction of celebrity chefs, it was only a matter of time before bartenders became absorbed into that culture. Now when people order beverages, they expect that same care and commitment to detail, proper technique and quality ingredients. That expectation is also placed on the bartender, and as such, a respect for our profession and craft has grown, accordingly. It's a good time to be in the industry.
What's one of your favorite things about your job? And one of the hardest or most challenging?
The interaction with people, the creative aspects. That moment when tickets and guests are coming in faster than you can physically manage. There is something amazing about the puzzle of coordinating all the orders, greeting new guests, glassware, checking on someone's food and, of course, the drinks and ingredients themselves. Glassware, ice, garnishes, methods, juice, syrups, bitters, tinctures, tools … it's a maelstrom of intentional madness.
It's a dance we do every night, a balance of a multitude of precarious movements: tapping your bar-mates back as you fly behind them with a glass of wine, flipping a bottle for a smile, blindly reaching behind you for a bottle you know is there. I love the challenge of building rounds of drinks efficiently. Each time you have several cocktails to make at once is a new opportunity to learn, to find new ways to speed up or become more efficient.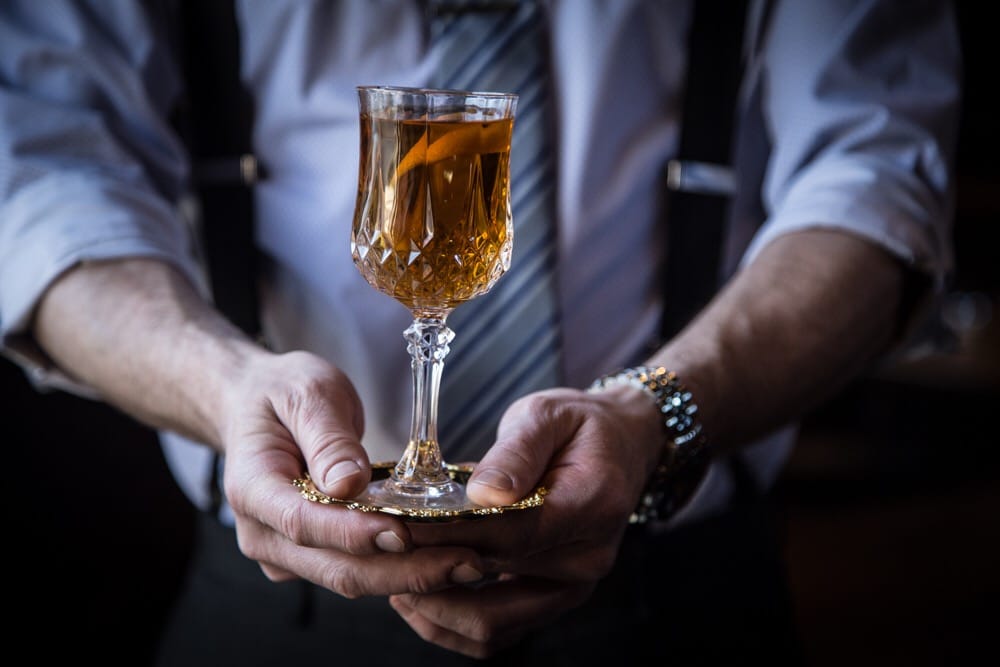 Is it tricky to keep a different schedule than so many other people? How do you deal with that?
It can be difficult. Since people can rarely manipulate their schedules to fit yours, you find yourself often operating on limited sleep. I am fortunate to have two set days off in a row, Sunday and Monday, and this helps immensely. I have a social day and a banking day.
What's your ideal type of customer? What do you wish more people understood about what you do?
Our cocktail menu can be a little daunting. I understand not everyone wants a mixed drink and I also love cheap beer, but we have spent many hours on top of years curating this list. Please ask questions, try something new, get out of your comfort zone.
Also, be polite. We are all here, sharing this space together. Be cordial and patient. It will help your bartender keep everyone's orders in line. A calm bartender is an efficient bartender.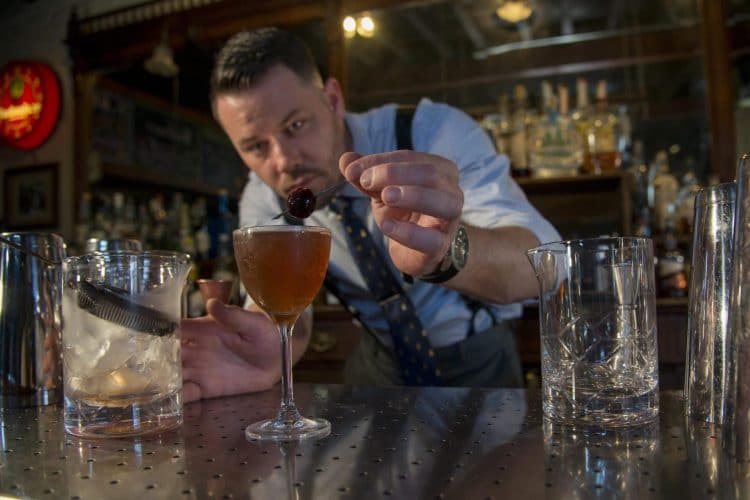 What's your favorite and least favorite drink to make?
I like to mix it up. I enjoy making different drinks each time to help break up my routines. So, my favorite drink to make is the one on the menu I haven't made recently. My least favorite is when someone walks in, shrugs off our menu and asks for an Orange Crush, or a Long Island, something they say they "drink everywhere." We have tons of cool ingredients and cocktails for you to choose from. If you get Orange Crushes everywhere else, let us be the exception.
What's something special about the bar program at the Horse Inn?
It is a seasonal, curated list.  We take great pride in our selection of ingredients and timely preparation of cocktails. We have very specific methods and techniques for each drink, and every bartender knows exactly how to make them the same way. We are ridiculously consistent. We even have specs for more common drinks, like cosmos, margaritas and martinis. They are measured and prepared the same way, despite who your bartender might be.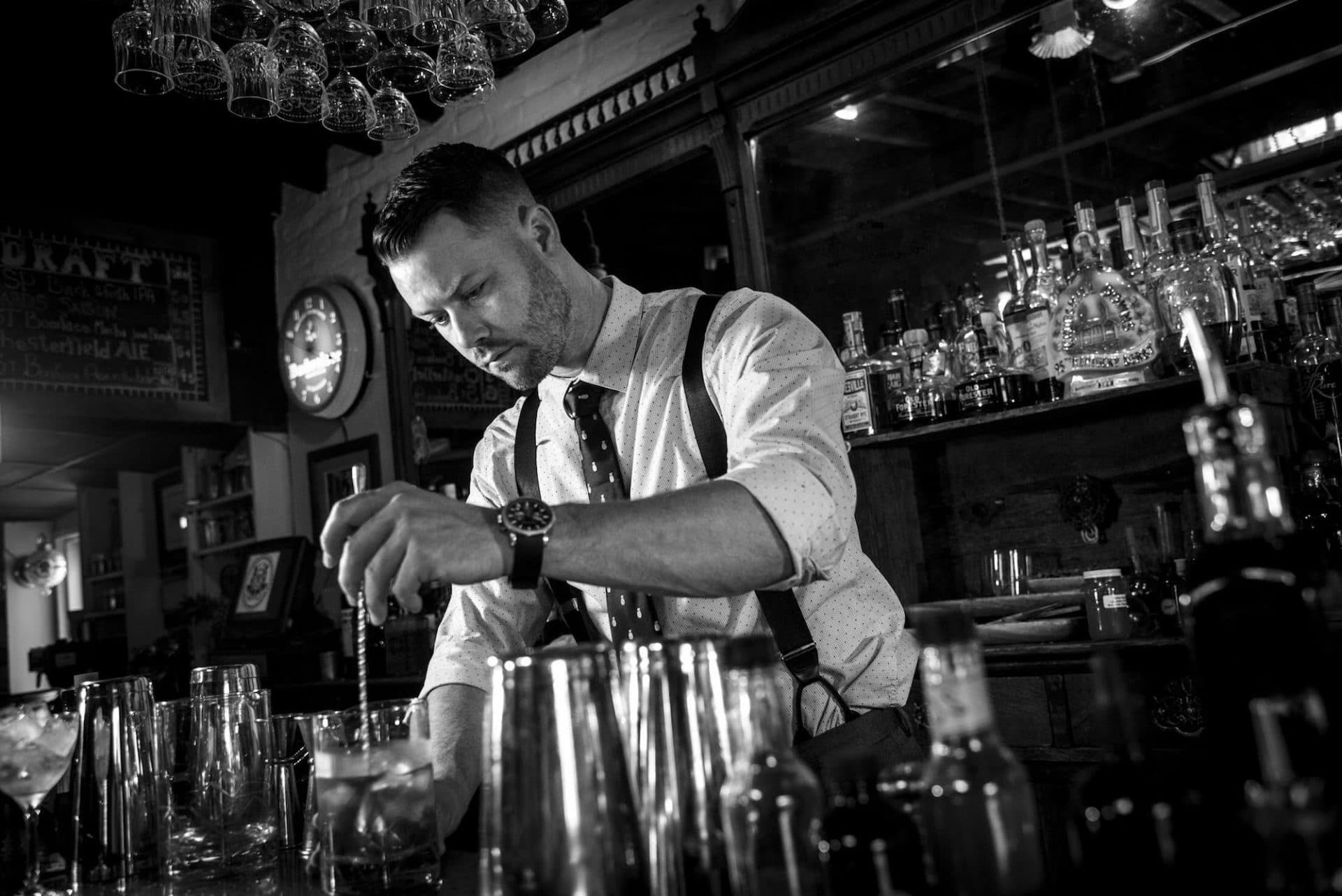 If you had to name your greatest bartending strength, what would it be?
Efficiency, consistency and attention to details. Being able to multitask is crucial, but you have to be able to pause the noise, block out 30 people trying to order a drink, the sound of the printer screaming at you and calmly place two jasmine blossoms on top of a cocktail with a pair of garnishing tongs. Speeding up and slowing down time, without anyone knowing.
Stop into the Horse Inn and get to know Hash and the rest of the team slinging authentic, carefully made cocktails!
Find the Horse Inn at 540 E. Fulton St. in Lancaster; phone: (717) 392-5528.
Photos of Ben Hash:

Jennifer Foster

Cocktail close up photo:

Horse Inn