Every chef has their own journey, leading them from the first glimmer of an idea that a culinary career might be their calling to the moment they take charge of their first professional kitchen. For some, it's following family tradition, and for others, it's breaking away from their parents' expectations or hopes and striking out on their own. Some chefs know, from the time they're wee toddlers, that restaurant life is for them, while others make a mid-career pivot away from the 9-to-5 world and dive into cooking.
For Owen Kolva, the chef at Eagle Tavern & Taproom in Chester Springs, Pa., it all started with his paternal grandmother. Kolva spent a lot of time with her as a kid at her home in Chester County, and together they'd make things, like Sunday breakfast and holiday cookies at Christmas time.
The appreciation for scratch-cooking is woven into Kolva's childhood memories, a feeling that, once it took root, has never left him.
"From a very young age, like seven or eight, I can remember a strong pull toward food," he says. "When other kids were watching Saturday morning cartoons, I was watching Great Chefs of the World, Frugal Gourmet, Julia Child … all those public-access cooking shows in the mid-'80s."
As a teenager, Kolva would read through cookbooks instead of novels or comics and, at age 14, he decided he wanted to be a cook when he grew up.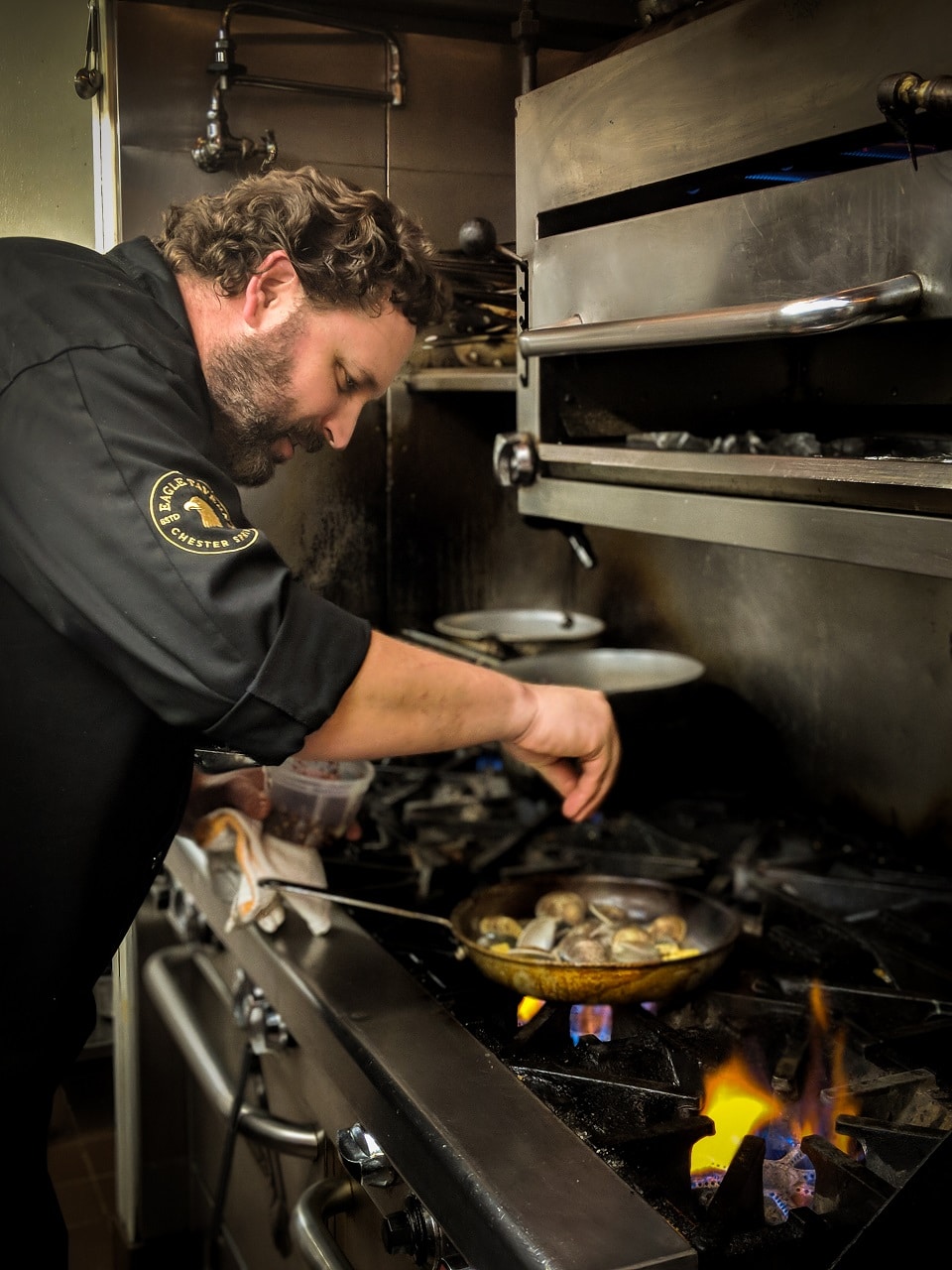 "I knew I didn't want to be one of the 'regular' jobs, like doctor or lawyer … I liked working with my hands," he says.
Kolva attended high school in Mohnton, Pa. (about 15 minutes outside Reading in Berks County), and through a family friend, his dad helped him get a job as a dishwasher on evenings and weekends at the Green Hill Inn.
"[It was the first place] I encountered the family team environment, and I was drawn to being part of a group," Kolva says. "I started busting suds, and as I was washing dishes, I weaseled my way into prep tasks, like peeling garlic, shrimp and onions."
By the time he graduated from high school, he'd been promoted to a line cook and his dad encouraged him to apply to culinary school. He got into the prestigious Culinary Institute of America (CIA) in Hyde Park, New York, in the baking and pastry arts program.
During his time at the CIA, Kolva landed an externship at Marcus Samuelsson's super-hyped Nordic restaurant, Aquavit, in Manhattan.
"That was a grueling experience," he recalls. "For six months, I worked 100 hours a week, experienced the cutthroat side of the industry …. at a top-10 restaurant in NYC."
After school, Kolva moved back to Berks County and gigged around at a couple of restaurants before making the move to Chester County in 2002 and he worked in the kitchens of community institutions, like The Whip Tavern and Chadds Ford Tavern.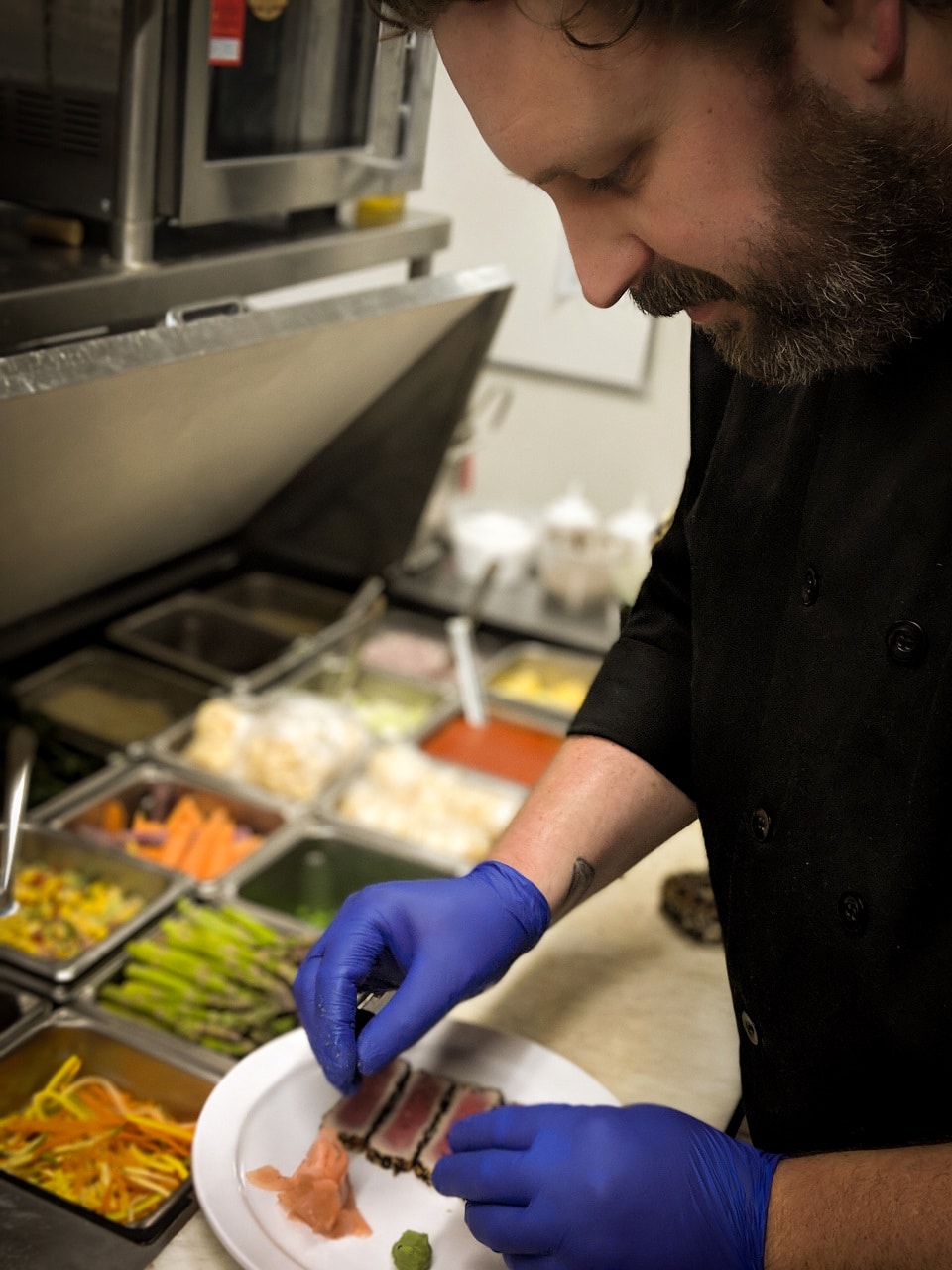 "I think food is art, and what better art is there? You get to make people happy," Kolva says. "That, plus the fast-paced environment and the team, and you never stop learning and creating."
After moving back to Pennsylvania in 2011, Kolva worked as a chef at Victory Brewing Company, where he met Matt Krueger. Though they both ended up leaving Victory at different times, their paths fortuitously crossed again last year.  
"We always knew they would," Kolva says. "Last fall, he called me about working at the Eagle Tavern. This is a Chester County landmark … it's got great potential and I wanted the challenge."
Krueger took over the space at the end of 2017, and was looking for a candidate to head up the kitchen.
"I knew that I needed to find a chef that had the right demeanor and skill set to make the Tavern both edgy and cultured," Krueger says. "I found that Chef Owen was not only available, but interested … a tour, a long conversation about the vision and a couple of beers later, and I knew that we were going to build something special here. His food has always impressed me; it is simple yet refined and always absolutely delicious."
Since re-opening the Eagle Tavern & Taproom in January of 2018, Chef Kolva has managed the precarious task of blending the classic tavern fare, so beloved by the restaurant's inherited regulars, with updates to the menu that represent his culinary voice.
"I want to respect the history," he notes. "I knew there was some classic stuff I had to have on the menu to keep the tavern feel …  I had to keep snapper soup — that's quintessential Chester County, very local — lobster bisque, steak frites, crab cakes, things like that."
Some of those changes are modern additions, like a house-made pickle board with five varieties of pickles, like a classic bread and butter, spicy carrots, pickled okra, anise fennel cauliflower and sweet PA-Dutch beet pickles. Other dishes like burrata with tomatoes and olive oil, a vegan cauliflower "steak" entree, and seared yellowfish tuna with a miso emulsion, pickled ginger and microgreens, all reflect a new wave of "bar food" that prizes freshness and creativity.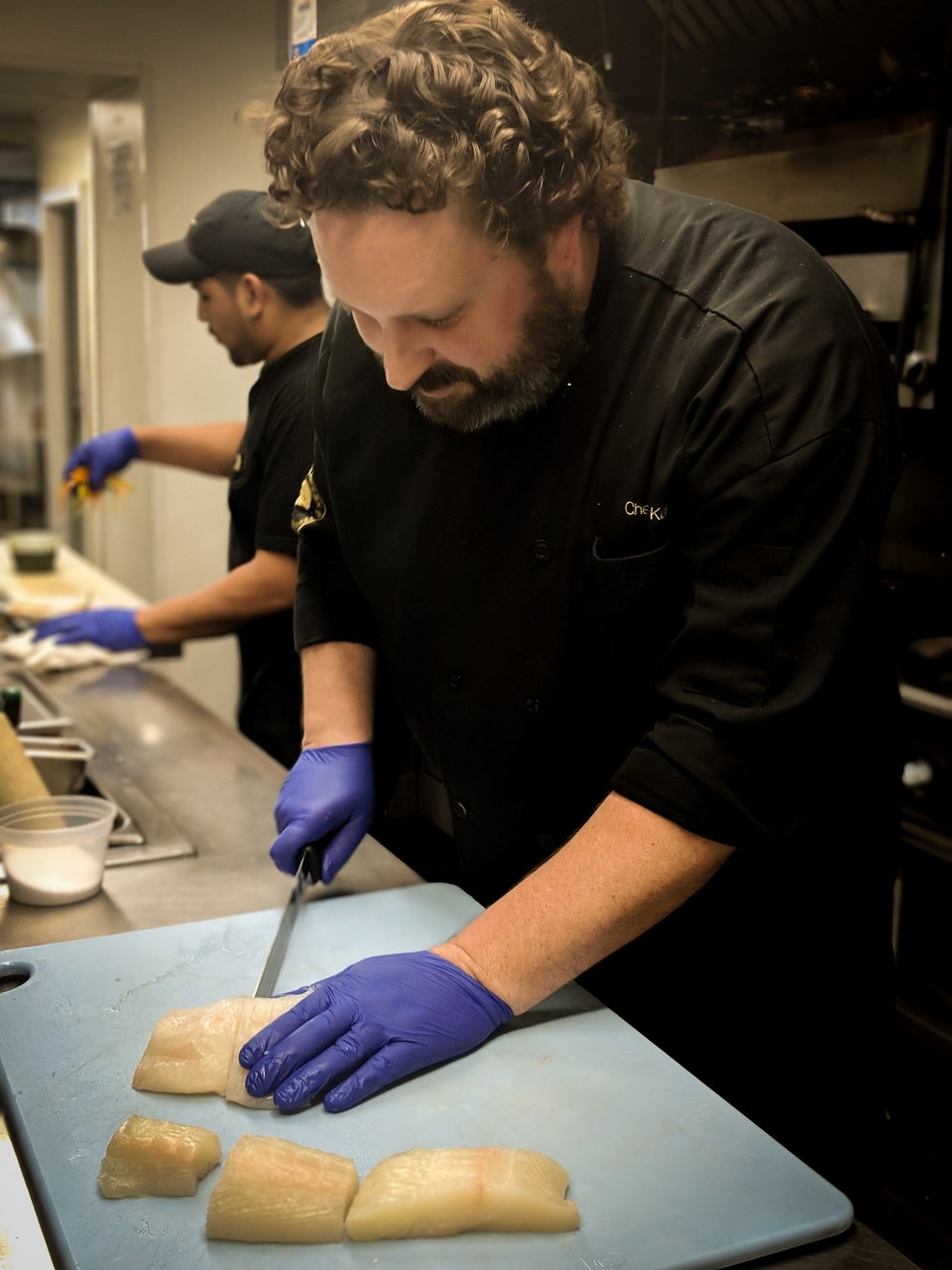 "The menu is my way of expressing myself," Kolva says. "For me, scratch-made is what I believe in … little details can set apart good from great. Whether it's chicken wings or a $40 steak, I try to instill in my staff to do things with integrity."
All of his soups are made from scratch, fresh beef is ground and formed into patties for burgers, the fries are fresh-cut, rinsed and double-fried, Belgian-style, and every dessert, including the wildly popular creme brulee, are made in-house.
Krueger praises Kolva's expertise and dedication in the kitchen.
"Owen brings a calm, yet passionate, force to running the kitchen," he says. "His encyclopedic knowledge of food history and preparation is a joy to be around. And, the bonus is that we have been and are still great friends!"
Though Kolva's commitment runs deep, he's not so rigid that he's opposed to making changes and being open to customer feedback.
In a place as steeped in history and a part of so many peoples' lives as the Eagle Tavern, trying to usher in change and updates can be a challenge. But, under Chef Kolva's direction, the kitchen is perfectly executing a balance of old and new, familiar and adventurous, comforting and creative.
Find the Eagle Tavern & Taproom at 123 Pottstown Pike in Chester Springs; phone: (610) 458-5331.