Even though the holidays provide so many opportunities to socialize at home and work, there's still something magical about bundling up and heading out into the frosty air and going to a local bar or restaurant. It's nothing new that shops, gathering places and restaurants decorate for the winter holidays, but in the past few years, a new trend has been emerging that's even more festive: Christmas-themed bars. Forget a string of lights and a wreath or two, and imagine a self-contained little world of holiday splendor, with good tidings and cheer covering every available surface, plus the soundtrack, cozy drinks and indulgent bites to match.
Here are nine Christmas-themed bars in Pennsylvania to check out this holiday season:
Tinsel (Philadelphia)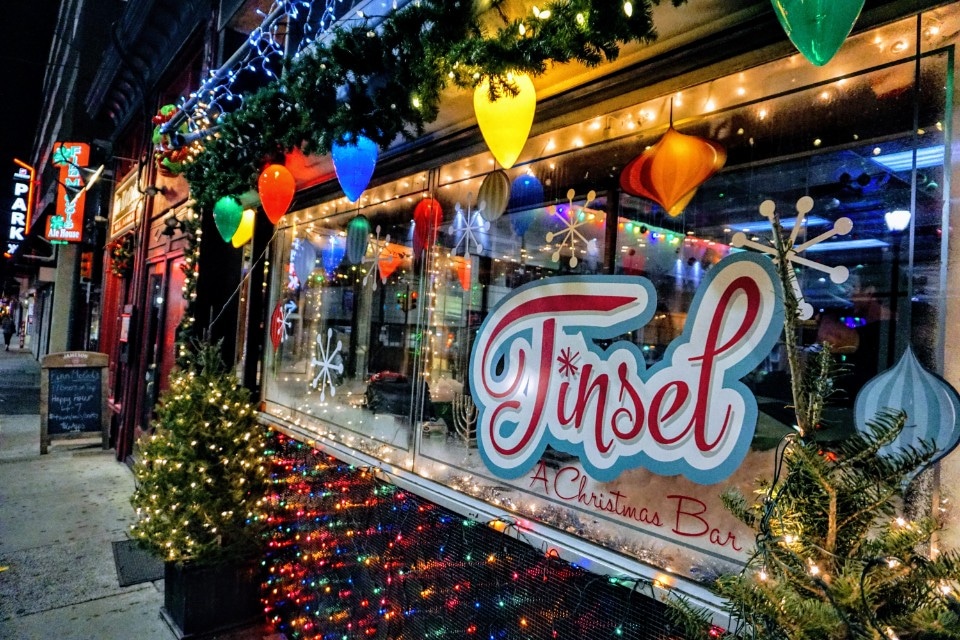 Tucked inside a 100-year-old former jewelry shop in Philadelphia's Midtown Village neighborhood, find Tinsel, a kitschy charming pop-up concept that runs from early December through New Year's Day. The interior is awash with twinkly lights, wrapped gifts, ornaments and retro decor, and there's plenty to sip on, like thematic drinks (think Deck the Halls with blood orange gin and St. Germain), eggnog, warm cocktails, beer and cider.
Frequently packed with locals and tourists enjoying the spirit of things, it's proven to be a huge hit in the city! After briefly changing to a Halloween-themed bar in October (The Nightmare Before Tinsel), Tinsel is back and better than ever, and now in its third year, with an expanded schedule, including more days of the week and longer hours of operation. A portion of sales will also be donated to Manna, which we love. The space is pretty tiny, though, so we imagine it will be just as jumping as ever this year — bundle up because there might be a line to get in! 116 S 12th St., Philadelphia; (215) 397-3308.
Miracle at ITV
Top Chef Nicholas Elmi's sleek cocktail bar, ITV, will once again transform into a cheery, wintry wonderland this year, called Miracle at ITV. Miracle is a pop-up bar group that benefits a number of charities, with over 100 locations in the United States. The location at ITV is the only one in Philadelphia! The usually demure space is festooned with vintage Christmas decorations, including garlands, lights and ribbons, featuring a holiday soundtrack on repeat, and plenty of holiday cocktails, such as the Snowball Old Fashioned and the Run Run Rudolph. This year, Elmi's neighboring high-end BYOB will be in on the fun, turning its outdoor garden into an equally festive gathering place, complete with flannel blankets, firepits and string lights. 1615 E. Passyunk Ave., Philadelphia; (267) 858-0669.
To celebrate the impending holidays, Farmer's Keep, a casual bistro in Center City Philadelphia, is giving its new, heated rooftop lounge a Yuletide makeover as a pop-up bar called the 12 Days of Christmas, with weekend hours from the end of November through December 29 (Farmer's Keep is usually closed on Saturday and Sunday). There are plenty of special tipples to enjoy, like Naughty and Nice Shots, and a Red Bull and vodka number called Santa's Sack. This rooftop escape, complete with Christmas trees and twinkly lights, sounds like the perfect escape from cold weather forays in the city. 12 S. 20th St., (215) 309-2928
Yule Lodge at Butcher's Bar (Philadelphia)
Butchers Bar, a bi-level restaurant in Center City specializing in meat and comfort food, is going for its own holiday vibe with Yule Lodge, a temporary space in its enclosed back patio. The aesthetic is less "Christmas explosion" and more "cozy cabin," with a real fireplace, plenty of evergreen plant life, and fur-covered stools. Butcher Bar's whiskey program is the perfect fit in the Yule Lodge, with drinks like the Smoked Black Cherry Manhattan, and eggnog in a Moose-shaped glass that you might recognize from a certain classic holiday movie. 2034 Chestnut St., Philadelphia; (215) 563-6328.
This year, the charming town of Media in Delaware County welcomes its first Christmas pop-up bar, Jingle on State! Nestled inside Diego's Cantina, a lively Mexican restaurant and tequila bar. The already-cozy space inside Diego's has been holiday-ified with tons of lights, and the bar's exterior is home to a Christmas, tree, Santa's chair and a mailbox for mailing those wish lists to Old St. Nick. Once you've snapped the requisite Instagram shot outside, head to the bar for a special cocktail, like spiced cranberry margaritas. Pro tip: Diego's kitchen is open til midnight on Friday and Saturday for your late-night cravings! 214 West State St., Media; (484) 442-8741
Chrismukkah Galley is a new pop-up concept in Pittsburgh's Bakery Square that promises cozy times and great drinks, all for a good cause. The inclusive space, run by the Galley Group (the team behind Smallman Galley, Federal Galley and other projects) is slinging clever seasonal cocktails, like the Man, Oh Manischewitz and the Krampus Knows When You Are Sleeping, as well as three rotating draft beers, plus hard seltzers and craft spirits. Half of Chrismukkah Galley's proceeds will be donated to Tree of Life and East Liberty Presbyterian Church. The bar's hours are Wednesday through Sunday, from 5 p.m. to midnight, from November 20 through December 30. 19 Bakery Square Blvd., Pittsburgh; no phone
The Miracle group of pop-up bars has settled in Pittsburgh, too, with two locations: Miracle on Liberty (at The Warren Bar) and Miracle on Carson (at Lava Lounge). Last year, Miracle on Liberty raised over $35,000 for charity, and this year, hopes to raise even more for the Alexis Joy Foundation and 412 Food Rescue. Both Pittsburgh Miracle bars are everything you could hope for from a holiday-themed drinking experience: shiny tinsel and lights everywhere, hundreds of ornaments, cups of cheer served in kitschy glassware, plus events like the world's largest ugly Christmas sweater party. 245 7th St., Pittsburgh; (412) 201-5888; 2204 E. Carson St., Pittsburgh; (412) 431-5282
Where are your favorite spots in PA to enjoy holiday cheer with a drink in hand? Let us know here or on the PA Eats Facebook page!
Feature photo:

Kory Aversa