Even though the holidays provide so many opportunities to socialize at home and work, there's still something magical about bundling up and heading out into the frosty air and going to a local bar or restaurant. It's nothing new that shops, gathering places and restaurants decorate for the winter holidays, but in the past few years, a new trend has been emerging that's even more festive: Christmas-themed bars.
Forget a string of lights and a wreath or two, and imagine a self-contained little world of holiday splendor, with good tidings and cheer covering every available surface, plus the soundtrack, cozy drinks and indulgent bites to match.
Here are eight Christmas-themed bars in Pennsylvania to check out this holiday season:
Tinsel (Philadelphia)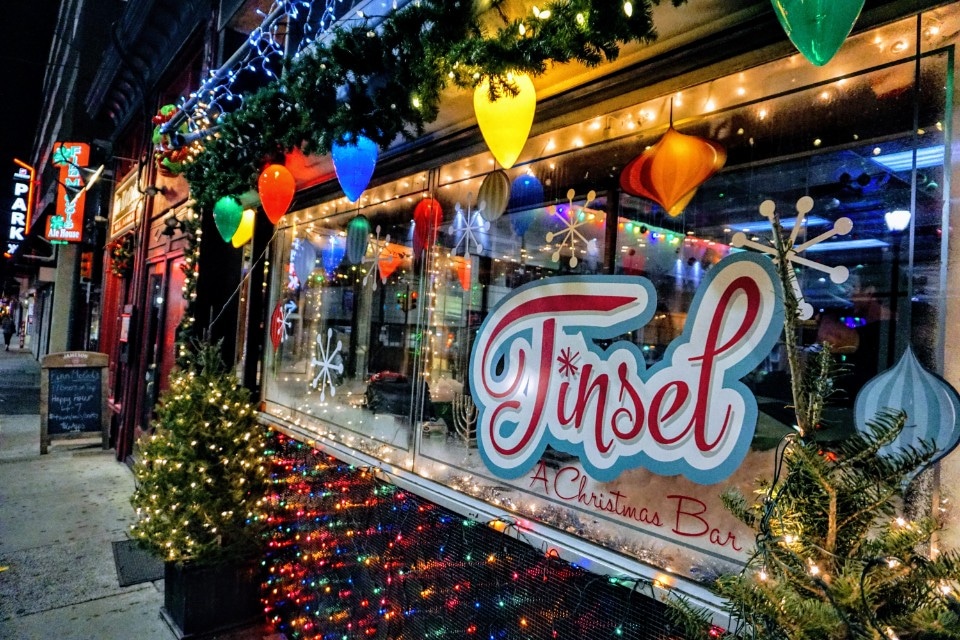 Tucked inside a 100-year-old former jewelry shop in Philadelphia's Midtown Village neighborhood, find Tinsel, a kitschy charming pop-up concept that runs from early December through New Year's Day. The interior is awash with thousands twinkly lights, yards of tinsel, art installations, hundreds of ornaments and hanging presents, a light show, retro decor and more! Of course, there's plenty to sip on, like thematic drinks (like the Tinsel Snowglobe, with vodka, maple, lemon, ginger ale and tapioca balls), eggnog, warm cocktails, beer and cider. There's also a Canned for Good cocktail, from which a portion of sales will be donated to Manna, which we love.
Frequently packed with locals and tourists enjoying the spirit of things, it's proven to be a huge hit year after year! After briefly changing to a Halloween-themed bar in October (The Nightmare Before Tinsel), Tinsel delivers maximum holiday vibes, open every single day with no cover charge except after 8 p.m. on Friday and Saturday nights (it's $5 to get in then). The space is pretty tiny, though, so we imagine it will be just as jumping as ever this year — bundle up because there might be a line to get in! 116 S. 12th St., Philadelphia; (215) 397-3308.
Not far from Tinsel, find the equally-festive Christmas pop-up in Craftsman Row, a comfy saloon in Jeweler's Row. The decorations are top-notch, with tons of lights, garlands, ornaments and Santa hats, as are the boozy offerings! In fact, there's an entire section of the beverage menu dedicated to holiday cocktails, including a Gingerbread Margarita, the Ornamentini (yes, served in an actual ornament) and a rum-spiked coquito dubbed 100% That Grinch. This spot is also known for its over-the-top milkshakes, and has three on offer during December with all the jingle bells and whistles, like the Pumpkin' to Talk About shake that's garnished with an entire piece of pumpkin pie. There are food specials, as well, including a Christmas Dinner Burger with two smashed patties, stuffing, cranberry sauce, sweet potato fries and cheese on Martin's potato roll and a charming Pigs in a Blanket Wreath.
Craftsman Row Saloon is open every day but Monday; unlike many pop-ups, it does take reservations, so grab your spot in advance to avoid waiting for a seat! 112 S. 8th St., Philadelphia; (215) 923-0123.
Yule Lodge at Butcher's Bar (Philadelphia)
Butchers Bar, a bi-level restaurant in Center City specializing in meat and comfort food, carves out its own holiday nook, Yule Lodge, a temporary space in its enclosed back patio. The aesthetic is less "Christmas explosion" and more "cozy cabin," with a real fireplace, plenty of evergreen plant life and fur-covered stools. Butcher Bar's whiskey program is the perfect fit in the Yule Lodge, with drinks like the Smoked Black Cherry Manhattan, and eggnog in a Moose-shaped glass that you might recognize from a certain classic holiday movie. 2034 Chestnut St., Philadelphia; (215) 563-6328.
What started as a premier outdoor hang in Center City Philly has now transitioned to a winter wonderland! Throughout November and December Uptown Beer Garden is U-Ville, a Seuss-ian Christmas bar with Grinch-inspired decor and holiday cocktails. There are plenty of amazing photos ops with a Christmas tree, Grinch-shaped neon, a light tunnel and more! This is an outdoor bar with heat, but it does get cold, so plan ahead and bundle up! U-Ville's central location means that it's right across from Love Park and City Hall, where there are plenty more Christmas festivities to be enjoyed. 1500 JFK Blvd., Philadelphia; (267) 639-4493.
Senor Grinch's at Taqueria Amour (Manayunk)
From November 17 through January 2, this popular Mexican restaurant on Main Street in Manayunk gets a holiday makeover and becomes Senor Grinch's. The entire exterior of the building is decked out with lights, and in dining room and bar are all aglow with more lights, a video fireplace, hanging ornaments and candy canes, tinsel trees and plenty of nods to iconic holiday pop culture moments, like Home Alone, National Lampoon's Christmas Vacation, Rudolph the Red Nosed Reindeer and, of course, Dr. Seuss's Grinch. Try one of the thematic cocktails from the special holiday menu, like the Bad Santa (a tiki number with light and dark rum with triple sec, orgeat and lime) and the Dreidel, Dreidel, Dreidel (an allspice pineapple marg with blue curacao). 4410 Main St., Philadelphia; (267) 331-5874. 
The charming town of Media in Delaware County now has its own Christmas pop-up bar, Jingle on State! Nestled inside Diego's Cantina, a lively Mexican restaurant and tequila bar. The already-cozy space inside Diego's has been holiday-ified with tons of lights, and the bar's exterior is home to a Christmas, tree, Santa's chair and a mailbox for mailing those wish lists to Old St. Nick. Once you've snapped the requisite Instagram shot outside, head to the bar for a special cocktail, like spiced cranberry margaritas. Pro tip: Diego's kitchen is open til midnight on Friday and Saturday for your late-night cravings! 214 West State St., Media; (484) 442-8741
Cousin Eddie's Christmas Pop-Up Bar at Barcadia (Pittsburgh)
This pop-up answers the question: how do you make an arcade bar even more fun? Barcadia is a new-ish bar above The Market Exchange, a high-end American Southern comfort food restaurant in downtown Pittsburgh. Throughout December, Barcadia gets into the holiday spirit by transforming into Cousin Eddie's Christmas Pop-Up Bar (inspired by the character from National Lampoon's Christmas Vacation)! There are decorations galore, specialty cocktails, and a charitable component, with proceeds benefiting Children's Hospital of Pittsburgh, the Ryan Shazier Fund and Pittsburgh Penguins Foundation. It's open seven days a week, and children are welcome before 6 p.m. 25 Market Square, Pittsburgh; (412) 586-7440.
For years, the international Miracle group of pop-up bars has been wowing guests in Pittsburgh, and this year it's back with an even bigger location: Miracle on 6th! Managed by The Warren Bar) this all-Christmas-everything pop-up benefits Alexis Joy Foundation and 412 Food Rescue. Miracle on 6th is everything you could hope for from a holiday-themed drinking experience: shiny tinsel and lights everywhere, hundreds of ornaments, cups of cheer served in kitschy glassware, plus events like the world's largest ugly Christmas sweater party. There is also a private party room where you can host the cocktail soiree of your dreams! 137 6th St., Pittsburgh; (412) 431-5282
Where are your favorite spots in PA to enjoy holiday cheer with a drink in hand? Let us know here or on the PA Eats Facebook page!
Feature photo:

Kory Aversa