Nearly every town and city in Pennsylvania holds its own annual holiday traditions, from tree-lighting ceremonies, to caroling-and-cookie socials, to incredible Christmas villages bursting with crafts, cocktails and cheer. Here are six places in the Commonwealth where that holiday spirit glows extra-bright each year.
Bethlehem
Not only does this sweet, historic city in the Lehigh Valley have a very Christmas-y name, it's one of the premier holiday destinations in the state. Founded in 1741 by the Moravian Count Nicholas Ludwig von Zinzendorf, Bethlehem was deemed "Christmas City, USA" in 1937. It takes this title seriously, with holiday fun taking place each year from mid-November through mid-January — yes, that's over two months of celebrations!
Don't miss:
Trees: The Bethlehem Garden Club decorates a number of stunning trees, and a huge tree, which is lit each year by the mayor, stands at Payrow Plaza.
Shopping: The annual Christkindlmarkt at the Steel Stacks offers over 150 artisan vendors, visits from Jolly St. Nick, ice sculptures, live music and so much more.
Carriage rides: Take in all the sparkle and splendor of Bethlehem at Christmas time from a horse-drawn carriage! This is a charming, cozy way to explore the downtown area of town.
Where to eat:
Stop into Bolete, housed in a quaint former Stagecoach Inn, for creative, chef-driven New American cuisine. Bolete also features a deep wine list. 1740 Seidersville Rd., Bethlehem; (610) 868-6505.
Grab a cocktail made from house-distilled spirits and a snack at Social Still. Try the Manhattan, made with PA Rye, for a real winter warmer, or take it easy with a "zero-proof" non-alcoholic cocktail. Snuggle up in the lounge or snag a table for a full meal. 530 E. 3rd St., Bethlehem; (610) 625-4585.
Breakfast and brunch are done right at The People's Kitchen (it opens at 6 a.m. every weekday, 7 a.m. on Saturdays and 8 a.m. on Sundays): we're talking buckwheat pancakes, croissant french toast and — pure genius — the breakfast mac-and-cheese, with hickory-smoked bacon, maple sausage and potatoes. Lunch specials are on offer, too. 639 Linden St., Bethlehem; (610) 849-2080.
Harrisburg
The state capitol, with its growing tourism and food scene, offers so much fun for the whole family during the holiday season. The Capitol Building sets the tone with its enormous, 20-foot-tall Douglas Fir tree on display in the rotunda, decorated to the nines (over 800 LED lights and 500 handmade ornaments), and the rest of the city follows suit with festivities all December long!
Don't miss:
Holidays at Hershey: The Hersheypark Christmas Candylane is truly a sight to behold. Over 4 million lights festoon the park, making an already-special place all the more magical. Experience the lights from the comfort of your car on a Sweet Lights tour, visit Santa and his reindeer, enjoy live holiday-themed entertainment and more!
Shop 'til you drop: Love the idea of taking care of your entire gift list in one go? The PA Christmas Show, which takes place each year from late November through early December, is one of the  largest holiday shows in the country, with over 500 shoppes selling gifts. This is the place to go to find the best artisan gifts.
Behold the ballet: The Nutcracker is a timeless holiday tradition for children and adults, alike. Enjoy the annual performance of this classic ballet by the Central Pennsylvania Youth Ballet at the Whitaker Center's Sunoco Performance Theater in downtown Harrisburg and a second performance at the Hershey Theater. Find tickets here.
Where to eat:
'Tis the season for coffee! Pass right on by those big coffee shop chains and head to Harrisburg's Little Amps Coffee Roasters (it's got great espresso) for a superb, handcrafted latte, pour over or hot chocolate. While you're there, grab a bag of beans as a gift for your best caffeine-obsessed friend. 1836 Green St., Harrisburg; 133 State St., Harrisburg; 1836 Green St., Harrisburg.
If you simply love good food and drinks, go to a place where that is always top-of-mind. Rubicon is a French-inspired, bar and restaurant offering incredible craft cocktails and fare prepared with fresh, locally grown produce and farm-raised meats, as well as imported gourmet items. 270 North St., Harrisburg; (717) 317-9027.
Indiana County
Each year, Indiana County, located in northwest PA between Pittsburgh and Altoona, goes all out for the holiday season. The county is affectionately known as the "Christmas Tree Capital of the World," a title bestowed in 1956, when an estimated 700,000 trees in Indiana County were cut for Christmas. Today, there are 23 Christmas tree farms located in this small county! Practically as soon as the first frost has fallen, Indiana County kicks off its season, with holiday happenings every weekend.
Don't miss:
Did you know that actor Jimmy Stewart was born and raised in Indiana, PA? It's true, and there is a museum in his honor right in the middle of town. The Jimmy Stewart Museum offers visitors an in-depth look into Stewart's life and career. During the holidays, many free screenings of It's a Wonderful Life are offered to the public.
The 32-foot tall Christmas tree in IRMC Park downtown is a spectacle worth beholding. Stop by to admire the lights and then warm up with a hot cocoa or cocktail or brew at a nearby watering hole.
Where to eat:
Benjamin's is a bustling bistro in a cozy Victorian house, beloved by the community since 1996. Find a seat inside or enjoy the outdoor patio, which is glassed-in during winter and kept comfortable with heaters. Sip a drink from the fully-stocked bar, and choose from a wide array of dishes at lunch and dinner, from Benjamin's "famous" fish tacos to three-cheese pierogies to hand-cut steaks on the grill. 458 Philadelphia St., Indiana; (724) 465-4446.
Neapolitan-style pizzas are the specialty at Josephine's Pizzeria & Enoteca. Order your favorite pie straight from the wood-fired oven, along with a cold beer or a glass of wine from the bar. 1037 Philadelphia St., Indiana; (724) 465-5396.
Fresh, craft beers are flowing at Levity Brewing Co.! Its Hoodlebug Brown is a great cold weather sipper, and hop-heads will love pours like Levity's It's Hoplicated and Haze Frehley IPAs. Beer-friendly bar snacks are on the food menu, like pulled-pork nachos and gourmet hot dogs. 1380 Wayne Ave., Suite A, Indiana; (724) 427-5665.
Philadelphia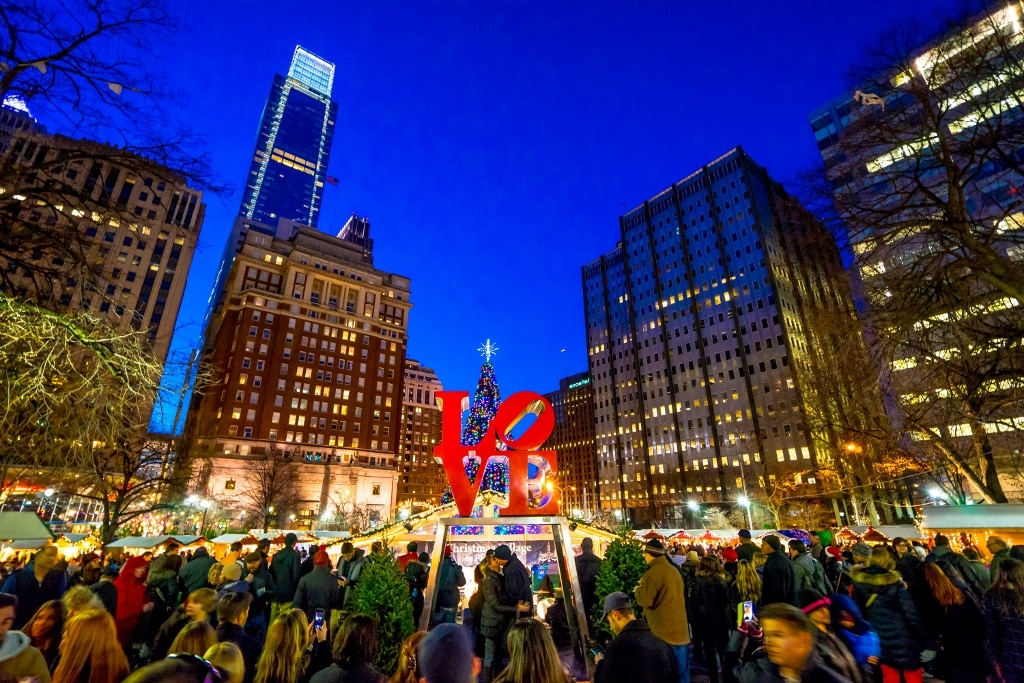 There is so much to do in Philly during December, from outdoor ice skating, to Christmas market shopping, to people-watching in Rittenhouse Square and taking in the magical lights, suspended in the treetops. Though there is plenty to do and see in Center City, outlying neighborhoods celebrate in their own ways, too. Look for the giant menorahs at the Betsy Ross House in Old City and the Historic Headhouse Shambles at 2nd and Pine Streets. East Passyunk Square has an impressive tree at the Singing Fountain (Tasker and East Passyunk Ave.).
Don't miss:
LOVE and light: The authentic German Christmas Village in LOVE Park is a bustling, lively holiday celebration. Over 100 vendors are on-site, and there are events planned for nearly every day, from story time for little ones to wine tastings for the grown-ups.
Nice on ice: While you're at LOVE Park, head across the street to City Hall for ice skating at the Rothman Orthopedic Rink at Dilworth Park. After 5 p.m., catch the breathtaking Deck the Hall Light Show, a colorful display projected onto City Hall and set to holiday music, which runs about ever 30 minutes.
Retro wonder: A local tradition since 1956, the Christmas Light Show at Macy's is a bucket-list to-do for Philadelphia visitors and residents! One of the largest organs in the world, the Grand Court Organ, performs holiday classic songs, narrated by actress Julie Andrews, along with a wonderfully analog light show. Afterwards, head upstairs to see the Charles Dickens' Village and visit with Santa.
Where to eat (*without having to find a new parking spot when you're already in Center City):
If you're at Dilworth Park, duck into the Rothman Orthopedics Cabin for seasonal sips, like spiked hot chocolate and local craft beer. Enjoy free fire pits outside on the PNC Terrace. 1 S. 15th St., Philadelphia; no phone.
Tacos and margaritas might seem like warm-weather snacks, but we find them just as satisfying in winter. Not far from City Hall, you'll find Mission Taqueria, an airy, second-floor bar and restaurant with cozy nooks, long tables for big groups, and a lively bar. Happy hour offers some especially good deals, like $6 blood orange sangria and $3 tacos. 1516 Sansom St., 2nd Fl., Philadelphia; (215) 383-1200.
Carbo load in style at the wine and pizza joint, Sally. Start with some fun small plates like charcoal grilled shrimp and house made ricotta and order at least two pizzas, as it's pretty much impossible to choose just one. Pop into its bottle shop to take home a special wine or two for a holiday dinner or host gift. 2229 Spruce St., Philadelphia; (267) 773-7178.
Pittsburgh
Like most major cities, Pittsburgh is positively packed with holiday-themed activities. From the Peoples Gas Holiday Market in Market Square to ice skating at PPG Place to the giant Highmark Unity Tree at the Penn Avenue Place Building, everywhere you turn in the Steel City is sparkling with holiday cheer.
Don't miss:
Nativity novelty: The Pittsburch Crèche is a life-sized replica of the the traditional manger scene on USX Tower Plaza. Since 1999, this impressive Crèche (it's the world's only authorized replica of the Vatican's St. Peter's Square nativity scene) has drawn tourists and locals to admire its intricate, realistic details, like the handmade clothing and wooden structure.
Family fun: Don't just drag the kids around shopping and sightseeing. Let them play and explore with the Holiday KidsPlay Selfie Garden, a free outdoor venue for families, kids, and kids-at-heart. This garden is a fun place to safely capture fun photos and play socially-distanced sidewalk games. Check it out seven days a week, from mid-November through the end of December, at the Heinz Hall Courtyard.
A really big dill: Check out the world's largest pickle ornament at EQT Plaza! This stunning three-story Heinz pickle is going to win your Instagram this winter. Don't forget to tag #PickleOrnamentPGH to get in on the fun.
Where to eat:
Just steps away from the Peoples Gas Holiday Market, find täkō, a Mexican street food joint with inventive, Asian-inspired tacos (think: octopus with harissa aioli), killer cocktails and rowdy DJ nights. Reservations are recommended at this perpetually hopping spot. 214 6th St., Pittsburgh; (412) 471-8256.
An awesome craft beer scene has been brewing in Pittsburgh for years! Part of the older guard in the Pittsburgh brewing scene is East End Brewing Co., which has been around since 2004. While you'll find its beers in bars and restaurants all over town, stop into one of EEB's two locations to experience small batch and specialty varieties, like Snow Melt, a roasty winter ale. The food menu is all about pizza, with a different special pie featured each week. 147 Julius St., Pittsburgh; (412) 537-2337; 102 19th St., Pittsburgh; (412) 537-2337.
Seeking a bountiful brunch? Swing by Pamela's Diner, a small local chain of retro breakfast joints. Kielbasa and eggs, crepe-style hotcakes and Pam's Trash Hash are just a few of the tempting specialties you'll find to power you up for a long day of holiday fun, or to help you recover from the previous night's festivities. Multiple locations in the Pittsburgh area.
York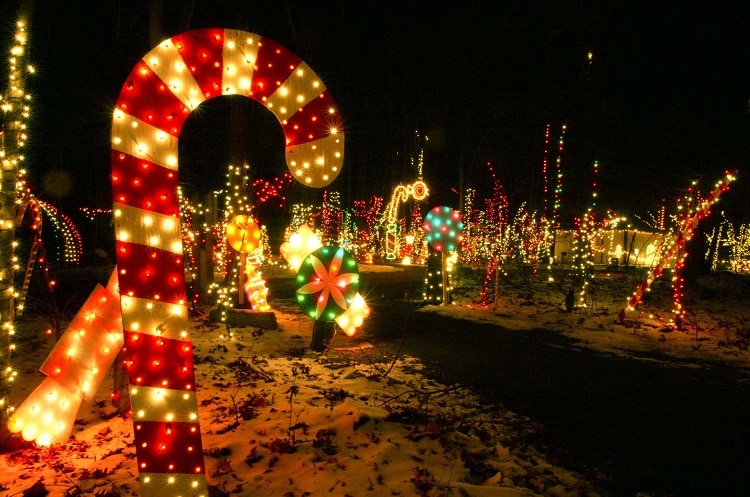 Downtown York gets all dressed up for the holidays, with beautiful green garlands and red velvet bows adorning the lamp posts across town, the annual Light Up York celebration, and plenty of holiday shopping at the antique shops, farm markets and boutiques in the area.
Don't miss:
Luminous lights: Christmas Magic — A Festival of Lights in Rockland Park is a family-friendly spectacular sure to put you in the spirit as you sip hot cocoa, view epic indoor train displays, and stroll the outdoor walking trail with over 600,000 twinkling lights.
Tiny trains: Every year, the Miniature Railroad Club of York celebrates the winter season with a holiday open house on weekends, from late November through mid-January. Continuously evolving year after year, the layout this year includes many remodeled scenes, including the Keystone mining town, amusement park and bustling seaport.
Honoring history: The Festival of Trees at The Goodridge Freedom Center is a wonderful way to visit the home of entrepreneur and Underground Railroad advocate William C. Goodridge. See period-costumed docents in holiday- and freedom-themed backdrops as you learn about some of the area's fascinating past.
Where to eat:
Warm up at The Handsome Cab, a wine, cocktails and small-plates bar in downtown York. Head up to the second floor to explore the in-house art gallery, or plan your visit for the weekly Wine School session, every Sunday at 1:30 p.m. 106 N. George St., York; (717) 793-2413.
Farm-to-table fare shines at The Left Bank. Sophisticated snacks and sips on the Bistro Menu make a lovely mid-shopping respite, or settle in for dinner with thoughtful, creative entrees like homemade chive gnocchi and cauliflower picatta. 120 N. George St., York; (717) 843-8010.
Vegan and gluten-free options take center stage at Esaan Thai Restaurant. Because every dish is made to order, substitutions, such as tofu and wheat-free soy sauce, are a breeze to request. Currently, Esaan is only offering a five-course prix fixe dinner on Friday and Saturday nights. 30 N. Beaver St., York; (717) 718-9300.
Feature photo:

Kory Aversa

LOVE Park Christmas Village photo:

Russ Brown Photography

York Christmas Magic photo:

York County CVB