Eggnog fans wait patiently all year for the arrival of this festive, decadent drink to hit market shelves. Eggnog haters gonna hate, but the rest of us joyfully fill our cups, enjoying every drop of this rich, milky beverage. Making your own from scratch is a labor of love, but if you're out of time, or you're not too keen on drinking raw eggs, there are plenty of local brands with quality, ready-made eggnogs for the win. Add an extra dash of bourbon for us, please!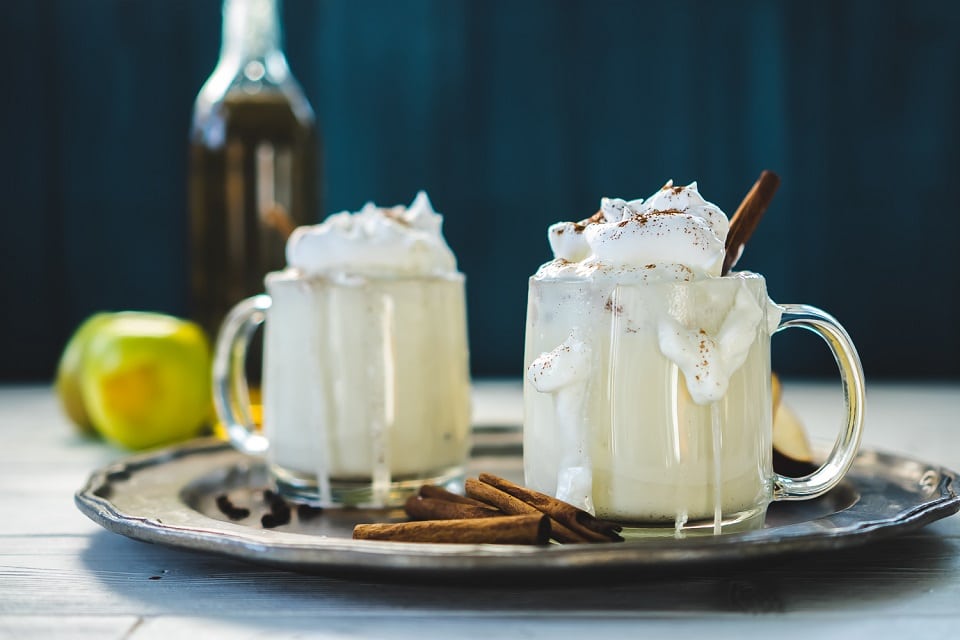 Here are nine PA eggnog brands to help sweeten up your holidays:
Perhaps the most famous brand of eggnog, this PA-proud bottle can be found in liquor stores nationwide. Essentially a pre-mixed cocktail, Pennsylvania Dutch Egg Nog is all boozed up to 14.75% ABV with rum, brandy and blended whiskey. It's produced by Dairyland Distillers Co., part of Jacquin's, which is based in Philadelphia. Just add a dash of cinnamon and nutmeg and you're ready to go! These bottles are released only around the holidays and have a seven-month shelf life, so drink up! (We don't foresee that being a problem.)
Turkey Hill, an iconic PA brand, knows how to do dairy right. So, it's no surprise that it has a cult following for its seasonal eggnog, released only around the winter holidays. A luxurious blend of cream, fresh milk and a dash of nutmeg make this a smooth, tasty treat. Find it in half gallons, quarts and pints at stores all over Pennsylvania. Bonus points if you pick up a half-gallon of Turkey Hill Egg Nog ice cream and make eggnog floats!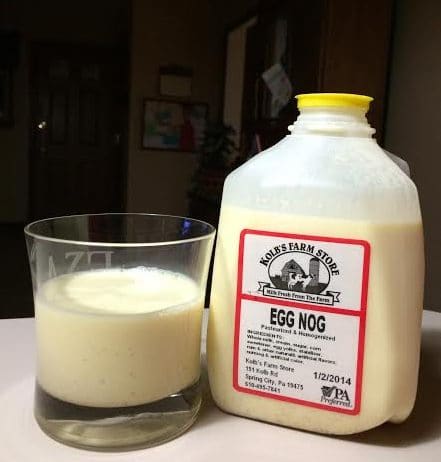 This family-owned dairy farm in Chester County produces only 1,000 gallons of its beloved Egg Nog each year. What started as a customer-appreciation gift is now one of its most sought-after products, and it goes fast this time of year! Rich, without being overly heavy or thick, Kolb's Egg Nog has a wholesome sweetness and a hint of rum (a tiny amount is added for flavor) with flecks of nutmeg evident in the jug. The nog is made similarly to their other flavored milks, with the addition of an ice cream-base mix and a proprietary blend of flavorings and spices. After all the ingredients are well-incorporated, the eggnog is pasteurized and homogenized and then jugged for sale. Find it exclusively at the Kolb's Farm Store. 151 Kolb Rd., Spring City; (610) 495-7841.
As Meyer Dairy states it on its website, "Local, less messed-with foods are good for you. But that's not all; they tend to taste better, too." This ethos is behind all of this small dairy's products, which start with milk from its pastured and antibiotic-free and growth-hormone-free cows. Meyer's heats and handles its milk carefully, so all the good stuff is preserved, and all of its milk goes into glass bottles for maximum flavor and freshness. You can expect the same from its egg nog, of which about 3,000 gallons are made each year. Find it at the Meyer Dairy Store in State College which is also an ice cream parlor (you've been warned!). 2390 S Atherton St. State College; (814) 237-1849.
A third-generation, family-owned dairy farm, Guers Dairy produces its fresh, full-bodied milk from Brown Swiss, Holstein and Jersey cows, with no artificial growth hormones involved. Find its seasonal, non-alcoholic Original Recipe Egg Nog at grocery stores and supermarkets within a 35-mile radius of the farm.
A favorite holiday sipper for Pittsburgh eggnog fans, Schneider's Dairy's Egg Nog is made solely during November and December and can be found at major retailers, like Giant and Walmart, throughout Western PA. The company, which was founded in 1935 by Edward and Catherine Schneider, is now ranked among the top 100 dairies in the United States. The milk it sources from 60 local, independent farms is free of growth hormone rBST — part of Schneider's ethos of "doing things the old-fashioned way."
Based right outside of Lancaster, Kreider Farms is the only family-owned, full-scale egg and dairy farm in the United States. You can even visit and tour its dairy farm to see its dairy and egg operations (we're talking 1,700 dairy cows and 6 million chickens) for yourself! Its seasonal eggnog is made using premium cage-free eggs from its sister company, Noah's Pride. To find Kreider's eggnog, use this handy locator! 1463 Lancaster Rd. (Rt. 72), Manheim; (717) 665-4415.
Galliker's is a family farm that just celebrated its 100th year in business! The dairy started in 1914 when Louis Galliker purchased the Shreve Ice Cream Company in Johnstown, Pennsylvania and started producing ice cream. Now, its main products are milk, flavored milks, ice cream and ice tea. You can always identify Galliker's milks by the lightsafe yellow jugs the brand uses. We love that its seasonal eggnog, like all its dairy products, is rbST-free, but are less keen on the addition of high-fructose corn syrup in its recipe.
This is one you'll see pretty much all over PA during the holiday season. Lehigh Valley eggnog is plenty rich and creamy, though the addition of high-fructose corn syrup has us bummed out. Find it in half-gallon, quart and Chug sizes.
Once you've found your favorite brand of Pennsylvania eggnog, try this awesome hard cider hot eggnog cocktail recipe!
What's the PA eggnog brand that you simply must have on hand during the holidays? Let us know!
Feature photo:

BigStock

Cider eggnog photo:

Dish Works

Kolb's eggnog photo:

Kolb's Farm Store