Meet Coddiwomple Canning Co., one of the newer artisan food businesses to crop up in Philly. Coddi-what? you may ask. The definition of "coddiwomple" (a verb) is, "to travel in a purposeful manner towards a vague destination."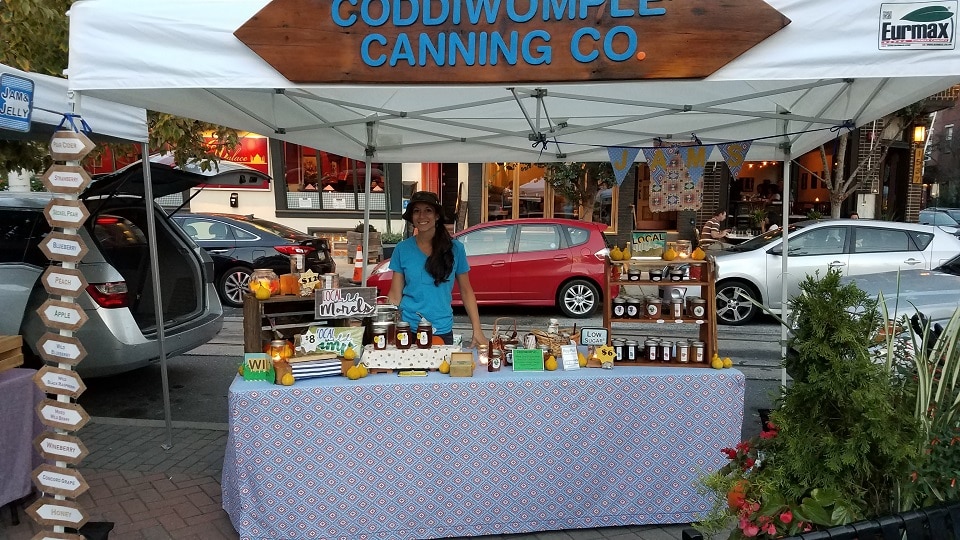 The business was founded by Kimberly Harrington and Brian Cauley, both of whom currently reside in South Philadelphia. The duo met in 2012, while working together at Osteria, the elegant/rustic Italian restaurant on North Broad Street. They're both still deeply ensconced in the fine dining industry: Harrington works at Vernick Food and Drink in Center City, and Cauley is at Morimoto.
Their passion for food — and respect for the farmers who grow it — has blossomed into a jam-and-jelly side hustle that's been steadily growing as Coddiwomple makes a name for itself at well-attended farmers markets in and around the city. Their preserves put a huge priority on quality and flavor, and also on highly seasonal, local ingredients. We wanted to get to know Cauley and Harrington a bit more, and learn about their journey into culinary entrepreneurship, and they generously shared their story in this artisan Q&A:
PA Eats: How did you get into food? Did you always know that your career would be in the culinary world somehow?
Harrington: I spent my childhood exploring the woods and frolicking in the flower fields and pastures behind my house in Chesterfield, New Jersey. Growing up, my Mom would make fresh, homemade meals every day when she got home from work, and my Dad pasture raised beef cattle in his spare time. These thoughtful efforts helped express the importance of local, sustainable ingredients. My first job was at an ice cream shop and customer service came easily and was fun for me.

Cauley: Throughout my life growing up in Bucks County, my parents always had a decent-sized garden, and I would look forward to homegrown summer vegetables every year. Growing up, I spent a lot of time outdoors and we would take family camping trips often. Some of my earliest memories are of picking high bush blueberries in the backyard of my grandmother's trailer in the Pocono Mountains. When I got older, my first jobs were in restaurants washing dishes, and later in high school, as a line cook where I realized I loved cooking. A couple years after high school, I enrolled at Johnson & Wales University's Culinary School in Providence, Rhode Island.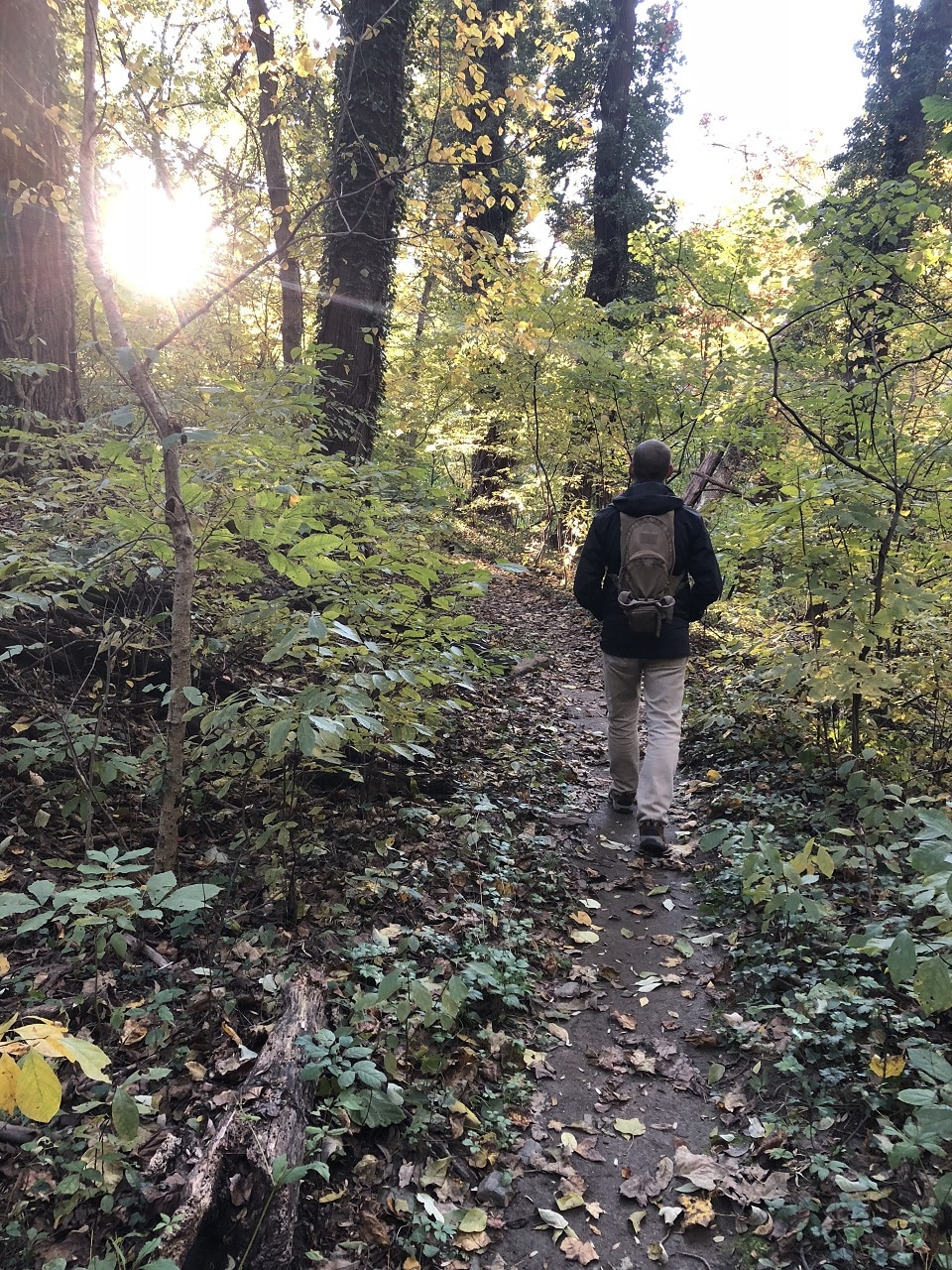 When did you move to Philadelphia?
Harrington: I moved to Philadelphia in 2007 and began working in fine-dining restaurants. The theater and energy of a dinner service at a restaurant is electric; it's what drew me to the business. Restaurants offer a space for people to share time, memories and a good meal with loved ones. I feel fortunate to have found a profession that brings joy to myself and others.

Cauley: After graduating with a degree in culinary arts, I moved to Phoenix, Arizona, in 1997 where I worked my way up the ranks in restaurant kitchens, eventually working as an executive chef for the last few years before moving to Denver, Colorado in 2004. I relocated to Colorado for the opportunity to open new restaurants as general manager, and then later operations manager. In 2010, I decided to move back to the Philadelphia area to be closer to family and to have a better personal/professional life-balance.
Where did the idea for Coddiwomple come from?
Harrington: At the beginning, we were both learning more about foraging and local sourcing. We would have an ingredient or product in mind, and we would set out, with gusto, to find it, not knowing where or how (especially wild edibles).

Cauley: Our first batch of jam was strawberry in 2015. We coddiwompled around Lancaster County and stopped at a bunch of different roadside farm stands to piece together the amount of strawberries we needed to make that batch.

Harrington: Later that summer we discovered wild black raspberries and wild blueberries on a backpacking trip in the deep wilderness of Pennsylvania and were excited to have those preserves in our pantry for the winter!

Little by little, we added classic jam and jelly flavors using these amazing local ingredients. Our jams are made with strawberries, peaches, apples and blueberries, and some of our jellies are made from wild berries, like black raspberries, wineberries and blackberries.

Cauley: From there, we have added a flavor or two to our product line each year. As our production goals increased, we started fortifying relationships with small, local family farms to source a wider array of ingredients, in larger amounts.
What makes your preserves and spices special?
Harrington: The spring, summer and fall seasons in our area offer a beautiful bounty of both wild and cultivated product. When we are making our jam and jellies, we hope to capture the expression of the fruit and vegetables when they are at peak ripeness, at the height of their season. We use little to no sugar in all our jams and jellies, also, we do not use additives or preservatives in any of our products.

Cauley: We focus on developing strong relations with the local farmers, and paying them a full and fair price for their products. The care and attention that they put into their various crops clearly comes through in our products. Ultimately, farmers make everything we do possible.
How do you choose your flavors? What things inspire you?
Harrington: We work personally with farmers in the area so we can use products that they feel best represent their harvest. For instance, the Brendle Family at Green Meadow Farm in Gap, PA, contacted us because they had a bumper crop of Magness Pears this past season. We were able to make this amazing, no sugar added, Pear Cider Jelly that sold out at markets very quickly.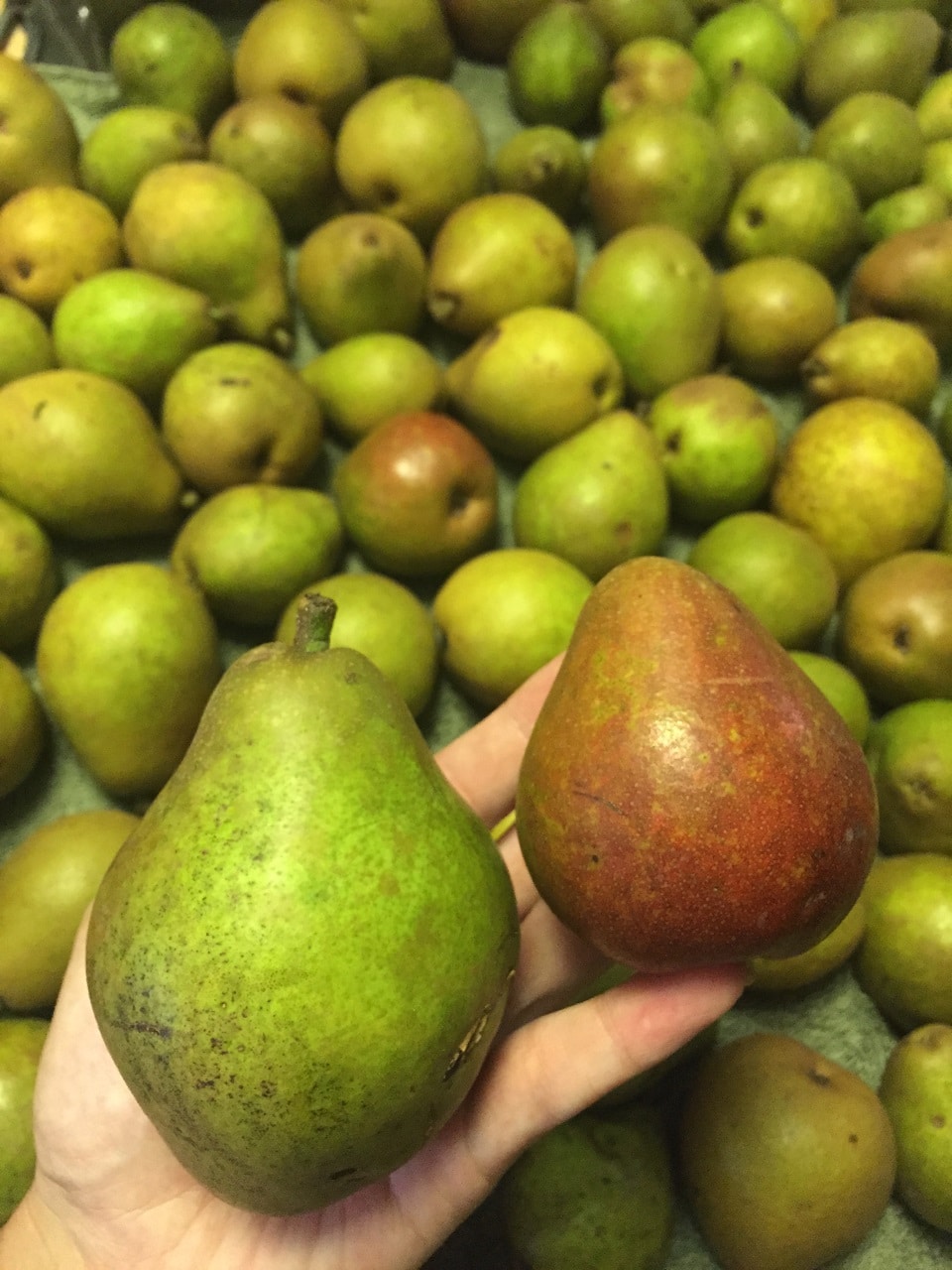 Cauley: Some of our products are straight nostalgia-driven, like strawberry jam or Concord grape jelly. Others are more unique, like wild ramp butter or Seckel pear jelly. They are more inspired by our desire to enjoy these seasonal delicacies all year long.
You sometimes forage for ingredients, too, right? Can you tell us a little more about that?
Harrington: Our foraging hobby started with our combined love of wandering in the woods and wild places with our love of local and sustainable foods. Tutelage has come from extremely helpful folks in our area that we have connected with in the real world or online. Mallory O'Donnell out of northeast New Jersey has a wealth of knowledge about native and invasive edible plants and trees. On Instagram and on his blog, How to Cook a Weed, Mallory explains many uses for wild edibles in our area.

Our friend Ian Brendle turned us onto Tug DeLuce, a self-described "local exotic wild food procurement specialist" from Kennett Square. Ian and Tug often mushroom hunt together and that team has sent us gentile nudges to keep looking for fickle fungi.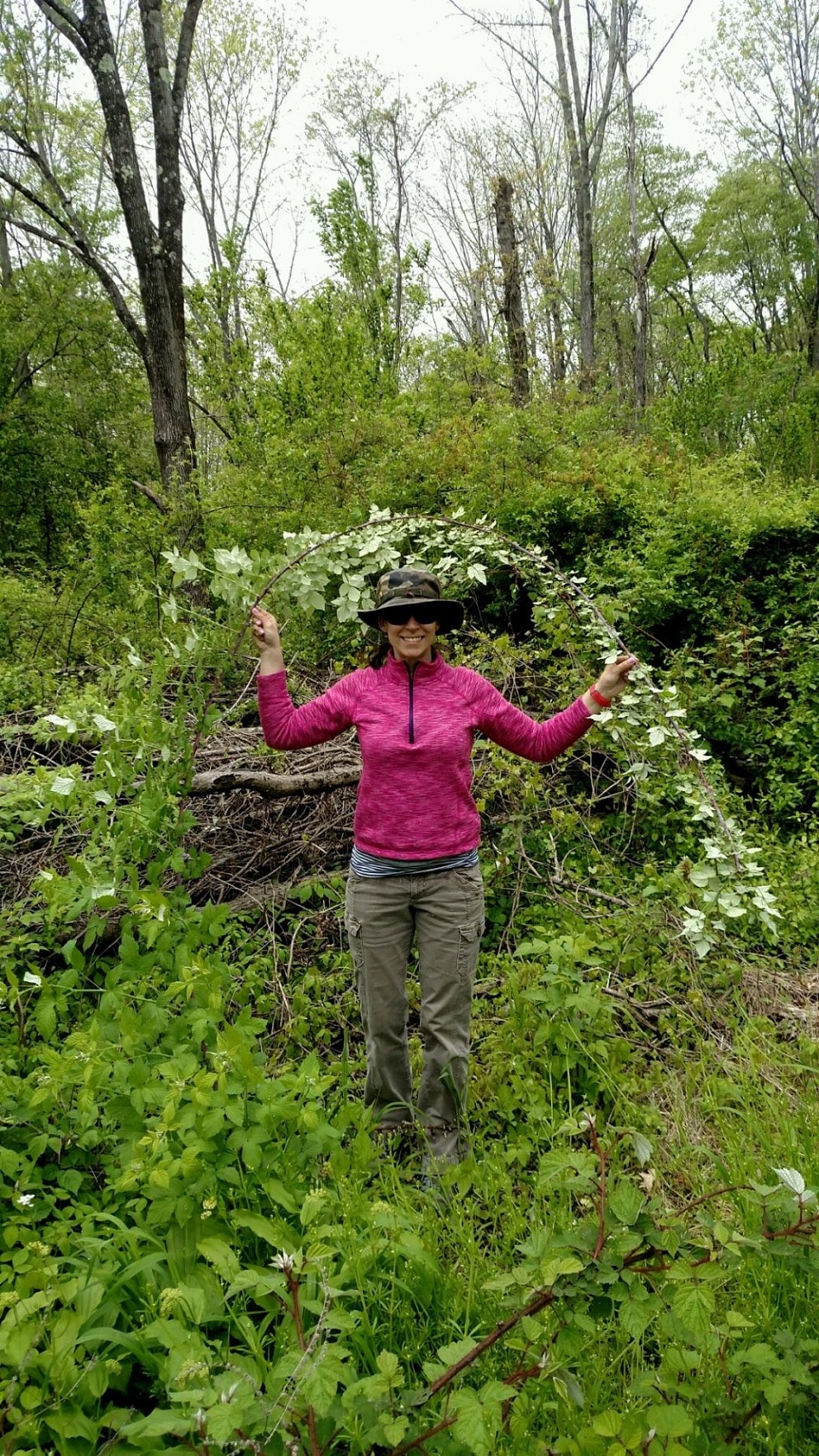 Cauley: Because of them sharing updates from their areas and identifying such a large array wild edibles and plant life, we have had a more fulfilling experience exploring our area.
Why did you decide to pursue the farmers market model? Can people find you in stores or shop online anywhere?
Harrington: The Farm to City Markets help bring fresh, local produce into neighborhoods all over Philadelphia, and we were excited to start selling our products this past year. Farm markets allow direct sales to our customers and its great getting feedback from people that try our product.

Cauley: While at the Markets we are side-by-side with the farmers and other local artisans. It's incredible having a group of people all sharing in the same experience focused on local and sustainable foods. And, admittedly, it makes our weekly grocery shopping very easy.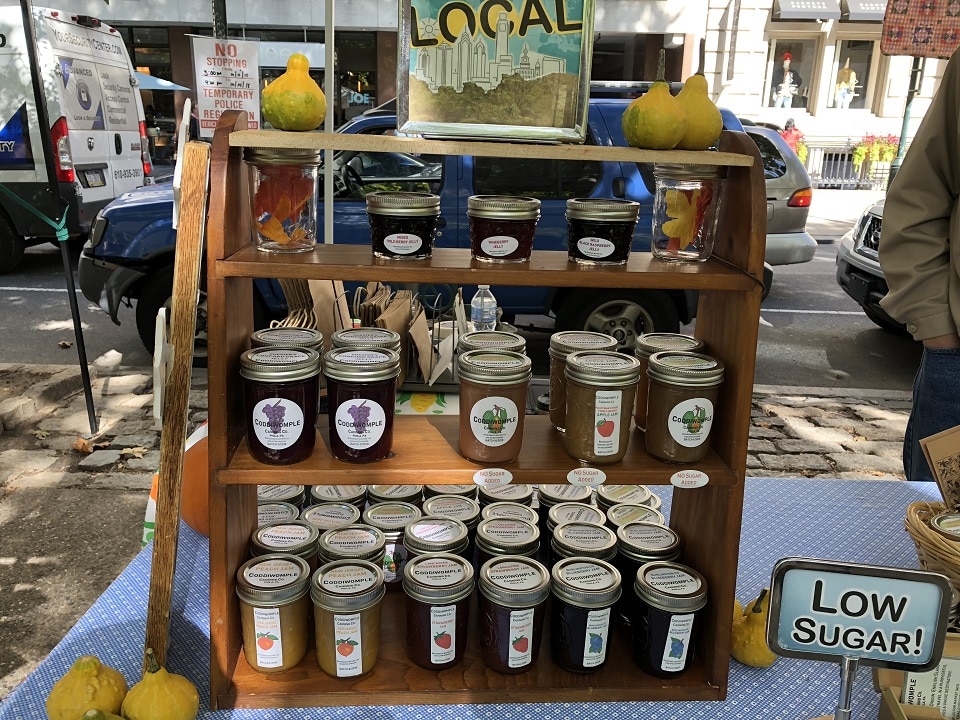 We are currently working on getting our jams and jellies into some local food retailers, but due to our limited production, it will be a limited number of retailers. However, we can ship anywhere in the State of Pennsylvania and we do offer scheduled free deliveries, for orders of $30 or more, anywhere in Philadelphia. We can be contacted at [email protected] or through Instagram. In the near future we will have our website up and running and will be able to increase our online reach.
What are your goals for the company? Do you hope to grow in a specific direction?
Harrington: Well, 2018 was our first year selling at markets and our sales volume was much better than we expected. That meant we will not be able to join the Farm to City Markets until mid-August, when we roll out most of our 2019 line. We will be participating in the Tuesday Rittenhouse Square and Saturday Bryn Mawr Markets from mid-August thru November.

Cauley: Our goal for this year is to make enough product to be able to join Farm to City at their first markets in May and continue until Thanksgiving of 2020. We plan on adding to the product line and expanding on pantry staples in the short term. Our long-term goal is to acquire our own brick-and-mortar facility so that we can increase our production to levels that will allow us to be in a larger number of retail stores, as well as increase our online availability. Also, with this growth, we plan to offer value-added services to farmers and local home gardeners.

Harrington: We want to be able to extend our canning service to farmers to preserve their excess harvest and help round out their CSA offerings in the winter months, sell at their own individual farm stands, and give a second life to perishable foods that can now be donated to local food-based nonprofit groups. But that's a bit further down the road.
What's the most challenging part of running your business? The most rewarding?
Harrington: So far, the most challenging part of our business was starting the business itself. There is not a large amount of information online and there were many hours spent on the phone talking with various local, state, and federal entities. As it turns out, we were able to get our licensing through the PA Department of Agriculture. As we grow, we're sure there will be other business-related challenges that will arise. It's exciting and unnerving at the same time.

Cauley: Finding new foraging spots is always a challenge, but there is very little in our life that is more fun and rewarding. Our first morel mushroom, literally, took years to find! Many hours were logged wandering the wilds. (Which is our idea of a good time.)
Harrington: And the feeling you get, when you find that first one popping thru the leaves on the ground, is unforgettably rewarding.

Working the markets are always fun, even in the worst weather. The Farm to City staff are very accommodating, organized, and really know how to put together a well-rounded farmers market. Coming from a service industry background, the direct feedback from our customers is welcome, helpful and the interactions are very rewarding!
To meet the folks behind Coddiwomple Canning Co. and try some of their beautiful, local preserves, check them out at the Flavors of the Avenue street festival on Sunday, April 28, and at the Farm to City Markets (starting in mid-August) on Tuesdays from 10 a.m. to 2 p.m. in Rittenhouse Square and Saturdays, from 9 a.m. to 1 p.m. in Bryn Mawr.
Photos:

Coddiwomple Canning Co.