Since the writing of this feature, Conscious Cultures Creamery has re-branded as Bandit. The ownership and product line remains consistent with the info shared in this article! 
Vegan cheese: What was once an oxymoron is now its own legit food category! And just how plant-based meat has made enormous strides in flavor and texture over the past decade, so too has plant-based cheese. Even a few years ago, your readily available vegan cheese options would have been limited to some plastic-y shreds that wouldn't really melt, or tubs of pasty white "cream cheese." Now, thanks to a whole new wave of vegan artisans, there are some shockingly great options out there; the best ones are usually made from fermented nuts, and have complex flavors and wondrous textures.
Leading this pack of new-school vegan cheesemakers is Bo Babaki, a Philadelphia-based artisan who owns Conscious Cultures Creamery. Widely regarded as some of the best plant-based cheese around, Babaki's stuff has made a big splash on the East Coast and beyond; his products have traveled as far as Erewhon Market in Los Angeles and The Oregon Cheese Cave in Oregon. Conscious Culture's cheeses are mind-boggling: bloomy rinds featuring ash and mold and fudgy, creamy, decadent textures. This is because Babaki actually makes cheese: He employs fermentation with various cultures and bacteria, and practices affinage, the act of caring for the cheese wheels as they age in mini cheese caves.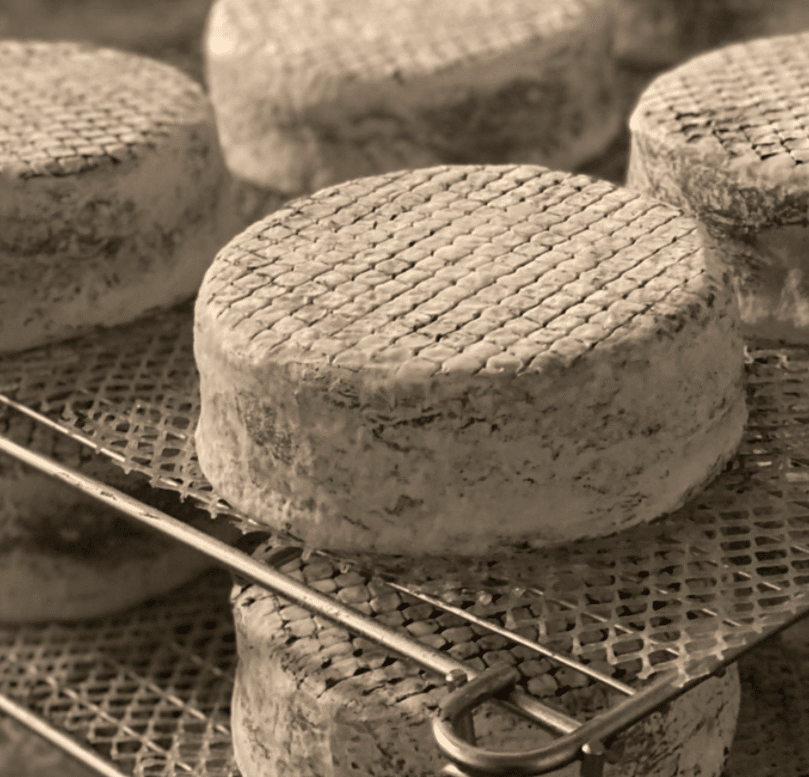 A lot has changed for Babaki since he started experimenting with vegan cheese in 2018. Most notably, in April of 2021, Conscious Cultures was featured in a glowing article by The New York Times, and soon after received interest from a venture capital investment firm. In the time since, he's signed on with that VC firm, and is in the process of majorly scaling up his operations.
We were able to chat with Babaki about this journey, from his scrappy DIY start, to his current state of rapid growth and hiring. Get to know more about this innovative PA-based brand through our maker Q&A:
PA Eats: Where are you from? Have you always been into food?
Bo Babaki: I learned to cook at a very young age. Spending time with my grandma in the kitchen was important to me. There's something about when you can craft something and then people enjoy it and smile. My first legit job as a teenager was working at a bagel bakery. I ended up getting promoted to being a bagel baker. It was pretty cool to be 16 and to be doing that.

I lived in Washington, DC for the first 30 years of my life, then moved out to the Bay Area for about 5 years. I ended up working in the front-of-house in restaurants. I was working at Oyamel, Jose Andres' Mexican restaurant in DC. I loosely based my mission statement on his. I really liked their policy where when you start out there, you have to train in every single part of the restaurant. The managers have to spend a full week in the kitchen, so they understand how it works. That idea carried over into my business now. When I lived in California, I worked for three years at Central Kitchen in California, it's part of the Flour + Water restaurant group. My first products were basically me recreating our larder section there. Their entire little snack board section, I basically replicated it!
Take us back to the beginning of Conscious Cultures Creamery. How did this all get started?
I moved to Philly in 2017.  I wasn't eating meat then, and at the time it was more about health benefits. I never ate any of that replacement meat or cheese, because I thought a lot of it was really weird. The first vegan cheeses on the market were like wax candy. But then I tried Kite Hill cream cheese, and I thought it was interesting. I looked at the ingredients and saw that they used Lactobacillus [a probiotic cultured used in cheese and yogurt making]. In September of 2018, I ordered some cultures from Amazon and used it to make some cheese, and it was pretty good. Then I went down the rabbit hole. Right now I'm like 99% vegan.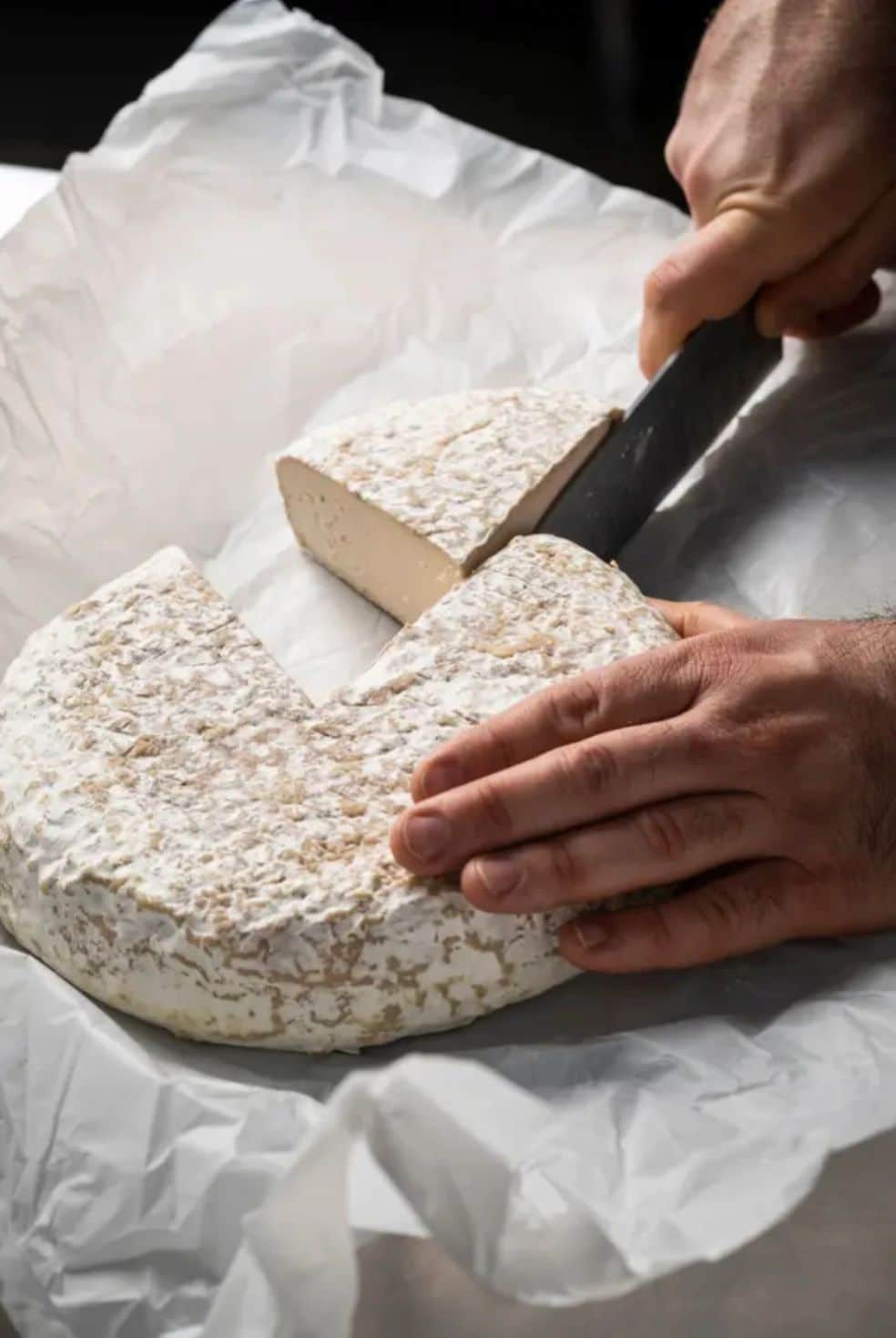 So, did you basically teach yourself how to make vegan cheese?
Yes, it was just experimenting.  The first cheese I made was super-simple, literally the first recipe was a can of Trader Joe's coconut milk and a pound of cashews. I wanted the cheese to be fatty and luscious, so I soaked the cashews in the coconut milk, added in some catalysts, and that was it. I thought I'd try to age it, because in dairy cheese, that's where all the flavor comes from. I found a little wine fridge on Craigslist and I bought it and stuck it in the living room of my one-bedroom apartment.

I started doing more research and thought, why not put some mold in this? Every couple of days, I started a new experiment. I've never been a person to write recipes down, but with this project I was really detailed and kept in-depth logs, recording information. Soon, I had cheese going in the cave, with blue cheeses on one side and bloomies on the other, and of course they started mixing all together. It was fun because when you're being creative you can't quell that energy, you just have to jump into it. At the time I was working at a vegan restaurant, and I brought in some of my cheeses for my co-workers to try. They were like, "This is the best vegan cheese I've had in my life."
When did you start selling your products?
I did my first pop-up in the spring of 2019. By then I was running not entirely legal cheesemaking operation out of the basement of a yoga studio in Chestnut Hill. I'd rigged up this fridge with these temperature gauges and humidifiers to make a bigger cave! At the first pop-up, I sold like a thousand dollars of cheese in two days! I met all these people who were super supportive, and my Instagram following went from 150 people to 1,000 people over the course of that weekend. After that, V Marks the Shop, a vegan grocery in South Philly, let me do pop-ups out of their space for free, and I was doing those every couple of weeks.

In Brooklyn there were these two monthly vegan pop-ups, and I did those. Riverdel Cheese in New York started buying stuff from me, and Orchard Grocer, too. I ended up going up to New York a lot, that was the majority of the business.

How did the business grow over the next year or two?
I got on the menu at Martha, and the owner there introduced my cheeses to Craig LaBan. The next thing you know, LaBan is messaging me because he wants to do a story on my cheese in The Philadelphia Inquirer. I did the interview, started batching cheese, and then my cheese launched on the shelves at V Marks the Shop.

I moved into my living room and put two refrigerators in what was formally my bedroom. I lived in a cheese factory for about a year and a half and finally in June of 2020, during the start of COVID, I started leasing a space in the Bok Building. I didn't really have the money for it but thought I'd just figure it out.
What did getting a real production space do for you?
I'm a rule-breaker, but it gave me a lot of peace-of-mind to know that my business was now legit and couldn't be shut down. When I passed the first health inspection, that was great. There was still a lot of work that had to be done to get us to the next point. I hired my first employee. I had to order a cave made out of a walk-in refrigerator, but I couldn't get any loans because of COVID. I was at least able to get a couple of credit cards. I drove for 17 straight days on Uber to make my rent in the space. I was trying to do whatever I could to make extra money. I did everything in my power to make it happen. Since then I've calmed that down a bit, but at the time it was like pedal to the metal. I've never been late on rent or paying an employee, that is really important to me.
What happened when the New York Times article came out?
That was huge. The main thing that happened was that an investment company, Prime Movers Lab, reached out to me. I had a Zoom call with my main point of contact in that group and I told them my whole story. Three weeks later, they came by to check things out, and a of couple days later they asked if I could send cheese out to their investor's retreat. When I mailed out all the cheese, I joked with the people at UPS, like, "This is million-dollar cheese right here!" I ended up getting a $1.5 million investment in November of 2021. That's insane for me. Now I have a salary, and I hired a business operations manager.

That is amazing, congrats! What does that mean for the future of Conscious Cultures?
We have all these goals that we've set for the next 18 months. I want to feed as many people as possible, my goal from the beginning is to nourish the planet, so the more people that eat our cheese, the happier I'll be.

More than half the world is lactose intolerant, but vegan cheese only represents about 10% of sales in the entire cheese market. In reality those numbers should be drastically different, and the reason they're not is because before, most vegan cheese sucked. There's just so much room for growth. Our cheese is delicious and when you have a proper cheese plate you should be able to have 3-4 types of cheese that should all stand apart from each other. Right now we don't have the capacity to do that, but if we can maximize that in our space, then we can look into a larger facility and larger strategies. We're also looking into changing our name and branding but I'm not ready to share what that is yet!
You started off as a sort of mad scientist experimenter and quickly became a business owner. Will this investment let you get back to the fun stuff at all?
Yeah. Part of the reason the business ops manager is here is so I can get back into play land. Managing the back end … I can do it, but I don't really want to do it, it shuts off the creative part of my brain. Reestablishing work-life balance, and not overworking myself, also lends to being creative again.

I just got a test cave, and I was able to buy an additional little fridge to have some test and experiments for long-term aging. I've aged cheese for 12 months, and there's some really cool stuff that happens to it that's just like it would in a dairy cheese. I'm getting back to trying to nail down the recipe and aging timeline so that when we get our next investment and move into a larger space, we can have caves for other cheeses and we can get into 3-, 6-, 12-month aged cheeses. I really want to make a 2-year aged cheese. That would be the coolest thing!
To find Conscious Culture Creamery's products, check out its list of stockists (there are many in Pennsylvania!). For info on product launches and more, follow along on Instagram.
Photos:

Courtesy of Conscious Cultures Creamery