What makes a restaurant feel warm and cozy? There are a bunch of different factors, like dim, flattering lighting (so essential), a great playlist, strong cocktails, and welcoming, easy service. A fireplace doesn't hurt, either.
But there's something less tangible at play in our favorite cozy places, something that falls more into the "vibe" category than anything else. It's that special feeling that, when you're snuggled up in a booth, steers you toward splurging on a bottle of wine or an extra dessert. It's that level of comfort that somehow feels perfectly calibrated and, whether you're on a date or just catching up with friends and family, makes it very difficult to head back out into the real world.
We've found 10 cozy restaurants in Pennsylvania where you should be reserving a table or pulling up a seat to the bar: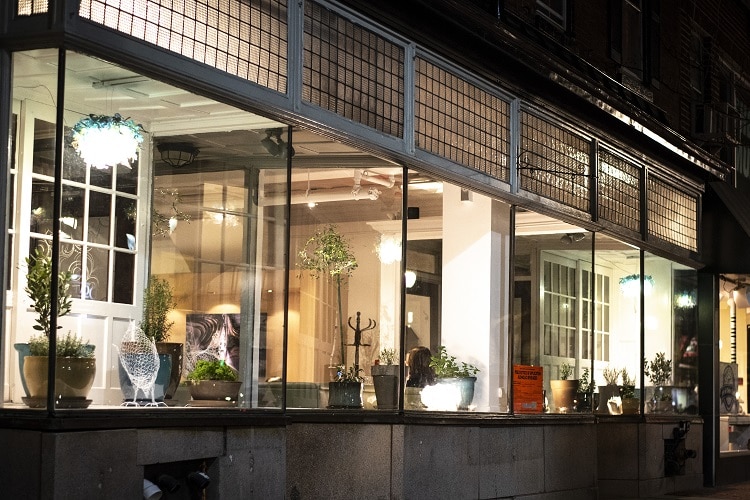 Andiario, which opened in spring 2018, has received accolades from the likes of Bon Appetit and is almost always listed on local "best of" restaurant lists. There may be no food cozier than handmade pasta, and no one in Southeastern PA does pasta quite like Anthony Andiario. The restaurant space, itself, is warm and inviting, all blonde wood, crisp white linens, house plants and tastefully upholstered seating. Bring a bottle of your favorite savory red and settle in for a wonderful meal. 106 W. Gay St., West Chester; (484) 887-0919.
AV (Scranton)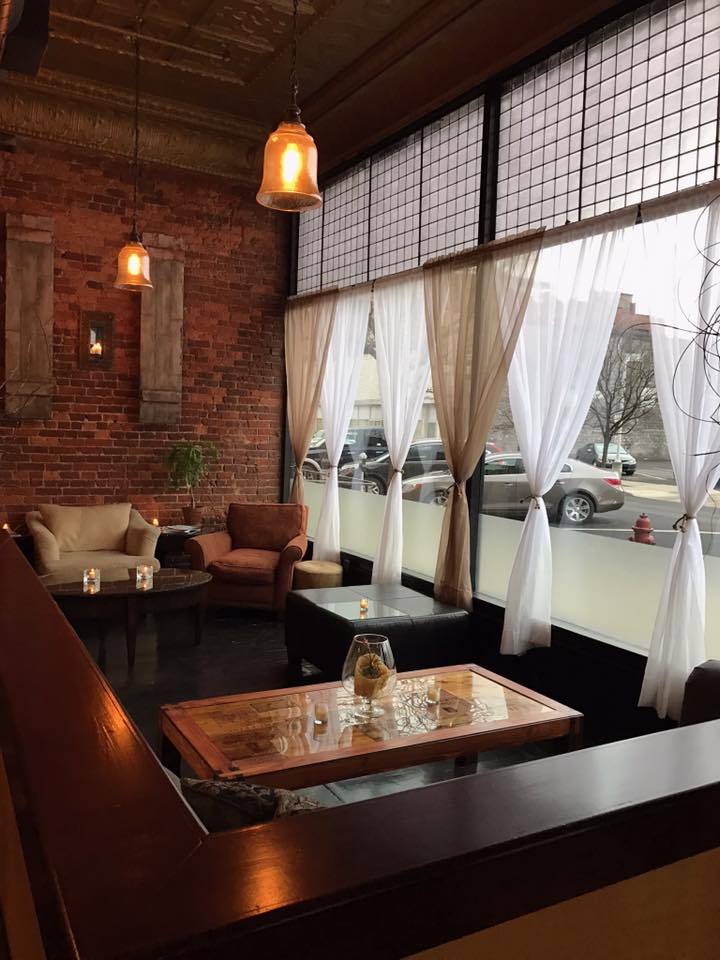 AV which stands for Altra Volta (means "another time" in Italian), is an intimate restaurant and lounge specializing in Italian dishes, like handmade pastas, made with local produce and fresh seafood. The combo of beautiful light fixtures, exposed brick, an intimate bar and comfy nooks adds up to a space where you want to nestle in and drink cocktails all night long. Try a Fig Street cocktail with fig purée, bourbon, Cardamaro, ginger and lemon, or the 'Till Tuesday, a warming mix of rye, honey syrup and house-made toasted walnut bitters, for maximum snug vibes. 320 Penn Ave., Scranton; (570) 457-5800.
Dark, dapper and dare we say sexy, The Belvedere Inn in downtown Lancaster is situated in a sumptuous Victorian Italianate-style mansion. The structure was built in 1869 by the John S. Rohrer, a tobacco dealer from Strasburg, to entertain his guests while visiting the city. It was turned into a restaurant in 1998. A table for two at dinner is a fine way to experience The Belvedere, or for a more casual take, catch one of the many live jazz acts in the upstairs piano bar. 402 N. Queen St., Lancaster; (717) 394-2422.
Sometimes, restaurants that are too posh negate all possible cozy vibes, but The Cork 1794 in Erie gets the blend of chic and cushy just right. Whether you grab a two-top against one of the stylish banquettes, a seat at the lively bar, or a spot in the dining room, you can enjoy textural touches, like plush chairs, patterned wallpaper, exposed beams and vintage-inspired light fixtures. For an extra-intimate experience, book the chef's table or the cozy clock room. Bonus: The Cork's beverage menu includes an entire section of warm, boozy cocktails, like Hot Buttered Rum and a Salted Caramel Hot Chocolate with Dorda salted caramel liqueur. 900 West Erie Plaza Dr., Erie; (814) 651-0332.
Grille 3501, a modern bistro in the Lehigh Valley, aims for a "sophisticated yet unpretentious" feel, which is infused all through its space and menu. The comfortable dining room includes a second-floor loft area, and the indoor/outdoor bar and seating area is one of the highlights of the building's design. The modern American cuisine combines familiar flavors with upscale touches, like sesame crusted tuna with miso black rice and edamame salad and steamed buns, with duck confit, purple cabbage slaw and a hoisin glaze. Cocktails and dessert are also not to be missed. 3501 Broadway, Allentown; (610) 706-0100.

Tucked behind El Ray, a retro taco joint in Center City Philly, is the Ranstead Room, a speakeasy lounge where it's almost too dark to read the menu. Those in the know head to the back alley (Ranstead Street) and through a door marked only with double R's, though you can also ask a server in El Ray to escort you back. The main focus in this mysterious spot is the assortment of cocktails — it's certainly not a place to show up for an elaborate dinner. But, if a perfectly prepared classic cocktail, a bowl of popcorn, and a private conversation are what you're after, you cannot beat the Ranstead Room! 2013 Ranstead St., Philadelphia; (215) 563-3330.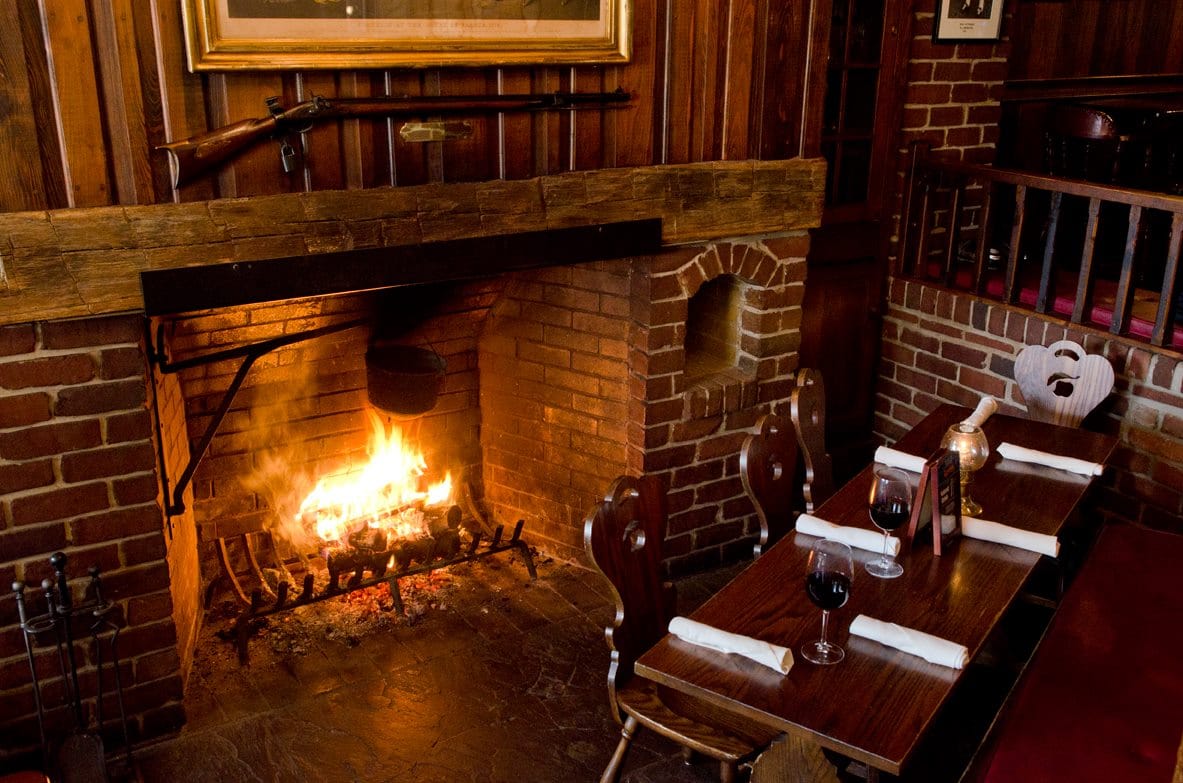 With a roaring fireplace, wood paneling aplenty, and period-correct historical details, The Tavern in State College has been a local favorite since 1948. This old-time inn-style restaurant is pure nostalgic comfort, the kind of place your grandparents would take you for your birthday as a kid. All the tavern classics are on the menu, from chef's salad to shrimp scampi to a center cut New York strip steak. Great brunch and late-night menus help draw in a younger crowd, too. 220 E. College Ave., State College; (814) 238-6116.
Umami (Pittsburgh)
The interior at Umami begs the question: How dark is too dark? With the lights turned way down low (especially during its late-night hours), punctuated only by red paper lanterns and neon lights, it's a real mood at this Pittsburgh izakaya. Sushi, Japanese street food and ample sake make for a destination that's just as perfect for date night as it is for a nightcap with friends. 202 38th St., Pittsburgh; (412) 224-2354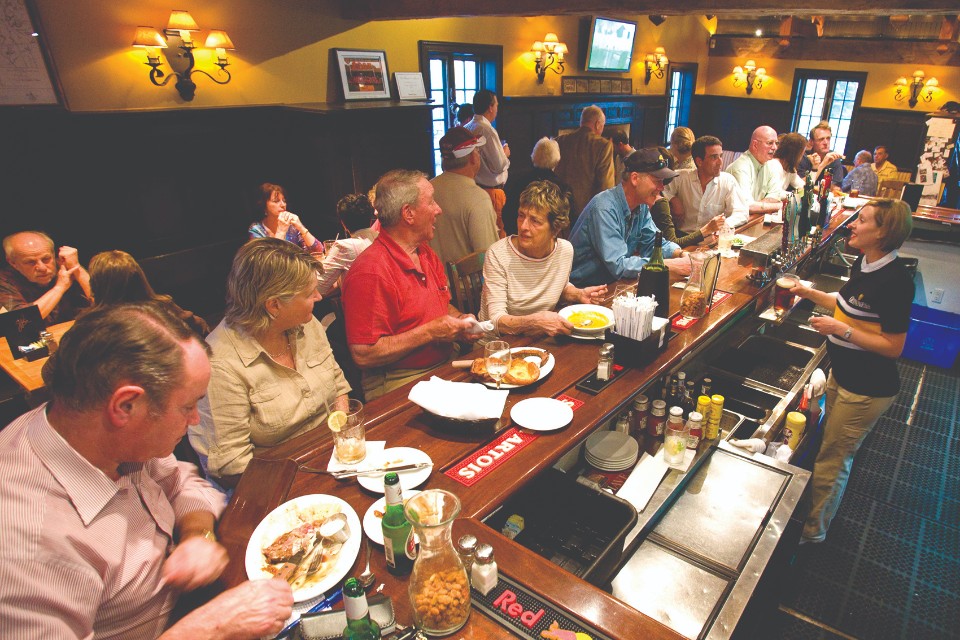 No doubt due to the endlessly dreary weather, the British really figured out the cozy-pub aesthetic, and The Whip Tavern borrows heavily for its own stateside version in Coatesville. Low-key lighting, close-but-not-too-close-together tables and dark wood make for a wonderful place to wile away the afternoon, with a pint of dark ale and a plate of Scotch eggs. 1383 North Chatham Rd., Coatesville; (610) 383-0600.
A glass of wine, a fireplace and a big leather chair are practically the dictionary definition of cozy, and you can get all three at Wm. Mulherin's Sons in Philadelphia's Fishtown neighborhood. This hip pizza/pasta spot with a hotel upstairs manages to bring a vibe that's equal parts swanky and unfussy. Order up a fantastic plate of Cacio e Pepe, octopus with cannellini beans, or double margherita pizza, and kick back in a very comfortable style. 1355 N. Front St., Philadelphia; (215) 291-1355.
What's your ultimate cozy bar or restaurant in Pennsylvania? Let us know in the comments here or on the PA Eats Facebook page!
The Whip Tavern photos:

Jim Graham

The Tavern photo:

The Tavern

AV photo:

AV Scranton