While you may be used to calling your whiskey and ginger a "cocktail," by proper definition, it isn't one. A cocktail is defined by a few things, mainly a combination of at least three ingredients, which often include spirits, water, sugar and bitters. But, there's also a lot of history.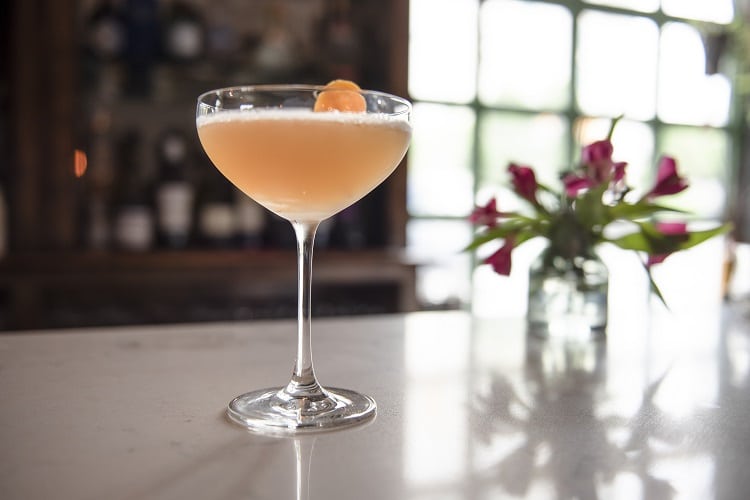 Traditionally remembered as an American innovation, cocktails were at least semi-inspired by British punches, which were big bowls of spirits mixed with fruit juice, spices and other flavors, consumed in the appropriately named "punch houses" in the 18th century. The term "cocktail" wasn't used until 1798, when it was printed in a British newspaper. And, it wasn't truly defined until 1806 as "a stimulating liquor composed of any kind of sugar, water and bitters."
Knowing how to make classic cocktails can be a lifelong journey, as there are so many of them, and because, for true success, precision and care must be taken at every step of the process. Plus, there are so many ingredients to remember and have on hand. Unless you're a pro bartender, it's unlikely that you'll remember what goes into a Pimm's cup or the proper proportions of a gimlet and have what you need on hand. Luckily, there are plenty of bars and restaurants in our neighborhoods that are well-versed in the art of cocktails!
We've rounded up a handful of classic cocktails at some of our favorite spots across Pennsylvania: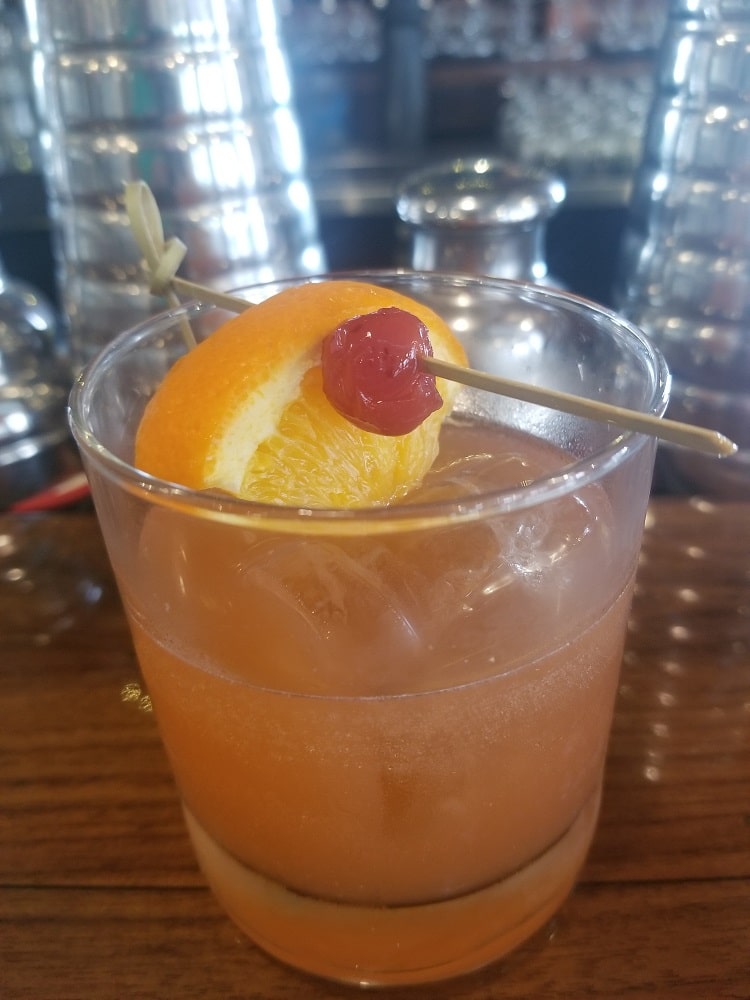 Candied cherry, almond syrup, orange and bitters
An Old Fashioned is created by muddling sugar with bitters, then adding alcohol — whiskey or brandy, usually — and a twist of citrus rind. And there's no better place to sip an Old Fashioned than at a distillery. We suggest bellying up to the bar at Mason Dixon Distillery to get your Old Fashioned on! 331 E. Water St., Gettysburg; (717) 398-3385.
Bloody Mary Bar at Annie Bailey's (Lancaster)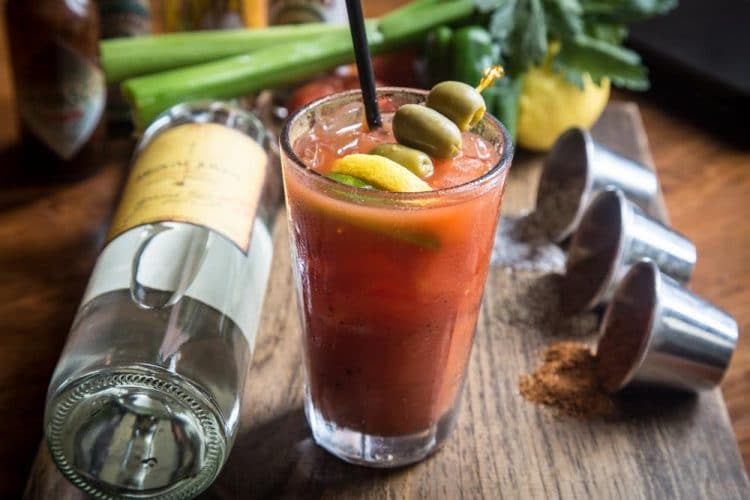 Every Sunday, head to Annie Bailey's to start your day with a custom libation from the ever-changing build-your-own Bloody Mary Bar. Expect to see some combination of bacon, pepperoni, beef sticks, pickled and fresh veggies, lemons, limes, horseradish and hot sauces on the bar. You can choose regular ol' vodka for your base, or a variety of infused options, like Old Bay, pepper garlic, banana pepper garlic or hot chili and agave. Not feeling the vodka? Try a different spirit like mezcal, gin or tequila. 28 E. King St., Lancaster; (717) 393-4000.
Build Your Own G&T
Gin and tonic were originally combined to mask the bitter taste of quinine, which English colonizers in India used to ward off malaria. Now, people mostly just drink it because these two things taste fantastic together. You can order a G+T at pretty much any bar in the world, but we love how Teresa's Next Door in Wayne lets the customer create his or her own bespoke combination. Choose from 20 gins (including PA brands, like Manatawny Still Works and Revivalist Gin) and eight tonics (all made with "proper" ingredients, and nothing artificial) to find your ideal combination. A knowledgeable server will be happy to help you hone in on the perfecting pairing. 126 N. Wayne Ave., Wayne; (610) 293-9909.
Pimm's Cup at 

The Dandelion (Philadelphia)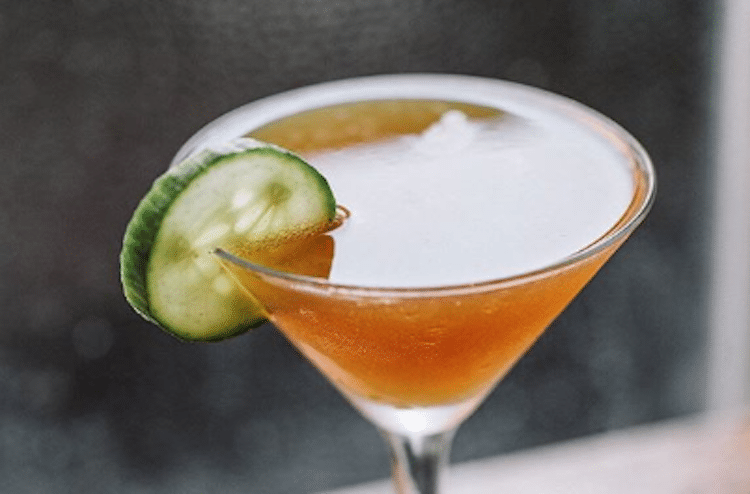 2 ounces Pimm's No. 1, cucumber, strawberry, lemon and orange
The history of a Pimm's Cup goes like this: Pimm, a farmer's son from Kent, England, became the owner of an oyster bar in the city of London. He offered this beverage as an aid to digestion, serving it in a small tankard known as a "No. 1 Cup," hence its name. The Dandelion's Pimm's Cup truly plays off the classic "fruit cup" with plenty of muddled fruit slices to bring out the fruity flavors of the Pimm's No. 1. 124 S. 18th St., Philadelphia; (215) 558-2500.
Perhaps no classic cocktail has enjoyed such an enthusiastic modern resurgence than the Negroni, an Italian aperitif most often made from equal parts gin, vermouth and Campari. Its beautiful ruby red color, pleasantly bracing bitterness, and boozy bang-for-your-buck has made it a favorite among savvy stateside drinkers in recent years. While Negronis are practically ubiquitous these days, we like going right to the source for a stellar version, like the one at Palmer Distilling Co., a craft gin-focused distillery in Manayunk. Its Liberty Gin follows an Old Dutch recipe and uses only six classic ingredients: juniper, coriander, angelica, cardamom, lemon peel and grains of paradise. If you find yourself in North Philly, Owner Walter Palmer suggests heading to Martha in Kensington for a standout barrel-aged Negroni made with his gin. 37 Shurs Lane, Building A, Philadelphia; (215) 588-5108.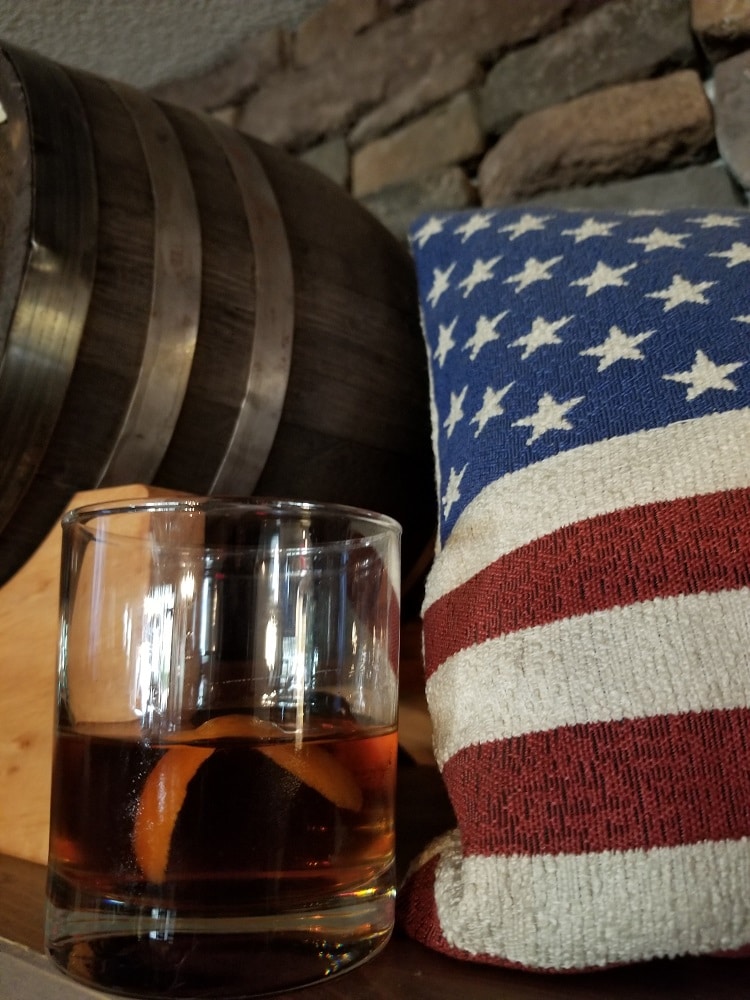 Knob Creek Rye, Peychaud's, simple syrup, absinthe rinse and a flamed orange peel
A Sazerac, which some argue to be the oldest American cocktail, has New Orleans at its root. Named after the Sazerac de Forge et Fils brand of cognac that was often its main ingredient, present-day versions are generally a combo of rye whiskey, absinthe (just a rinse for the glass), Peychaud's Bitters and sugar. It's spicy, smoke, sweet and strong as heck, perfect for pairing with Southern Cross Kitchen's down-home Southern classics and comfort food. Order a Sazerac from the bar and kick back with another New Orleans-inspired classic: a fried oyster po'boy. 8 E. 1st Ave., Conshohocken; (484) 344-5668.
Tanqueray Gin, dry vermouth, a dash of hot sauce, a splash of olive juice, garnished with blue cheese-stuffed olives
Just like a good dirty martini, the history of this cocktail is quite murky. Some say this only-booze classic originated in San Francisco in the 1860s at the Occidental Hotel, while others believe it was named, around the same time, after the Italian vermouth maker, Alessandro Martini. Regardless, it's safe to say that no other libation has become so synonymous with getting sloshed in style! While purists seek out martinis made from only very cold gin and a kiss of dry vermouth, we're happy to get a little loose with the Spicy Gin Martini at The Gables at Chadds Ford, which adds some big savory flavors with hot sauce, olive juice and a snacky garnish of stuffed olives. 423 Baltimore Pike, Chadds Ford; (610) 388-7700.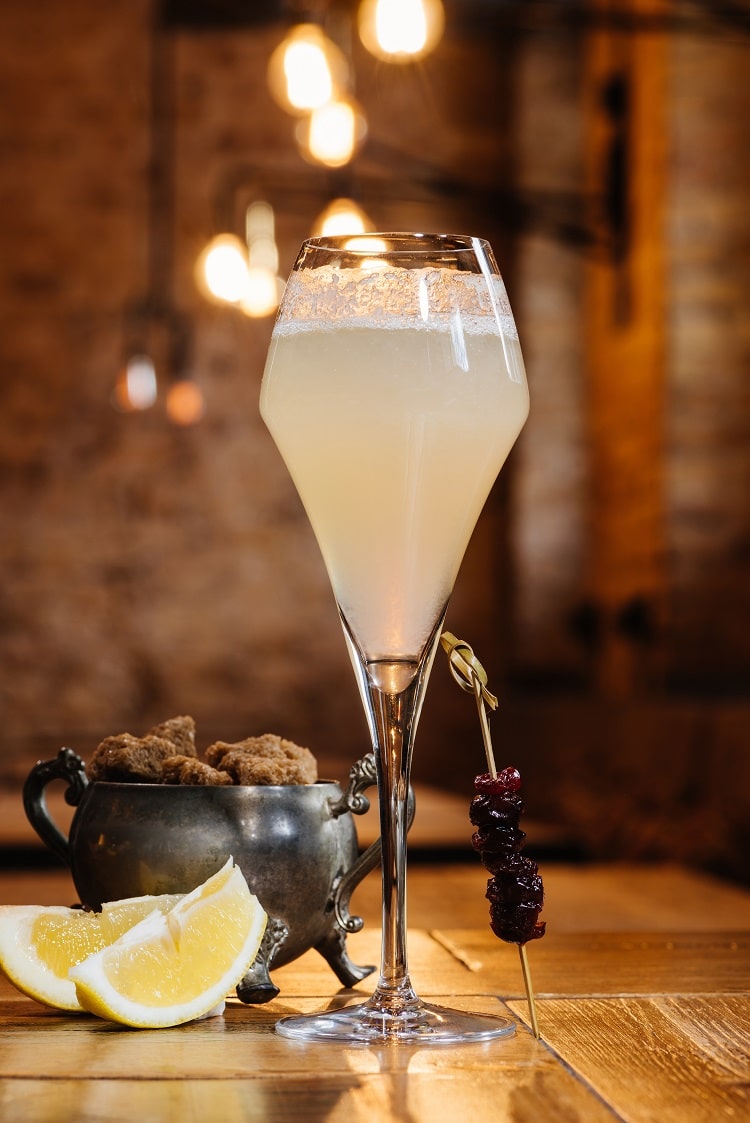 Choice of gin or lavender-infused grappa, demerara sugar, fresh-squeezed lemon juice, champagne float, lemon essence
This elegant, sparkling drink dates to World War I: The earliest form has been traced back to 1915 at the New York Bar — later Harry's New York Bar — in Paris, invented by barman Harry MacElhone. The combination was said to have such a kick that it felt like being shelled with the powerful French 75mm field gun. Disturbing wartime metaphors aside, this easy-sipper indeed packs a serious punch! We like this version from Bacco Pizzeria and Wine Bar for its choose-your-own-adventure choice of spirits and ingredient upgrades like lemon essence. 20 North Second St., Harrisburg; (717) 234-7508.
Manhattan at Social Still (Bethlehem)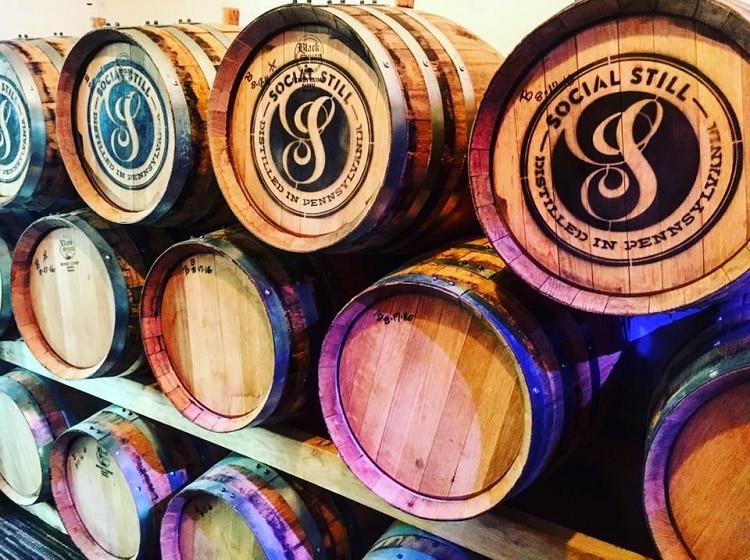 Rye whiskey, sweet vermouth, Angostura bitters and an amarena cherry
This genre-defining classic cocktail is named after a tiny town in Texas where it was invented. Just kidding! Of course, it takes its name from The Big Apple, where it reportedly originated, at the Manhattan Club in New York City in the 1870s. A mix of whiskey or rye, sweet vermouth and Angostura bitters, the Manhattan is actually just one of the five cocktails named after each of the boroughs of New York City. (Fun fact: The Brooklyn consists of rye, and replaces the Manhattan's sweet vermouth with dry vermouth and the Angostura bitters with maraschino liqueur and Amer Picon, an aperitif. This is a fun one to stump your local bartender with!) Try the version at Bethlehem-based Social Still craft distillery, utilizing its own rye whiskey, made from 90% Pennsylvania rye and aged in California oak for a smooth, spicy flavor with hints of caramel and malts. Always beware of a bar that uses neon-red maraschino cherries in drinks. Any bar worth its salt — like Social Still's tasting room — opts for the rich, bitter Italian amarena variety instead. 530 E. Third St., Bethlehem; (610) 625-4585.
Uncle Val's Gin, House Rosemary Simple Syrup, Lime Juice
A gimlet is basically a healthy pour of gin, softened by a little bit of lime and a spritz of soda. One story about the origin of its name attributes the gimlet to Surgeon Admiral Sir Thomas Gimlette KCB, who is rumored to have first added lime cordial to the daily gin allotment of the men of the Royal Navy to help combat scurvy while at sea. Gimlets are a great order for anyone who enjoys gin but doesn't want go all in for a martini or isn't crazy about the flavor of tonic water. The creative version at Alter House adds rosemary simple syrup for a fresh take on an old classic. 926 Lackawanna Trail, Clarks Summit; (570) 319-6665.
Americano at Butterjoint (Pittsburgh)
Doulin Rouge, Campari, Soda
The history of the Americano goes way back to the 1860's in Italy, where it was created by Gaspare Campari (yes, the guy who invented Campari) in his bar. Caffè Campari, in Milan. The main ingredients are sweet vermouth and Campari, making it basically a Negroni without the gin and with some bubbles for good measure — an aperitivo spritzer with low alcohol and plenty of appetite-inducing bitter herbaceous notes. The folks at Buttermilk make a mean and well-priced version, perfect for priming your belly for one if its legendary Western PA beef burgers. 214 N. Craig St., Pittsburgh; (412) 621-2700.
Bees Knees at Room 33 (Erie)
Hendrick's Gin, Lemon Juice, Honey
This Prohibition-era cocktails was cleverly formulated to mask the flavor of bathtub gin — lemon for flavor and freshness and honey for a touch of sweetness. Though there is no shortage of high-quality gin these days, it turns out that honey and lemon are still lovely ingredients for a straightforward, unfussy Bees Knees cocktail. At Room 33, a speakeasy-type joint in Erie, the gin in the mix is Hendrick's, which brings a subtle hint of cucumber flavor. 1033 State St., Erie; (814) 636-5062.
Where are your favorite spots in Pennsylvania for classic cocktails? Let us know!
Feature photo:

Ed Williams

All other photos:

Courtesy of respective restaurants