Every year in the US, there are hundreds of craft beer and beverage festivals, but very few of them are centered around elevating Black voices and experiences. And, of those few, the first (and arguably the best!) one, Barrel & Flow Fest, was founded and takes place annually right here in Pennsylvania!
Each August in Pittsburgh, Barrel & Flow Fest brings together craft breweries, art, music and entrepreneur, all with a focus on the Black experience, both in terms of featuring Black makers, artisans and artists, but also welcoming Black consumers as festival guests. At the helm of this annual celebration is Day Bracey, a Pittsburgh-based comedian, podcast host (find him and fellow comedian Ed Bailey on the Drinking Partners podcast) and events organizer.
Bracey originally co-founded Fresh Fest, the country's first Black beer festival in 2018, and has since re-branded it to Barrel & Flow Fest. The Fest has grown and evolved each year, gaining momentum and creating a vast, enthusiastic community of volunteers, participants and festival-goers along the way, with a reach expanding well outside of Pittsburgh.
We enjoyed the chance to catch up with Bracey, a native of Braddock, PA, to learn more about all things Barrel & Flow:
PA Eats: Take us back to the beginning. Have you always been a comedian?
Day Bracey: Well, I actually started out working in social service; I did that for 10 years in various capacities, as a counselor and resource coordinator, working with youth services and the military. I learned a lot about society and ways to fix society — it is actually fixable, but most of the efforts are severely underfunded. I found myself not being able to make the changes I wanted to make, because my hands were tied by red tape, lack of funds, policies, etc. I got into comedy, because my favorite comedians spoke truth to power, like George Carlin, Richard Pryor and Chris Rock. That was attractive to me, to be able to have difficult conversations in public and say things that are difficult in a way that's digestible to a large group of people.
So how did you go from doing comedy to organizing of one of the biggest Black beer festivals in the country?
About two years into my comedy career, I realized that comedy shows are really just an excuse to keep people drinking for three hours. That's what so much of entertainment is, getting people to eat and drink. And in the arts and entertainment industries, the two major forms of funding are grants and alcohol. I read once that the Pirates' entire roster is funded by concession sales, mostly alcohol sales. I wondered: If you could fund a baseball team on alcohol sales, imagine what else you could do in various communities.

We started our podcast, Drinking Partners, in 2014 as a way to get our names out there, and hooked up with the local brewing industry. We really started to grow, met a lot of people and interviewed a lot of brewers, and saw in the brewing industry this mentality of collaboration and a rising tide raises all ships. That mentality kind of changed our way of looking at things. Instead of just trying to be the best podcast, we thought how do we utilize this platform and the connections we're making to uplift other people?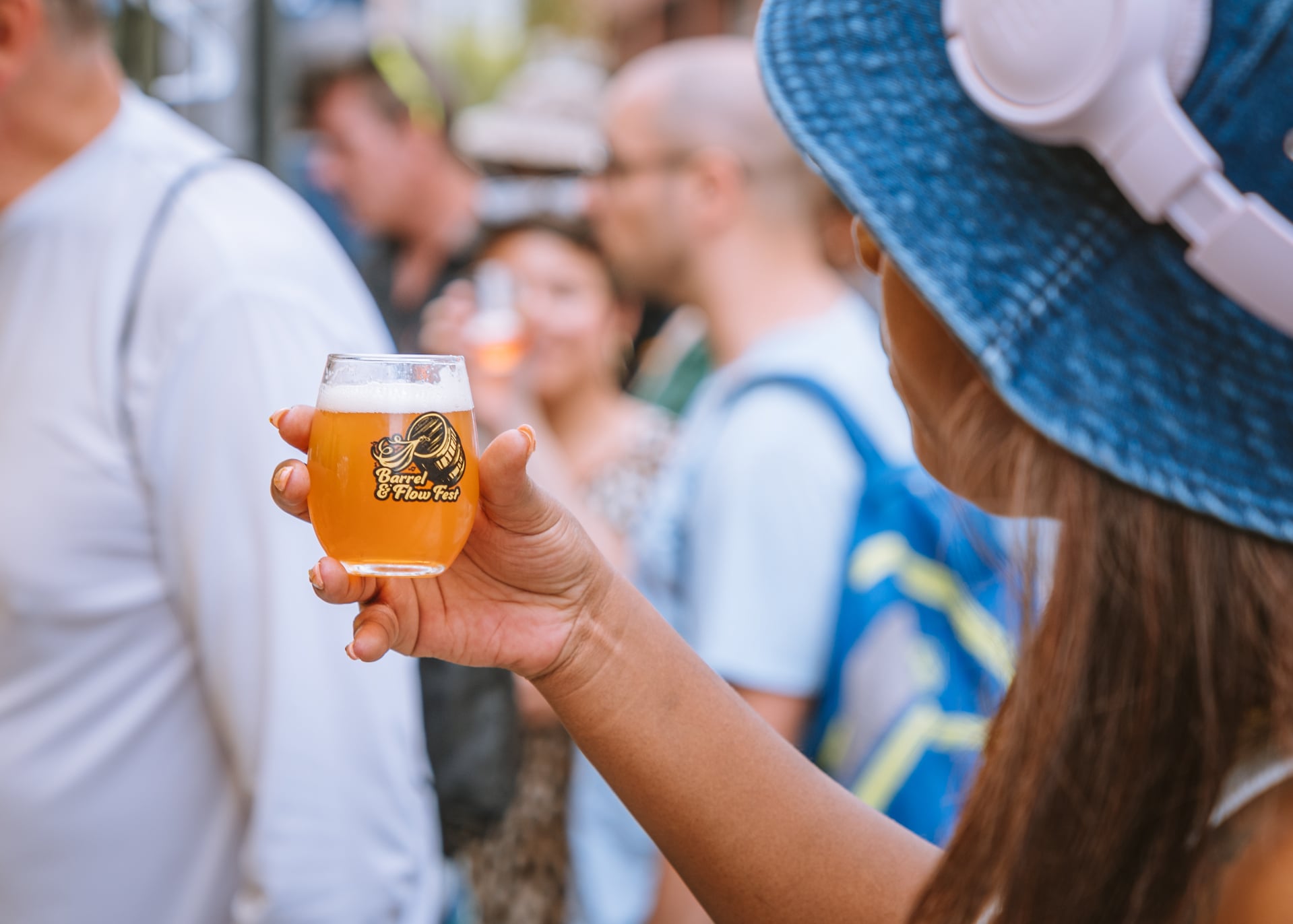 We started doing these diverse comedy shows, and people really enjoyed that. It wasn't the same bearded white dudes telling the same jokes. We invited brewers to come pour samples at the comedy shows, too. So we had these BYOB shows in theaters, with free craft beer samples and great comedy and could raise our ticket prices from $10 to $30, so we were able to pay people more and get good graphic designs. We quickly became one of the best comedy events in Pittsburgh.

After a few years of doing this, we realized that we were really the only Black folks in these spaces unless we were hiring and bringing other Black folks with us. The audiences were very white. Arts and craft beer are luxurious reserved for middle class, and the Black community is extremely impoverished here in Pittsburgh. We were like, how do we change that? We've got collaboration beers on tap in various spaces, we've got the Drinking Partners logos on cans, we're really capitalizing off these collaborative relationships with the brewing industry. That's where Fresh Fest came from. We called our closest brewing friends and said, hey do you want to do a Black brew festival? In order to pour beer here you have to collaborate with a Black artist or entrepreneur. Bring them in, show them the brewery, come up with a recipe they enjoy drinking, introducing them to new flavor profiles and then pay Black artists to design the labels. It was about introducing folks to new revenue streams and the industry to new communities.

Were there other ways you wanted to make your festival different from the standard beer fests out there?
Coming in, we wanted to focus on representation, the collaborative spirits and building bridges and doing something more than just beer. We wanted to focus on the arts the culture. A lot of these brew fests are boring, like the venue is usually lackluster, maybe it's in a convention center or open field, the entertainment is an afterthought. After an hour, what are you going to do? You can only do that so many times. I didn't want to throw a party like that, so we expanded the focus on the culture, music, art, food and small businesses that we bring in.

Also, the festival model is usually parasitic, it's about a producer typically trying to get as much money, it's a cash grab. Often times, brewers and artist don't get paid or are paying to be there. Who's benefiting from this? In what we do, we provide stipends to all the breweries, we pay all of our artists well above and are transparent in our pay rates. All of our staff our paid. We have a small group of volunteers that are close people who want to help out, but our staff working are being paid a livable wage to be there.

What was the first year of the festival like?
That first year, we had 10 black-owned breweries, 25 collab brews, 25 different service vendors, 10 food trucks, and a stage that featured live music. Back folks here before Fresh Fest had never seen Black brewers. People were going like, You made this? You brewed this? It blew my mind, even, to meet Black people making beer.

It really was like a nice festival vibe, and what we saw was that it was a mix of a lot of different cultures in there. America is extremely segregated, purposefully so, redlining is real, and a lot of people stick to themselves in their various pockets, especially here in Pittsburgh. This was one of the rare events where all these folks came out and mingled. It was exciting, and the industry saw it: diversity and inclusion but in action.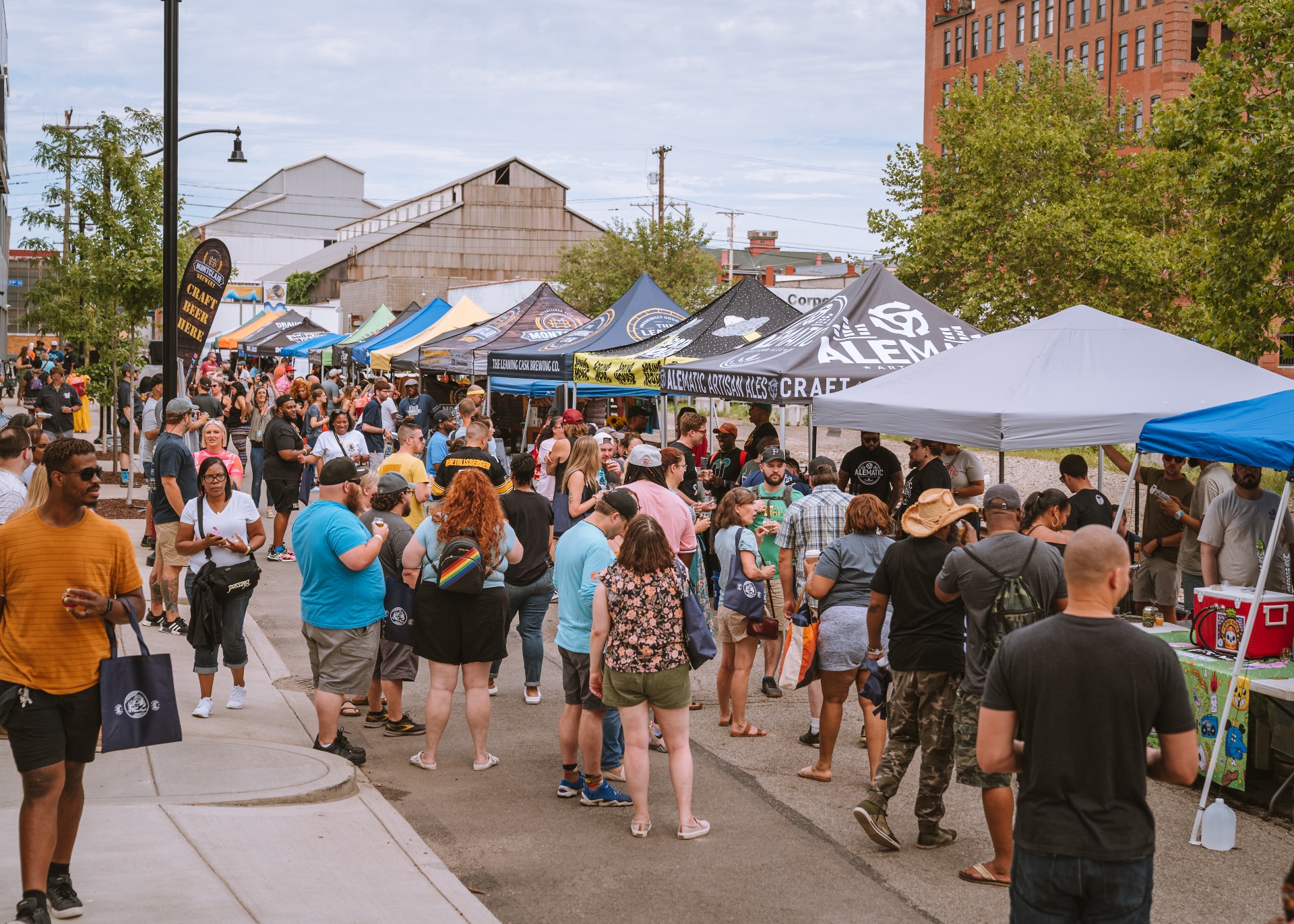 The craft beer industry at large is trying to diversify sales, they have to expand and go into different demographics and what we're doing with the festival is saying: Don't just sell product, sell opportunities. Craft for white society is an economic opportunity, whereas white society will go to Black culture and say, buy our products. We see you're coming for our dollars, but don't just sell us products. In doing so you'll be a better and stronger industry.

Our name is a take on the phrase, "hustle and flow." We're really looking at the fact that this is a business. There's a lot of passion in brewing too, and that's cool, but that's a term used a lot to get people to work for free. At the end of the day, brewing is a business. We want to be intentional and clear that we're in the business and we create mutually beneficial relationships, not charity.

Fresh Fest, now Barrel & Flow Fest, is going into its sixth year. How has it grown in that time?
We wanted to incorporate more than just beer, so anything in a barrel, those are the fermentables, and the flow side of it is the art side. You don't sell or create much of anything long-lasting without art, without culture. The best businesses have culture. Through the barrel flows the creativity. We had an outdoor and virtual festival in 2021, we had 75 brewing vendors, 30 food and 30 goods vendors, 4 music stages. It was insane, it was too much! But it was kinda necessary coming out of a pandemic.

In 2022, we toned it down with two music stages, DJs, live art stages. On the Friday of the festival weekend, we also offer conferencing, where we cover various topics like small business, mental health and financing. There's a bottle share with industry pros, where everyone is building connections and networking, Saturday is the Fest and then Sunday is a brunch. When you come in you get that full experience, it really builds bonds in this community.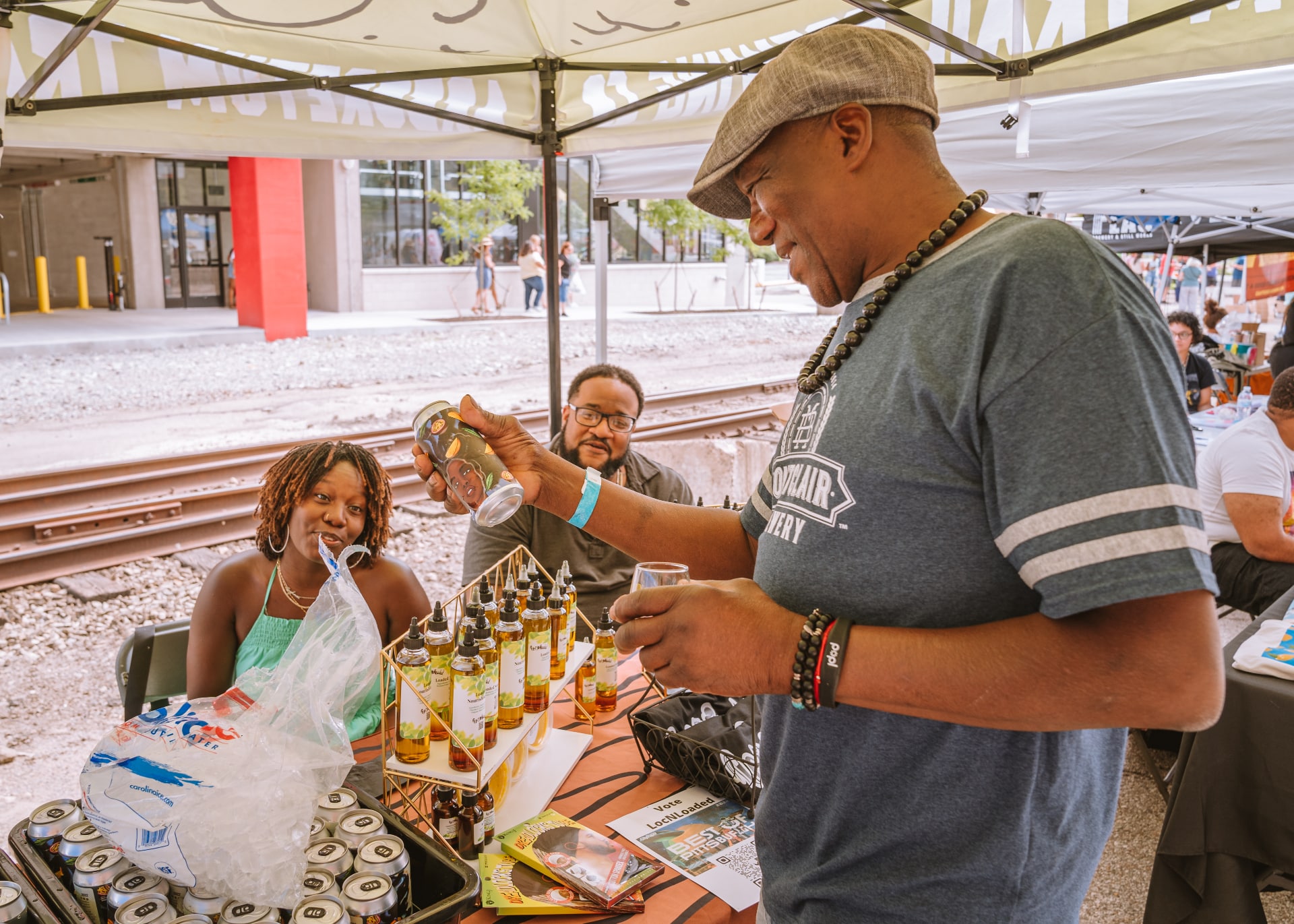 We keep the emphasis on not just the beer, not just the party aspect, but really looking at how do we strengthen the business side in a way that's bettering society and not just every-man-for-himself, post-apocalyptic capitalism.

It's become like a Black craft beer family reunion. When we started it we had no clue it was going ta have this ripple effect. I go to different countries and there are people who've heard of Barrel & Flow! We sparked this community, and once people saw what it was, it was no longer ours, it was the community's and they were like hey, here are ideas, resources and ways to improve. It's a lot of saying no to bad actors, people who want to pay for Black friends and ego-checking. The goal here is to uplift everyone and if you have a bigger platform that means you just have more work to do, not the other way around.

Since you started these festivals, have you seen more Black folks get into brewing and drinking craft beer?
Black people have been brewing since Egypt! But yes, as craft beer becomes more popular outside of white circles, you get people who are more adventurous. Some brewery owners have told me that Fresh Fest and Barrel & Flow were the inspiration for getting into the industry. It's been dope to watch because I used to feel very alone in the industry. I'd go into brewery after brewery and be like, am I the only one? It's been super cool to be able to travel the country and meet other people who look like me who are passionate about the industry and doing similar work. Ultimately, the industry will be better as we get more folks in there. My prediction is that as it becomes less expensive to brew and technology grows and we have more access, Black people will get more into it. And as more Black people have access to this economic powerhouse, with more Black folks on the supply side of this $1.7 trillion industry, the better our communities are as a result.
The 2023 Barrel & Flow Fest is scheduled for Saturday, August 12, 2023 at The Stacks at 3 Crossings in the Polish Hill neighborhood of Pittsburgh. Tickets are on sale now! Applications are also open for vendors, collaborators, breweries, artists and speakers. Find more info on how to apply here. Follow Barrel & Flow Fest on Instagram, Facebook and Twitter for news and updates.
This series is made possible by support from the Pennsylvania Malt and Brewed Beverage Industry Promotion Board and grant funding from the Pennsylvania Liquor Control Board.
Day Bracey headshot:

Courtesy of Barrel & Flow Fest

All other festival photos:

Nick Naretto