So many small businesses in Pennsylvania are family affairs, with multiple generations or siblings working side-by-side to pursue entrepreneurial ventures. Fat Bat Brewing, located in Hanover, PA, carries on that tradition, with sister-and-brother team Sandy Bialek and Kevin Smith at the helm; Bialek is the owner and CEO, and Smith is the head brewer and creative director. Together, along with plenty of help from their extended family, these two have established Fat Bat as a community hub where fresh beer and interesting art are always on the menu.
Though the siblings are 21 years apart in age, they see eye to eye on a lot of things, which is partially what inspired them to start a brewery together. Though their original opening date was pushed back nearly a year due to Covid, Bialek and Smith didn't give up on their dream, and maintained their collaborative spark and joint sense of humor while facing various challenges and obstacles. We caught up with the duo to delve deeper into their history and the identity of the brewery:
PA Eats: How did Fat Bat Brewing originally get started?
Sandy Bialek: Kevin is my baby brother; there are six of us siblings and he's the youngest in the family. He started home brewing beer in his 20s, when he lived with our parents because he's the baby! My husband I moved back to Hanover with our kids to be closer to family and ended up living next door to my parents when Kevin was still there. I'd hang out with him while he was brewing beer and we'd always joke around that we should start a brewery. I went back to work full-time after taking time off to raise kids, and got some management experience. That was between 2009 to about 2018. During that time, Kevin got even more brewing and artistic skills under his belt. I'd always wanted to own a business and I finally thought, What am I waiting for? I wanted the challenge, I wanted to start with a vision and make it come to life. And so I began looking into starting a brewery.

Kevin Smith: I started homebrewing because I like to know how things are made. Our family has a lot of parties, which would always give me a reason to make more beer. Eventually I built a shed out back to house all my equipment, and would serve the beer from out there during our family gatherings.

Bialek: Yeah, we're a big beer family. Those parties was the first Fat Bat!
How did you come up with the name?
Bialek: Kevin is our visionary, that's even what's printed on his business cards! When I asked him if he wanted to start a brewery with me, he had one request, and that was that we call ourselves Fat Bat Brewing. The reason for that is when he'd brew and I'd hang out, his two dogs would run around. One of the dogs is named Lady Gaga, and she'd lay on her back and her ears would flop back. Kevin would say, "You look like a little fat fruit bat." The dog became the muse for the labels on his homebrew bottles. Now, Kevin does huge paintings, one for each of our beers, and they're hung in our taproom, which is like a mini museum. We don't bottle or can our beers, so those paintings are like our labels. He thinks of the names of each beer and the corresponding painting while he brews.
Kevin, what inspires your beer names and images?
Smith: When I think of a name, it's usually from music lyrics, because I always have music playing while I'm brewing, I usually do decide on it on brew day, otherwise I'll overthink it. For the paintings, I'm a visual person, I see the world in shapes and colors. I co-create the beers and paintings.

What was the process of starting the brewery like?
Bialek: We got serious about it back in 2019. We were all still working full-time at other jobs, but whenever my husband Dave and I had the chance, we'd walk around Hanover to see what was for lease. We found a couple spaces and took some time off to all look at them. We came back to this one a few times and knew it was the one. It's a very old building dating back to the 1870's. We learned from the Historic Society that before this building was here, there was originally another brewery on this lot, Barnett's Brewing. It seemed to us like there was just supposed to be a brewery here! Since then, the building has been a hardware store, a livery stable, a furniture store and a dance studio. Kevin actually explored the whole building and incorporated a lot of unused wood into the build out, which he mostly did by himself.
When did you end up opening?
Bialek: We were originally supposed to open in March of 2020, and that didn't work out. During Covid, we'd have a lot of what I called "board meetings," where our whole family would come and we'd all brainstorm. I'd ask, What's your favorite part of a brewery or bar? and everyone would bring up ideas. It was really cool, making all these ideas come to life. 

Everything got so dragged out and everyone kept asking when we were opening, so I finally just decided to set a date. We picked May 20, 2021, and lucky for us, the governor lifted all the mask and social distancing mandates that Monday. We were prepared to open with masks and limited seating but we didn't have to. It was crazy, we were so busy in here. We had extended family who helped out behind the bar, and we still have a bunch of family members who work here.
Can you describe the space?
Bialek: When you enter our space you come in through the fermenting room. That was part of our vision; in Hanover, there are several breweries already, but none of them show you the equipment. We wanted people to see our working brewery as they go into the taproom. There's art everywhere in here, and we often have live music and host local artists to sell their wares.  Also, the space has so much wood and original character, and we wanted the bar to look like it's always been there. Downstairs there's The HIDEaWAY, which is like a speakeasy we use for private events.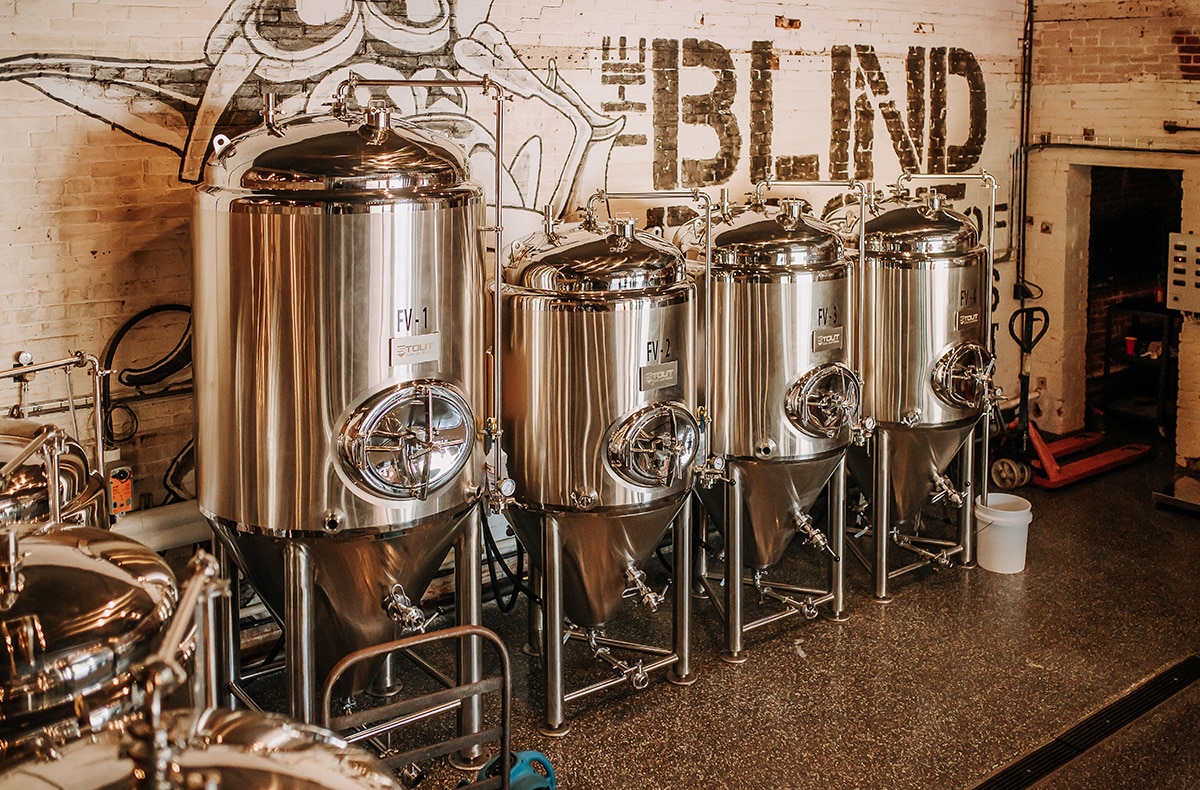 How do you describe Fat Bat's beer program?
Smith: We pride our beer on consistency. My sister's favorite beer is our Pigeon Pils, so I make sure that one is perfect! Also, we're set up to lager which I really to be able to do. We're both lager lovers, and I could never lager as a homebrewer, so that's awesome to have that at the touch of a button. We get creative, too. Last year we did two beers that ended up being some of our best-sellers: Choppy Waters, and Old Bay-seasoned lager and Beach Trick, a cucumber melon sour. While we like traditional styles, beers that taste like beer, I also love my hops and my sours, so we do a little bit of everything.

Bialek: Kevin loves hops, so sometimes I have to remind him to make something without hops! We try to have no more than four IPAs on at once, and we we have a few lagers and pilsners. He makes kinds of stuff, even with the lagering he'll get creative, like a Mexican-style lager he makes in the summer time. We also make a Czech-style pilsner and people from Czechoslovakia will say it's the best they've ever had in the US.
Do you use local products in your beer recipes?
Smith: We use CNC Malt out of Pittsburgh. They do old-style small production floor malting and we have a good relationship with them. Wingman Pale Ale is our flagship beer, it's always on tap and it's our biggest seller, and I use all CNC's malt for that one.

Bialek: We also use a local, female-owned roaster, Ghouls and Grinds, to get our coffee for our Coffee Stout. We worked with her to get the right beans, because we like dark coffee. She made a custom dark blend that can be brewed hot or cold.
How have things changed since you opened in 2021?
Bialek: Kevin's getting better and better all the time with his paintings and brewing. I'm still learning what are the busier and slower months, and it's hard to pivot around that, but our bartenders are really good about it. We're still trying new ideas, like open-mic comedy nights. 

Smith: And, we opened with 10 taps, and are up to 15 now!

Creating a community space is important to you. How have you done that?
Bialek: We do a lot of fundraising, like a Hot Wheels race, where all the money we raise goes to Main Street Hanover. Or, we'll pick a beer, and donate a dollar from each pour to a charity, like Hanover High School's Thon fundraiser. Or, we'll have guest bartenders to raise money. Last year, Kevin's wife and I both went through breast cancer treatment, so he made Comeback Queen, a hazy IPA that we donated money from to the American Cancer Society.

It's also cool that where we are in Hanover, just a block off the Square, there are soon to be four breweries within a one-block radius. So it's going to become a real destination spot, where people can just come and hop around and enjoy a nice day at all these local breweries!
For more info on Fat Bat Brewing, including events and the current tap list, visit its website, and follow along on Instagram and Facebook.
Visit Fat Bat Brewing Co., which is open Wednesday through Sunday, at 10 N. Railroad St. in Hanover, PA; phone: (717) 797-3198.
This series is made possible by support from the Pennsylvania Malt and Brewed Beverage Industry Promotion Board and grant funding from the Pennsylvania Liquor Control Board.
Photos:

Fat Bat Brewing Co.