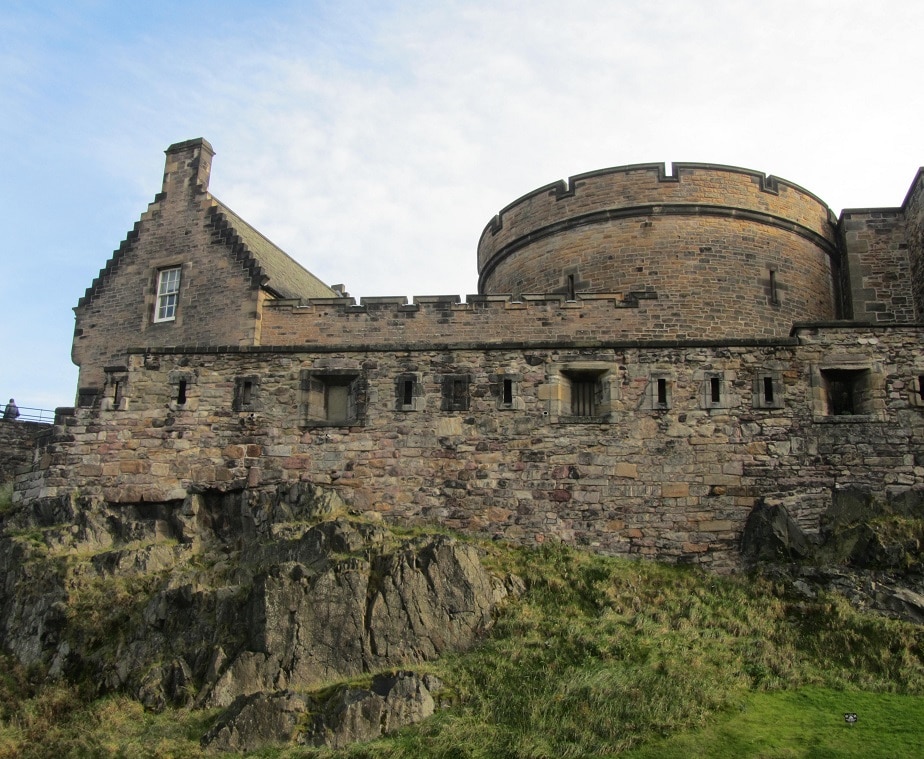 This fall I visited Edinburgh, Scotland, for the first time, with one of my brothers. It's a gorgeous city! One of the things I appreciate about traveling to Europe is how much older everything is … and they have castles! Like all great cosmopolitan cities, the restaurants were fantastic.
We couldn't get into our hotel until the afternoon, so we wandered around a bit, getting our bearings. We stayed on The Royal Mile, so named because the old Edinburgh Castle is on one end and the Royal Palace, one of the British monarchy's official residences, is at the other. Most of the mile is pretty touristy, but it's completely walkable, which was very appealing to me.
A few blocks away, we found La Petite Morte and had an unbelievable lunch. I am gluten-sensitive, so the chef whipped up a special vegetarian risotto. It had the loveliest presentation, wrapped in zucchini slices.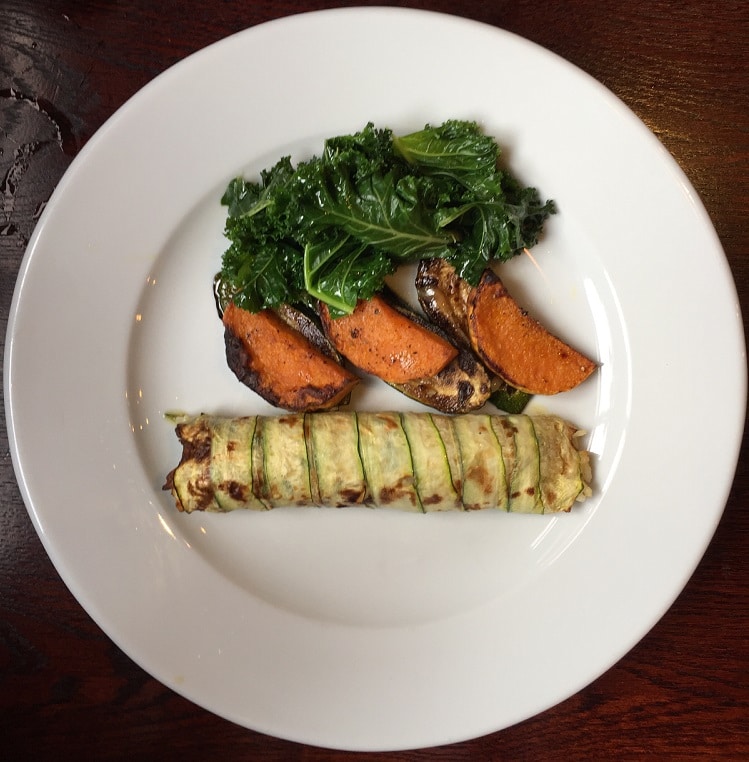 My brother had the soup of the day, a butternut squash bisque. We also had crayfish and ginger potato cake with kale and Parma ham crisps. The cake was wonderful and had a slightly denser texture than a traditional crab cake. I love potatoes, so I definitely will try to reproduce this at home.
For my cocktail, I had the Gin Lemon Fizz which also included Limoncello, Bouche Pere Fils Reserve and Brut Champagne. The restaurant is located near the Kings Theater and offers a special pre-theater selection. 32 Valleyfield St., Edinburgh, United Kingdom, 0131 229 3693.
For dinner we opted for Asti because it serves gluten-free pasta. This was another dazzling meal that exceeded our expectations. I had its interpretation of the negroni for my cocktail.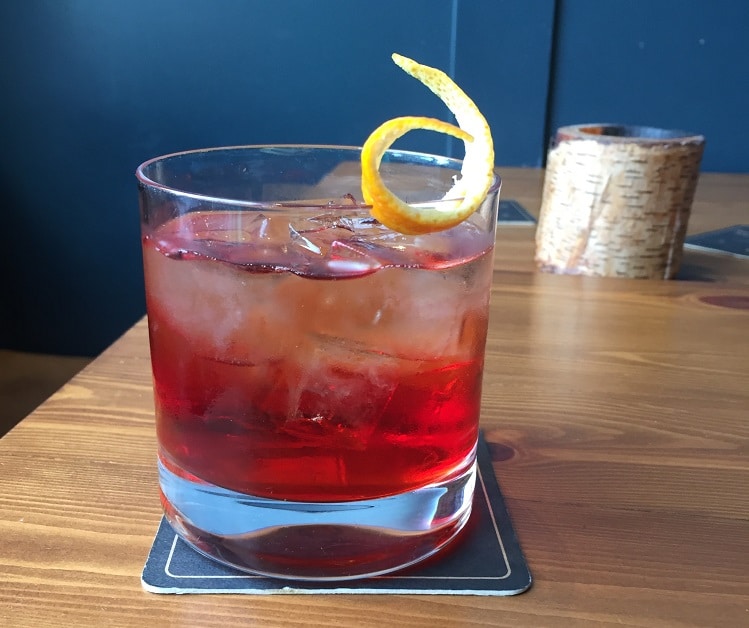 We split the antipasto rustico, which was a traditional antipasto of cured Italian meats, cheese, artichokes, polenta chips and olives. We ambitiously ordered another starter, crostini misti, which was served with gluten-free bread, roasted sweet peppers, garlic mushrooms, strips of smoked salmon and chicken pate. I also had the insalata mista.
For my entrée, I was able to substitute the gluten-free pasta in place of the gnocchi in the savory Bolognese. We shared a bottle of Salice Salentino Rosso DOC "Montecoco." 73 Broughton St., Old Town, Edinburgh EH1 3RJ, 0131 558 9156.
The next day we had lots of sightseeing planned, so we needed sustenance straight away. My brother did some research and found the marvelous Mums. There, we both had a traditional breakfast of sausages and mash.
I opted for the caramelized leek and bacon, and lamb and mint. My brother also tried the leek, and chose the red onion and basil. We both got the classic brown gravy. It was divine! The sausages are local and gluten-free. 4a Forrest Rd., Edinburgh, 0131 260 9806
We had tickets to see actor Laurence Fox in a play, The Real Thing. Prior to the show, we decided to get a snack at Scran and Scallie. We chose oysters, veggie crisps and sliced bread (gluten-free) with butter. These were the best tasting oysters I've ever had.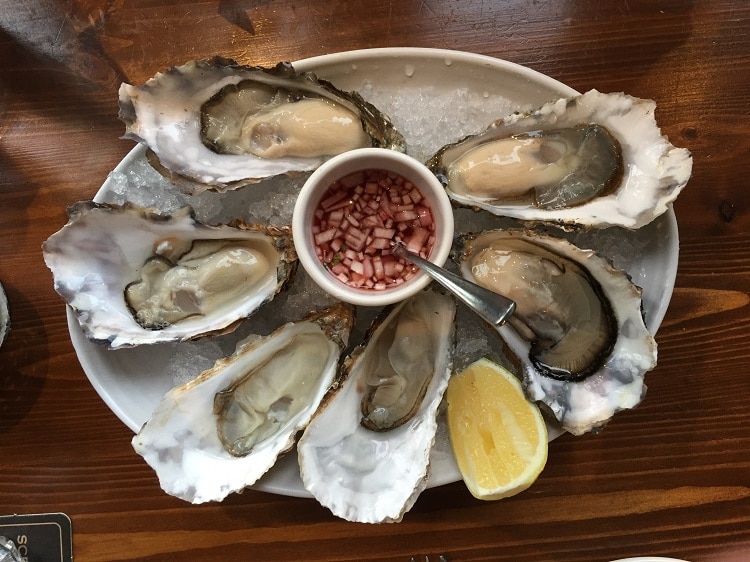 The veggie crisps were light and airy. I was thrilled to find another spot that offered gluten-free bread.
For a cocktail, I went with their piquant old fashioned. Next time I'm back in Edinburgh, I'm definitely coming back to this Michelin-rated gastropub for dinner! 1 Comely Bank Rd., Stockbridge, Edinburgh EH4 1DT, 0131 332 6281.
After the play, it was getting late, so we headed back to the Royal Mile neighborhood. Fortunately, OX was still hopping, and we got a superb late-night meal. I opted for a sirloin steak with garlic and parsley butter and a side of fries. It was mouthwateringly delicious. 184-186 Cowgate, Edinburgh, EH1 1JJ, 0131 226 1645
The next day, I was craving seafood, so we stopped into Michael's Steak and Seafood. It was busy — always a good sign — so we were lucky to get a table. We opted for oysters again. What a treat! They also seemed to be cheaper than back home. In addition to my salmon, mussel and clam casserole entree, I selected green beans with pine nuts. They were tasty and I will now always roast my pine nuts! 15-19 Jeffrey St., Edinburgh, EH1 1DR, 0131 557 2635.
We wanted a relaxing meal for our final night in Edinburgh. We were too early for our dinner reservation, so we decided to find a nearby spot to have a drink. We found the Basement Bar, a charming Mexican restaurant with a friendly bartender. I had a yummy Killer Margarita, with Ocho 8 Blanco tequila, Aperol, blood orange, agave and lime. It was perfectly balanced and the tequila was smooth. I definitely will come back again to try the food! 10a-12a Broughton Street, Edinburgh, EH1 3RH, 0131 557 0097
My brother found the Educated Flea because they were gluten-friendly. For our starters we picked the 3Bird dukkah, with extra virgin olive oil and smoked shallot vinegar. We also ordered the crispy pig's ear with maldon salt and aioli. I suspect that's a bit of a local delicacy —  the idea is to make good use of the entire pig so there's little waste. The ears were crunchy and although they had a nice flavor, the texture is a bit tough. I'm glad I tried it, but I'm not sure I'd get them again. We also ordered a pork shoulder, and it was tender and delectable.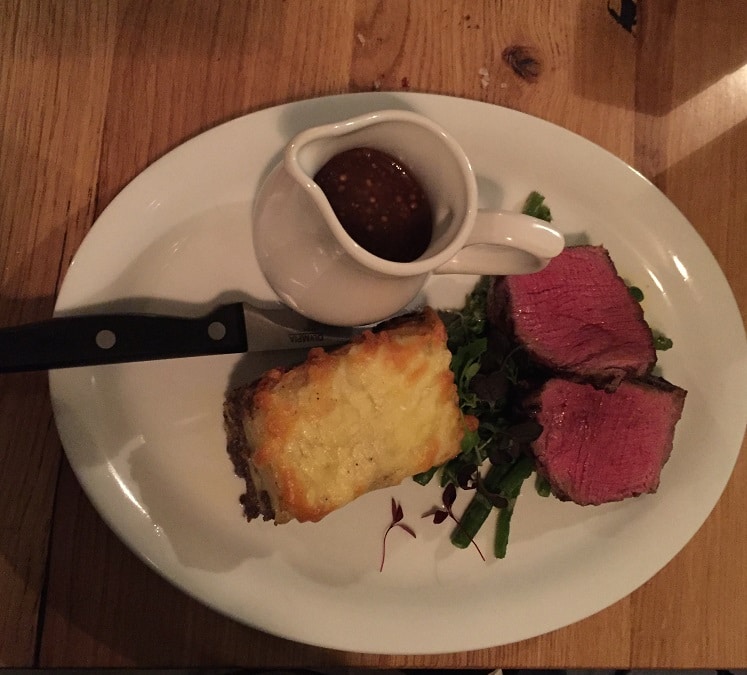 For my entree, I went with a Scottish fillet, haggis (gluten-free!) and beans. The gravy was also gluten-free, I was thrilled! My brother got a chicken with risotto, and he was equally pleased with his meal.
To end this scrumptious meal, they had an amazing gluten-free cake, with sliced plums and ice cream from a local farm. The Educated Flea staff were friendly, charming and I can't wait to return. 32b Broughton St., Edinburgh, EH1 3SB, 0131 556 8092
If you are looking for a new spot to visit in the United Kingdom, I heartily recommend Edinburgh. Everyone was welcoming, and the cabbies were helpful and often provided a bit of history with the ride. The public transportation is convenient, and the city is easy to explore. If you are a food-lover, do consider this across-the-pond destination for your 2018 travels!