From the moment I first saw the joyful, cartoon-ish drippy pots on ceramics artist Brian Giniewski's Instagram feed, I was hooked. Traditional handmade ceramics can often look heavy, serious, rustic or just kind of plain. These little pots, vases, cups and all-purpose vessels are quite the opposite — a riot of color, with a melted ice cream-type drip in lustrous glazes. They're cute, fun and maybe a little uncanny, existing in a place of aesthetic tension: nodding to the mildly hallucinogenic imagination of youth and 1960's/70's culture, but clearly made with intention, care and a strong grasp of color theory, which lends modern, adult vibes and a strange elegance.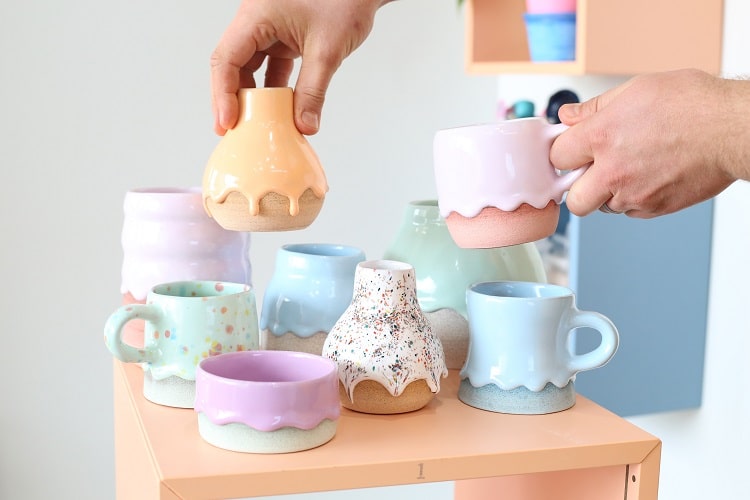 When PA Eats team first developed the idea for this "Future Heirlooms" column, Giniewski was at the top of our list of local artists to interview. So, it was a bit of a thrill when he responded to my request promptly and enthusiastically, and not too long after, I found myself riding in a creaky freight elevator alongside Giniewski up to the 4th floor of the Globe Dye Works building in North Philadelphia. As he pulled apart the massive elevator doors, we walked right out into his impressive studio space.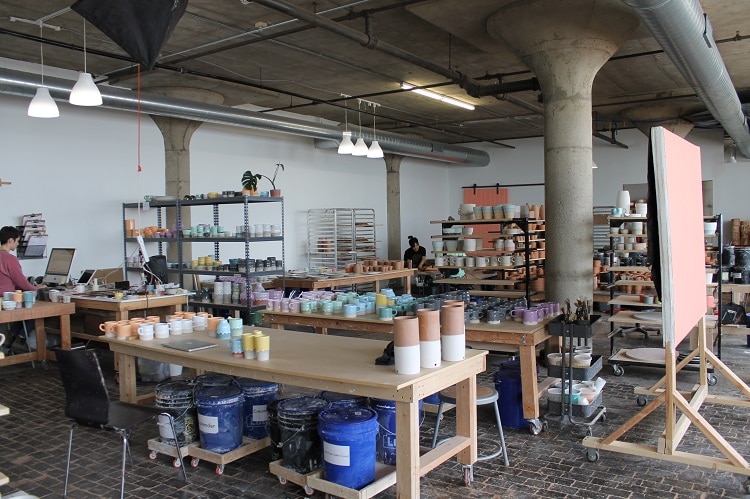 His company only moved into the 6,500-square-foot space a few months ago (from a smaller space nearby), but it looks like they've been there for years. A small crew of young folks move around the space, some sitting at wheels, throwing pottery, some checking on kilns, while sunlight floods in through the huge industrial windows and dreamy indie pop floats from big speakers. Vases and vessels in various states line shelves, and though the space is buzzing with activity, there's also a calmness to it.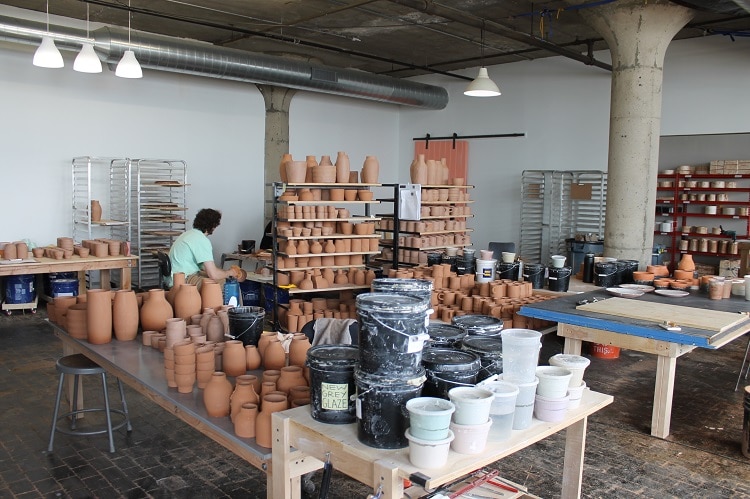 "This is a very Philly space," Giniewski notes. "There's no way we could afford this much space in New York or some other big cities."
He also explains that part of the calm, focused feeling in the studio is due to how carefully he puts his team together, acknowledging that with such a small group that is sharing so many ideas, it's important to him that people treat one another with respect and generally gel well together. He considers himself in a teaching position with the young artists working for him, and says it's his greatest hope that they go on to establish their own projects and businesses.
"That would be the best kind of success for me, to see them go from here to do their own thing," he says. "Working with them, it's like I get to take the best parts of teaching and do it every day." In the same vein, he hopes to bring smaller ceramics artists into the studio in a sort of incubator program, to help them turn design ideas into realities and to launch companies.
Giniewski knows a thing or two about teaching art — after studying art as an undergraduate and grad student, but before starting his ceramics company two years ago, he bounced around from state to state, working as a fine arts professor at various universities. In May of 2016, he and his wife, Krista, moved to Philadelphia from Indianapolis, and decided together that he would take the leap with the business as a full-time thing at the end of that academic year. Though he'd been working on his line since 2013, he says things really took off when he was able to devote all of his time to the studio.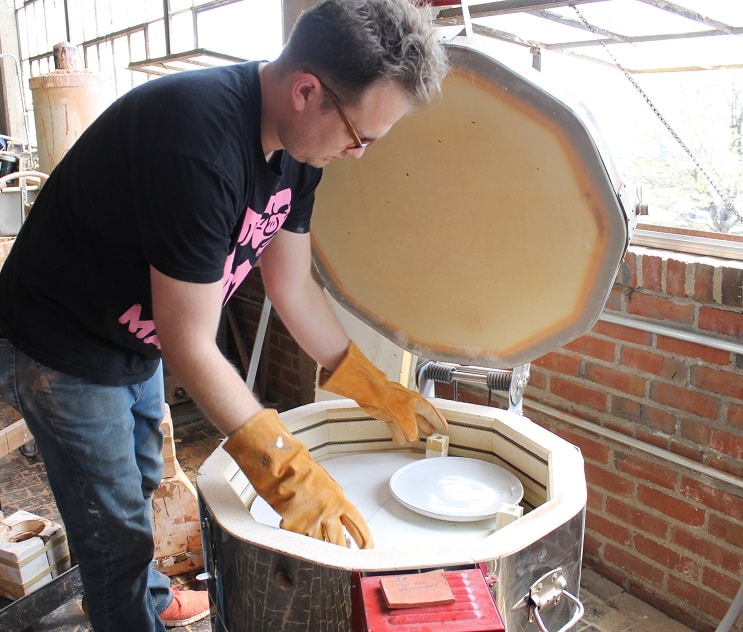 And though his rigorous fine arts background had him believing for a long time that commercial success shouldn't be his main goal (he used to make huge, site-specific sculptural installations), he says that as he's grown his company, his perspective on things has shifted. "I'm making art that's out in the world, that people want to bring into their homes and keep forever," he says. "And even though some people in that fine arts world might be suspicious of what we're doing here, I've never been more satisfied with what I've done."


While Giniewski and his team have had to streamline their workflow to keep up with demand — they try to keep about 200 ever-changing one-of-a-kind pieces on the website at any given time — the products are still made in a very hands-on, artisan fashion. Giniewski will often come up with shapes for vessels that he'll make into plaster molds, and the ones that tend to do well are turned into rubber molds which the pieces are cast in. Then, they'll play with colors, using their proprietary drip technique, complete with the little colorful splotches, which Giniewski credits his wife with creating. Each piece takes about a month to complete, from start to finish.
Part of the reason that every piece isn't thrown by hand is that Giniewski says it's a huge priority to keep his work at a relatively affordable price point. Most things in his line range from $22 (for a little 2-inch pot) to $175 (for a 9- or 10-inch vase). He reports that recently, they've been getting a lot of custom work for boutiques, cafes and restaurants that want to stand out from the crowd with bespoke serving ware. A handful of restaurants even request certain color combinations to compliment specific dishes. For example, he tells me, recent Top Chef contestant Claudette Zepada-Wilkins ordered custom dessert plates for the signature deconstructed pineapple upside down cake her at forthcoming restaurant El Jardin in San Diego, California.
Plates are a newer addition to Giniewski's oeuvre, and one that he's really excited about. Because they are so time-consuming to make, the plates are often sold out on the website (though, devotees know to refresh the page every few days, as new stock is constantly added). With the amount of room in the Globe Dye Works studio space, Giniewski says he hopes he can slowly ramp up production.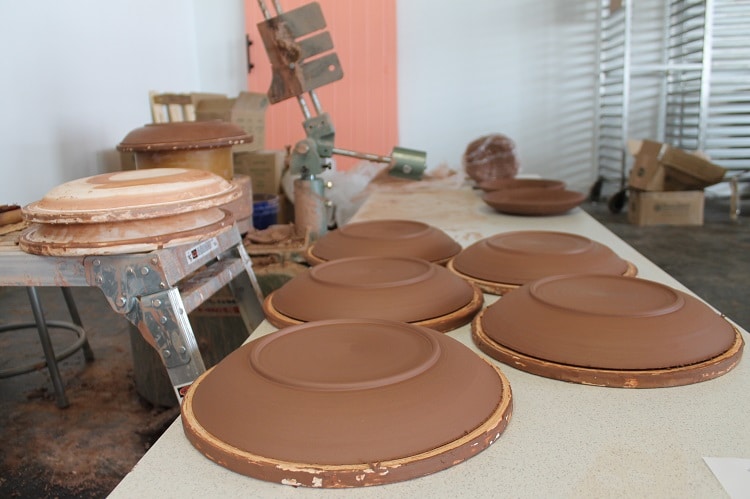 Each plate is created at the wheel, with a special construction and firing process that makes them more durable than some of his other pieces. After a creamy light gray glaze is added to the whole plate, the center is decorated with a galaxy-like pattern of speckles and spots.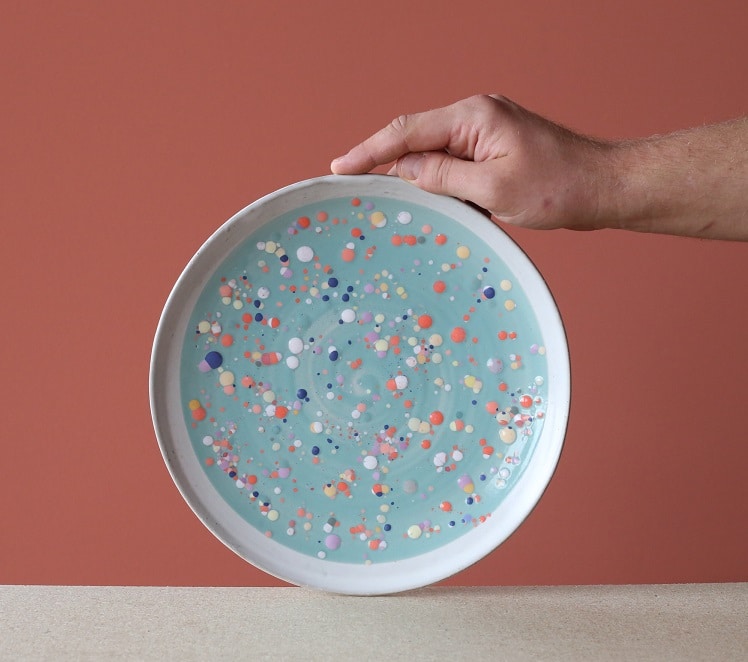 As with the drippy pots, the color combinations are practically endless, and Giniewski says that he looks to his fans and followers for feedback on what to do next. He credits Instagram, not only with the success and popularity of his company, but also for the community it's helped him to tap into. "We get to really know our customers through Instagram," he says. "I don't know if we'd be able to do what we've done without it."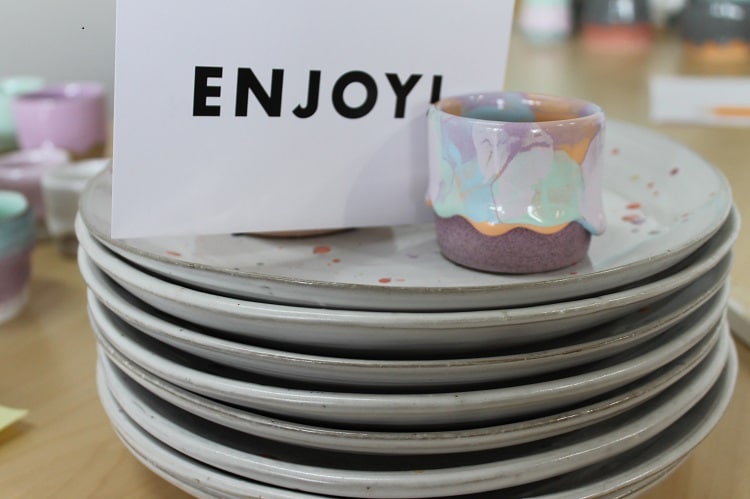 For all things Brian Giniewski, follow along on Instagram or check in with his website which is updated almost every day.
Feature photo, Brian's headshot, vases grouping photo and plate photo:

Brian Giniewski

All other photos:

Emily Kovach