Many regional and global cuisines carry with them a strong, specific baking tradition. Think: French patisserie, British tarts and biscuits, San Francisco sourdough, sweet and savory Chinese buns, Montreal bagels and Mexican pan dulce. Jak's Bakery in Pittsburgh, brings a lesser-known but equally as exciting baking culture to Pittsburgh: Bulgarian breads and pastries.
Owner Zhelyazko (Jak) Latinov and his family came to the U.S. in 2014, and brought with him two decade's worth of classical training and techniques — he owned his own bakery for many years before emigrating. Armed with those skills and business acumen, he's introducing the hungry people of Pittsburgh to the delicious baked goods of his homeland.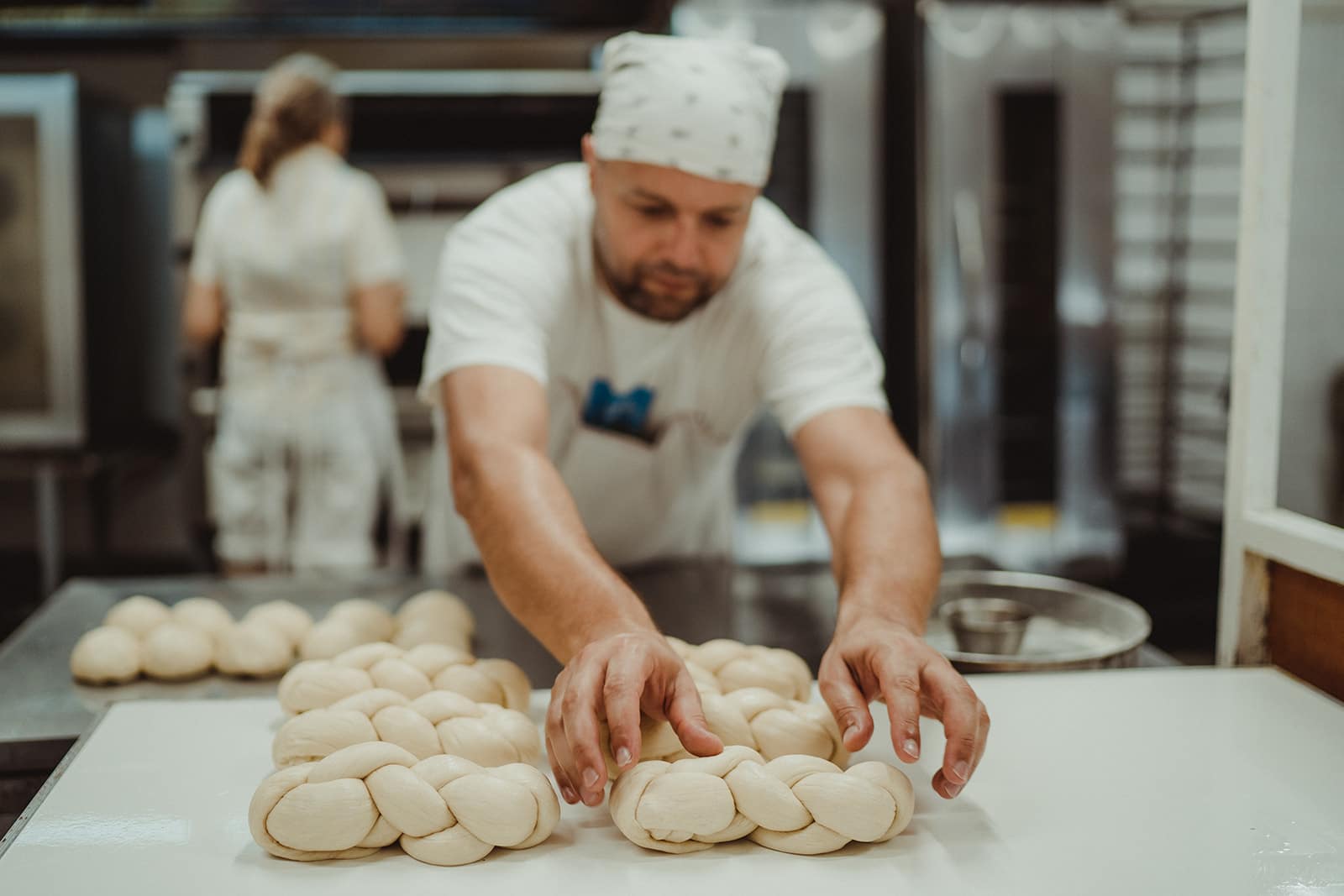 We were able to catch up with Latinov and his wife/business partner Molly in the midst of their busy farmers market schedule (they do six each week!). They shared their story and taught us a lot about what makes Bulgarian baked goods special! Learn more about the local artisans behind Jak's Bakery through this Q&A:
PA Eats: So, how did the two of you meet?
Molly Latinov: Jak had a bakery in Harmanli, Bulgaria for 20 years. He opened it when he was 20! He always knew he wanted to be a baker, and he went to a technical high school for Bulgarian baking, because hand-pulled phyllo dough is a really specific skill in that area. After school, he apprenticed to get the practical skills and then he opened his own place, attached to his house.

I was in the Peace Corps many years ago and I was teaching English in a primary school in his town from 2007 to 2009. We met through mutual friends, and spent the next few years with me going back and forth from the US. Eventually, I moved back to Bulgaria, and both of our daughters were born there. When our older was 3 and younger was one and a half, we decided to move back to the States. Our younger daughter has Down syndrome and we knew we were going to need some specialists and therapists, and we wanted those to be part of their schooling.

We decided on Pittsburgh largely because of the Down syndrome clinic here. I'd also gone to grad school here and I loved it. It's a big city, but not as big as New York or some other places. There is also the oldest Bulgarian social club in the country is here — it turned 90 last year! We knew that the Bulgarian community here would be a social aspect. We decided to make a go of it!

Was it always part of the plan to open a bakery in Pittsburgh?
Molly: Jak has always wanted to be baking. When we first got here, Jak took English classes and worked for a few years at the bakery in the University of Pittsburgh, because he was interested in what baked goods over here are like. They are quite different! He didn't know how to make muffins or cookies the way we do in the US. He also wasn't sure if people would buy Bulgarian pastries here, even though I always said they would! We started doing pop-up events in February of 2019 to see if Jak's stuff would appeal to non-Bulgarians. That was really helpful because we did tweak some of the recipes to provide vegan options or more diversity on the table. Almost all of the savory pastries traditionally include feta, so we modified a few to have a little bit of a broader appeal. 
What was the response like to the pop-ups?
Molly: People were ordering more and more, and every time we did an event it went really well. Then we were able to get into a couple of farmers markets that first summer, and we created an agreement with a local coffee shop who'd let us set up and sell there. We'd post on IG and sell out every time. By the time we got to the end of that summer in 2019, we were in more and more of the farmers markets. It seemed to appeal to people looking for new flavors. There are a lot of people here with Eastern European background so there was some nostalgia as well.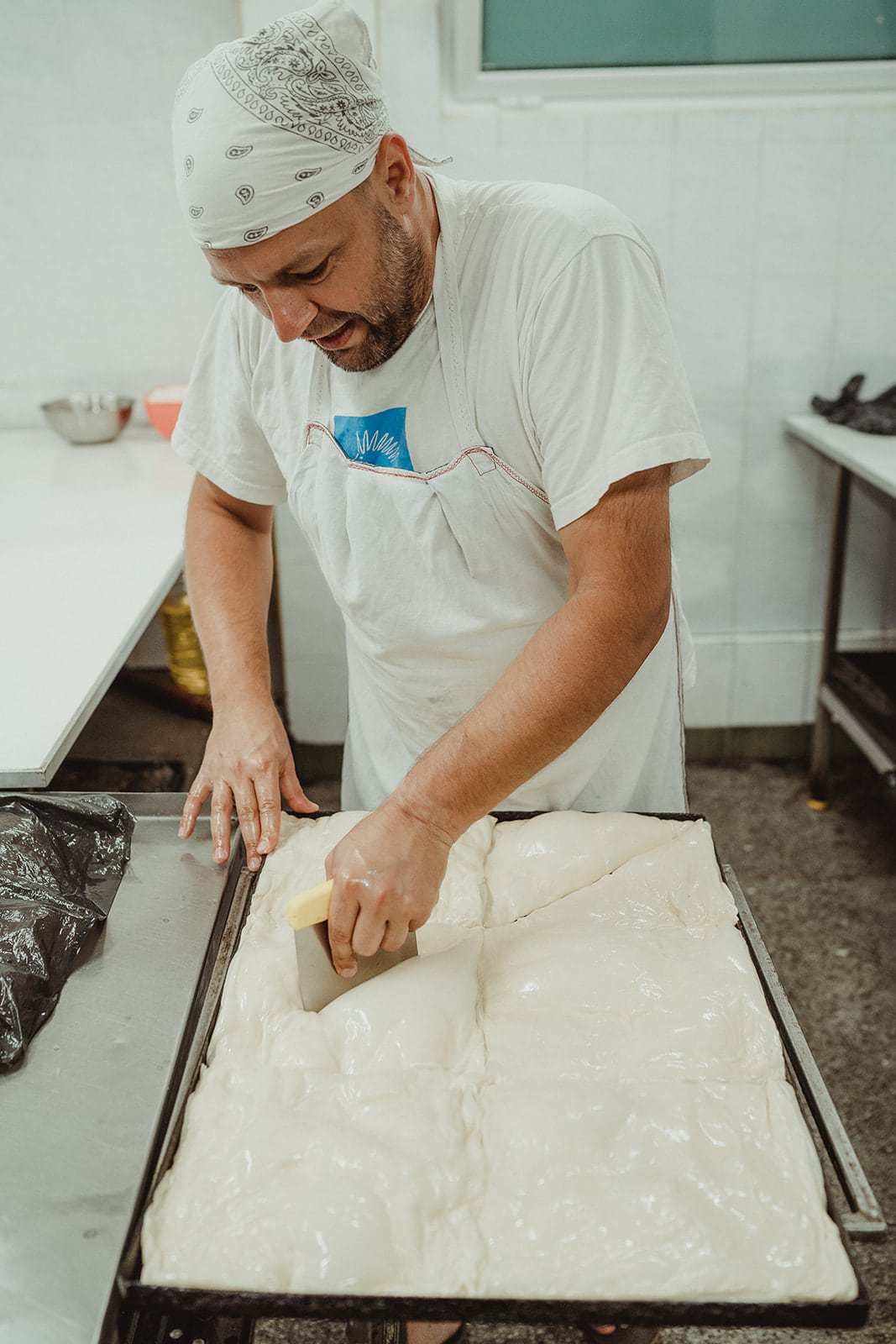 Can you explain more about Bulgarian baking?
Molly: There's a bread for every occasion in Bulgaria, the way here is that we have cakes and things. But any event there, like weddings, christenings, funerals or birthday parties, there's a sweet or savory bread. Bread almost is their pastry. In Jak's town, wheat and grain are very important. It's hard to tease out what of that comes from the agrarian culture and what's from the Orthodox church. A lot of times, specific breads are tied to a ceremony. But some are religious, and some are not.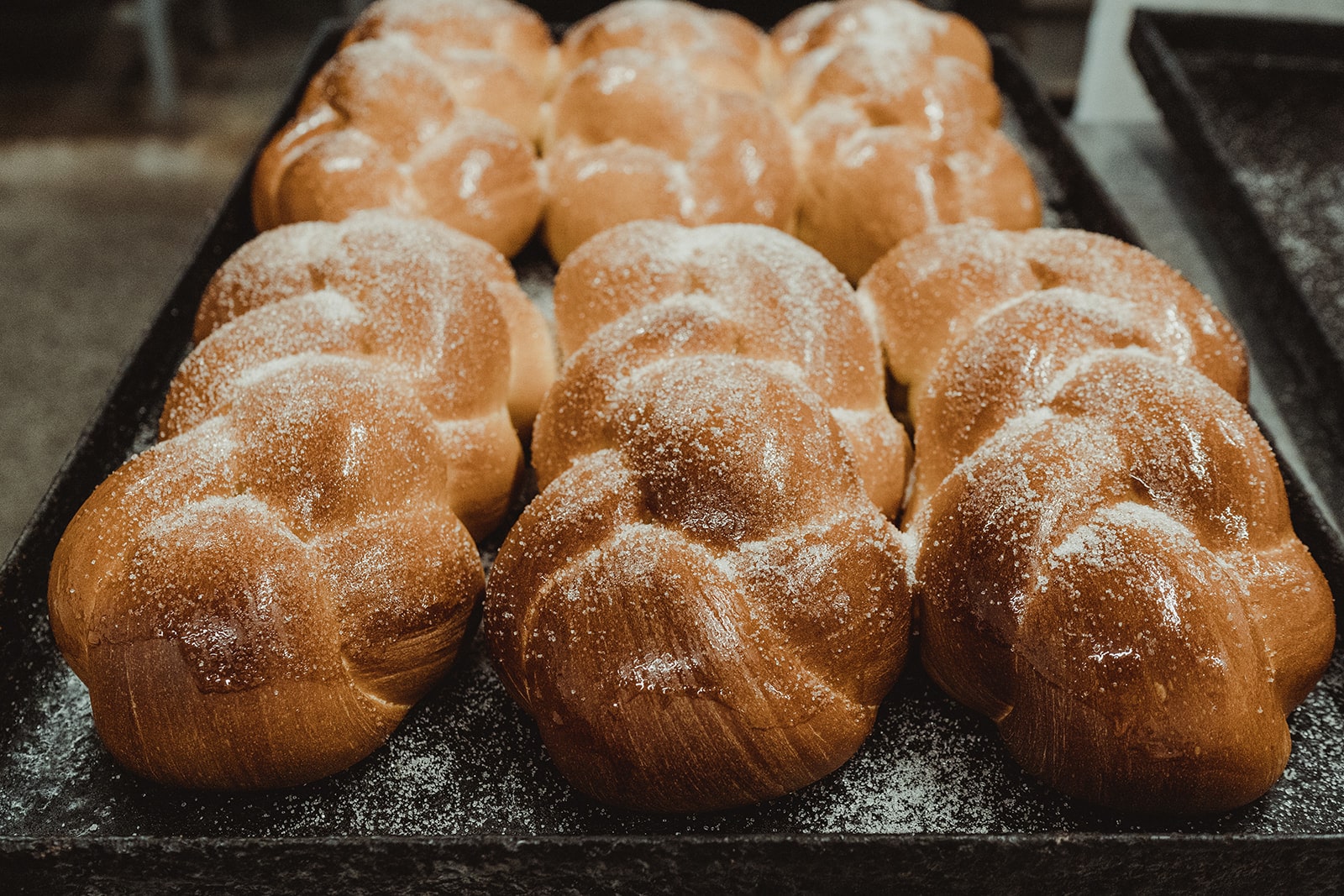 Jak Latinov: There are three main types of dough that I'm able to make right now with the capacity with the kitchen that I'm using: hand-pulled phyllo dough with no yeast, a bread-type phyllo dough with yeast, and a yeast dough similar to a brioche or challah dough. Traditionally, we use sunflower oil instead of butter, and in the sweet dough kifla (a crescent-shaped pastry), I use fillings like rose hip jam and chocolate. Rose hip jam is almost everywhere in Bulgaria, but it's very specific to my town. Sometimes, we fill pastries with rose hip candy (Turkish Delight).

The handmade phyllo dough is not made with flour between the sheets and there are different fillings, like spinach and feta and pumpkin with cinnamon sugar. The difference between my spinach Banitsa and Greek spanikopita, is that mine are more airy … but not airy and flaky like croissant dough. It's somewhere in the middle.

The type of pastry I do, you can find them everywhere in Bulgaria. My town there is 10,000 people, that's like 1 or 2 neighborhoods in Pittsburgh, but I was the 25th bakery to open there! So you can imagine how intense the competition is. 
What is the basic process of making handmade phyllo dough?
Jak: You mix water and flour, and then the most important part is your patience. You have the wait to rest the dough, then you separate it into small doughs, and you wait again to rest. It's very important for the gluten to rest so it can be stretchy so that you can pull the sheet without tearing it apart. If the gluten isn't relaxed you can't do that. Then, when everything starts happening you're in the rush. The beginning is slow and then it gets faster. You roll out the dough with rolling pins and then flip it over your head three times to pull it out.
You get it so thin that you can see through it, one sheet covers an entire baking table. Then, you fold and close the air in the dough. You need to have just enough air so the pastry will puff, because you don't have yeast or a starter so there's no proofing process.
Are there any of your products that are fan-favorites at your farmers market stands?
Molly: Different markets have different favorites. Some people will try something safe their first time, like chocolate, and then come back and try something more adventurous like rose hip jam. Our pogacha is one item where we tweaked the recipe a bit. It's made in a cake tin, it's three layers of of the sweet yeast dough with walnuts and sugar between each layer. When it's hot out of the oven, Jak pours sugar syrup over it. It's usually made with sesame but we switched it up to use walnuts. We describe it as "baklava cake" and that one is a fan favorite. The other big favorite is a savory one where we also tweaked the traditional filling. It's usually filled with feta, but we do it with sun-dried tomatoes, olives and garlic, and right now this is one of the best sellers. 
Do you have any plans for the future of Jak's Bakery that you can share?
Molly: We're working on getting a bigger kitchen. We're actually under contract on a building in the Bloomfield area, but we haven't closed on it yet! Currently, the Bulgarian Social Club lets us rent their kitchen, and that's where we bake out of. But it's pretty small so we can't hire anyone else and we can only bake so much in one shift. We sell out all the time, so we want to make more product. Our new space will definitely have retail, but we still plan on doing markets because it's such a great way to get into different communities. But that's the current plan: make more pastries, sell more pastries. We're looking to open in mid-Spring of 2022. We also hope to someday be able to teach people how to make the handmade phyllo dough. People are always asking if they can come watch and learn what he does. It is really impressive when he throws and stretches the dough so thin!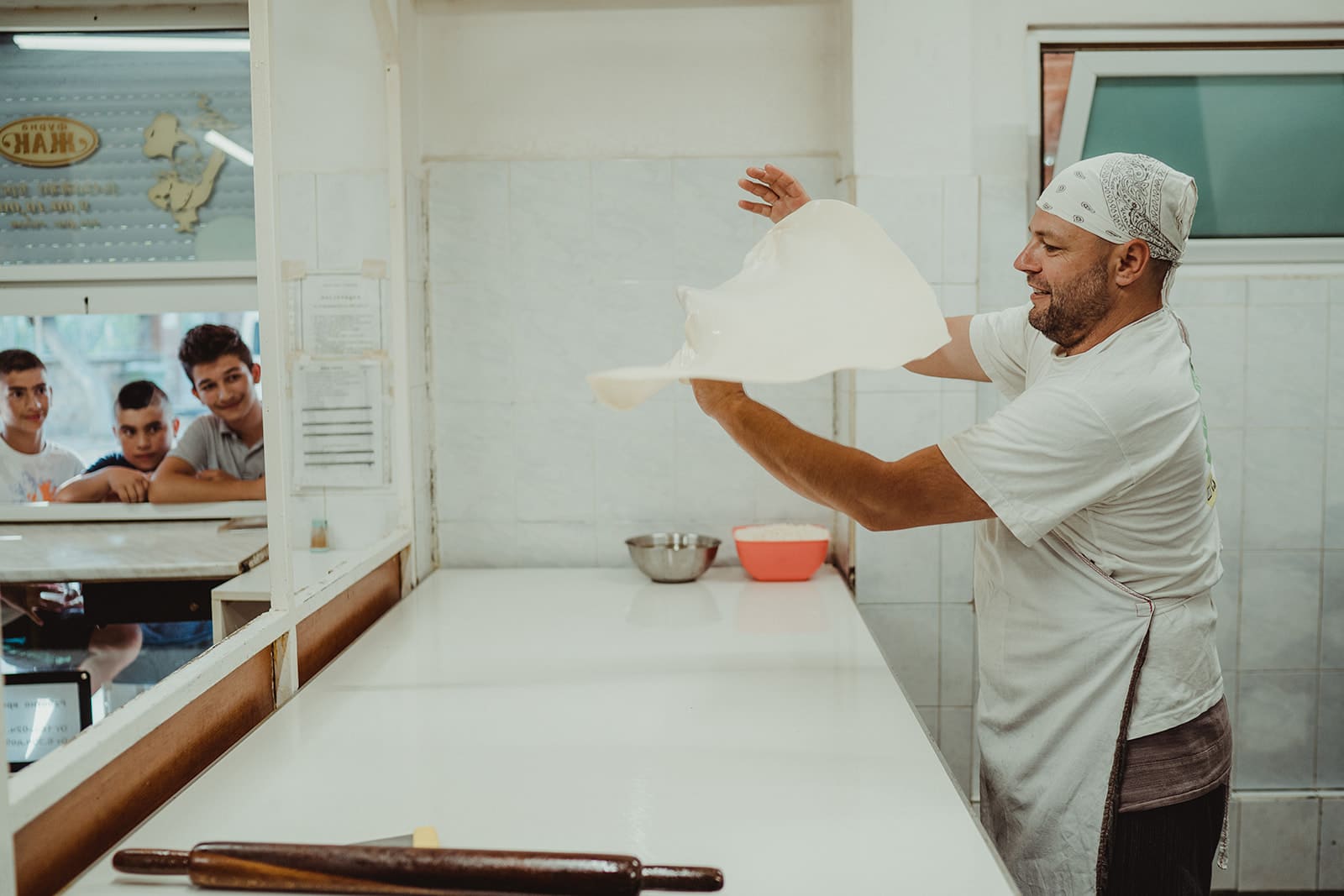 Find Jak's Bakery every week at various farmers markets throughout the Pittsburgh area. To learn more, visit its website, or follow along on Instagram and Facebook.
Photos and video:

Courtesy of Jak's Bakery