One of the most exciting things about the craft brewing scene in Pennsylvania is just how varied it is. The Commonwealth is home to some huge brands, like Yards and Yuengling, that have broken into the national market, all the way down to smaller brands — teeny tiny little breweries making freaky, esoteric beers, one barrel at a time.
The Vegetable Hunter, a vegan cafe and boutique brewery with three locations in Central PA, definitely falls into the "teeny tiny" side of the spectrum. Three years after opening its original Harrisburg location, owner Kristin Messner-Baker decided to add a micro brewery to the operation, and has been delighting guests ever since with esoteric, unexpected flavors with music-themed names, like Chili Nelson, a spicy pepper beer, and Strawjerry Garcia, a strawberry-infused imperial IPA.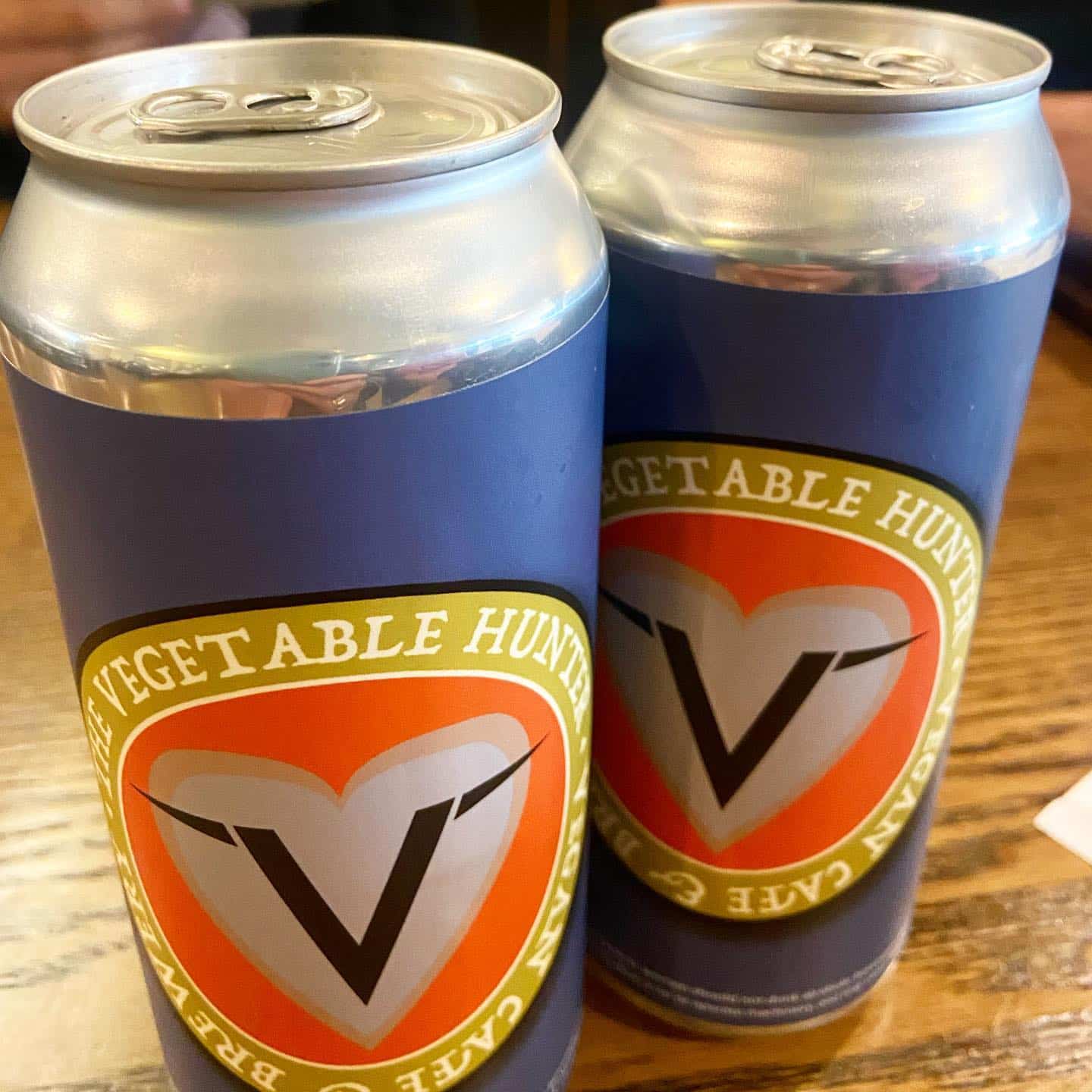 They also make solid versions of less out-there classics, like Old Skool: Frank the Tank, an American IPA. All of the beers are meant to pair with The Vegetable Hunter's 100% vegan menu, including tasty options, like tofu banh mi, a vegan mac-and-cheese bowl, and chana masala tacos. There's even brunch food (think: Chickn 'N Waffles and smashed avocado toast)!
Offering delicious plant-based food and beverages is The Vegetable Hunter's mission, and this includes making vegan beer (yes, some beer contains animal products!). The main brewery is in the Harrisburg location, which offers eight Vegetable Hunter beers on tap; the Hershey and Carlisle locations have 4 four beers on tap, and all three spots offer beers to-go in 16-oz. cans.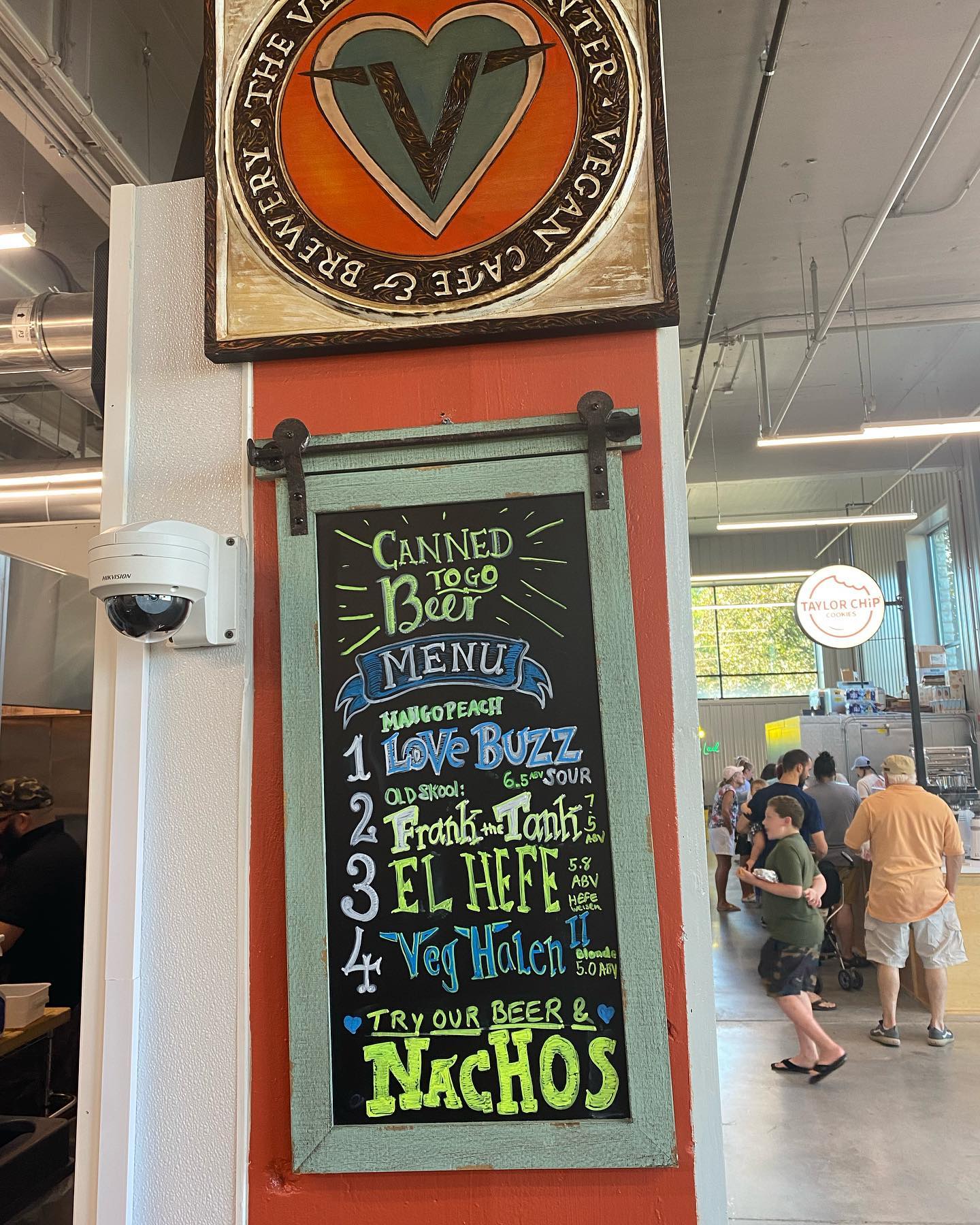 We were able to chat with Messner-Baker to discuss the humble beginnings and growth of this beloved eatery and boutique brewery:
PA Eats: Take us back to the beginning. How did The Vegetable Hunter get started?
Kristin Messner-Baker: I was practicing law in Harrisburg but I also had this dream of owning a cafe, so I bought our Harrisburg building in 2005. The idea was that I would move into the building, have a small coffee shop below and continue to practice law down the street. I ended up getting married and having kids so we rented out the building and put off the idea until 2014 when all our tenants moved out. My husband, kids and I went in on the weekends for about six months and set everything up and opened our Harrisburg location in June of 2014. In 2021, we opened our Carlisle location and in 2022 we opened our Hershey location.
What motivated you to start your own business?
I started working in restaurants over 30 years ago as a teenager and always loved the pace of restaurant work, the excitement of meeting people and bringing people together. I have also always loved cooking and great food and drinks. When we opened in 2014, we were a vegetarian restaurant and then I became vegan. At that point, I felt like 100% plant-based was the direction we had to go in. I took a professional vegan culinary class from 2016 to 2017 and learned a lot more. There's always something new to learn!
What was it like adding a brewery to an existing business concept?
It has added another dimension to what we do! We brew our beer in Harrisburg but sell it at all three locations. Our brewery is in our basement area but we plan on expanding it a bit to fit in another fermenter and have more space, which will make it possible for us to expand our beer offerings. We hope to start doing more beer festivals and distributing in the near future.

It is pretty small — we always say we are the smallest local brewery. We literally have the capacity to brew one barrel at a time. We brew to make sure the beer is fresh and to keep up with demand, so we are always brewing. We make about 60-90 gallons of beer a week. It's not much, but what we make gets our undivided attention because it is in such small batches.

Who is the brewer at The Vegetable Hunter?
Our brewers are Jeff Thompson, Mike Hall and Matt Scharadin. They all have full-time careers outside of our brewery, but they all love brewing and beer, so they brew part time.
How do you describe the style of your beers?
Our style is unique! We're going for original specialty beers with unusual ingredients. We like flavors that are unexpected and fun. Our Kap'n Krunch Blonde Stout literally has Cap'n Crunch cereal in the mash, and we top it off with Cap'n Crunch in the pint glass. We also have high hopes for our latest beer the, Hippie Hippie Shake, which is an Imperial Coconut Granola Stout.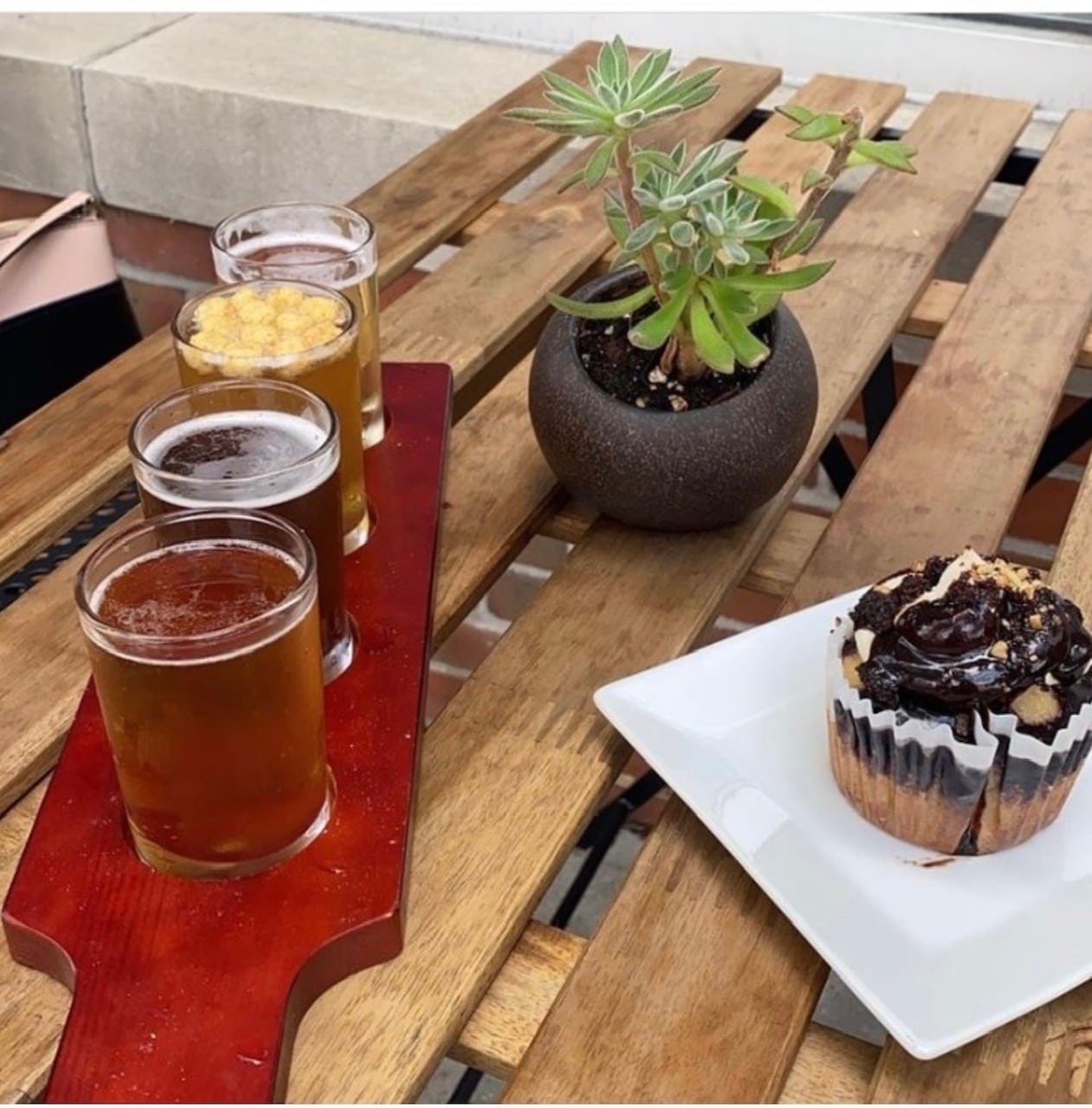 Are there any favorite Vegetable Hunter food-and-beer pairings you'd like to share?
The Hippie Hippie Shake goes really well with our house-made desserts. Hempzilla, our hemp IPA, goes really well with our smothered nachos.
Do the beers on your menu rotate a lot, or is there a core list of offerings?
Our flagship beers are Hempzilla, The British Invasion, Wannabe Sedated (a hazy IPA) and our Brett (Brettanomyces) Beer with different fruits of our choice. The rest of the beers rotate seasonally. Currently, our most popular beers are The British Invasion, an Earl Grey double IPA and Hempzilla.
What production choices do you have to make to keep your products vegan?
We're not going to be doing any milkshake IPAs, but we find our creativity in presenting our beers with alternatives, like oat milk and cacao extract, to keep our options open.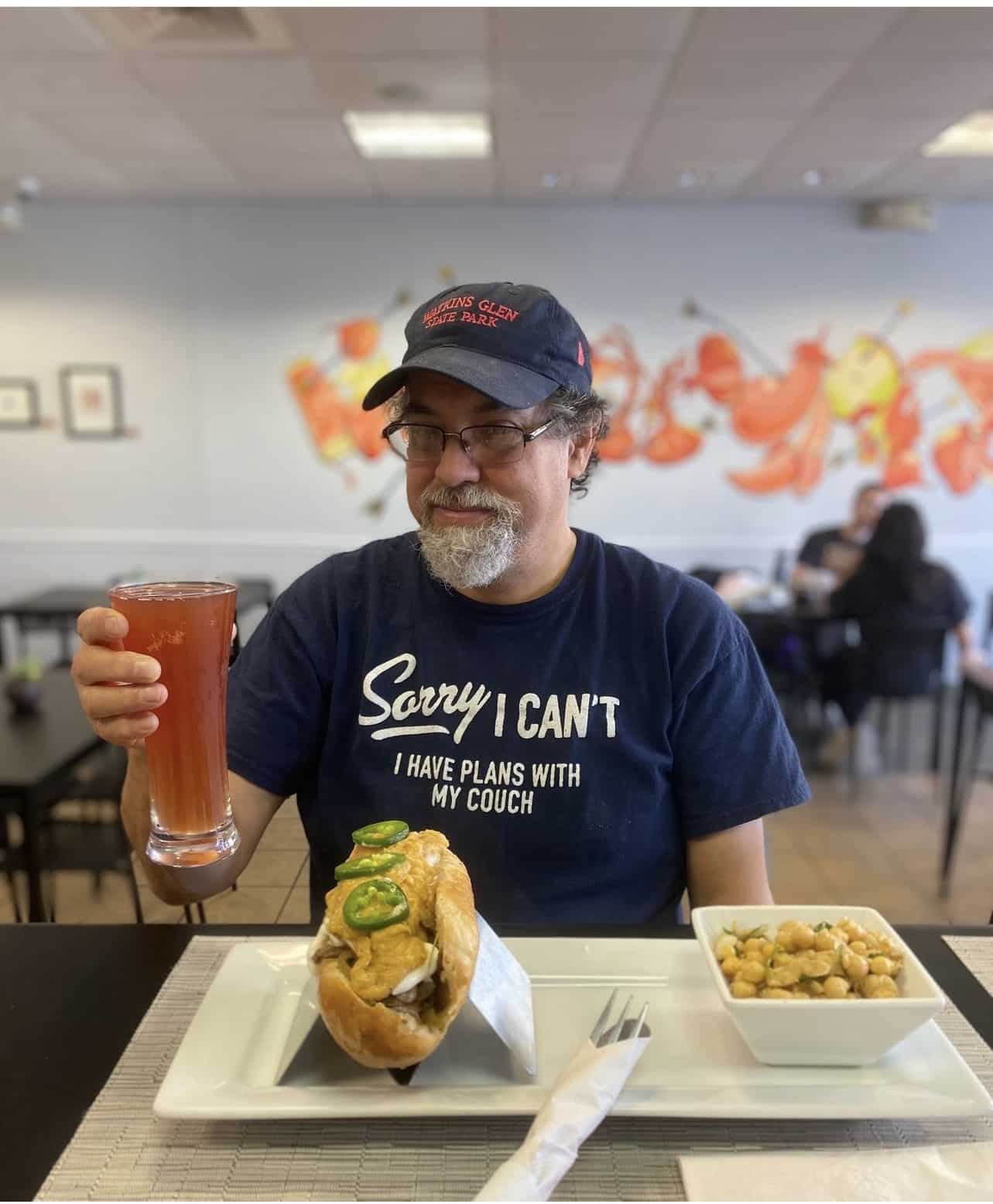 What has the response from the community been to your boutique brewery?
The local community has really been what has kept us in business and supported us since we began almost 10 years ago. So it has been great! People in the community love having a local brewery with super-small-batch beers and unique menu pairings.
For more information on The Vegetable Hunter, visit its website and follow along on Facebook and Instagram.
Find The Vegetable Hunter at 614 N. 2nd St. in Harrisburg; (717) 695-6229; 46 W. High St. in Carlisle; (717) 462-6204; and 121 Towne Square Dr. in Hershey; (717) 500-5964.
This series is made possible by support from the Pennsylvania Malt and Brewed Beverage Industry Promotion Board and grant funding from the Pennsylvania Liquor Control Board.
Photos:

Courtesy of The Vegetable Hunter