Whether you're outfitting your first grown-up kitchen or are just looking to upgrade your everyday cooking tools, a cast iron skillet is a must. Sturdy, unfussy and versatile (we use them for everything from sauteed greens to Dutch baby pancakes), they are the quintessential kitchen workhorse. And while it might seem like a big box store is the only place to go to pick up a new cast iron pan, there are actually locally made versions that are superior in quality and craftsmanship, and keep your dollars in PA!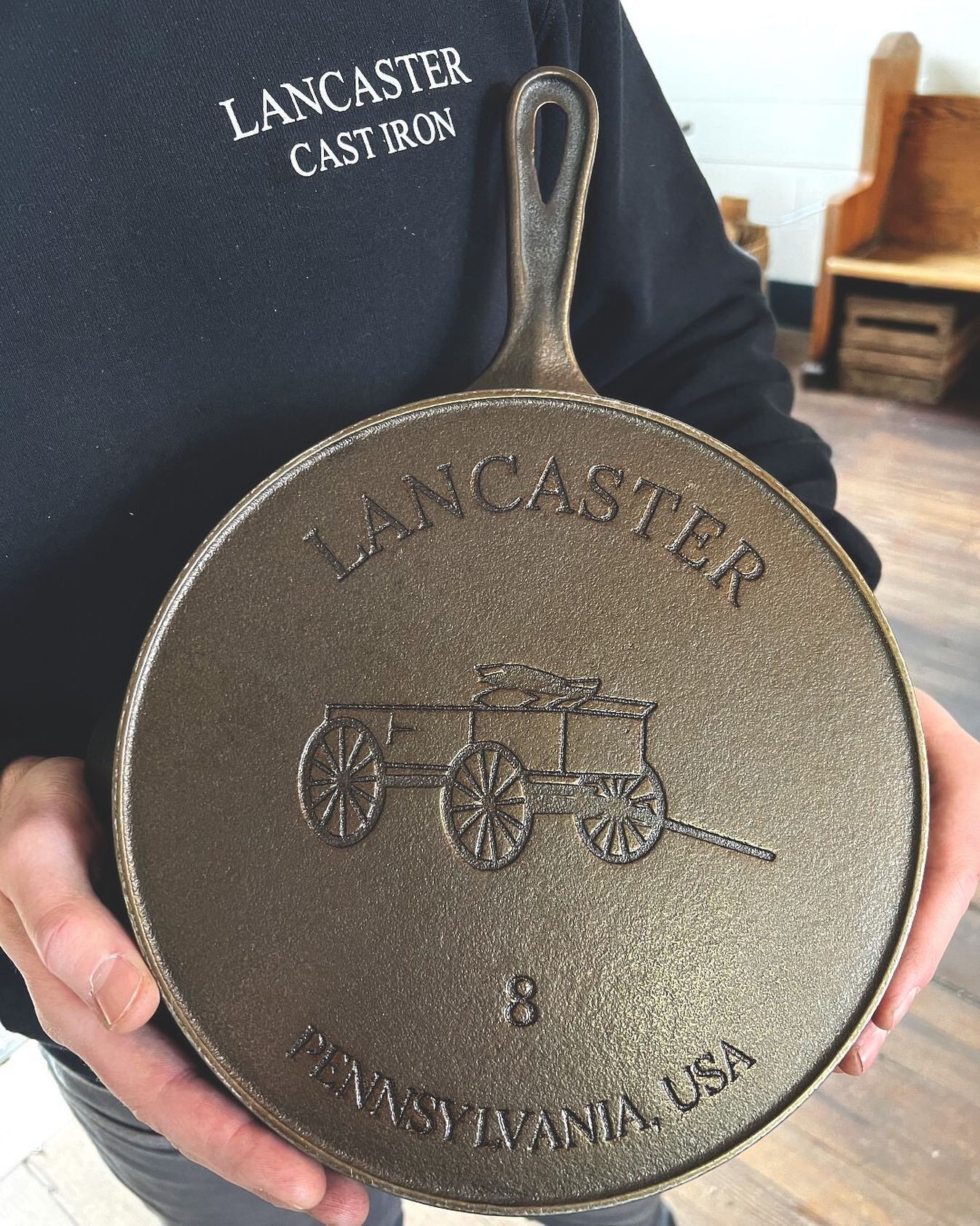 Lancaster Cast Iron is, as you may have guessed, a Lancaster County-based brand that has earned a glowing reputation thanks to its beautiful, well-made products. It's a family-owned business that clearly puts pride into its work. The range of products that Lancaster Cast Iron sells includes its artisan skillets, handmade wooden utensils and cutting boards, and leather goods, like potholders and handle covers.
We were able to chat with founder Mark Longenecker (who co-founded Lancaster Cast Iron in 2018 with his friend Brandon Moore) about this homegrown company and what makes its products special.
PA Eats: Let's start with your origin story: What specifically led you to making cookware?
Mark Longenecker: I grew up cooking on beautiful antique skillets that were over a hundred years old. I loved the cooking experience of lighter weight and smooth pieces of cast iron cookware. We saw an opportunity to bring premium cast iron back into people's homes and kitchens due to cast iron cooking's renaissance combined with people's desires to switch away from toxic cookware to healthier alternatives.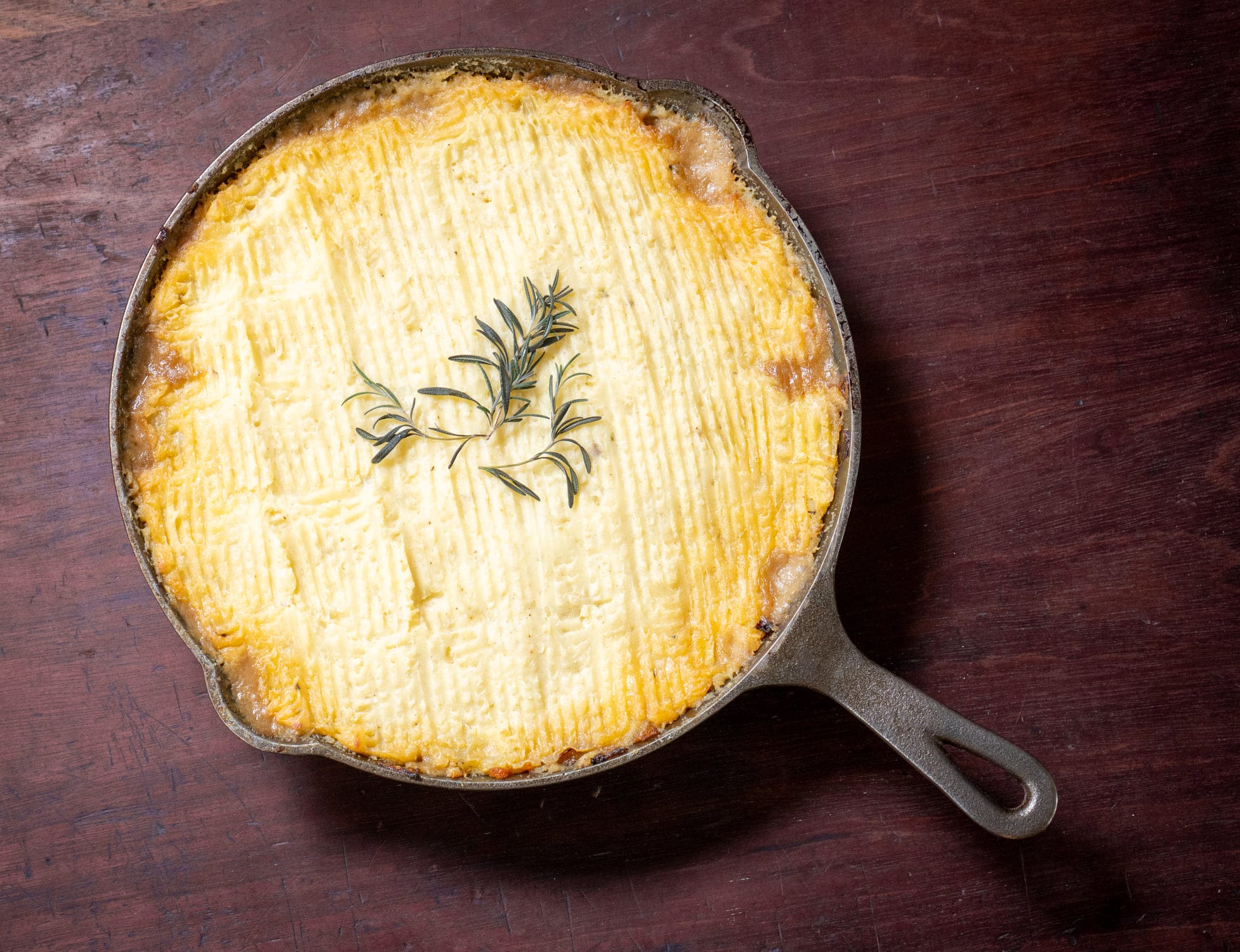 Walk us through your first year in business. How did you figure out where to begin?
Prior to our product launch in 2019, Brandon and I had experience in marketing and manufacturing, but no experience with casting or machining. Before releasing our first skillet, we spent a year educating ourselves by visiting foundries and machine shops to learn as much as possible before diving into Lancaster Cast Iron. We learned by calling experts and seeking out people who were happy to lend advice and insight. At one point, I even managed to get a meeting with the president of a larger foundry. He was very kind and insightful, but told me he thought we were a bit naive to try and manufacture lightweight cast iron in the U.S. I said thank you, but this meeting motivated us to continue!
Why set up shop in Pennsylvania?
Pennsylvania has a storied history when it comes to manufacturing, especially when it comes to casting. We have access to expert machinists, amazing foundries and a strong community that supports us. There are few places in the country where you could do what we're doing all in one location.

What is your production facility like?
When we first began, we started the business out of a house with a tiny machine shop attached. The whole house was filled with pans and boxes stacked to the ceiling! Thankfully, a year ago, we had grown enough to purchase a historic schoolhouse in my hometown of Conestoga. Our machine shop is now about 10 times larger than our original shop, which has given us flexibility and the ability to bring in additional machines.
Can you walk us through the process of making one of your cast iron pans?
Before any work starts on the pan, Brandon spends weeks designing each piece of cookware. After approval by our team, we move on to having the match plate made, which is what we use to cast each skillet. Our pans are individually sand cast, just like cast iron has been for thousands of years.

After the casting process, the skillets come to our shop where we have eight different steps, including machining each pour spout on one of our two Bridgeport mills from the 1960s. Each skillet receives two coats of seasoning and is then ready to use right out of the box.

What makes your products, specifically the cast iron pans, different/better than big name competitors?
Throughout the last century, cast iron has become known for being heavy, rough and hard to clean. A lot of this was due to the invention of Teflon pans, which put most cast iron companies out of business and forced others to simplify their manufacturing process. What we have done is add back the steps of the process that go into creating premium cast iron cookware. Our skillets are lightweight, smooth and respond to heat much more quickly, giving the cook more temperature control.
How have you evolved Lancaster Cast Iron's offerings? How do you decide which products to add to your range?
When we started Lancaster Cast Iron, we already had so many ideas about what we wanted to offer to our customers. A lot of our inspiration comes from antique Griswold and Wagners [heritage cast iron skillet brands]. We also listen to our customers, friends and family. If we hear from our customers that they would like a certain product, we make sure to consider it for the future.
You're a family business. What's it like working with your spouse/siblings?
We're a small team with a really unique work environment because everyone is either family or long-time family friends. Brandon, my business partner, was the best man at my wedding. Our production manager, Andrew, is a long-time family friend. My sister, Alyssa, was the first person Brandon and I brought onto our team. She has been working for us since the very beginning when we were packing up boxes to ship from our living room. That's something only someone who loves you would be willing to endure!

Working with my wife, Rachel, is a huge blessing, and we have a ton of fun. Her positivity is infectious to our entire staff. One of the best parts of my job is the ability to bring our 4-month-old daughter to work for part of each day. Our customers seem to enjoy meeting her the most!
Where can people find your products?
We have a brick-and-mortar store! It's located in Lancaster in the schoolhouse where we produce our skillets. We knew opening a factory store was going to be a new challenge, but we're so grateful that we decided to take the risk! We have been amazed by the community support we've received and blown away by how many people come from all over the country to visit our store! [You can also shop on Lancaster Cast Iron's website or on Etsy.]

Any plans for the future we should know about?
You can certainly be looking for more products coming soon. We hope to release two different sized skillets plus a lid and a Dutch oven next year! We're also very excited that we'll be offering tours of our production facility in the next year.
Thanks to Mark for the insight into Lancaster Cast Iron! To keep up with product launches, news and more, follow them on Instagram and Facebook.
Visit the shop at 3340 Main St. in Conestoga, Pennsylvania; phone: (717) 803-3040.
Photos:

Lancaster Cast Iron