There are many ways people choose to enjoy their retirement. Some travel, some help their families with childcare and some find new hobbies. For Mark Rhodes, a longtime resident of York, PA, his retirement after 30 years working at Harley Davidson has created the space for him to pursue his dual passion for wine and entrepreneurship. He began to dabble in making wine at home, and in the middle of the COVID-19 pandemic, he launched a new business: Mark & Val Wines.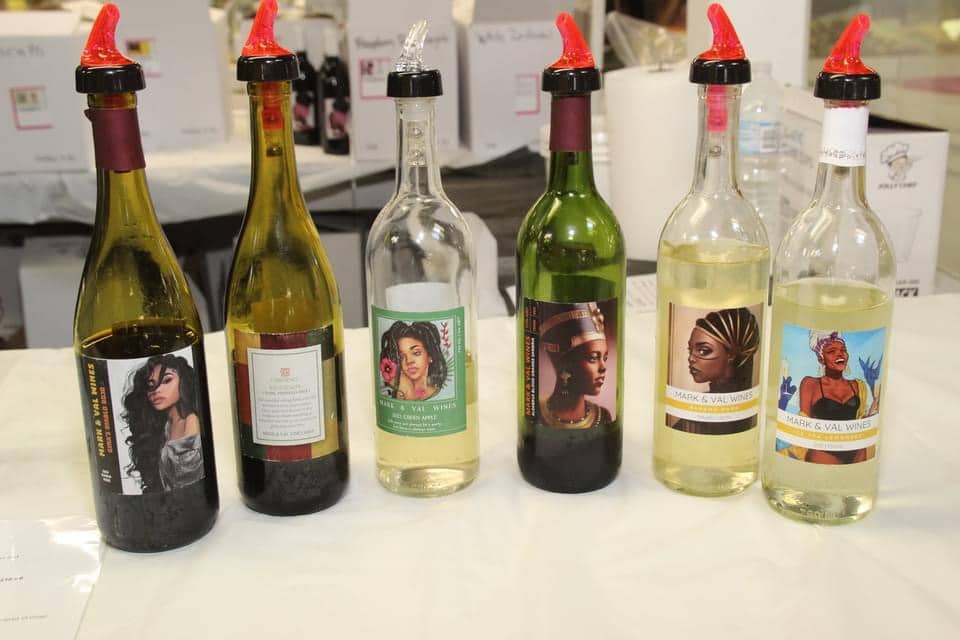 Rhodes is no stranger to running his own business. He was offered diversity training by Harley Davidson in the early 1990s, and in 2000, he began his own training and diversity consulting company, and has worked with firms all over Pennsylvania. A perpetual student, Rhodes read everything he could about diversity training, and is bringing that same energy to his new venture as a winemaker.
Originally from Brooklyn, NY, Rhodes moved to the York area as a child, and he is an engaged member of the community. He's the chairman of the Confronting Racism Coalition committee, and head of the Human Relations Commission in York, and he chose Penn St. Market, in downtown York, to host the retail side of his business. You can find Mark and Val, his wife of 36 years, at their market stand every Saturday, chatting up guests, sampling wine, and making new friends.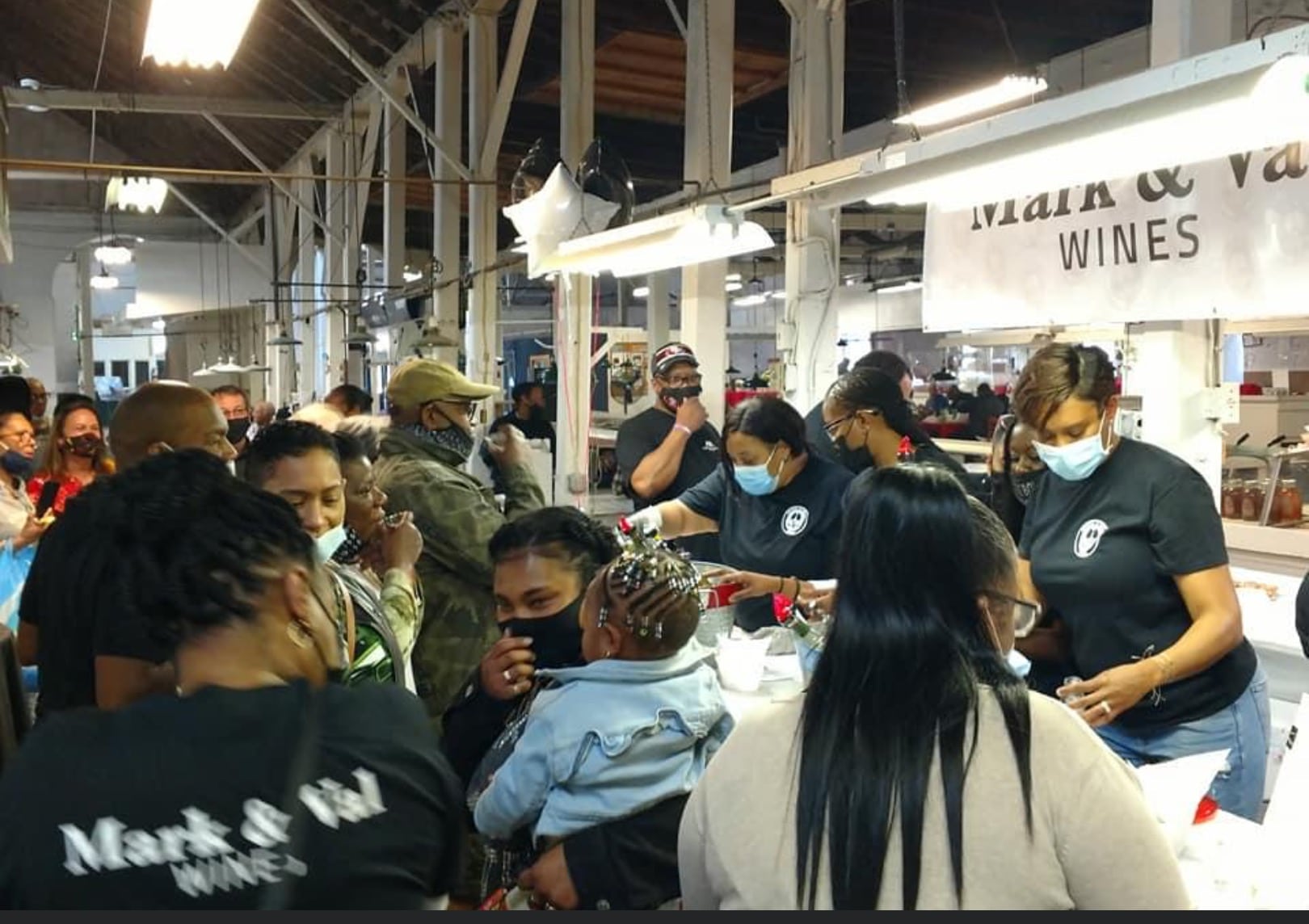 We were able to catch up with Rhodes to learn all about how Mark & Val Wines got started, what kinds of wines he's excited to make, and what we can expect from Pennsylvania's first Black-owned winery!
PA Eats: How did you first get into wine?
Mark Rhodes: Wine is something we've enjoyed for awhile. My wife and I have been to tastings all over the place! I was lucky because I had a friend who had taken me to a winery a long time ago. Back then, I asked what we'd do and he said, 'We're gonna try all their wines and have a ball!' Then some wineries started popping up around York. My wife worked for a bank and it was co-sponsoring one here on the fairgrounds. I took her there, and she loved it.

Next thing I know, whenever we wanted to visit a winery, she'd call her cousins and we'd all go. We started having a little crowd, like 25 or 30 people, and we all started learning. I was happy to see the diversity. Wine is a community thing, it shouldn't be segregated.
How did you go from drinking and learning about wine to making it?
About four years ago on our way to visit our daughter who lives in Delaware, we stopped at a wine shop on the way and I bought a winemaking kit. The first one I made was a pinot grigio, and it came out good! I started to read, study, watch videos and ask questions. Once I get hooked into something, I really do it. At the time, I was working third-shift, so I'd come home in the morning and I'd start the wine. Once you make the wine, you don't need to bother with it for an extended time. So, I'd get another kit and do another one. Each batch makes about 30 bottles, so before I know it, I've got a basement full of white boxes! I was like, we've got too many! Cousins, friends, family would come over and we'd start drinking them. We'd have fun with it. And the more people kept affirming it, the more I kept getting into it.
People would say, "You ought to sell this!" But I didn't know if I could get the license. When it comes to starting a business, we often stop ourselves. Every business I've had, I always started where I was, with what I had. So I used that same philosophy when I called the state and said I'm a hobbyist, I make wine, but I don't want foot traffic at my home, what can I do? They told me I could get a limited winery license. I applied and I didn't mind filling out the paperwork, because I understood the terminology. I have a room that's secured and locked, that's where I make my wine. Someone from the state came here in the spring of 2020 and did the inspection, and they gave me my license. I can do a lot of things a regular winery does. The license allows me to sell in any open air market in Pennsylvania, from Eerie to Philly. I'm allowed to ship, and to sell to bars and restaurants. My production limit is 200,000 cases a year, and there are bigger wineries that don't reach that number!
How did you launch the business to the public?
We got the stand at the market and decided to do a soft opening in April 2021, to see what's it's like. I let a few of my friends know that I'd be down there, and we only took down 7 or 8 cases of wine. We sold out in two hours! Then we were like, whew okay, how do we do this and make sure we have enough? We don't want to sell wine that's not right, we're not going to sacrifice quality for quantity, even if it means we miss a Saturday.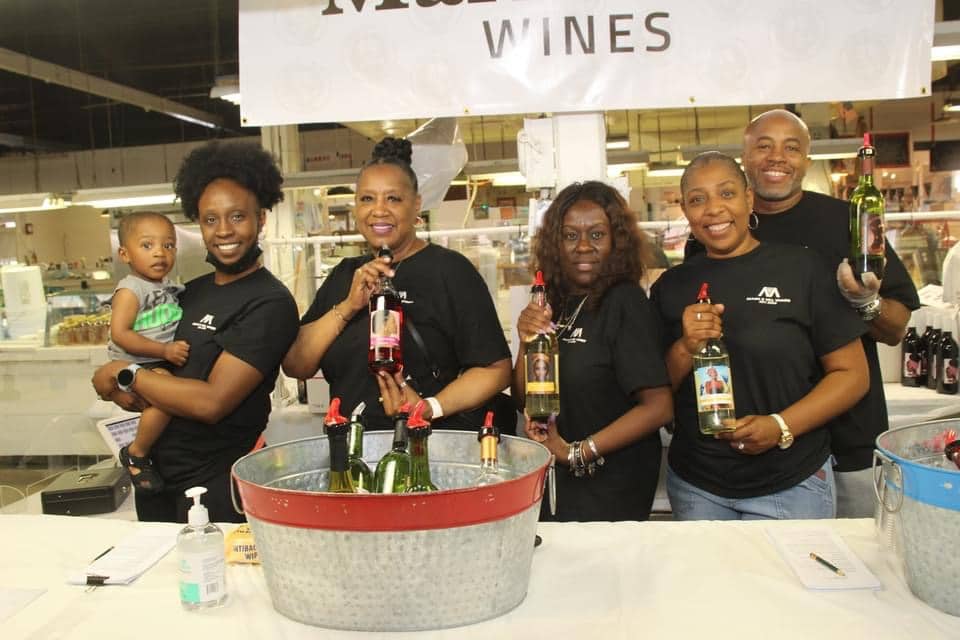 So we took notes, did some improvements. A few weeks later, we had a grand opening and I involved every person in the market. I bought from all the other vendors in the market to display their goods. We opened at 3 p.m., we were only going to do 3 to 6, we sold 18 cases in 3 hours.
Can you tell us a little bit more about how you actually make the wine in your home?
My space is a 12-foot by 12-foot room where I used to keep my lawn mower, snow blower and Christmas stuff. I cleaned all that stuff out and installed all the fermenters and everything. I buy juice, kits and concentrate. Every spring and fall, I get fresh juice from Lancaster Home Brew, they get it from Chile. I want to work locally, but vineyards I've reached out to don't want to sell to me, they act like you're the competition.

I put my own spin on the kits, like I might add some flavorings, like wild berry, or I might want to increase the alcohol level a lot. Sometimes I use organic juices to add flavors. Once I'm confident with the numbers, I add the yeast. When the wine is done, I filter it, sometimes with a chemical and sometimes I let it clear naturally. We host tastings where we have friends and cousins who come over when the wine is close to bottling day. They try it and tell me if I need to change it, or bring it out the flavors of the grape more. When everybody agrees, I bottle it.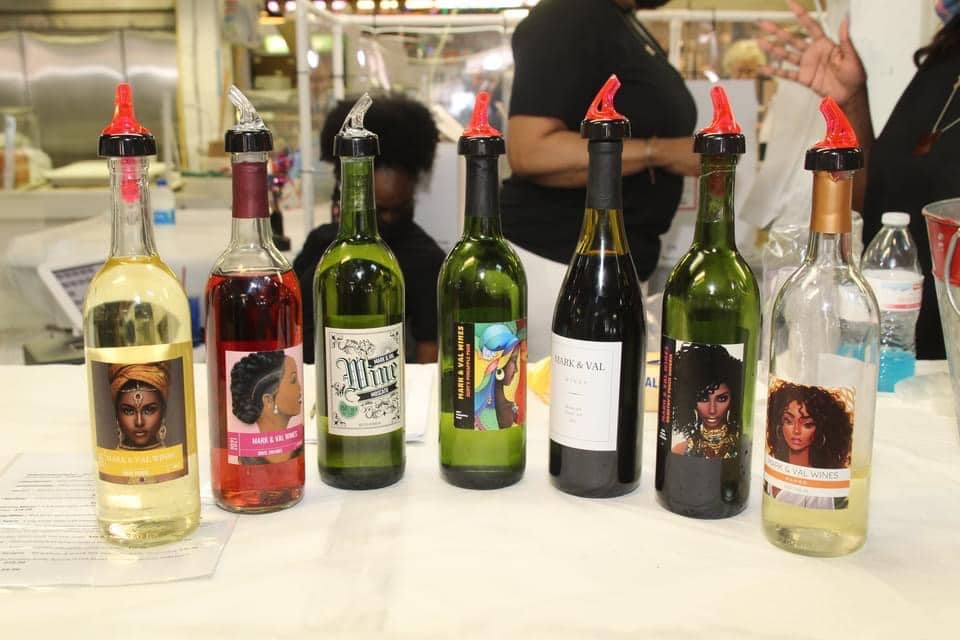 What kinds of wines can people expect from Mark & Val if they come to your market stand?
I have a green apple wine that people go crazy for, made with a Chardonnay base. We do cabernet sauvignon, for people who like dry reds, merlot, moscato, riesling, blood orange and raspberry sangria, red and white cranberry wine, and a chardonnay that's not oaked or buttered. All the labels feature Black artists.

We switch the wines up, and you may not find the same flavor you had last time. Sometimes it doesn't taste like last week, and I say that's the beauty of being a small winery. We can play with it, we can say: I wonder what that would taste like? It's fun for me, I enjoy the creativity. I also make cider! I made a pineapple cider, it flew off the shelf. I'm learning so much about people and what they like. But it's finding your mark, your style that makes the difference.
What does it mean to you, to be the first Black-owned winery in the state?
We need to see that someone could do it, even though it may seem impossible. People can see someone of my stature, and say, "He's Black and he made it happen, why am I holding myself back?" Seeing someone in your culture, it is important. And I'm never afraid to help, if you come to me and ask me how to make wine, I'll tell you exactly how to do it.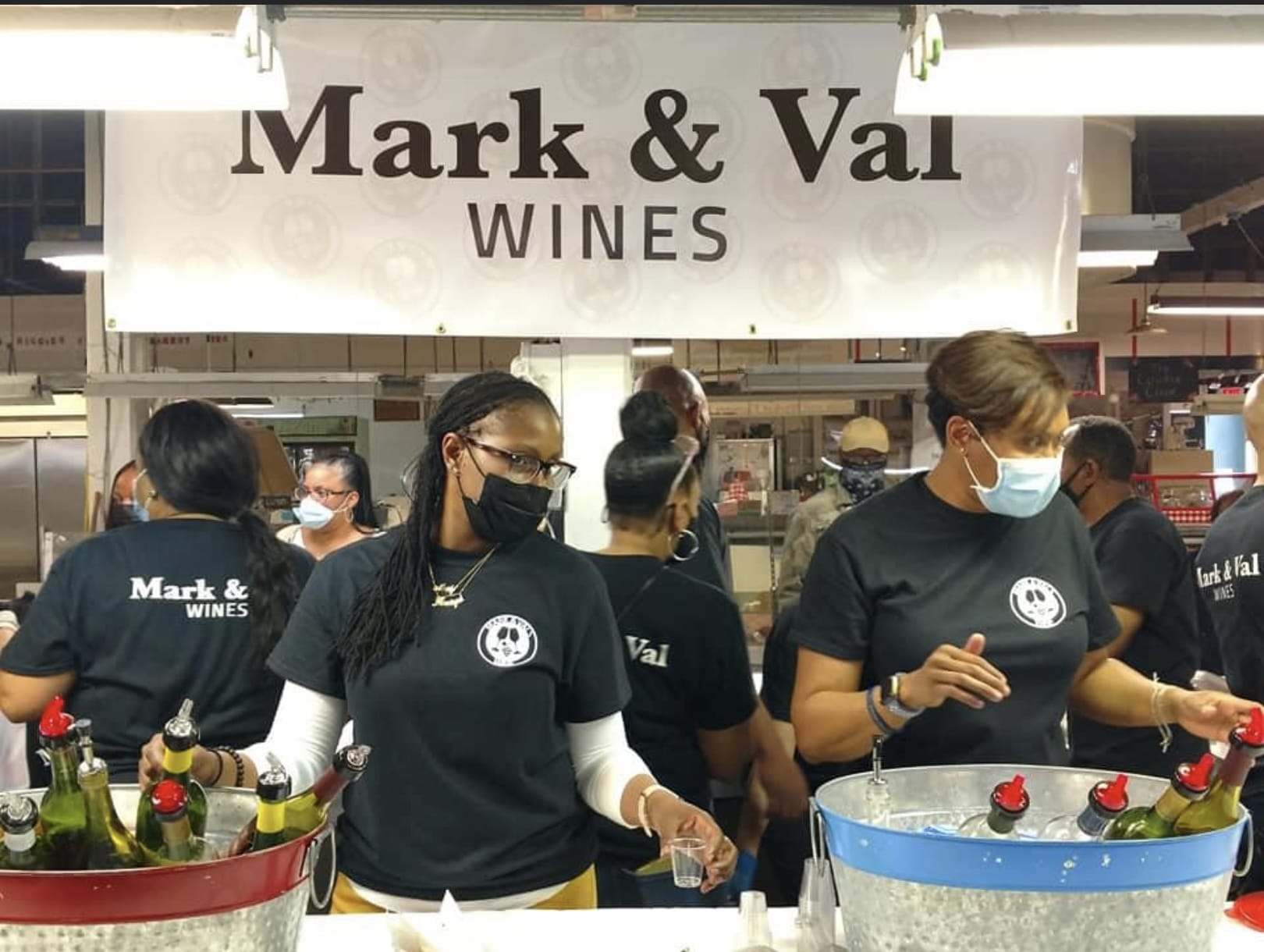 Do you think you'll get to the point where you open your own retail or tasting room space?
We've been blessed, we're doing great. I'd love to build up to the point where I'm making a couple hundred bottles at a time. I'd like to look into an urban winery. I want a small building where I can make the wine in the back and have a tasting room in the front. No food, just a focus on the wine, maybe with some entertainment now and then, like jazz night and spoken-word night. It would be my way of supporting the community.
For more info on Mark & Val Wines, check out its Facebook page, and visit them at Penn Street Market every Saturday from 11 a.m. to  3 p.m. They've also opened a small tasting room, which holds hours by appointment and on Saturdays and Sundays from 4 to 9 p.m.
Penn Street Market is located at 380 W. Market St. in York, PA. Mark & Val Wines tasting room is located at 1205 E. Philadelphia St. in York, PA.